The location where Thomas Eboli was shot dead
Crime Scene Location in Brooklyn, New York, United States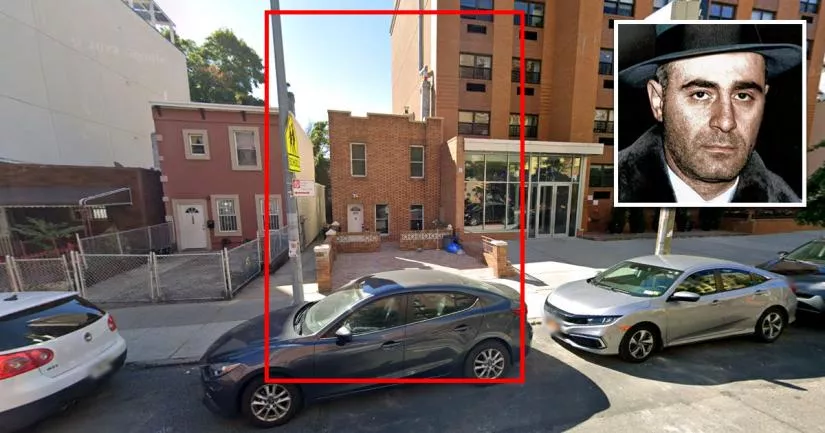 This is the location where Thomas Eboli was shot dead.
It is situated at 388 Lefferts Avenue in Brooklyn, New York.
Eboli (aka Tommy Ryan) was a mobster in the Genovese crime family.
His position in the organization remains a subject of debate. Some authors claim that he was the acting boss of the family, while others believe that he was part of a three-man ruling panel. There are also reports that he may have served as a decoy boss to draw attention away from the real one.
Regardless of his exact role, there is no disputing that he was one of the most senior members of the Genovese family.
In 1969, the official boss of the organization, Vito Genovese, died while he was serving a lengthy prison sentence for importing narcotics. His death caused turmoil within the upper echelons of the family, as there was a lot of uncertainty over who should step up and replace him.
Although Eboli was seen as a potential successor, it was public knowledge that he had been suffering from serious health problems. In the same year that Genovese died, he reportedly suffered three separate heart attacks.
Knowing that he needed to strengthen his power, Eboli decided to set up a new drug trafficking operation. However, in order to do so, he needed a considerable amount of startup money.
To fund the operation, he borrowed $4 million from Carlo Gambino, who was the boss of the Gambino family and the chairman of the mafia's official governing body, the Commission.
Unfortunately for Eboli, his new venture turned out to be a complete failure, as it was quickly foiled by law enforcement.
This left the mobster in a perilous position, as he didn't have enough money to pay back the loan.
In the early hours of July 16th, 1972, Eboli left his girlfriend's apartment at this address on Lefferts Avenue and walked back to his Cadillac, which was being driven by his chauffeur, Joseph Sternfeld.
Once he opened the door and sat inside, a gunman shot him five times at close range, killing him instantly.
Sternfeld initially told investigators that the assassin had opened fire from a passing truck. However, powder burns on the body and the closeness of the bullet wounds indicated that the killer was just one foot away.
Eboli was later found face-down on the pavement, surrounded by broken glass. This suggests that he either staggered from the vehicle during the shooting and collapsed or that Sternfeld pushed his body out onto the sidewalk and then sped away.
Although Sternfeld was reportedly helpful with the investigation, he told detectives that he didn't see the gunman.
Due to the lack of witnesses and suspects, no one was ever charged with the crime.
Thomas Eboli's murder remains unsolved to this day.

Further information is available in the "Photos" section below.
Thomas Eboli death location
Below, you will find the address and the GPS coordinates for this location.
GPS coordinates
The latitude and longitude coordinates for the street are:
40.662414, -73.948564
Map
To view directions on how to get there, you can use the Google Maps shortcut below:
Address
The full address for this location is:
388 Lefferts Avenue
Brooklyn
New York
NY 11225
United States
Directions
It is roughly 175 feet west of the intersection between Lefferts Avenue and New York Avenue.
Details about the general area
The house is situated in the Crown Heights neighborhood of Brooklyn.
Private Property Warning
This is a private property. It is not a public place. Therefore, you should be respectful and not step foot on the property without permission.
Photos
Photos of the street and other related images.
---
388 Lefferts Avenue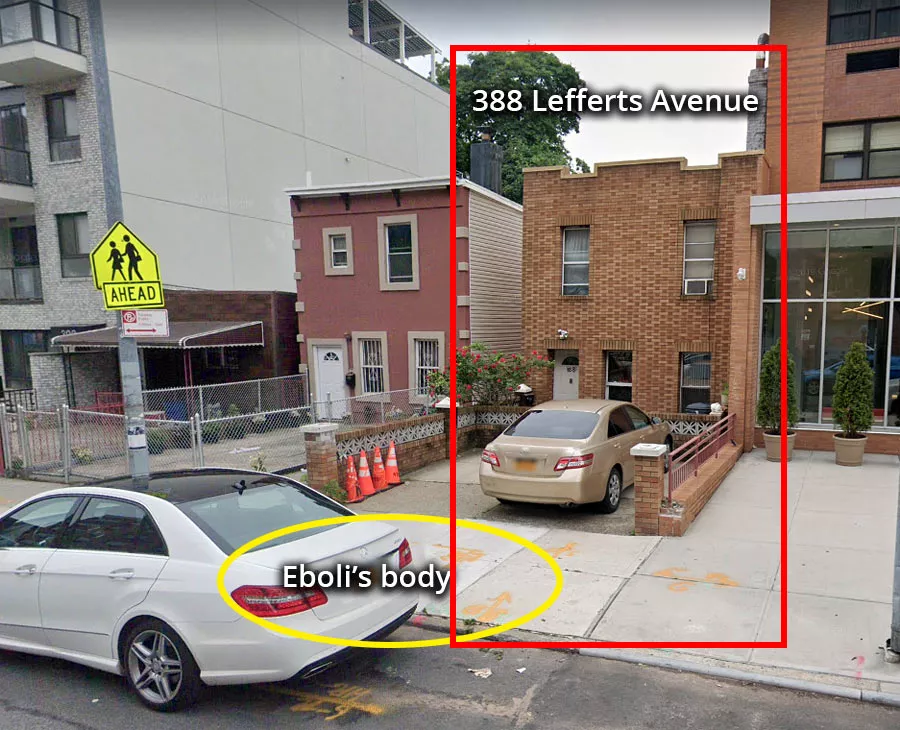 This Google Street View image of 388 Lefferts Avenue was captured in May of 2019.
Thomas Eboli was driven to this address on the night of the murder to visit his girlfriend. While he was inside, his driver, Joseph Sternfeld, remained in the Cadillac.
Eboli was shot five times by an unknown assassin shortly after he left the residence and got back into his vehicle.
When the police tracked Sternfeld down and questioned him, he claimed that he had sped away from the crime scene and immediately returned to New Jersey.
Although he said that someone had opened fire on his boss from a passing truck, the evidence showed that the killer was much closer than that.
The bullet wounds and the powder burns from the weapon indicated that Eboli wasn't murdered in a drive-by shooting. Instead, he was most likely ambushed by someone who had walked up to the side of his Cadillac.
Sternfeld told the police that he didn't see the killer because he had ducked for cover. As a result, the case quickly went cold due to a lack of witnesses.
Why was Eboli murdered?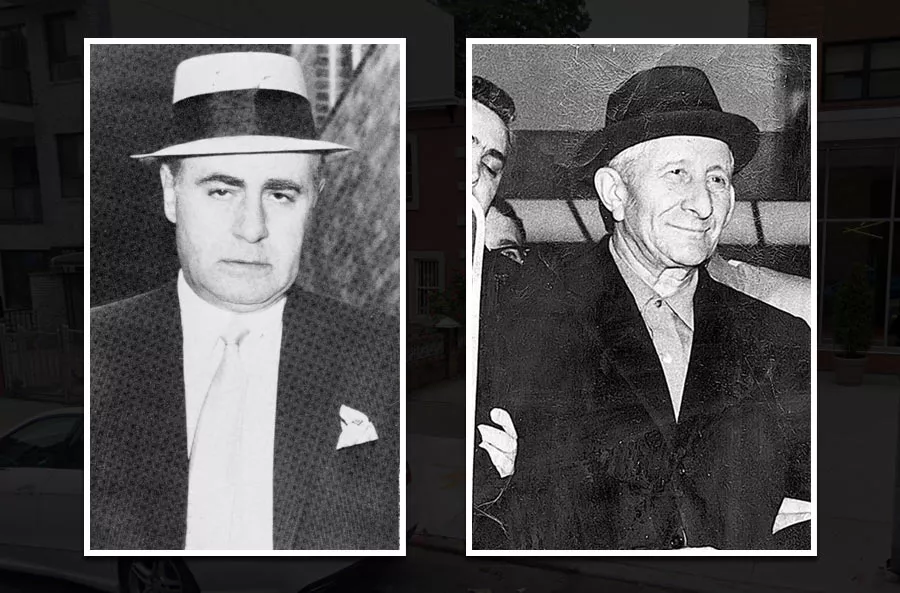 Thomas "Tommy Ryan" Eboli (pictured left) borrowed $4 million from "the boss of all bosses", Carlo Gambino (pictured right).
His plan was to finance a large drug deal with a heroin importer named Louis Cirillo and then repay Gambino using the profits.
The deal fell apart after Cirillo and 22 other people were arrested and charged with smuggling roughly 1,500 pounds of heroin into the United States.
When representatives from the Gambino family approached Eboli and demanded repayment of the loan, he reportedly refused. Consequently, Gambino ordered his death.
A number of authors have posited the theory that Gambino set Eboli up by conspiring against his drug operation so that he could "whack" him for non-repayment and then replace him with his ally, Frank "Funzi" Tieri.
However, Cirillo's arrest wasn't based on an anonymous tip-off or anything that might hint at Gambino's involvement. Instead, it was the outcome of a lengthy surveillance operation that American, French, and Canadian investigators carried out across multiple cities in North America and Europe.
Considering the complex nature of such an investigation, it seems unlikely that this theory is true.
Closest Locations
Other locations that are relatively close to this address: Roughly 2 miles away.
Crime Location in Brooklyn, New York, United States Roughly 2 miles away.
Place of Interest in Brooklyn, New York, United States Roughly 3 miles away.
Crime Location in Brooklyn, New York, United States Roughly 4 miles away.
Crime Location in Brooklyn, New York, United States Roughly 5 miles away.
Crime Location in Manhattan, New York, United States