Mike Tyson's childhood home
Place of Interest in Brooklyn, New York, United States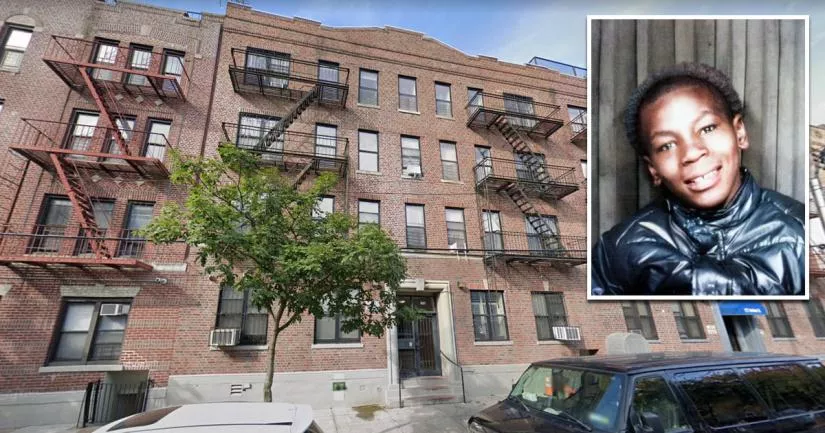 This is Mike Tyson's childhood home.
It is situated at 178 Amboy Street in the Brownsville neighborhood of Brooklyn, New York.
Tyson started living here in the late 1970s with his mother, Lorna, and his two siblings.
Although the former heavyweight champion originally lived in Bedford-Stuyvesant for the first ten years of his life, his mother was forced to move to this apartment building in Brownsville due to financial struggles.
According to Tyson, moving from "Bed-Stuy" to Brownsville was "like moving from the devil's bathroom to his toilet."
Since the late 20th century, it has had the highest poverty and crime rates of any neighborhood in New York City.
Unlike surrounding areas, it has largely resisted gentrification. Notably, crime statistics show that Brownsville is still a relatively dangerous place, as it experiences high rates of homicide and drug-related deaths.
Tyson grew up on Amboy Street, where he regularly got involved in petty street crime. By the time he became a teenager, he had already been arrested more than three dozen times.
He started boxing after he was sent to a juvenile center called Tryson School for Boys, which was situated in upstate New York.
During his stay there, he met a former light heavyweight boxer named "Irish" Bobby Stewart, who agreed to train him if he behaved himself and performed well in class.
It did not take long for Stewart to recognize Tyson's athleticism, agility, and raw punching power.
After teaching the teenager everything that he knew, he decided to introduce him to Cus D'Amato, an Italian-American boxing coach who had previously managed the likes of Floyd Patterson and José Torre.
From that point on, D'Amato took Tyson under his wing and helped him refine his skills. He also taught him how to utilize a "peek-a-boo" boxing style.
When Tyson's mother, Lorna, died from cancer in 1982, D'Amato adopted him and became his legal guardian.
In March of 1985, "Iron" Mike Tyson made his professional debut against Hector Mercedes, whom he knocked out in the first round. The following year, he defeated Trevor Berbick and became the youngest heavyweight champion of all time.
Sadly, D'Amato never got to see his protégé win the WBC belt, as he passed away in November of 1985 at the age of 77.

Further information is available in the "Photos" section below.
Tyson's childhood home address
Below, you will find the address and the GPS coordinates for this location.
GPS coordinates
The latitude and longitude coordinates for the apartment building are:
40.666002, -73.913880
Map
To view directions on how to get there, you can use the Google Maps shortcut below:
Address
The full address for this location is:
178 Amboy Street
Brooklyn
New York
NY 11212
United States
Directions
The apartment building is about 100 yards south of the corner between Sutter Avenue and Amboy Street. It is within walking distance of Betsy Head Park.
Details about the general area
Brownsville is a neighborhood in the east of Brooklyn.
Private Property Warning
This is a private property. It is not a public place. Therefore, you should be respectful and not step foot on the property without permission.
Photos
Photos of the apartment building and other related images.
---
178 Amboy Street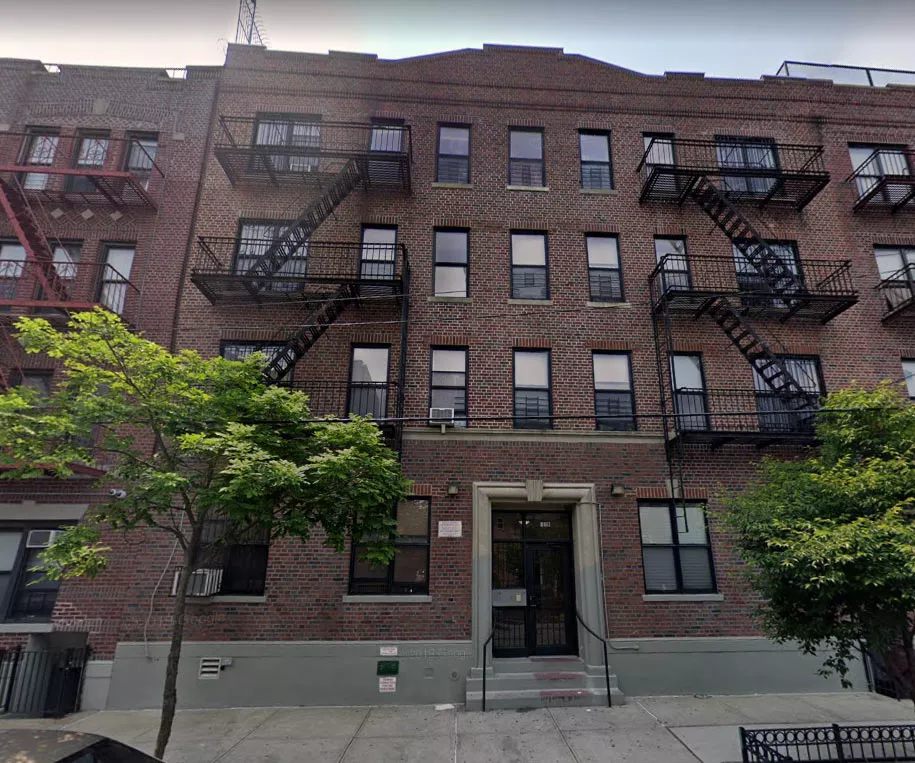 This Google Street View image of 178 Amboy Street was captured in May of 2019.
The four-story building was built in 1930. It currently has 14 residential units.
This was Mike Tyson's last childhood home. He lived here with his mother and two siblings in apartment 2A until he was sent to the Tryson School for Boys in Fulton County.
After leaving the detention center, he began living with Cus D'Amato.
According to Tyson, he doesn't have fond memories of Brownsville. However, he is proud to be from there.
"It looks so different now."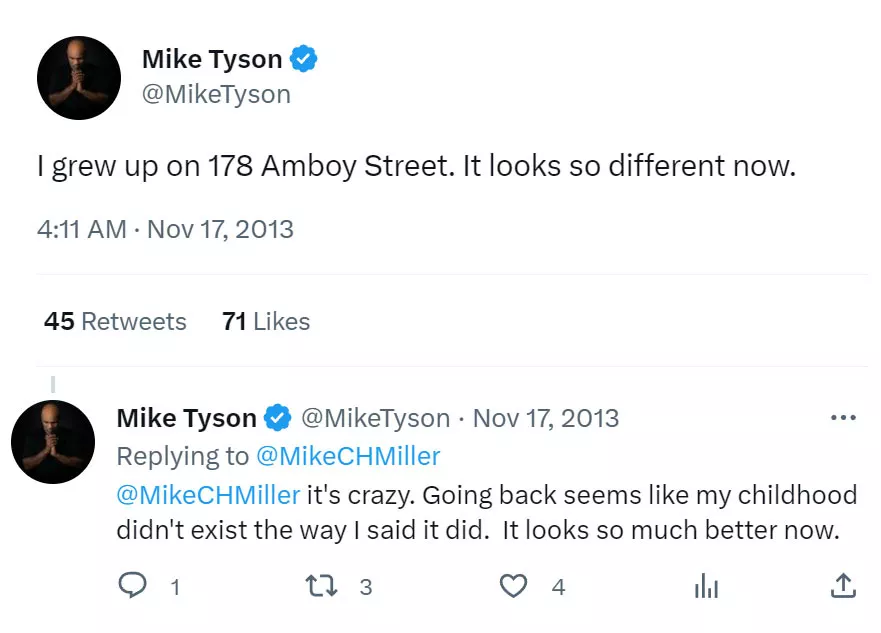 When Tyson revisited his childhood home in 2013, he noticed that the area seemed "so much better" than it did during the 1980s.
This location belongs to the following categories:
Celebrities
Closest Locations
Other locations that are relatively close to this address: Roughly 2 miles away.
Crime Location in Brooklyn, New York, United States Roughly 3 miles away.
Crime Location in Brooklyn, New York, United States Roughly 3 miles away.
Crime Location in Brooklyn, New York, United States Roughly 4 miles away.
Crime Location in Brooklyn, New York, United States Roughly 4 miles away.
Place of Interest in Queens, New York, United States