The house that Anne Heche crashed into
Crash Site Location in Los Angeles, California, United States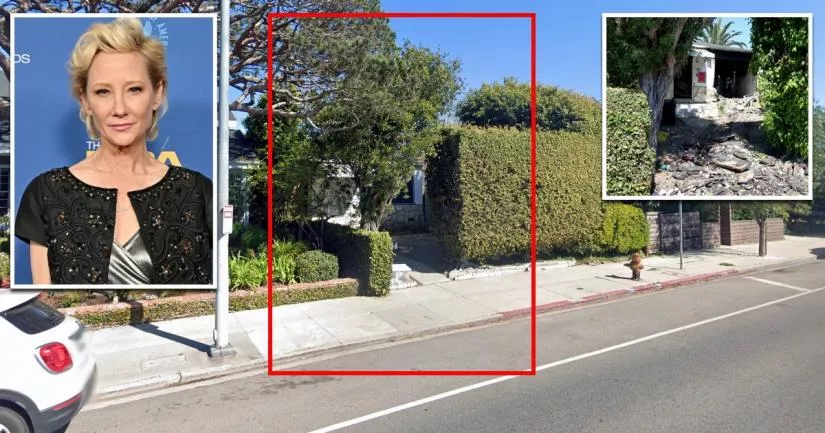 This is the house that actress Anne Heche crashed into.
It is situated at 1766 Walgrove Avenue in the Mar Vista neighborhood of Los Angeles.
Heche is best known for starring in Hollywood movies such as Donnie Brasco (1997), I Know What You Did Last Summer (1997), and Six Days, Seven Nights (1998). She also portrayed Vicky Hudson and Marley Love on NBC's soap opera Another World.
On August 5th, 2022, a doorbell camera captured Heche speeding eastward along Preston Way. Seconds later, her blue Mini Cooper crashed through the living room wall of this house on Walgrove Avenue.
Although the actress survived the initial impact, she suffered severe burns, a fractured sternum, and serious brain damage.
When the first witness arrived at the scene, the blaze was so heavy and unapproachable that he was thoroughly convinced the motorist was already dead. By that stage, the flames were inside the car, and the thick black smoke had become too much to bear.
Despite this, Heche managed to stay alive.
Unfortunately, she was sitting in her vehicle for 30 minutes before she was finally rescued. During this period, the oxygen supply to her brain was severely restricted due to smoke inhalation.
Video footage from an overhead news helicopter showed Heche struggling with the paramedics as they attempted to wheel her into the ambulance.
It is likely that this reaction was caused by a combination of shock and pain. She may also have been completely disoriented due to her brain injury.
After being loaded into the back of an ambulance, she eventually lost consciousness.
On August 11th, her family announced that she was in a coma and that she wasn't expected to survive her injuries.
Later that day, the 53-year-old was legally declared dead. However, her body was kept on life support so that the medical team could assess whether or not her organs could be donated.
On August 14th, it was announced that doctors had performed the donation procedure and that Heche's body had been taken off life support.
This house on Walgrove Avenue was left structurally compromised following the fatal crash. The homeowner also lost many of her personal possessions in the ensuing fire.
Shortly before the incident, Heche had collided with a garage wall near Lake Street. Although photographs appeared to show a bottle of liquor in her cupholder, it was later determined that there was no alcohol in her system.
When bystanders asked the actress to get out of the car, she refused and drove off again.
At that point, she raced along Preston Way at a high speed before crashing into this house on Walgrove Avenue.

Further information is available in the "Photos" section below.
Anne Heche crash site location
Below, you will find the address and the GPS coordinates for this location.
GPS coordinates
The latitude and longitude coordinates for the house are:
34.004428, -118.451645
Map
To view directions on how to get there, you can use the Google Maps shortcut below:
Address
The full address for this location is:
1766 Walgrove Avenue
Los Angeles
California
CA 90066
United States
Directions
The house is situated in Mar Vista, which is in the west of Los Angeles. It is relatively close to the Santa Monica Pier and Santa Monica Airport.
Private Property Warning
This is a private property. It is not a public place. Therefore, you should be respectful and not step foot on the property without permission.
Photos
Photos of the house and other related images.
---
1766 Walgrove Avenue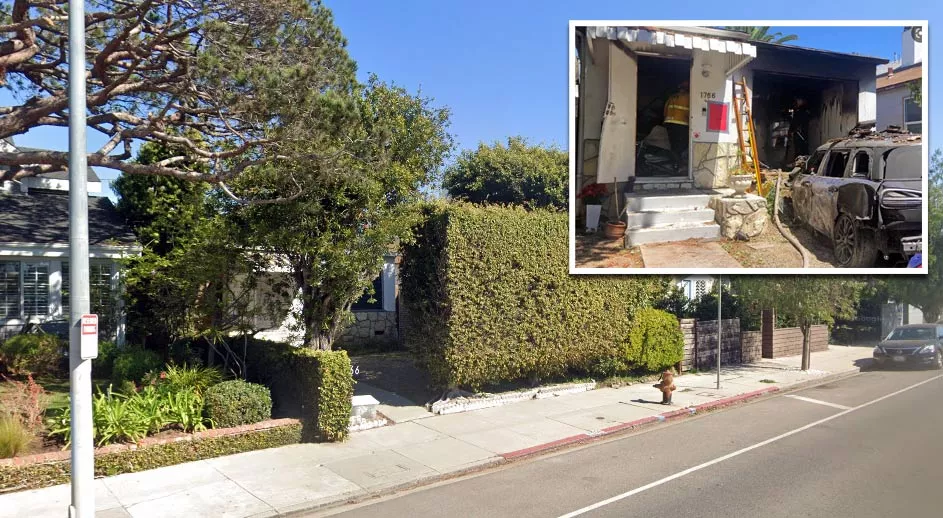 This Google Street View image of 1766 Walgrove Avenue was taken in February of 2022.
The house was built in 1952 and it is 738 sq ft in size.
Due to its prominent location, Zillow estimates that the house is worth more than $1 million.
Map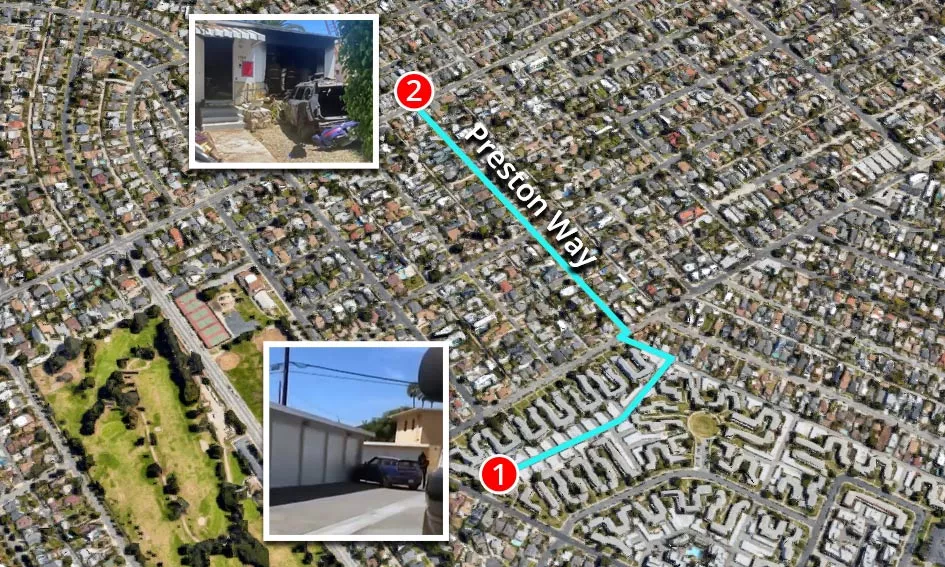 Anne Heche's first collision occurred at the back of 1130 Lake Street, when she struck the corner of a garage.
Although bystanders surrounded her Mini Cooper and asked her to get out of the vehicle, she refused and decided to drive off.
At that point, she turned left, right, and then left again.
Shortly before the final crash, a doorbell camera captured her speeding along Preston Way.
First crash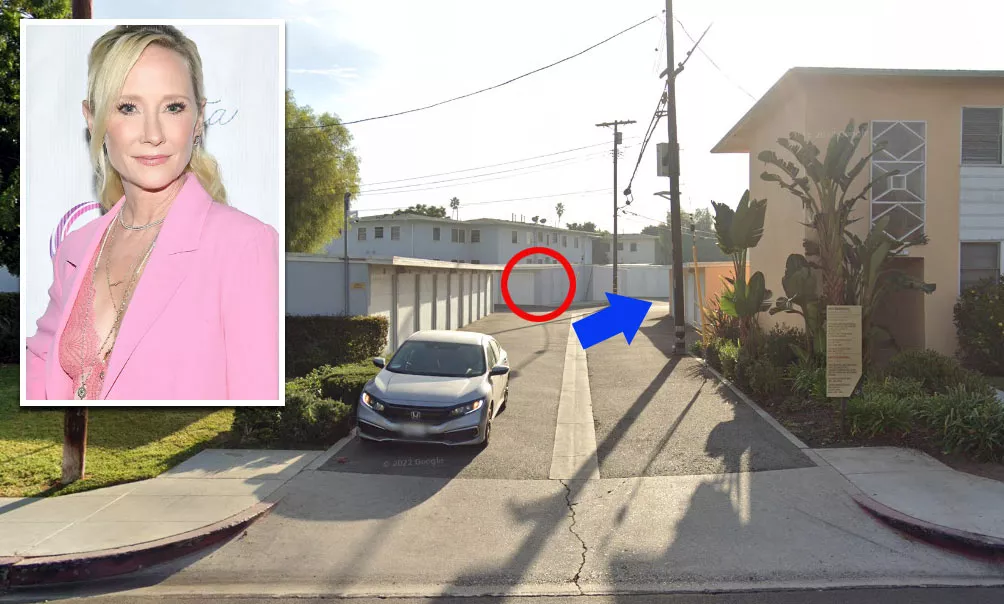 The first crash occurred at the corner of this garage building off Lake Street.
Photos of the incident show that the troubled actress looked disheveled and that there appeared to be a small bottle of liquor in her cupholder. However, an autopsy later revealed that there was no alcohol in her system.
After ignoring pleas from bystanders to get out of the vehicle, she reversed and then drove off in the direction of the blue arrow.
Coordinates: 34.003563, -118.458890
Route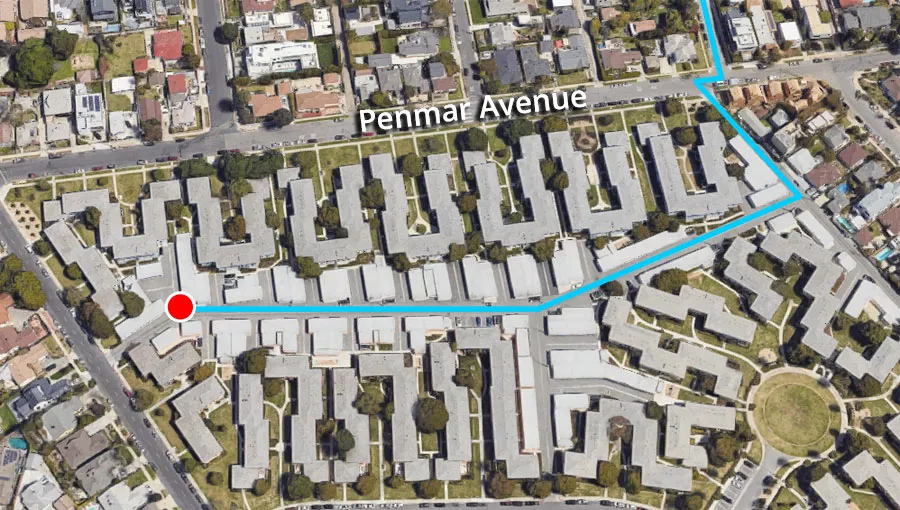 After driving away from the first crash, Heche made her way through this residential garage area and took a left.
She then pulled out onto Penmar Avenue before taking another left onto Preston Way.
Crash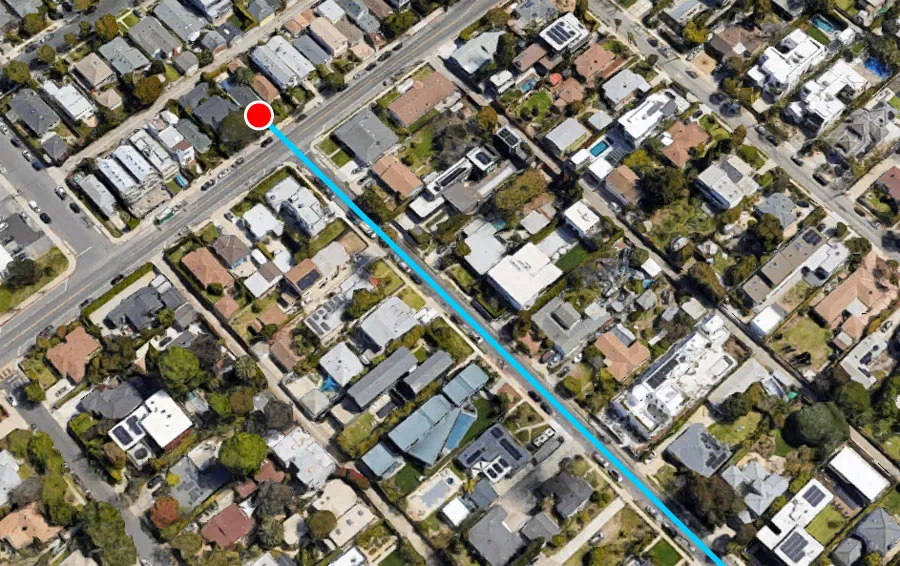 After speeding along Preston Way, Heche drove straight into the house at 1766 Walgrove Avenue.
Google Street View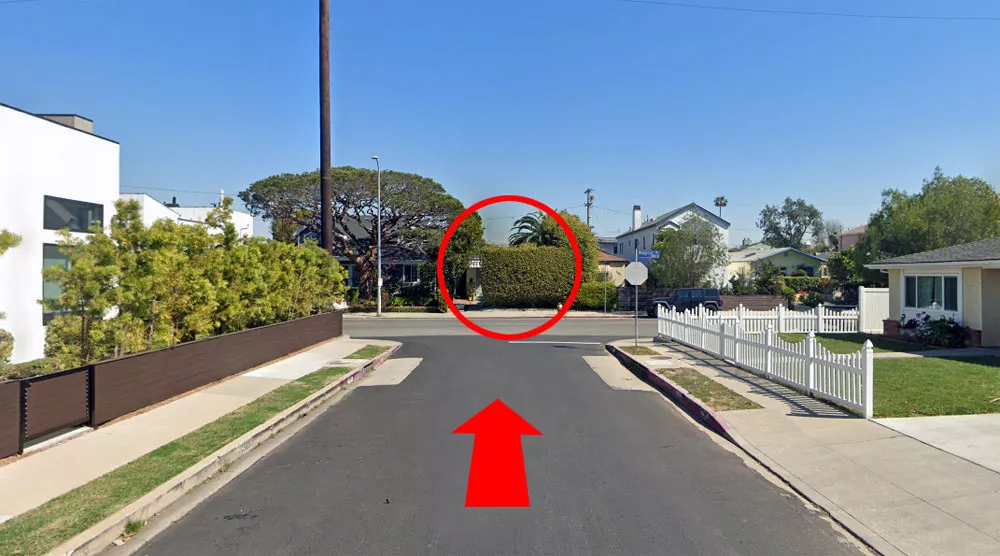 This Google Street View image shows what it would have looked like from her perspective.
Ring doorbell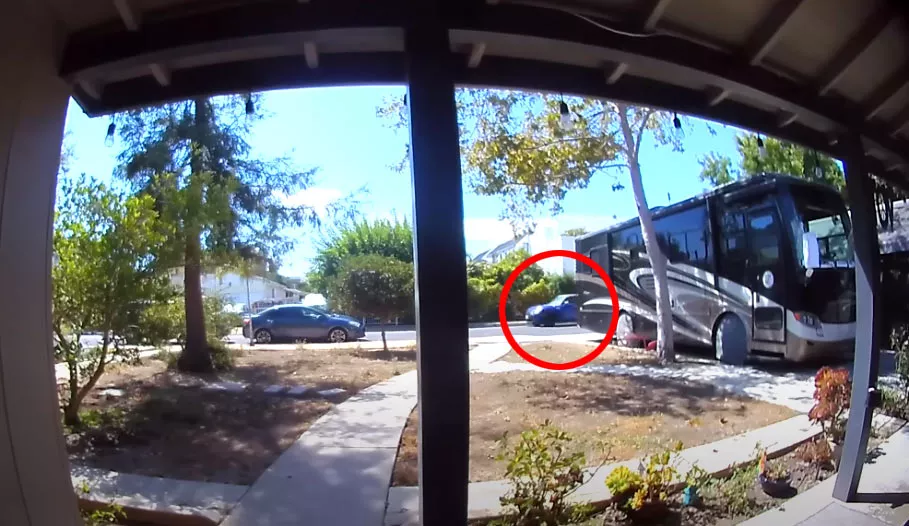 A Ring doorbell on Preston Way captured her vehicle.
Judging by the footage, she was driving at a very high speed.
It took the actress four seconds to drive between the doorbell camera and the house that she crashed into. According to Google Maps, the distance between these two points is 150 meters.
This means that she was driving at around 80 miles per hour (129 km per hour).
Cabrillo Avenue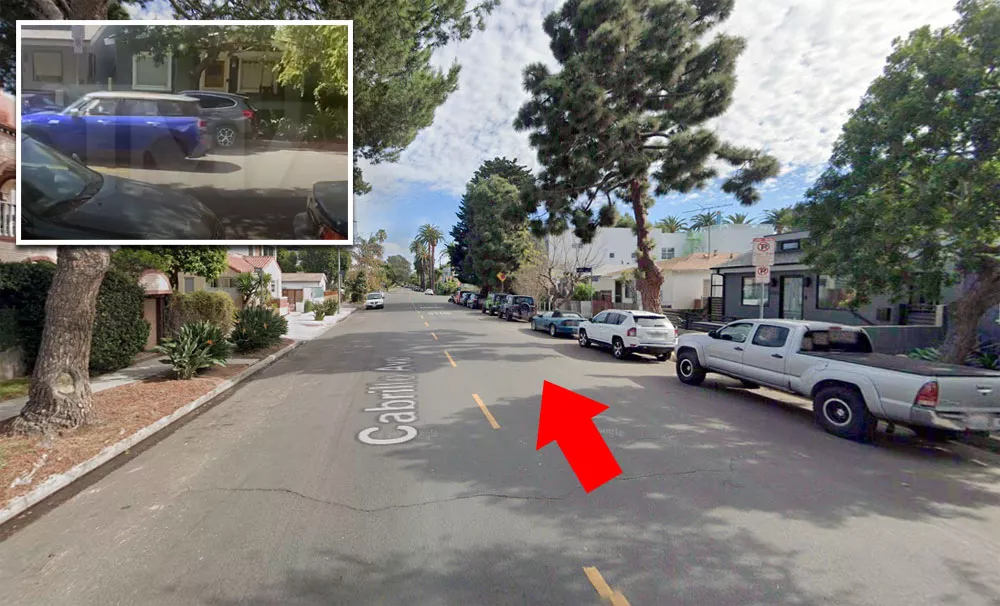 Earlier that morning, at around 10.45 a.m., Heche was recorded driving along this section of Cabrillo Avenue. According to the person who recorded the video, the actress was speeding and circling back and forth.
This road is 1.3 miles southwest of the garage that she crashed into on Lake Street. It takes roughly 6 miles to drive between the two locations.
A special thanks to Stephan Krueger (@stubbenkammer on Twitter) for locating where this footage was captured.
Coordinates: 33.990506, -118.468386
House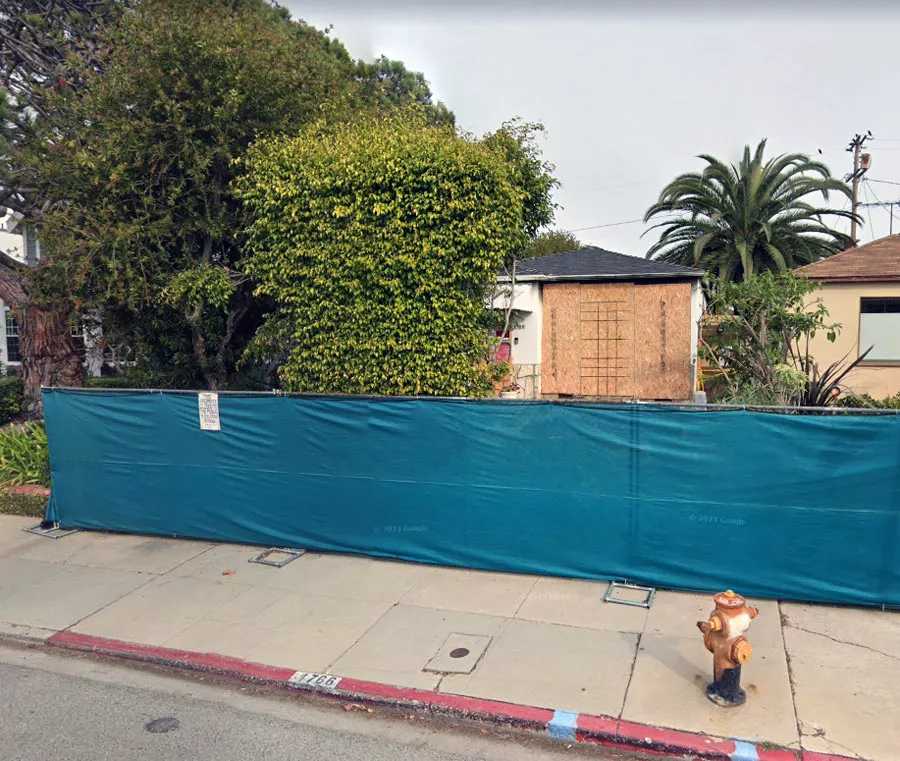 This Google Street View image of the house was taken in December of 2022.
Visualize
There is more than one location associated with this entry. To view all of these places on the same map, you can use the following feature:
Closest Locations
Other locations that are relatively close to this address: Roughly 2 miles away.
Place of Interest in Santa Monica, California, United States Roughly 3 miles away.
Crime Location in Los Angeles, California, United States Roughly 4 miles away.
Place of Interest in Los Angeles, California, United States Roughly 5 miles away.
Crash Site Location in Los Angeles, California, United States Roughly 6 miles away.
Place of Interest in Beverly Hills, California, United States