Freddie Mercury's house
Place of Interest in Kensington, London, England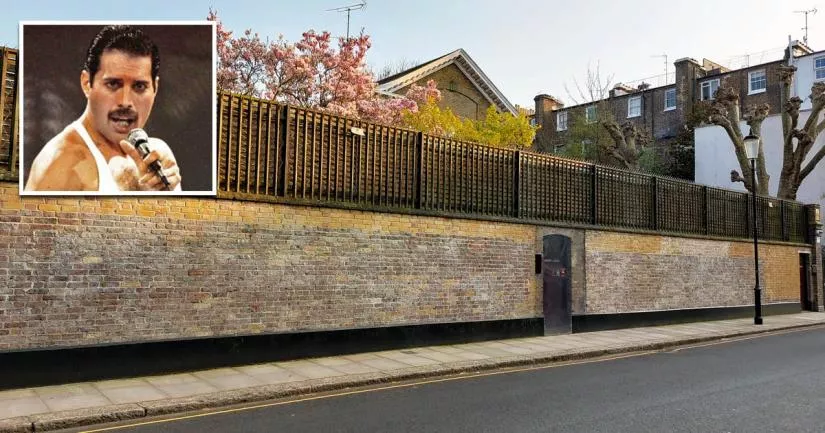 This is Freddie Mercury's former house.
It is situated at 1 Logan Place in Kensington, London.
The Queen frontman died from AIDS-related complications at this walled residence in 1991.
In 1982, Mercury reportedly started to display symptoms of HIV. It is believed that he contracted the virus in July or August of that year while he was on tour in New York.
Throughout the 1980s, the singer's health continued to decline. In August of 1986, he told his bandmates that he wanted to stop performing live because he wasn't able to do it anymore.
In 1987, it was noted that the singer had a skin lesion on his cheek.
Despite growing rumors in the media and numerous signs that he was unwell, Mercury continued to keep his AIDS diagnosis secret.
According to his partner, Jim Hutton, Mercury was officially diagnosed with AIDS in April of 1987. Up until that point, he had ignored his symptoms and put them to the back of his mind.
However, he eventually decided to see a doctor when a lesion on his hand failed to heal.
Although the singer's diagnosis was kept within his inner circle, the British media quickly realized that something was amiss.
During the late 1980s, Queen stopped touring after Mercury's physical appearance continued to worsen. Around the same time, tabloid newspapers learned that two of his former lovers had succumbed to the virus in 1986.
In June of 1991, he disappeared from public life and retired to this house on Logan Place in Kensington. In the months that followed, his condition continued to deteriorate. According to friends and family, he started losing his sight and became bedridden.
On November 23rd, 1991, Mercury put an end to the speculation by releasing a public statement in which he confirmed that he had AIDS. The following day, he died from complications of the disease at the age of 45.

Further information is available in the "Photos" section below.
Freddie Mercury house location
Below, you will find the address and the GPS coordinates for this location.
GPS coordinates
The latitude and longitude coordinates for the house are:
51.494265, -0.198461
Map
To view directions on how to get there, you can use the Google Maps shortcut below:
Address
The full address for this location is:
Garden Lodge
1 Logan Place
Kensington
London
W8 6QN
England
Directions
Garden Lodge is situated in the affluent district of Kensington in Central London. It is a short walk from the junction between West Cromwell Road and the A3220.
The closest underground station is Earl's Court, which is 0.4 miles away. To get to Earl's Court, you will need to use the Piccadilly line (dark blue) or the District line (green).
Photos
Photos of the house and other related images.
---
Freddie Mercury's house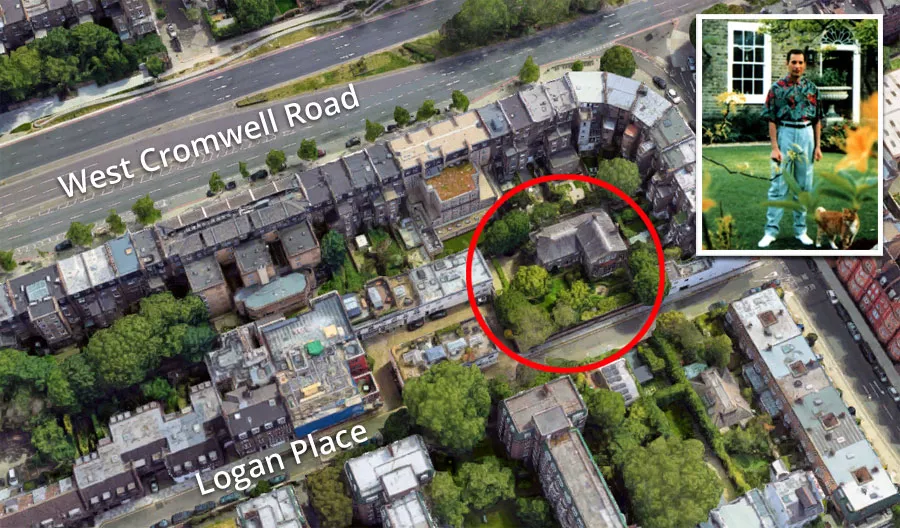 This is an aerial image of Freddie Mercury's former house on Logan Place. The property cannot be seen from the outside because it is surrounded by a large 8-foot wall that is fitted with an anti-climb fence.
The inset photograph on the right was taken by Mercury's partner, Jim Hutton, during the summer of 1991. It is one of the last known photographs of the singer.
Garden Lodge currently belongs to Mercury's former girlfriend, Mary Austin. Although the couple stopped seeing each other romantically, they remained friends up until his death.
The pair had such a close relationship that the Queen frontman left her the house in his will.
Following his death, fans turned the outside wall into a shrine by writing messages on it and leaving flowers behind. However, this stopped in November of 2017 after Austin grew tired of the vandalism and graffiti. Over the years, she reportedly had to replace the front entrance multiple times.
Consequently, the "shrine" was painted over and a plastic perspex cover was placed over the main entrance.
Nowadays, the outside of the property is fitted with surveillance cameras. There are also warning signs that graffiti is a crime.
Logan Place in Kensington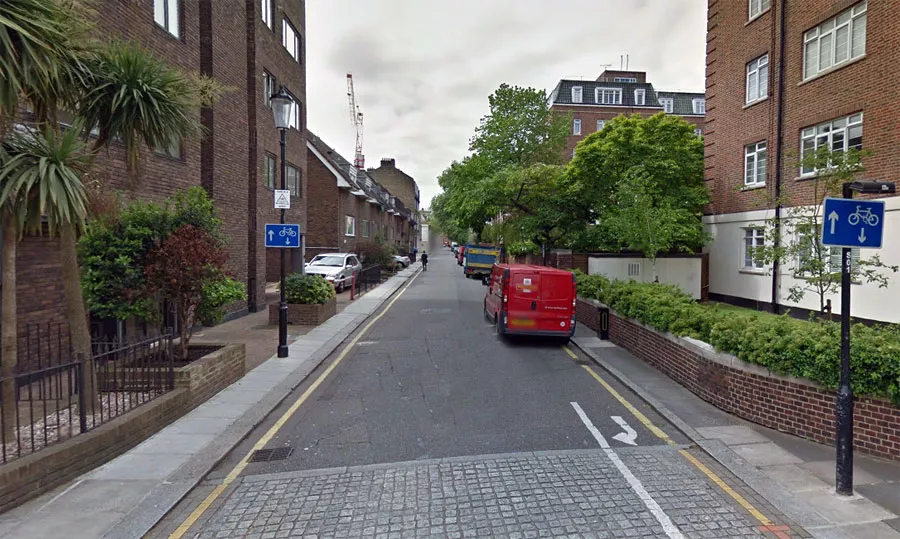 The house is situated at the end of Logan Place in Kensington. Judging by Google Street View, it seems as though Austin decided to blur the house for privacy reasons.
Mercury started living here in 1980 after he purchased Garden Lodge for £500,000. In today's money, that is roughly £2.3 million.
Aerial image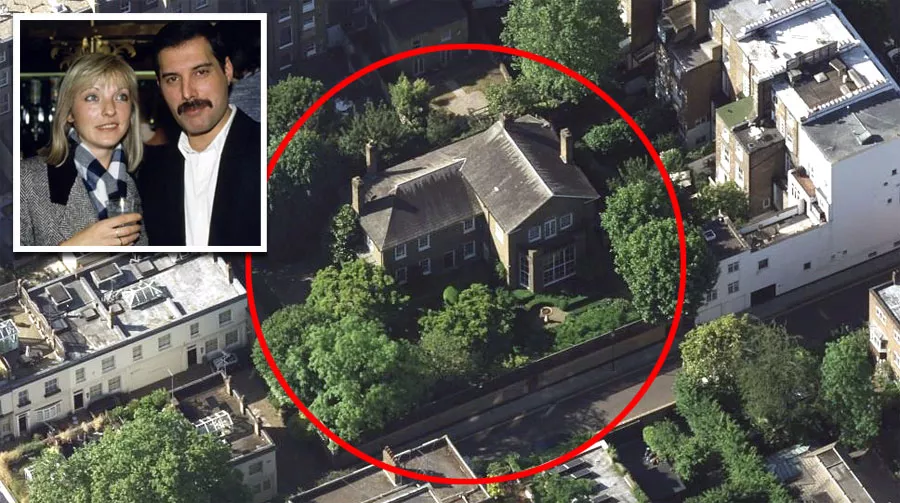 This is a "bird's eye" view of the property, which is now worth more than £20 million.
Austin and Mercury are pictured on the left. The couple had a long-term relationship during the 1970s, during which they got engaged. However, they ended things in 1976 after Mercury privately admitted to her that he was gay.
Following their split, the pair remained close. During one interview, the singer stated that Austin was his only true friend.
1 Logan Place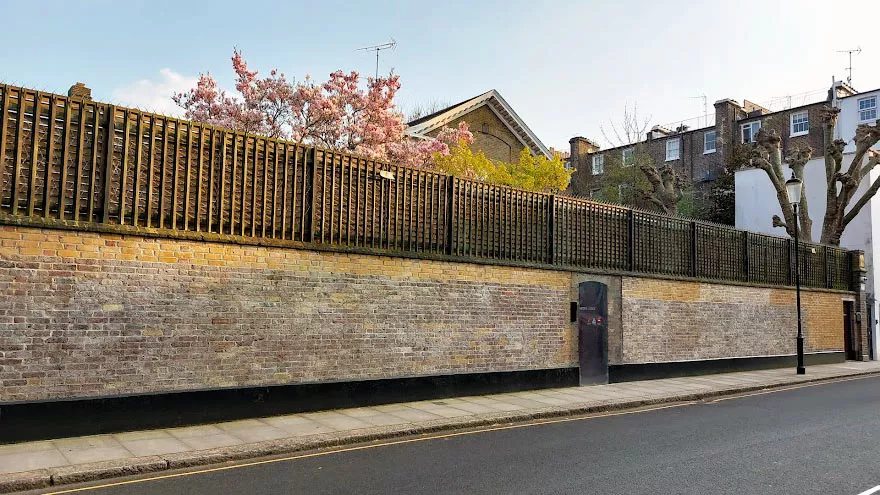 This photograph of 1 Logan Place was taken on March 20th, 2022.
Google Maps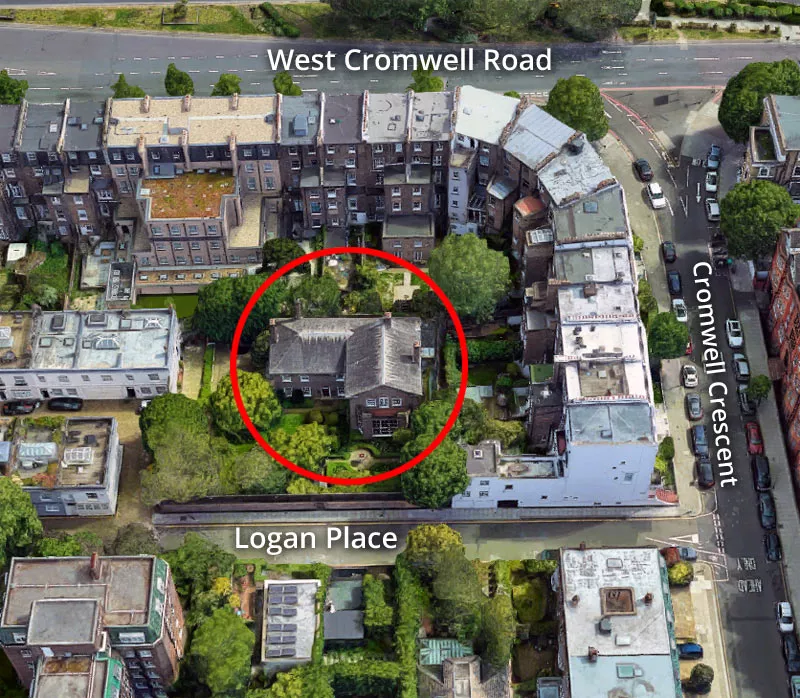 The aerial image above is from Google Maps.
As you can see, it sits close to the corner between Cromwell Crescent and Logan Place.
This location belongs to the following categories:
Celebrities
Closest Locations
Other locations that are relatively close to this address: Roughly 9KM away.
Crime Location in Clapham, London, England Roughly 9KM away.
Filming Location in Kennington, London, England Roughly 10KM away.
Filming Location in Hampstead, London, England Roughly 98KM away.
Crime Location in Bethersden, Kent, England