The site where Wayne Couzens dumped the body of Sarah Everard
Crime Scene Location in Bethersden, Kent, England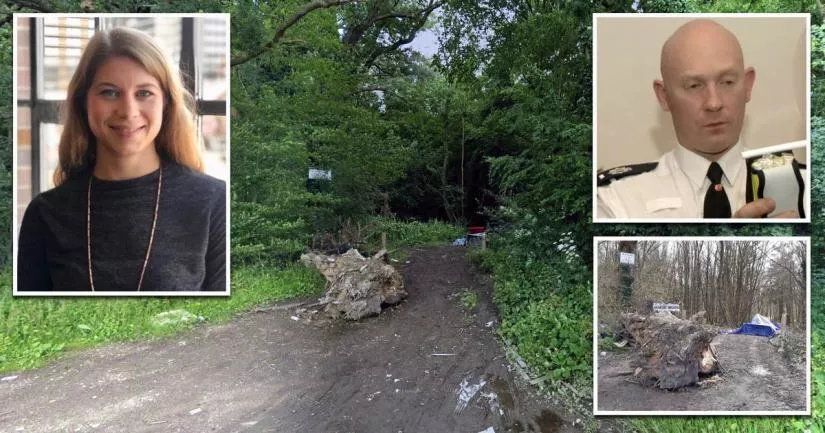 This is the location where Metropolitan Police officer Wayne Couzens dumped the body of Sarah Everard.
The site is situated in a woodland called Hoad's Wood in Kent, England.
On March 3rd, 2021, Couzens hired a rental car and then drove around the streets of London looking for a suitable victim.
At around 9.30 p.m., he stopped Everard as she was walking by herself along Poynders Road in Clapham.
During the stop, Couzens informed the 33-year-old marketing executive that he was arresting her for breaking COVID lockdown rules.
At the time, England was nearing the end of its third national lockdown, which had come into place in January of 2021 following the spread of the Alpha variant.
After placing Everard in handcuffs and putting her into his rental vehicle, he drove for nearly two hours to Dover, where he transferred her to his own personal car.
At that point, he traveled 10 miles north to an area called Sibertswold, where he raped and then strangled Everard to death with a belt.
Following the murder, he drove 30 miles west before dumping his victim's body at this location on Fridd Lane, near Ashford.
Two days later, Couzens returned to this site with a can of petrol, placed Everard's body inside a discarded refrigerator, and set it alight.
On March 7th, he returned to Hoad's Wood yet again. This time, he put Everard's remains in a heavy-duty builders' bag and then dumped them in a nearby pond.
Because Everard's "arrest" was captured on a doorbell camera and a bus CCTV system, investigators were able to track down the rental company that owned the car. Subsequently, they discovered that the car in question had been rented by a Metropolitan Police officer called Wayne Couzens.
On March 9th, the firearms officer was arrested at his home in Deal, Kent. Although he initially denied having any involvement in the crime, he eventually pleaded guilty to kidnapping, rape, and murder.
In September of 2021, a judge sentenced him to life in prison without the possibility of parole.

Further information is available in the "Photos" section below.
Sarah Everard crime scene location
Below, you will find the address and the GPS coordinates for this location.
GPS coordinates
The latitude and longitude coordinates for the site are:
51.152654, 0.785829
Map
To view directions on how to get there, you can use the Google Maps shortcut below:
Address
The full address for this location is:
Hoad's Wood
Fridd Lane
Bethersden
Kent
TN26 3DY
England
Directions
The site is about 2 miles south of Hothfield. It is a 10-minute drive away from the centre of Ashford, Kent.
Bing Maps labels the road as Bethersden Road instead of Fridd Lane.
Photos
Photos of the site and other related images.
---
Hoad's Wood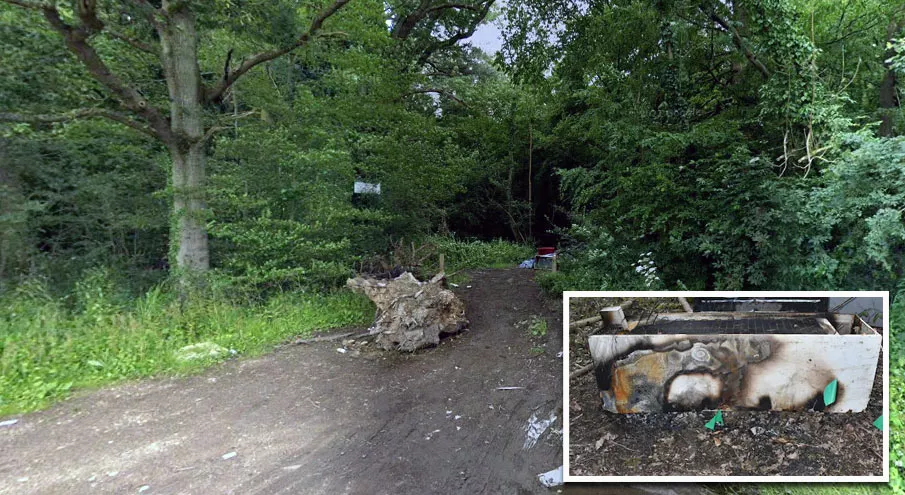 This Google Street View image of Hoad's Wood was taken in July of 2021, roughly four months after Sarah Everard was murdered.
Couzens used the refrigerator in the bottom right-hand corner to burn her remains.
Poynders Road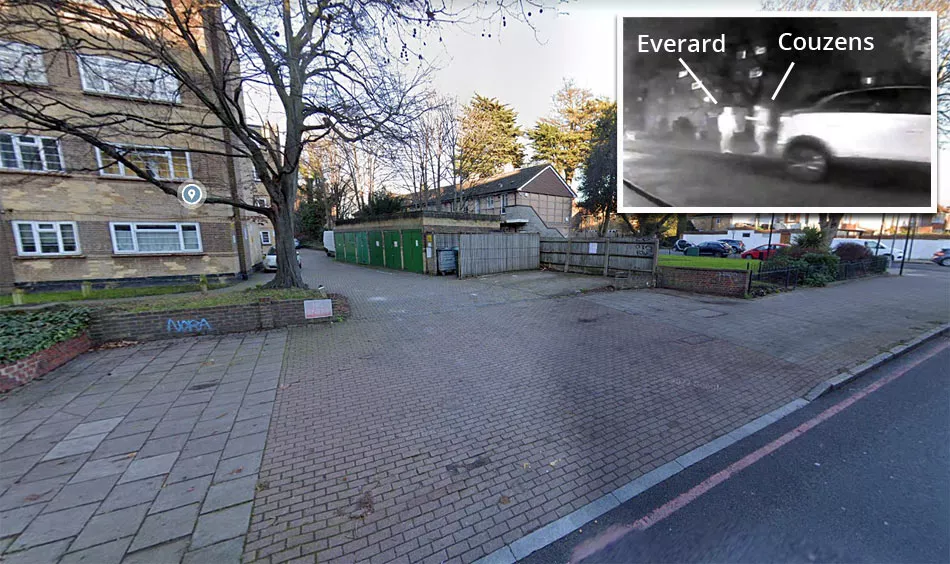 At around 9.30 p.m., Couzens spotted Everard walking along this section of Poynders Road by herself. At the time, she was returning home from a friend's house.
That night, the 48-year-old firearms officer had been trolling the streets of South London for a suitable victim.
When he saw Everard walking alone, he seized the opportunity to pull over and "arrest" her.
In the lead up to the murder, he rented a car and purchased strong adhesive tape. He also made regular trips to London in order to scope the place out.
This was a premeditated crime. The level of planning suggests that he had been fantasizing about committing a rape for quite some time.
Map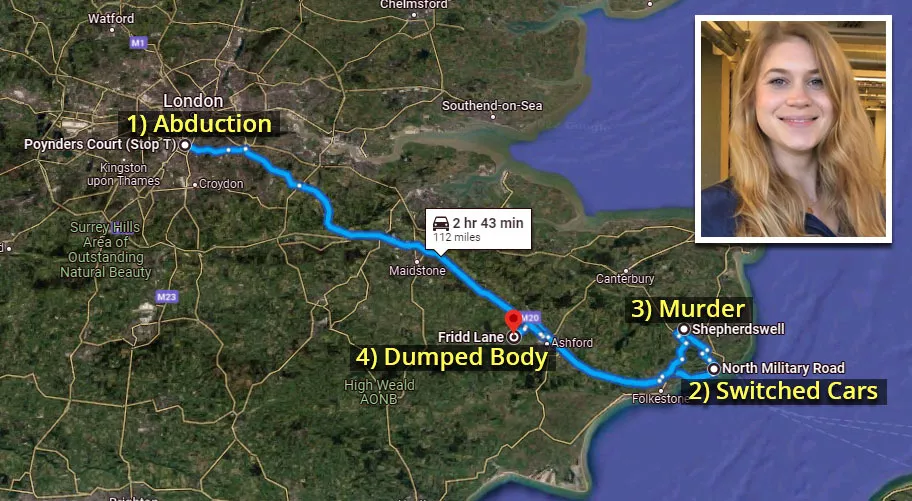 This map shows the route that Couzens took that night.
Sarah Everard was abducted in South London and then driven to Dover, where she was transferred into Couzens' personal vehicle.
At that point, he drove to an area in Sibertswold (Shepherdswell) to commit the crime.
Following the murder, he dumped her body in Hoad's Wood on Fridd Lane.
Wayne Couzens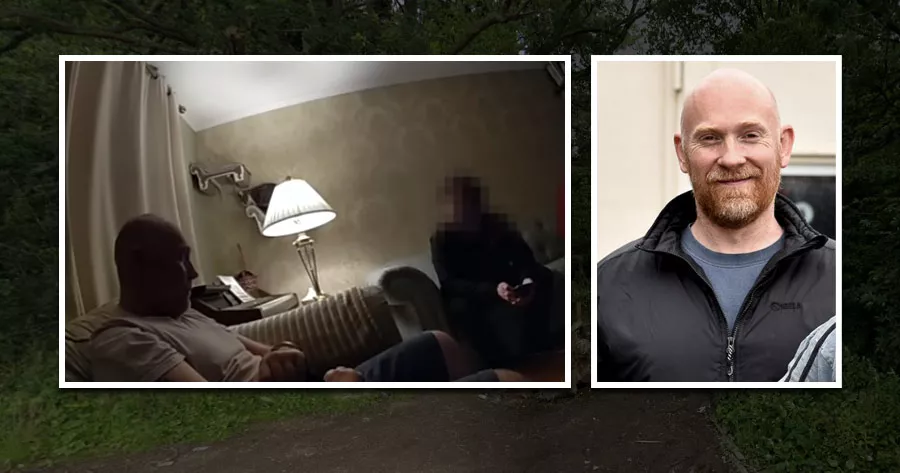 When the arresting officers arrived at Wayne Couzens' house, he initially claimed that he had never seen Sarah Everard before.
However, within seconds, he changed his story. At that point, he concocted a far-fetched tale about how a Romanian criminal gang had forced him to carry out the abduction.
During the interview, Couzens was so nervous that his voice was trembling.
Following his arrest, it emerged that he had exhibited disturbing behavior in the past.
In 2015, he allegedly drove around Dover naked from the waist down. There were also reports that he was a serial flasher and that he had assaulted a drag queen at a pub in his hometown in 2018.
During his stint at the Civil Nuclear Constabulary, a number of female officers felt so uncomfortable around him that colleagues nicknamed him "The Rapist."
His colleagues from the Kent Special Constabulary were also aware that he had an unusual "interest" in sexually violent material.
Despite all of this, he still managed to slip through the Metropolitan Police's vetting procedures.
Crime scene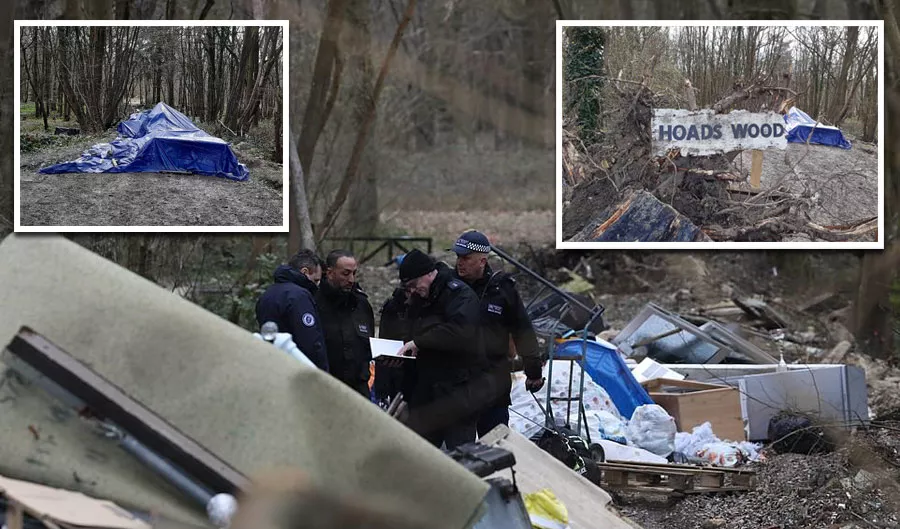 These images of the crime scene at Hoad's Wood show that the lane was littered with garbage.
It was here that Couzens placed Everard's body into a fridge and then doused it with 30 liters of petrol.
Visualize
There is more than one location associated with this entry. To view all of these places on the same map, you can use the following feature:
This location belongs to the following categories:
Crime Scenes
Closest Locations
Other locations that are relatively close to this address: Roughly 91KM away.
Crime Location in Clapham, London, England Roughly 91KM away.
Filming Location in Kennington, London, England Roughly 98KM away.
Place of Interest in Kensington, London, England Roughly 102KM away.
Filming Location in Hampstead, London, England