The inn where Gram Parsons died
Death Location in Joshua Tree, California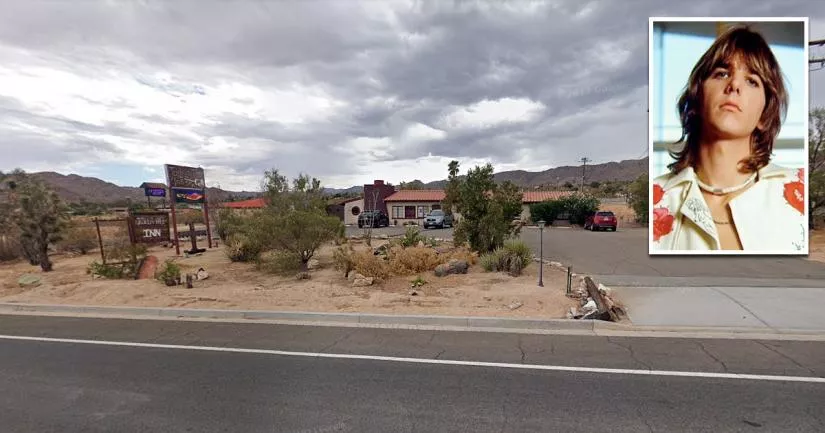 This is the inn where Gram Parsons died of an overdose.
It is called the Joshua Tree Inn, and it is located at 61259 29 Palms Highway in Joshua Tree, California.
Parsons was an influential singer who blended country, blues, soul, and rock music. His unique multi-genre style is often referred to as "Cosmic American Music".
During the late 1960s, he developed a fascination with Joshua Tree National Park and began making regular trips to the area to "recuperate".
This "recuperation" involved daily excursions to the nearby desert and the consumption of alcohol, psychedelics, heroin, morphine, and other drugs.
Parsons was an avid UFO enthusiast. During his time in southwestern California, the 26-year-old would often disappear into the desert, take some LSD, and then scan the skies for signs of alien life.
The singer made his final journey to Joshua Tree on Monday, September 17th, 1973. On that occasion, he was accompanied by his former high school girlfriend, his assistant, and his assistant's girlfriend.
On September 18th, 1973, Parsons drank six double tequilas at a bar in the nearby town of Yucca Valley. Later that night, he returned to the inn and purchased morphine from an unknown woman.
It is believed that the singer may have overestimated his tolerance to the drug, as he ended up injecting enough to kill 2–3 people.
Parsons overdosed in room 1.
Although his girlfriend attempted to wake him up by giving him a cold shower, this failed to have any effect. When the shower didn't jolt him awake, she decided to move him to a bed in their friends' room (room 8) while she fetched him a cup of coffee.
As Parsons was lying in bed in room 8, his breathing became more and more irregular until he eventually took his last breath.
Attempts to resuscitate the singer were unsuccessful, and he was pronounced dead at High Desert Memorial Hospital during the early hours of September 19th, 1973.
Shortly before his death, Parsons had told his tour manager, Phil Kaufman, that he did not want a normal funeral. Instead, he wanted to be cremated and have his ashes spread at Cap Rock in Joshua Tree National Park.
Despite this request, his family planned on flying his body back to New Orleans for a traditional funeral and burial.
To prevent this from happening, Kaufman and Parsons' assistant, Michael Martin, posed as mortuary workers, stole the body from Los Angeles International Airport, and drove it back to Joshua Tree in a custom hearse.
The pair then hastily attempted to cremate Parsons' remains by setting his casket on fire at Cap Rock. However, this improvised cremation "ceremony" was not a complete success, as a substantial portion of the singer's body was left intact.
At the time, there was no specific crime for stealing a dead body. Consequently, Kaufman and Parsons were only charged with misdemeanor theft.
Unlike other hotels where celebrities have met their demise, the Joshua Tree Inn embraces its tragic past instead of shying away from it. The room where the father of "Cosmic American Music" passed away is currently available upon request.

Further information is available in the "Photos" section below.
Gram Parsons death location
Below, you will find the address and the GPS coordinates for this location.
Address
61259 29 Palms Highway, Joshua Tree, California, CA 92252, USA
Map
To view directions on how to get there, you can use the Google Maps shortcut below:
GPS coordinates
The latitude and longitude coordinates for the inn are:
34.134403, -116.326921
Directions
It sits on the southwestern corner of 29 Palms Highway and Outpost Road.
Details about the general area
Joshua Tree is situated in San Bernardino County, in southwestern California. It is roughly 50 miles east of San Bernardino.
Private Property Warning
This is a private property. It is not a public place. Therefore, you should be respectful and not step foot on the property without permission.
Photos
Photos of the inn and other related images.
---
Joshua Tree Inn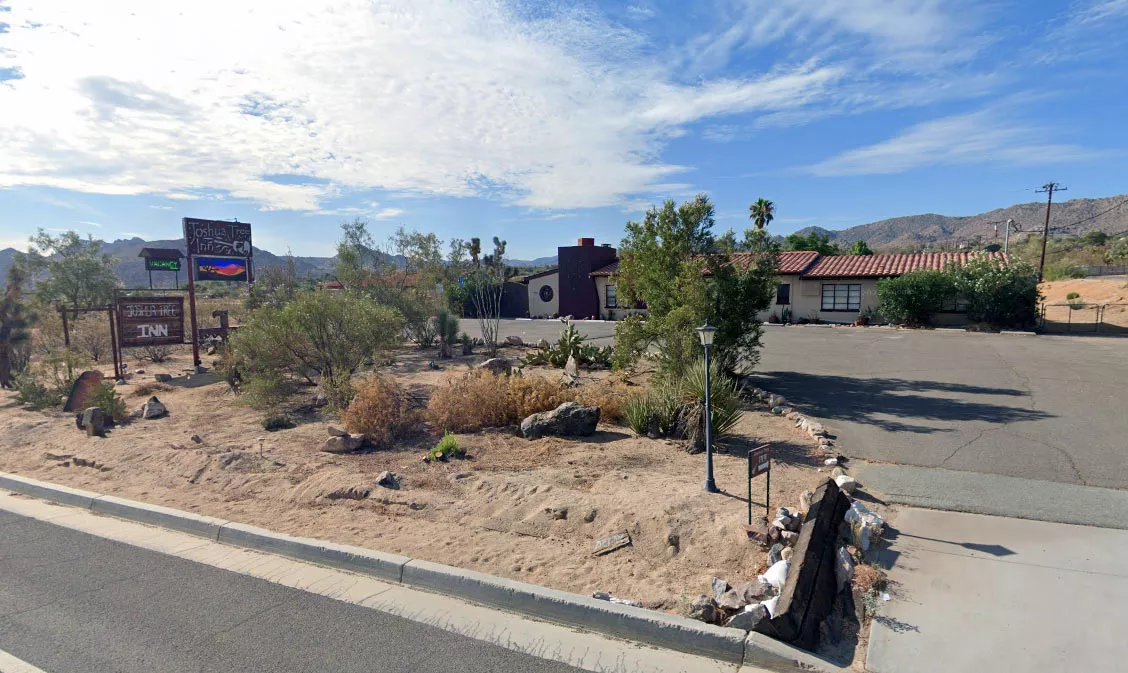 Image source: Google Maps
This Google Street View image of the Joshua Tree Inn was taken in August 2023.
Parsons died in room 8, which is only available to guests who specifically ask for it.
Parsons' remains were cremated at Cap Rock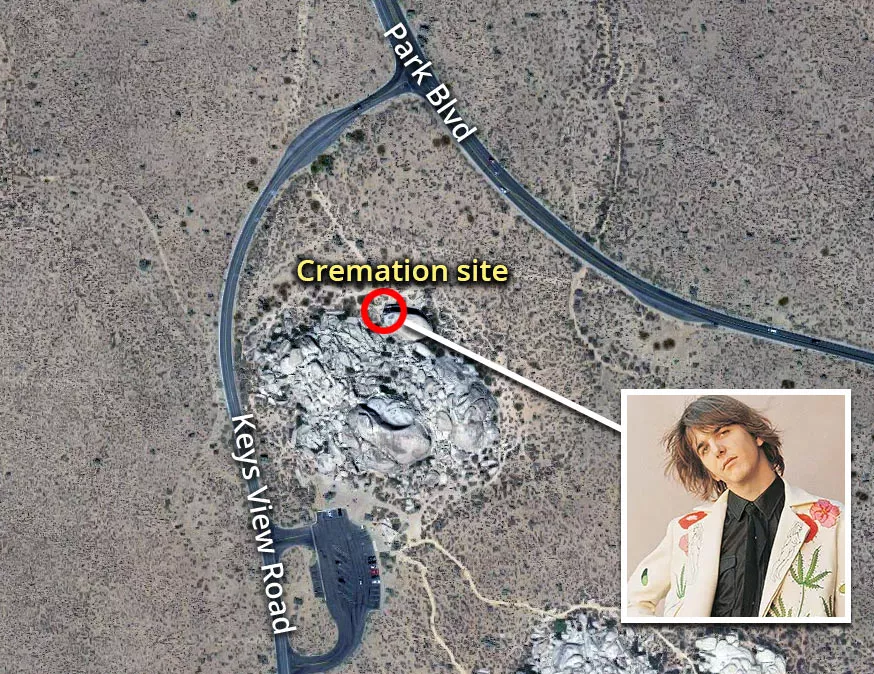 Parsons' remains were cremated near Cap Rock, which is roughly 16 miles south of Joshua Tree Inn.
The coordinates for the site are listed below.
Note that the National Park Service does not recognize this location as an official memorial for the singer. Nor does it mark the spot on any of its maps or brochures.
In the past, it has quickly removed any inscriptions, graffiti, or remembrance gifts left by fans.
There is some debate over whether this is the exact location where Parsons' body was cremated, as a number of sources have claimed that the casket was set alight 0.25 miles away from Cap Rock.
Regardless, it seems as though this rock in Joshua Tree National Park has become something of a mecca for fans of the singer.
Coordinates: 33.990496, -116.163558
Map Viewer
There is more than one location associated with this entry. To view all of these places on the same map, you can use the following feature:
This location belongs to the following categories:
Celebrities
Closest Locations
Other locations that are relatively close to this address: Roughly 109 miles away.
Crime Location in Irvine, California Roughly 134 miles away.
Arrest Location in Los Angeles, California Roughly 134 miles away.
Filming Location in San Diego, California Roughly 136 miles away.
Crime Location in Los Angeles, California