Map: The inn where Gram Parsons died
The map below shows the inn (black marker) and its related locations.
---
Main Article
The map above belongs to the following article: Death Location in Joshua Tree, California
In September 1973, singer Gram Parsons died of an overdose at the Joshua Tree Inn in California.

His body was later cremated at Cap Rock in Joshua Tree National Park.
Related Locations
The following locations are related to the inn. Please note that some of these entries may lack context unless you've read the main article.
---
Parsons' remains were cremated at Cap Rock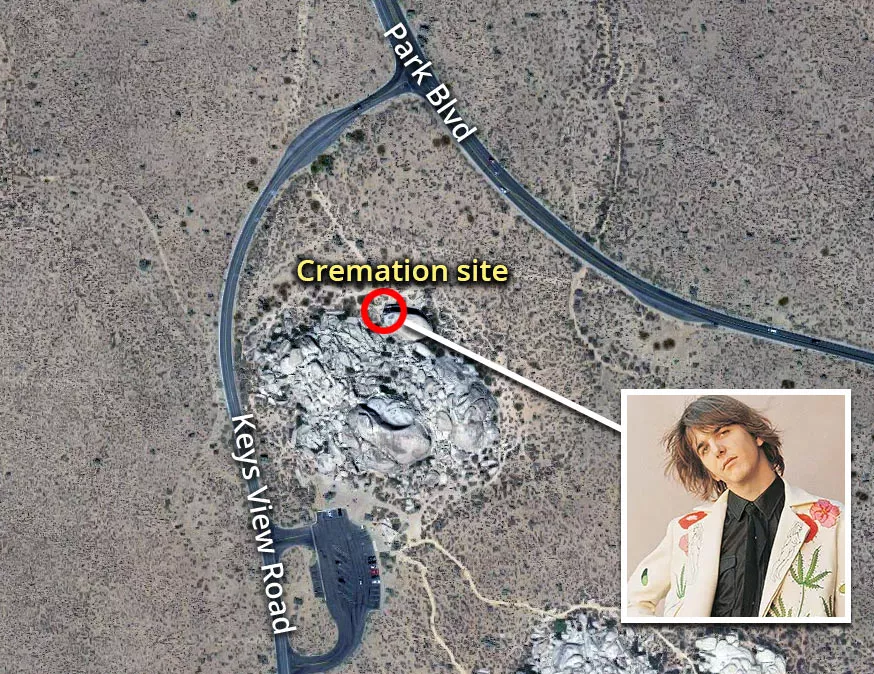 Parsons' remains were cremated near Cap Rock, which is roughly 16 miles south of Joshua Tree Inn.
The coordinates for the site are listed below.
Note that the National Park Service does not recognize this location as an official memorial for the singer. Nor does it mark the spot on any of its maps or brochures.
In the past, it has quickly removed any inscriptions, graffiti, or remembrance gifts left by fans.
There is some debate over whether this is the exact location where Parsons' body was cremated, as a number of sources have claimed that the casket was set alight 0.25 miles away from Cap Rock.
Regardless, it seems as though this rock in Joshua Tree National Park has become something of a mecca for fans of the singer.