The location where Hinckley attempted to assassinate Reagan
Crime Scene Location in Washington, D.C., United States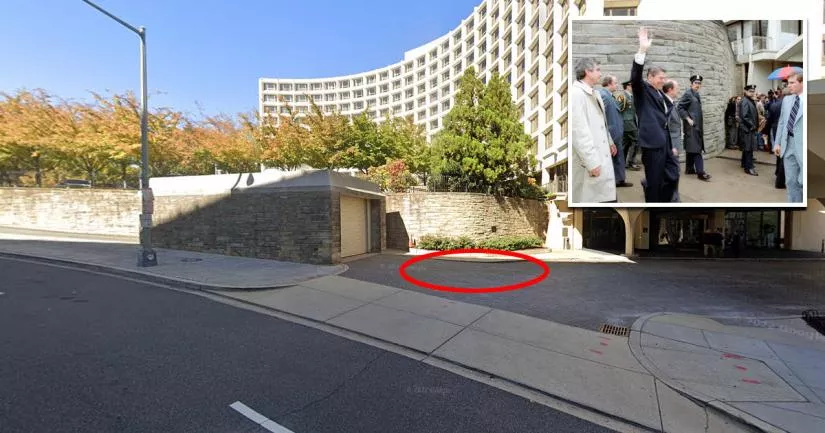 This is the location where John Hinckley attempted to assassinate US President Ronald Reagan.
It is situated on T Street NW in Washington, D.C.
The shooting took place outside the southern entrance to the Washington Hilton hotel.
Hinckley was a 25-year-old college dropout who had erotomania—a delusional disorder that causes the sufferer to believe that an unattainable person is secretly in love with them. In Hinckley's case, he became obsessed with teenage actress Jodie Foster after repeatedly watching the 1976 movie Taxi Driver.
As his obsession grew stronger, he began sending her letters, calling her, and following her around the country. When his stalking efforts failed to establish a relationship with Foster, he reasoned that he needed to do something drastic to grab her attention.
Initially, he thought about highjacking an aircraft or attempting suicide in front of the actress. However, he eventually settled on the idea of assassinating Reagan.
In his mind, committing such a huge act would make him a nationally known figure and impress Foster. At the very least, she'd now know his name.
At exactly 2.27 p.m. on March 30th, 1981, Reagan left a conference at the Hilton Hotel and began walking back to his presidential limousine, which was parked at this section of T Street NW.
Hinckley was hidden among the crowd, which the Secret Service had negligently allowed to stand within 15 feet of the vehicle.
As Reagan waved at the onlookers, Hinckley pulled out a .22 caliber Röhm RG-14 revolver and fired six shots.
The president was seriously wounded by a ricochet bullet that bounced off his limousine and struck him in the chest. Also injured were press secretary James Brady, MPDC police officer Thomas Delahanty, and Secret Service agent Timothy McCarthy.
Although the four men survived the attack, Brady was left permanently disabled. His death in 2014 was ruled a homocide, as the medical examiner concluded that his injuries had contributed to his passing.
Following the shooting, members of the crowd attacked Hinckley and dragged him to the ground. At that point, Secret Service agents quickly intervened and took him into custody.
Hinckley went on trial for the attempted assassination of Reagan. However, he was eventually found not guilty by reason of insanity and confined to St. Elizabeths Hospital in Washington, D.C.
In 2016, he was released after a federal judge ruled that he was no longer considered a threat to himself or others.

Further information is available in the "Photos" section below.
Reagan assassination attempt location
Below, you will find the address and the GPS coordinates for this location.
GPS coordinates
The latitude and longitude coordinates for the site are:
38.916094, -77.045399
Map
To view directions on how to get there, you can use the Google Maps shortcut below:
Address
The full address for this location is:
T Street NW
Washington, D.C.
DC 20009
United States
Directions
Reagan's shooting took place on the southern side of the Washington Hilton hotel. The entrance is about 220 feet east of the intersection between Connecticut Avenue NW and T Street NW.
Details about the general area
It lies to the northwest of Dupont Circle.
Photos
Photos of the site and other related images.
---
Shooting location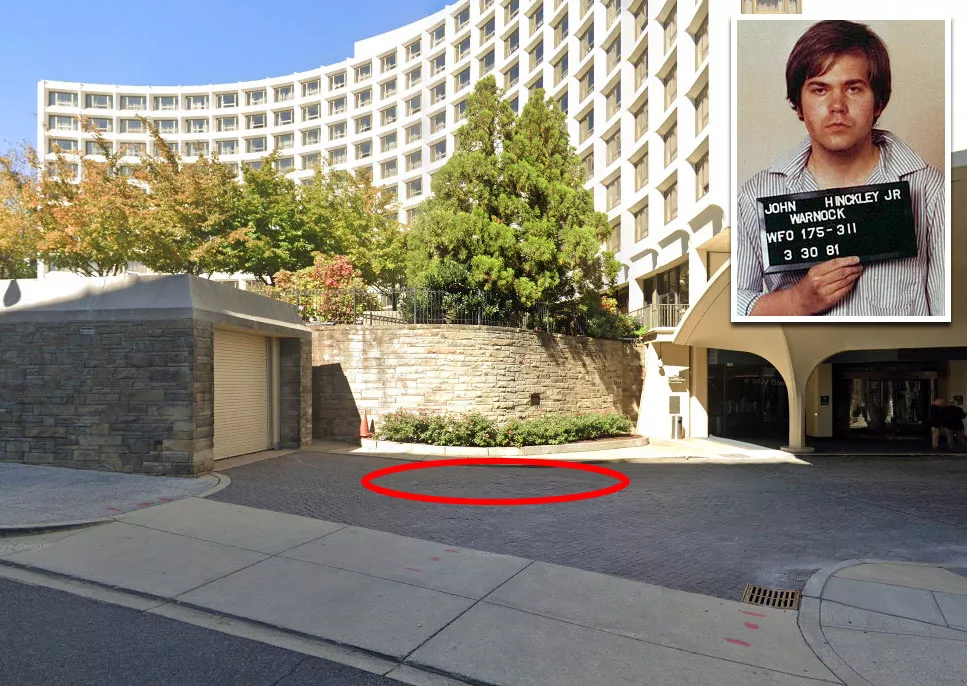 Image source: Google Maps
This Google Street View image of the attempted assassination site was captured in October of 2022. Hinckley's mugshot is visible in the top-right corner.
A historical marker is currently present at the site. It reads as follows:
"On March 30, 1981, President Ronald Reagan marked the 100th visit to the Washington Hilton by a sitting US President. Reagan had been invited to speak in the International Ballroom at a meeting of North America's Building Trades Unions. Upon exiting the hotel along T Street at 2.27 p.m., Reagan was struck and wounded by a gunshot fired from John Hinckley, Jr., who had been waiting outside. Gunshots also wounded Reagan's Press Secretary James Brady, D.C. police officer Thomas Delahanty, and Secret Service agent Timothy McCarthy. Reagan recovered from the incident and visited the hotel several times afterwards.
Hinckley hid among the crowd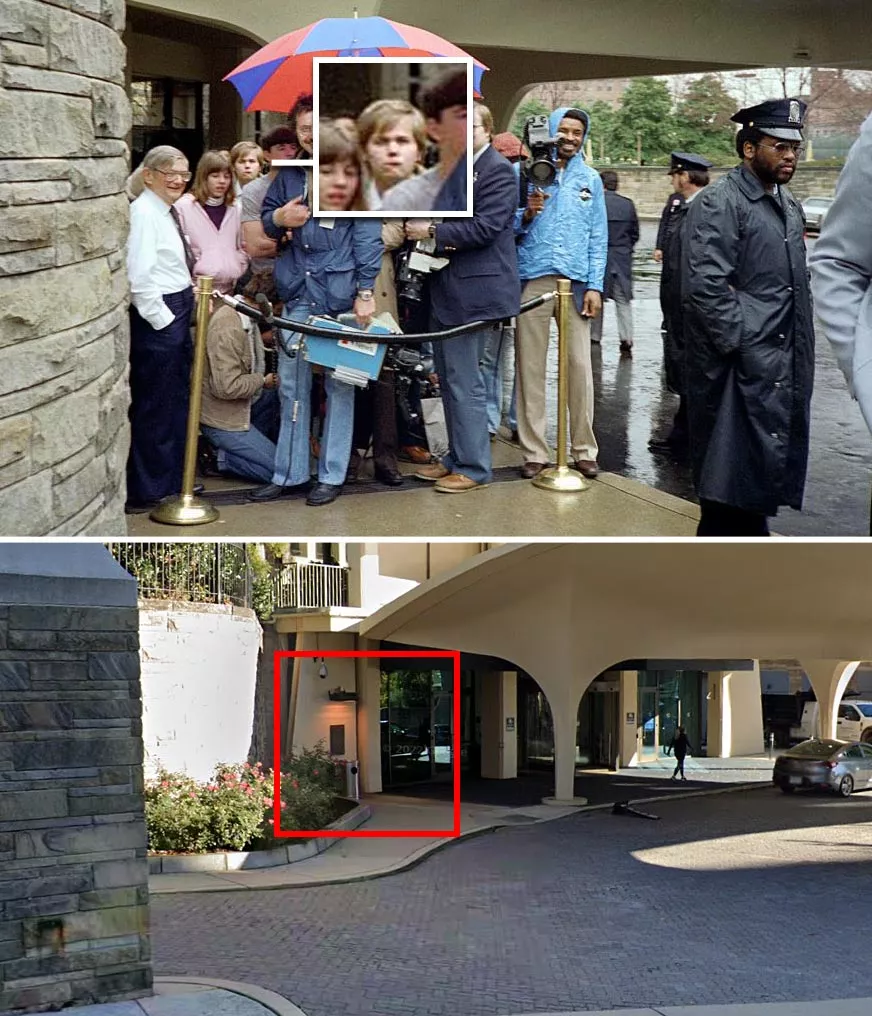 In the lead-up to the shooting, Hinckley stood among the crowd by the entrance.
At the time, it was still relatively easy to get close to the president.
Following the attempt on Reagan's life, the Secret Service began using magnetometers to detect metal objects. Security perimeters were also pushed out.
Nowadays, people are no longer allowed to stand near the president unless they've been scanned.
These measures, combined with better training for agents, technology, communication, and intelligence gathering, have drastically reduced the chances of an assassination attempt being successful.
Reagan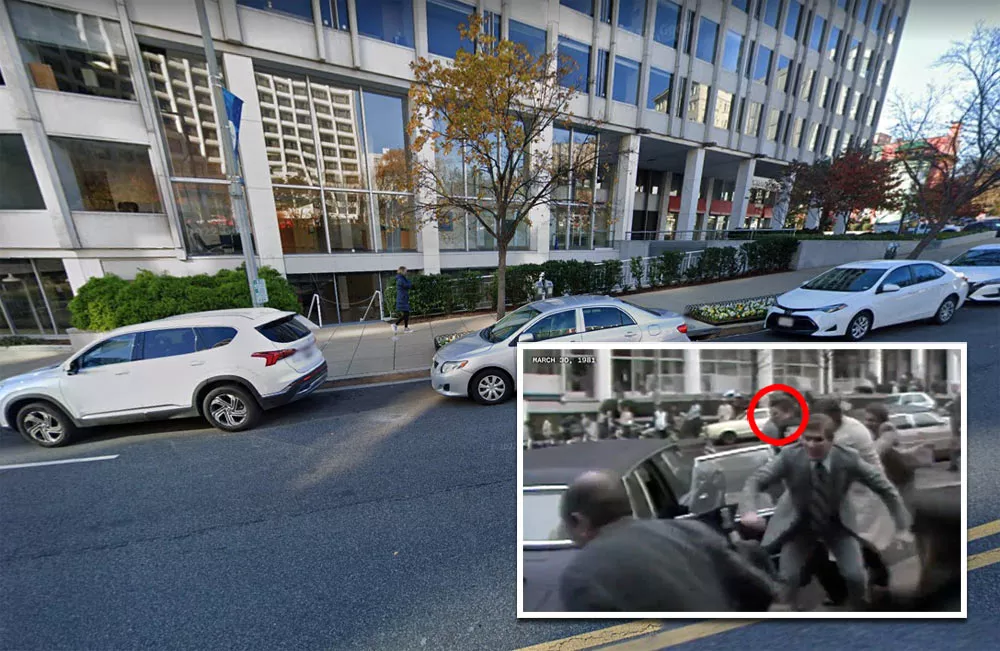 Hinckley fired a number of shots before the Secret Service agents realized what was happening. One of the bullets missed and hit a window in the building on the other side of the street.
The final shot ricocheted off the armored presidential limousine and hit Reagan in the left underarm, leaving him with a grazed rib and a partially collapsed lung.
The bullet stopped roughly one inch from his heart.
Jodie Foster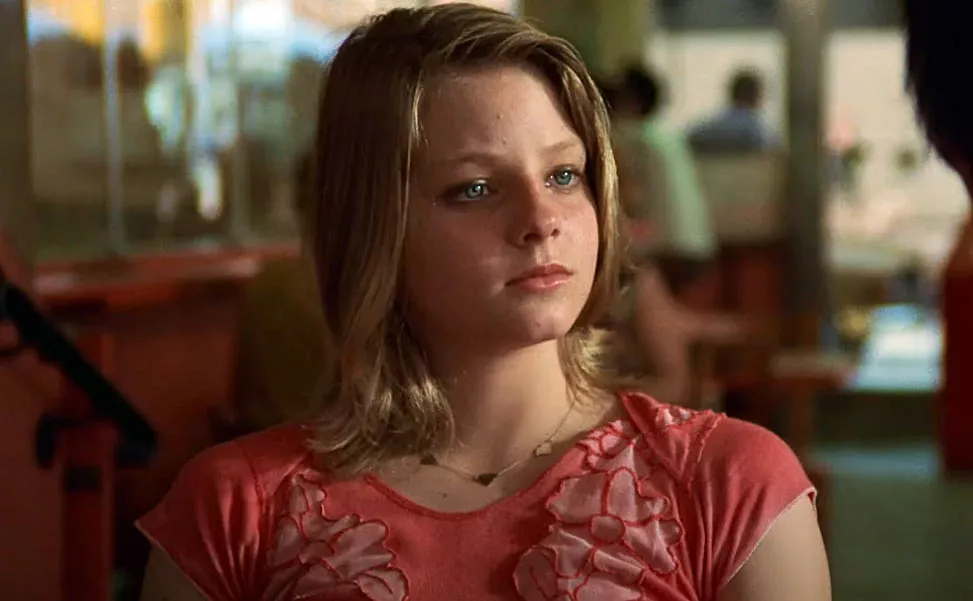 Image source: Taxi Driver (1976)
At some point, Hinckley became obsessed with the neo-noir psychological thriller film Taxi Driver (1976).
The movie features 12-year-old Jodie Foster as a sex trafficking victim named Iris Steensma. Notably, the main character, Travis Bickle (Robert De Niro), plots to assassinate a presidential candidate called Charles Palantine.
Hinckley repeatedly watched the film and developed an obsession with Foster. He then began sending her letters and poems.
After failing to get her attention, he convinced himself that the only way to make her see him as an equal was to do something big.
It seems as though his initial target was President Jimmy Carter, whom he trailed across the United States. However, this plot failed when he was arrested in Nashville, Tennessee, on October 9th, 1980, for possession of concealed weapons.
One month later, Carter was defeated by Republican candidate Ronald Reagan in the 1980 United States presidential election.
Reagan took office on January 20th, 1981, which was roughly two months before the assassination attempt.
Hinckley now releases songs on YouTube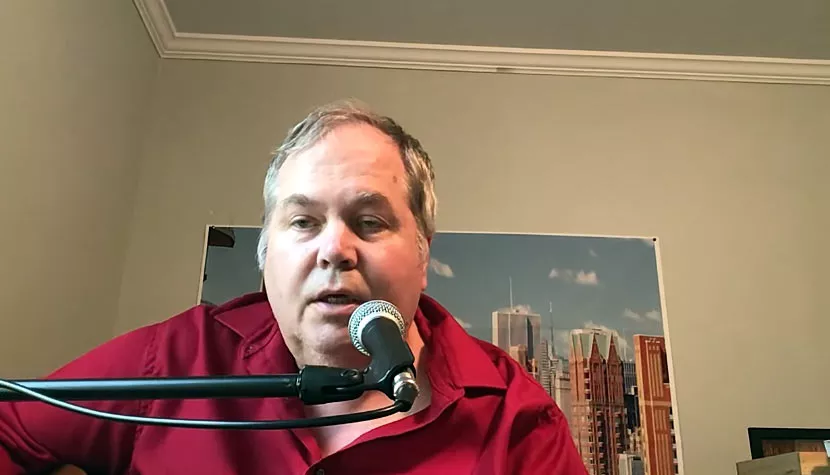 Hinckley was released from psychiatric care on September 10th, 2016, after he agreed to abide by strict conditions. He was granted a full release in 2022.
These days, he releases songs on YouTube and sells cat paintings on eBay.
Closest Locations
Other locations that are relatively close to this address: Roughly 42 miles away.
Filming Location in Baltimore, Maryland, United States Roughly 42 miles away.
Filming Location in Baltimore, Maryland, United States Roughly 43 miles away.
Filming Location in Baltimore, Maryland, United States Roughly 43 miles away.
Filming Location in Baltimore, Maryland, United States Roughly 44 miles away.
Filming Location in Baltimore, Maryland, United States