Laura Kempton's apartment
Crime Scene Location in Portsmouth, New Hampshire, United States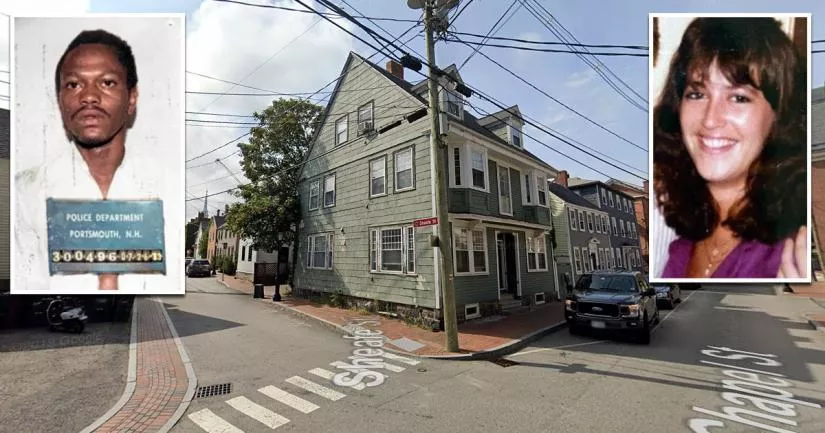 This is the apartment where Laura Kempton was murdered.
It is situated at 20 Chapel Street in Portsmouth, New Hampshire.
Kempton was last seen entering her first-floor apartment during the early hours of September 28th, 1981, after a night out with friends.
Later that morning, at around 9.30 a.m., a police officer discovered her body while he was attempting to serve her with a court summons for unpaid parking tickets.
The 23-year-old beauty school student had suffered massive head trauma.
Kempton's killer struck her over the head with a blunt object, tied her legs together with an electrical cord, and wrapped a telephone wire around her neck and shoulder.
There were also signs that she had been sexually assaulted.
Various items were collected from the crime scene. These included a cigarette butt, a glass bottle, and a pillow.
Following the emergence of DNA profiling, the authorities were able to retrieve a male profile from some of these items. However, they failed to find any matches.
Although detectives pursued various suspects over the years, every lead seemed to hit a brick wall. As a result, Kempton's murder became one of those frustrating cold cases that is occasionally mentioned in the local newspaper.
In 2017, there was an attempt to track down her killer using forensic genealogy. This failed, as the method of comparing profiles was still somewhat limited.
Five years later, in 2022, the technology had advanced enough to allow for more advanced testing.
On July 20th, 2023, it was announced that investigators had identified Ronney James Lee as the prime suspect in Kempton's murder.
Unfortunately, it was far too late to bring him to justice, as he had died of a cocaine overdose on February 9th, 2005, at the age of 45.
At the time of the murder, Lee was 21 years old and working as a security guard in Porthsmouth. Records show that he spent time in prison in the late 1980s for charges relating to a burglary and sexual assault.
Following his release, he reportedly lived the remainder of his life in Manchester, New Hampshire.
Although Lee died before he could be charged with the murder, the news provided a level of closure for Kempton's family. It also brought an end to a case that had gone unsolved for more than 40 years.

Further information is available in the "Photos" section below.
Laura Kempton apartment address
Below, you will find the address and the GPS coordinates for this location.
GPS coordinates
The latitude and longitude coordinates for the apartment are:
43.077326, -70.754912
Map
To view directions on how to get there, you can use the Google Maps shortcut below:
Address
The full address for this location is:
20 Chapel Street
Portsmouth
New Hampshire
NH 03801
United States
Directions
The apartment sits on the corner of Chapel Street and Sheafe Street. Kempton was living on the first floor.
Details about the general area
Portsmouth is a port city in the southeast of New Hampshire. It borders the state line with Maine.
Private Property Warning
This is a private property. It is not a public place. Therefore, you should be respectful and not step foot on the property without permission.
Photos
Photos of the apartment and other related images.
---
20 Chapel Street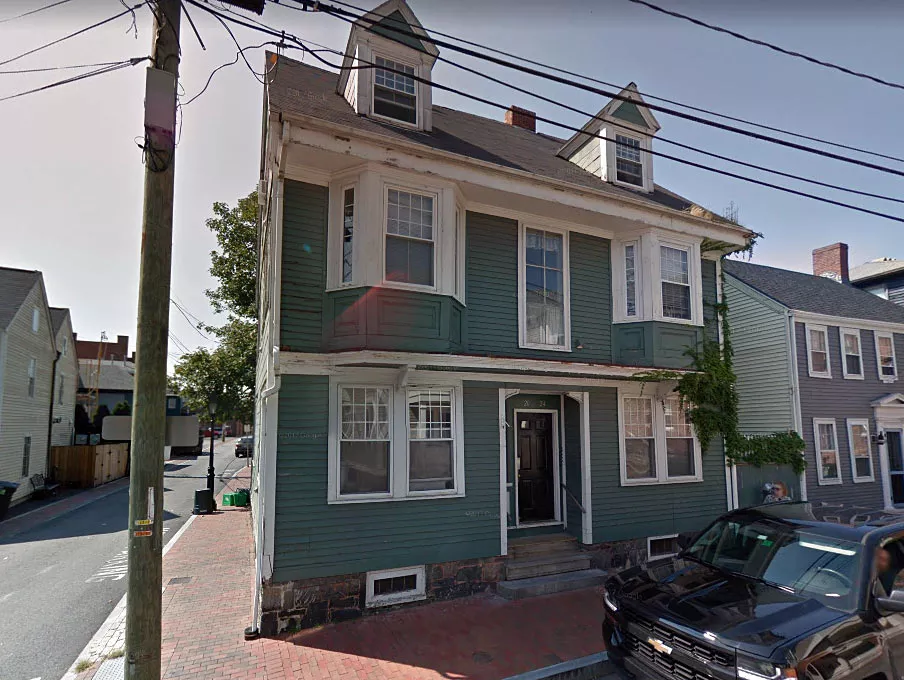 It was built in 1900. The building has six apartments.
The police found Kempton's naked body covered by a blanket and mattress. An electrical cord had been tied around her ankles. It is believed that Ronney James Lee killed the 23-year-old by striking her on the left side of the head with a glass bottle.
A Portsmouth police officer named Ron Grivois made the discovery while he was attempting to deliver a court summons to Kempton. Grivois was able to see inside the apartment because one of the panels on her wooden apartment door was missing.
Lee was identified in May of 2022 after the authorities used forensic genealogy to track down his parents.
Records show that he served in the US Army until May of 1981. After leaving the army, he worked as a security officer in Portsmouth between June of 1981 and August of 1982.
In 1983, he was linked to five separate burglaries, four of which involved residential properties.
Four years later, in 1987, he was convicted of charges relating to a burglary and sexual assault. The crime in question took place in Keene, which is roughly 75 miles west of Portsmouth.
Lee served time in state prison between December of 1987 and July of 1990. Following his release, he reportedly moved to Manchester, where he lived until he died of an overdose in 2005.
Kempton's murder is often linked with the 1982 killing of Tammy Little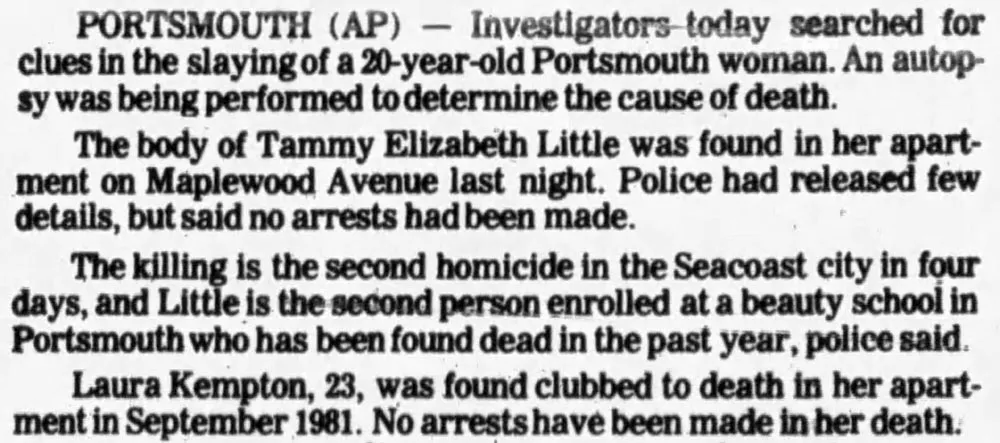 Image source: Concord Monitor
The newspaper article above appeared in the Concord Monitor on October 20th, 1982.
Laura Kempton's death has long been linked to the murder of another Portsmouth Beauty School student named Tammy Little (20).
Little was found dead in her Maplewood Avenue apartment on October 19th, 1982. Like Kempton, she had suffered massive head injuries.
The investigation into Little's death is still ongoing.
This location belongs to the following categories:
Crime Scenes
Closest Locations
Other locations that are relatively close to this address: Roughly 49 miles away.
Filming Location in Salem, Massachusetts, United States Roughly 49 miles away.
Filming Location in Marblehead, Massachusetts, United States Roughly 50 miles away.
Filming Location in Salem, Massachusetts, United States Roughly 54 miles away.
Place of Interest in Nashua, New Hampshire, United States Roughly 62 miles away.
Filming Location in Chelsea, Massachusetts, United States