Gianni Versace's mansion
Crime Scene Location in Miami Beach, Florida, United States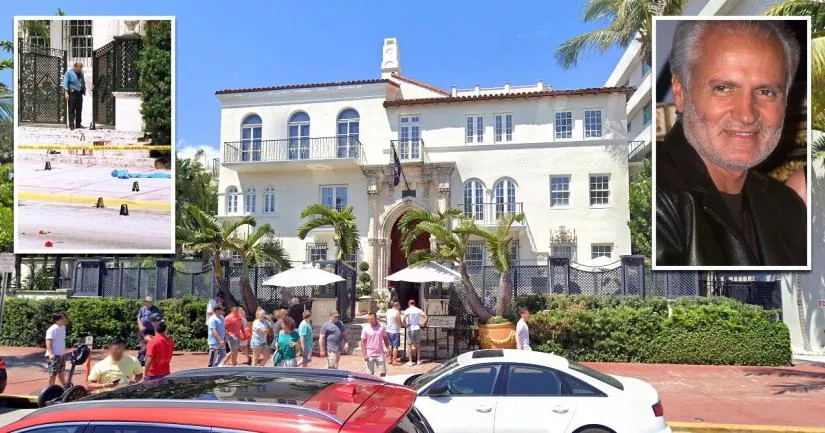 This is Gianni Versace's former mansion.
It is situated at 1116 Ocean Drive in Miami Beach, Florida.
On the morning of July 15th, 1997, the fashion designer left his mansion and walked to the News Cafe, which is just a few blocks south of this location.
After purchasing coffee and some magazines, he returned to his residence and began walking up the marble steps.
As Versace was attempting to unlock the front gate, a wanted spree killer named Andrew Cunanan approached him from behind and shot him twice in the back of the head with a .40 caliber handgun.
The 50-year-old was killed instantly.
The attack was so sudden and ruthless that the fashion designer was dead before he could realize what was happening.
Following the shooting, Cunanan fled from the crime scene. Although a witness attempted to pursue him, they quickly backed off after he stopped and pointed the gun in their direction.
Moments later, he ran into a parking garage on 13th Street, got into a red 1995 Chevrolet pickup truck, changed his clothes, and then left the scene on foot.
In the three months preceding Versace's death, Cunanan had murdered four people in separate attacks, including a prominent real estate developer named Lee Miglin.
Versace proved to be his fifth and final victim.
Cunanan spent the next week holed up on a vacant houseboat on Collins Avenue, which was 3.7 miles north of the mansion.
Then, on July 23th, 1997, he put a handgun to his head and committed suicide.

Further information is available in the "Photos" section below.
Gianni Versace mansion address
Below, you will find the address and the GPS coordinates for this location.
GPS coordinates
The latitude and longitude coordinates for the house are:
25.781960, -80.130418
Map
To view directions on how to get there, you can use the Google Maps shortcut below:
Address
The full address for this location is:
1116 Ocean Drive
Miami Beach
Florida
FL 33139
United States
Directions
It is situated on the corner of Ocean Drive and 11th Street in the South Beach neighborhood of Miami Beach.
Details about the general area
Miami Beach is a coastal resort city that lies to the east of Miami, Florida.
Private Property Warning
This is a private property. It is not a public place. Therefore, you should be respectful and not step foot on the property without permission.
Photos
Photos of the house and other related images.
---
Versace's mansion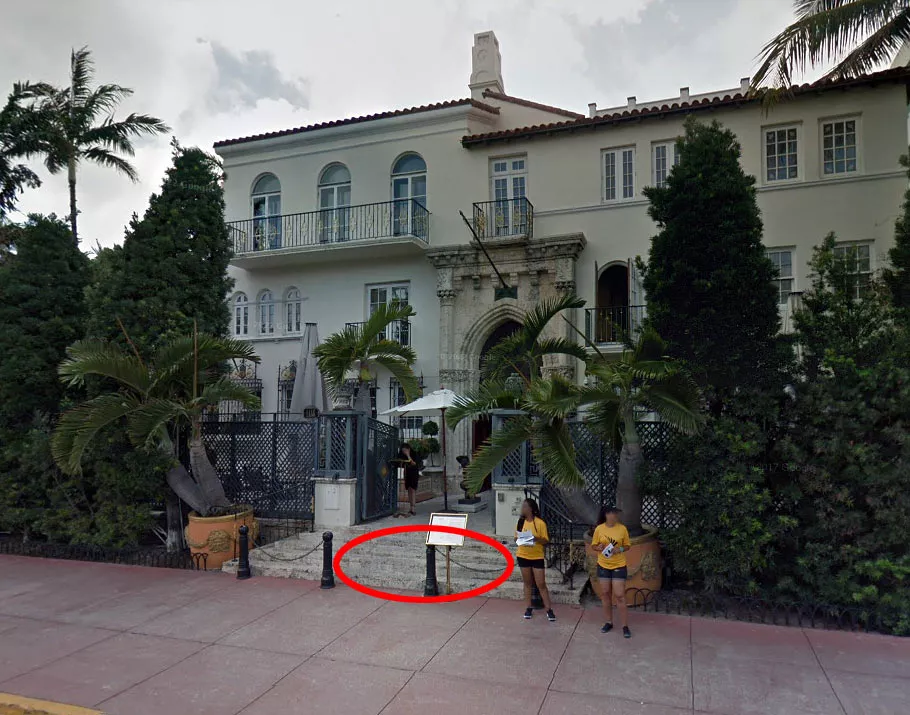 This Google Street View image of Gianni Versace's former mansion was captured in April of 2017. The red circle highlights the area where the fashion designer was killed.
At the time of the shooting, the 50-year-old was attempting to open the iron gate at the top of the marble steps.
Versace purchased this 23,462-square-foot property for $2.95 million in 1992. The mansion, which is called "Casa Casuarina", was built in 1930 by an oil heir named Ronin Wolf.
Following the murder, it was bought by American telecom entrepreneur Peter Loftin, who turned it into a hotel and restaurant.
These days, the "Villa Casa Casuarina" is owned by an investment company called VM South Beach LLC, which is run by Israeli-American fashion mogul Joe Nakash. According to public records, the group acquired the mansion for $41.5 million in October of 2013.
1116 Ocean Drive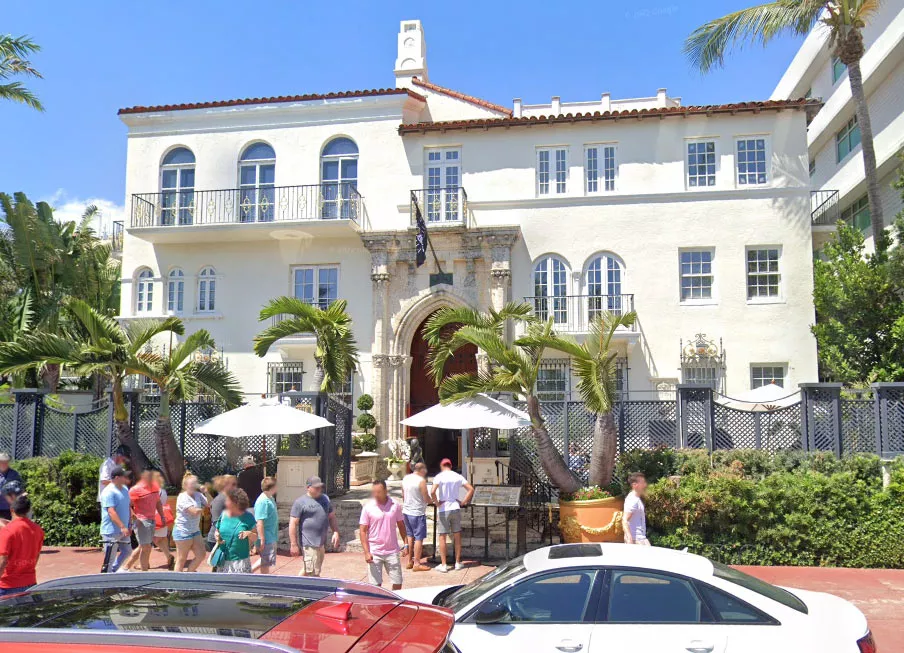 The Google Street View image above was taken in April of 2019.
Following the attack, Versace was rushed to Jackson Memorial Hospital, where he was pronounced dead on arrival at exactly 9.21 a.m.
News Cafe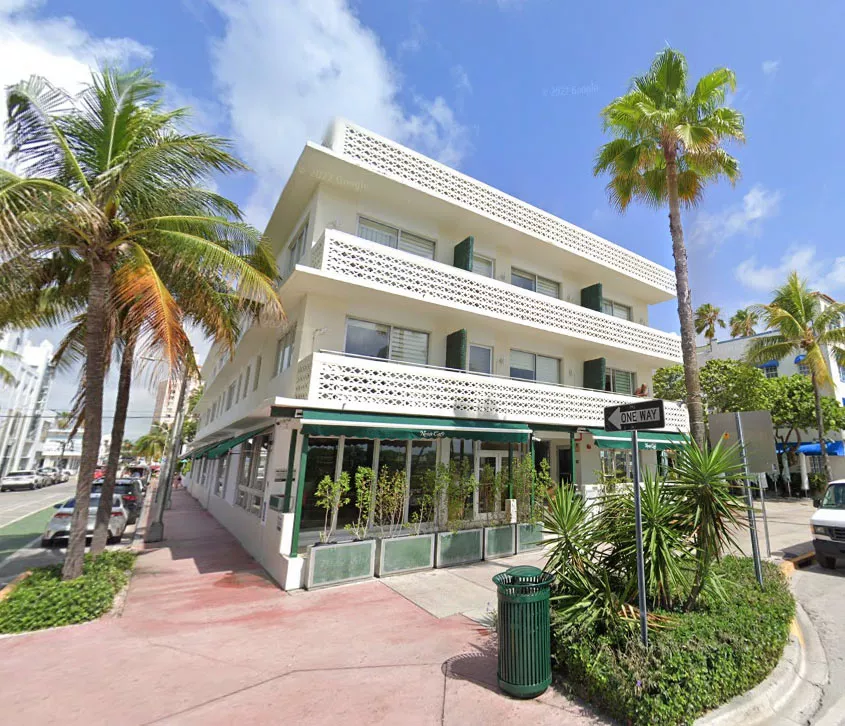 On the morning of his murder, Versace left his home at around 8.30 a.m. and walked to the News Cafe at 800 Ocean Drive.
The cafe in question is just 0.3 miles south of the mansion—a short, three-minute walk.
When he entered the News Cafe, he exchanged pleasantries with the manager, ordered a coffee, and purchased copies of Vogue and The New Yorker.
Usually, Versace's assistant carried out these daily tasks on his behalf. However, on the morning of his death, the fashion designer decided to take the trip himself.
Coordinates: 25.778096, -80.131244
Garage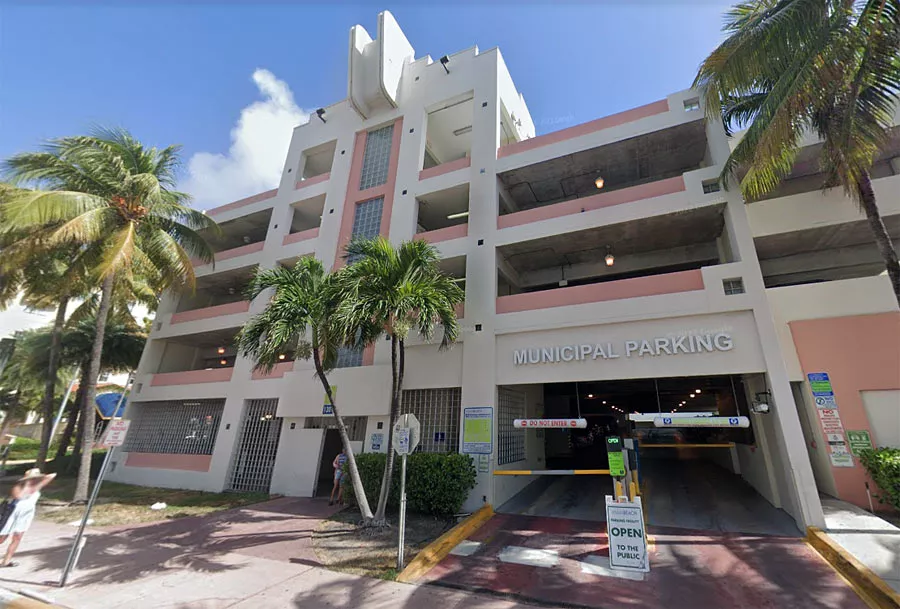 Following the shooting, Andrew Cunanan ran to this garage on 13th Street and Collins Avenue, where he proceeded to change into a new set of clothes.
The police later found his original outfit lying on the ground beside a red 1995 Chevrolet pickup truck that had been reported stolen from New Jersey.
Coordinates: 25.784190, -80.130674
Map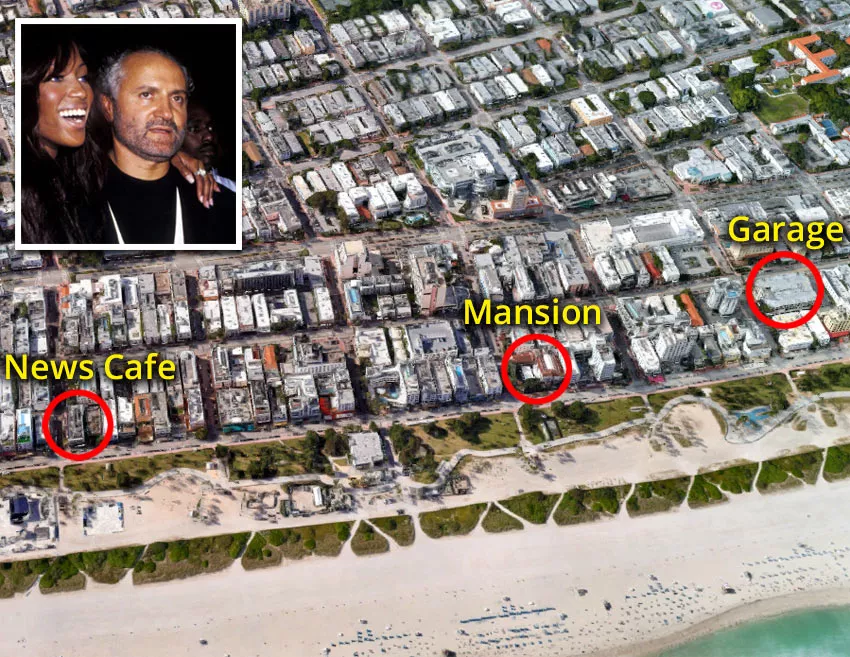 Image source: Google Maps
This aerial map of Ocean Drive in Miami Beach illustrates where each place is situated.
Andrew Cunanan's houseboat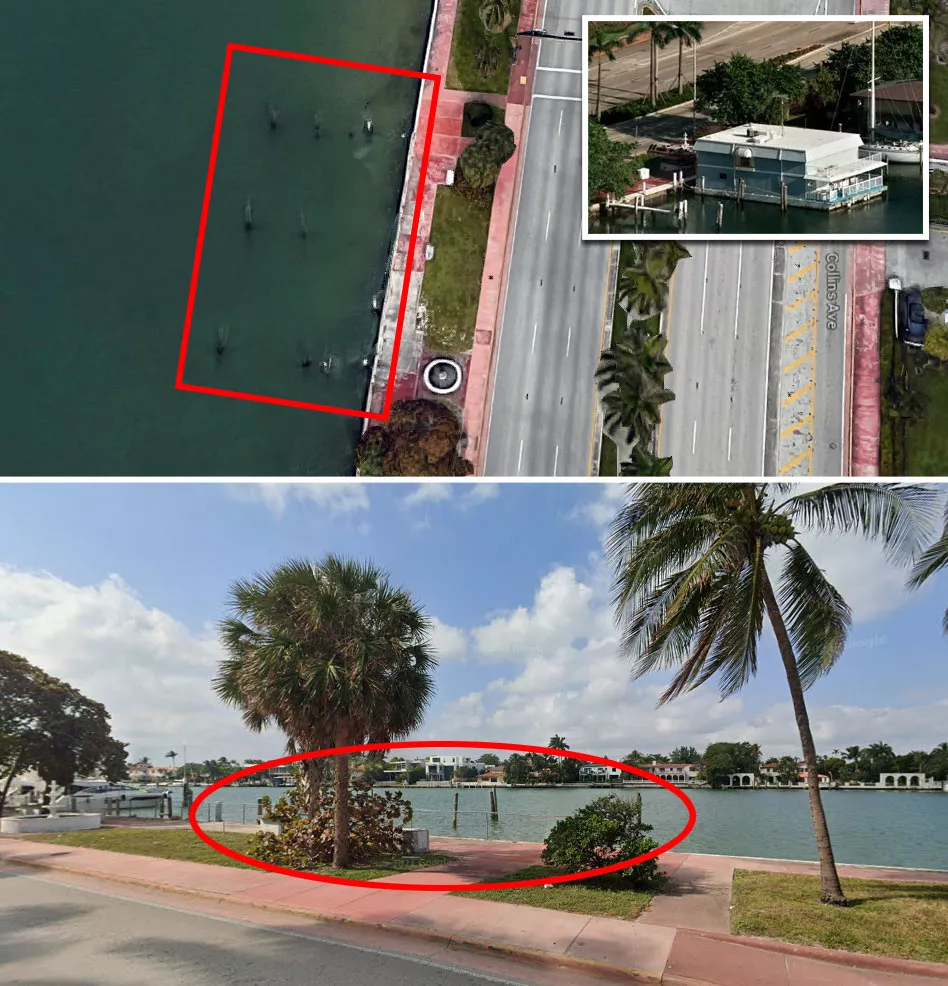 The houseboat where Cunanan committed suicide was situated on Indian Creek, beside Collins Avenue.
It was owned by a German citizen named Torsten Reineck, who named it "The New Year".
"The New Year" had been reportedly lying vacant for months before the incident.
At around 4 p.m. on July 23, 1997, the caretaker for the houseboat entered the front door, which had been left slightly ajar. After stepping inside, he heard a gunshot.
Thinking someone had fired it at him, he immediately retreated and instructed his son to call the police.
For the next four hours, the authorities laid siege to the property.
When a SWAT team finally boarded the houseboat at 8 p.m., they found Cunanan dead in the upstairs master bedroom. The 27-year-old had shot himself in the face with the same handgun that he had used during Versace's murder.
The property sank in December of 1997 after a problem with its bilge pump caused it to take on water. It was demolished by the city on January 28th, 1998, after its owner failed to meet the deadline to repair it.
Andrew Cunanan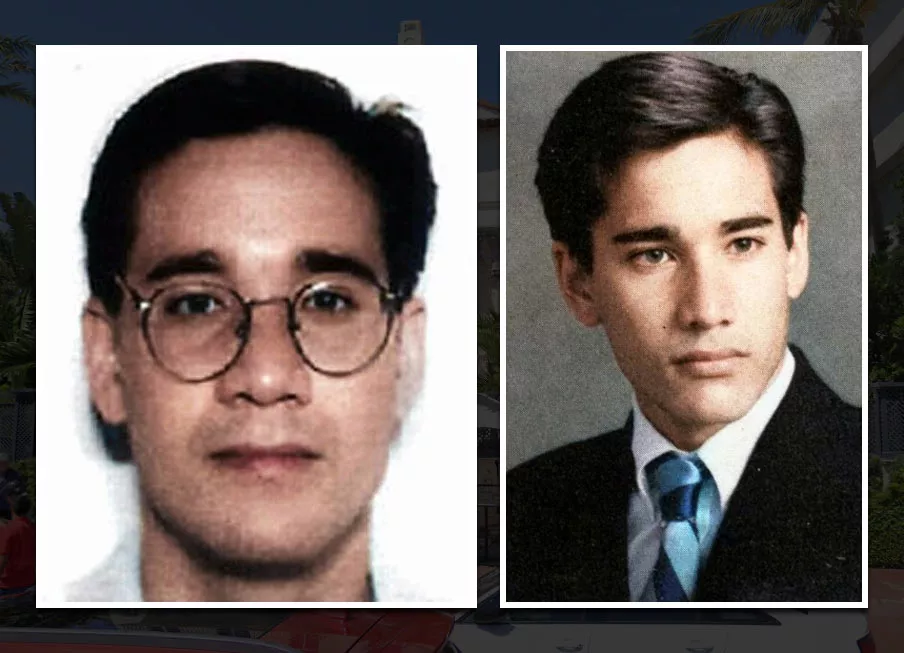 Andrew Cunanan was a gay socialite and drug dealer who dated wealthy, older men in exchange for money and gifts. In 1997, he began drinking heavily and abusing methamphetamine.
A number of reports suggest that he went off the rails after he discovered that he was HIV positive. However, an autopsy proved that he did not have the virus.
His murder spree began on April 26th, 1997, when he shot and killed his friend, Jeffrey Trail (28).
Following Trail's murder, he went on to kill David Madson (33), Lee Miglin (72), William Reese (45), and Gianni Versace (50).
Cunanan's motive remain unknown, as he did not leave a suicide note.
Although the 27-year-old claimed that he knew Versace, this has never been proven. According to those who knew him, Cunanan was a narcissist who suffered from delusions of grandeur and often lied about having relationships with various celebrities.
There are reports that he met Versace in 1990. However, the nature of this meeting indicates that it was little more than a short conversation between two people who had previously crossed paths with one another.
According to one witness, Versace simply waved his finger at Cunanan and casually said, "I know you." In response, Cunanan reportedly thanked the fashion designer for recognizing him.
In the FX true crime series "The Assassination of Gianni Versace: American Crime Story", there are a number of scenes in which the pair seemingly enjoy a much closer relationship. However, these scenes are represented as flashbacks from Cunanan's deluded point of view.
Visualize
There is more than one location associated with this entry. To view all of these places on the same map, you can use the following feature:
Closest Locations
Other locations that are relatively close to this address: Roughly 4 miles away.
Place of Interest in Miami Beach, Florida, United States Roughly 21 miles away.
Crime Location in Palmetto Bay, Florida, United States Roughly 42 miles away.
Crime Location in Pompano Beach, Florida, United States Roughly 135 miles away.
Crime Location in Port St. Lucie, Florida, United States