Tyler Hadley's house
Crime Scene Location in Port St. Lucie, Florida, United States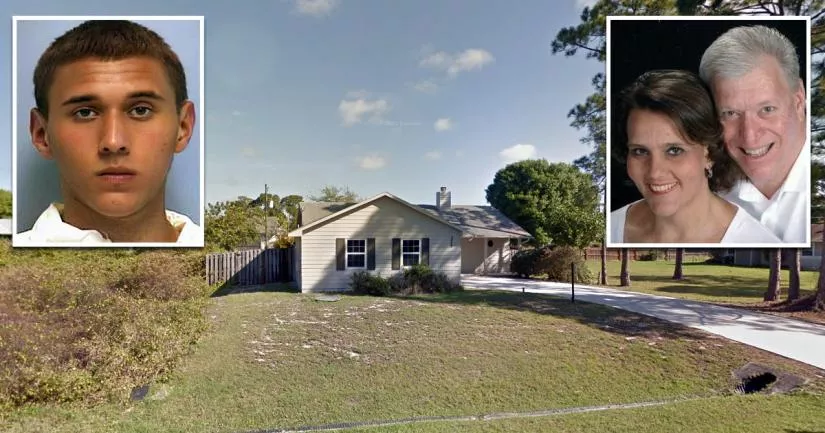 This is the location where Tyler Hadley's house once stood.
It is situated at 371 NE Granduer Avenue in Port St. Lucie, Florida.
The original house was demolished in April of 2015.
The murder of Mary-Jo and Blake Hadley
Tyler Hadley was a troubled teenager who had a history of substance abuse. He also had numerous convictions for theft, arson, aggravated battery, vandalism, and other drug-related offenses.
He decided to kill his parents after they enrolled him in a drug rehab program that he didn't want to attend.
Shortly after 1 p.m. on July 16th, 2011, he posted the following status on his Facebook profile:
"Party at my crib tonight… maybe"
At around 5 p.m., the 17-year-old grabbed a claw hammer and walked up behind his mother, Mary-Jo, who was sitting at the family computer.
After deliberating for a few minutes, he lifted the hammer up and began to strike her over the back of the head.
When his father, Blake, heard the commotion and ran into the living room, he was so stunned by what he saw that he reportedly froze in his tracks.
For a brief moment, the pair just stood there in shock and stared at each other. Then, after about a minute of silence, Tyler charged at his father and bludgeoned him to death.
Once his parents were both dead, he placed their bodies in the master bedroom and cleaned up the crime scene. He also dragged all of their furniture and belongings into the room.
Bizarrely, he then logged back onto Facebook and reiterated his plans to host a house party:
"party at my house, hit me up"
When someone replied and asked him if his parents might arrive home, Tyler responded, "Don't worry. They won't."
Michael Mandell
During the party, one teenager allegedly remarked that he could "smell dead people." However, no one took the comment seriously.
As the night wore on and the drinks continued to flow, Tyler decided to pull his best friend, Michael Mandell, aside and tell him about the murders.
Although Tyler showed him a bloodstain in the garage and pointed out that his parents' vehicles were still in the driveway, Michael refused to believe him.
Skeptical about his friend's story, he decided to go into the master bedroom and check for himself. After prying open the door, he quickly spotted the body of Blake Hadley.
Michael was shell-shocked by the discovery. However, he managed to keep his composure and stay at the party. He even took a selfie with Tyler. In his mind, Tyler was his childhood friend, and it was now becoming clear that he was never going to see him again.
Despite his conflicting emotions, he knew what needed to be done. By the time they took the selfie together, he had already decided that he was going to turn his friend in.
At around 4 a.m., Michael left the house and submitted an anonymous tip to CrimeStoppers.
Tyler is arrested
When the police arrived at the residence, Tyler seemed nervous and refused to let them in. At that point, they decided to make an emergency entrance into the home.
After noticing dried bloodstains on some of the surfaces, they forced their way into the master bedroom and discovered the bodies of Mary-Jo and Blake Hadley.
Tyler had been planning on committing suicide by overdosing on oxycodone. However, the police arrived at his residence before he was able to do so.
During the investigation, it emerged that the 17-year-old had been thinking about carrying out the attack for a while. On at least two separate occasions, he told friends that he was going to murder his parents. He also remarked that nobody had ever thrown a party after committing parricide.
However, these comments seemed so flippant that they were quickly forgotten about.
In February of 2014, Tyler Hadley pleaded no contest to two counts of first-degree murder.
One month later, he was sentenced to life in prison without the possibility of parole.

Further information is available in the "Photos" section below.
Demolished
The house no longer exists. However, you can still visit the location.
Further Details
Wells Fargo Bank purchased the house for $72,600 in 2014. Originally, there were plans to renovate it and sell it. However, it was demolished on April 14th, 2015, after the bank learned about its history. The current property was built in 2017.
Where did Tyler Hadley live?
Below, you will find the address and the GPS coordinates for this location.
GPS coordinates
The latitude and longitude coordinates for the house are:
27.333698, -80.341201
Map
To view directions on how to get there, you can use the Google Maps shortcut below:
Address
The full address for this location is:
371 NE Granduer Avenue
Port St. Lucie
Florida
FL 34983
United States
Directions
The house was situated in the northeast of Port St. Lucie. The neighborhood is accessible via NW Airoso Boulevard.
Private Property Warning
This is a private property. It is not a public place. Therefore, you should be respectful and not step foot on the property without permission.
Photos
Photos of the house and other related images.
---
371 NE Granduer Ave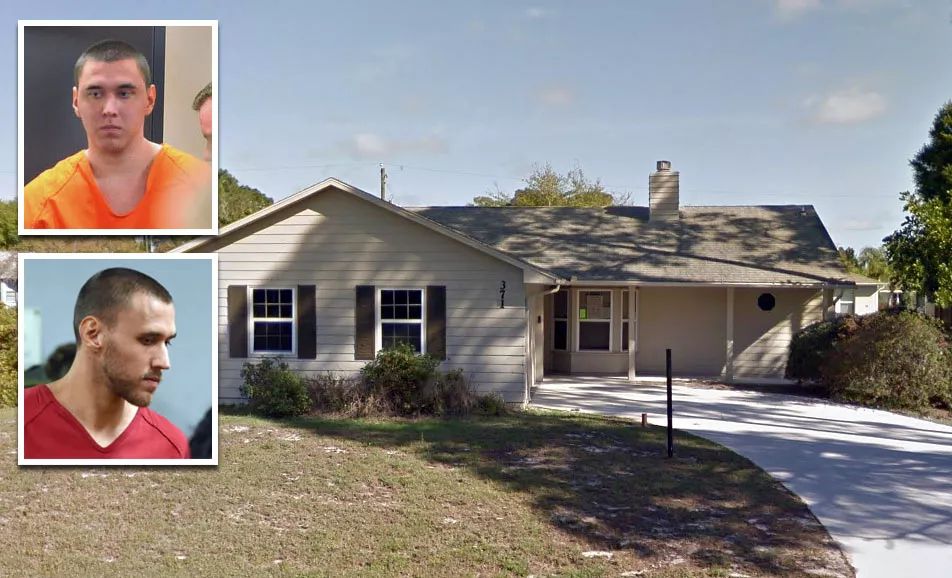 This Google Street View image of 371 NE Granduer Ave was taken in March of 2015—roughly one month before it was demolished.
On the left, you can see two photographs of Tyler Hadley.
The photo on the bottom left was taken in 2018. At the time, he was 25 years old.
While he was awaiting trial, Tyler reportedly signed autographs for fellow inmates by writing "Hammer Boy" on news articles about the crime.
In 2016, his prison sentence was overturned due to a legal technicality. However, he was re-sentenced to life in prison in December of 2018.
Michael Mandell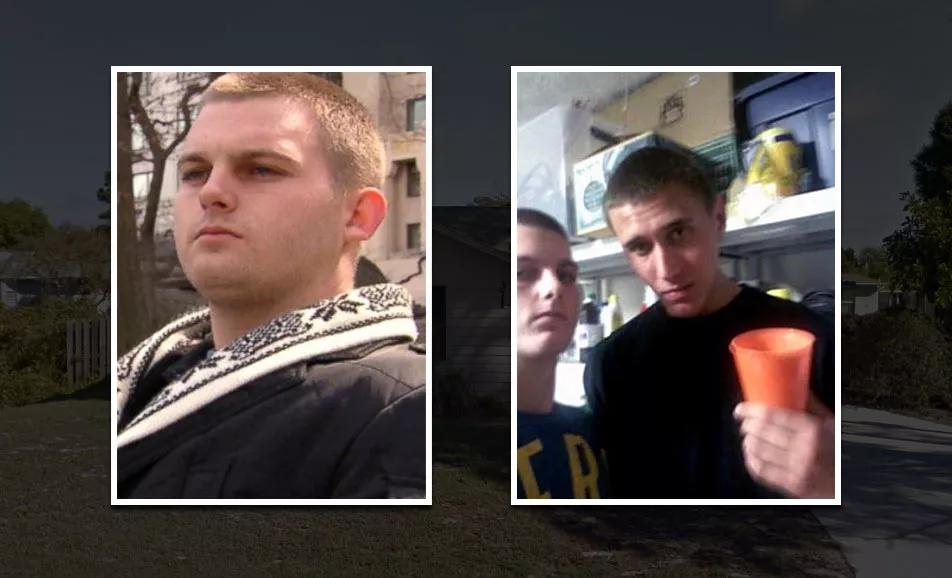 Michael Mandell was Tyler's childhood friend.
When he discovered that Tyler had murdered his parents, he decided to remain at the party for four hours. He also took a selfie with him.
In the early hours of the morning, he left the house and submitted an anonymous tip to CrimeStoppers.
Shortly afterwards, the police arrived at Granduer Avenue and arrested Tyler.
Michael testified at Tyler's trial. During his testimony, he recalled how his friend had told him about the murders.
His decision to remain at the party and take a selfie with Tyler was controversial. According to Michael, he took the photograph because he knew that it was going to be the last time he ever saw him.
During an interview with 20/20 on ABC News, he said that the event ruined his life and that he couldn't go to school without people looking at him and associating him with the murders.
Later, Michael served prison time for stealing a gun and violating his probation. While he was incarcerated, he testified at Tyler's resentencing trial.
On July 29th, 2022, Michael Mandell committed suicide at the age of 28.
The Hadley home was demolished in 2015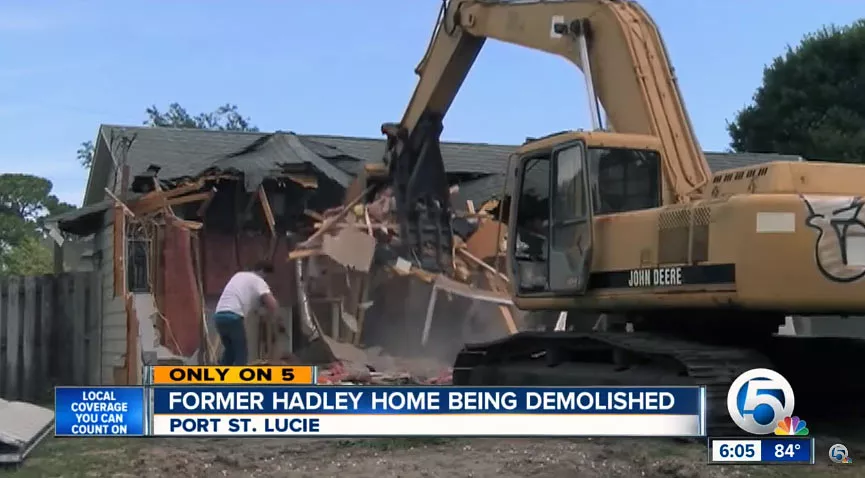 Image source: WPTV News
Wells Fargo Bank demolished the house in April of 2015. It then donated the land to the city of Port St. Lucie.
The bank decided to tear it down after learning about its "sensitive history."
Neighbors were happy with the decision, as they had grown tired of people driving past the house to look at it.
This location belongs to the following categories:
Crime Scenes
Closest Locations
Other locations that are relatively close to this address: Roughly 93 miles away.
Crime Location in Pompano Beach, Florida, United States Roughly 122 miles away.
Crime Location in Orlando, Florida, United States Roughly 129 miles away.
Crime Location in Orlando, Florida, United States Roughly 130 miles away.
Crime Location in Orlando, Florida, United States Roughly 131 miles away.
Place of Interest in Miami Beach, Florida, United States