Sean Taylor's house
Crime Scene Location
18050 Old Cutler Road, Palmetto Bay, FL 33157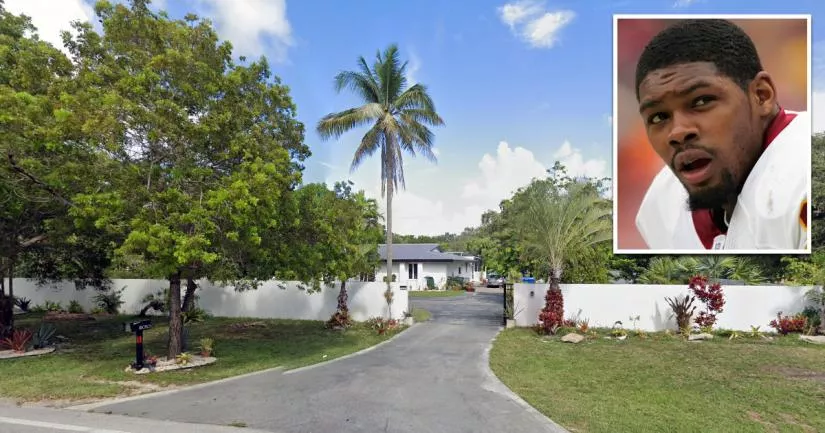 This is the house where NFL player Sean Taylor was murdered.
It is situated at 18050 Old Cutler Road in Palmetto Bay, Florida.
Taylor was an American football "free safety" who played for the Washington Redskins. His teammates nicknamed him "Meast" (half man, half beast) due to his hard-hitting tackling abilities.
On November 26th, 2007, he was recovering from a knee injury at his home in Palmetto Bay when a group of five burglars broke into the property.
The intruders did not expect Taylor to be home at the time, as they believed that he had taken part in an away game against Tampa Bay the night before.
At around 1.30 a.m., the 24-year-old was woken up by loud noises. After realizing that someone was in his house, he jumped out of bed and grabbed a machete that he kept for protection.
When he confronted the group at his bedroom door, one of the men fired two shots at him with a 9mm handgun.
One of the bullets missed Taylor. However, the other one struck him in the upper leg and severed his femoral artery.
Fortunately, his fiancée and one-year-old daughter were not harmed during the attack.
Although the NFL star survived the initial shooting and was airlifted to Jackson Memorial Hospital in Miami, he suffered heavy blood loss and passed away the following day.
The intruders were charged with first-degree murder and eventually found guilty of the crime. By April 2015, all five defendants had received lengthy prison sentences.

Further information is available in the "Photos" section below.
Sean Taylor's house address
Below, you will find the address and the GPS coordinates for this location.
Address
18050 Old Cutler Road, Palmetto Bay, Florida, FL 33157, USA
Map
To view directions on how to get there, you can use the Google Maps shortcut below:
GPS coordinates
The latitude and longitude coordinates for the house are:
25.602998, -80.314516
Directions
The house is situated in the southeast corner of Palmetto Bay, overlooking Biscayne Bay. It is about 0.3 miles north of the intersection between Old Cutler Road and Eureka Drive.
Details about the general area
Palmetto Bay is a village in Miami-Dade County, Florida. It is about 12 miles south of Miami.
Private Property Warning
This is a private property. It is not a public place. Therefore, you should be respectful and not step foot on the property without permission.
Photos
Photos of the house and other related images.
---
18050 Old Cutler Road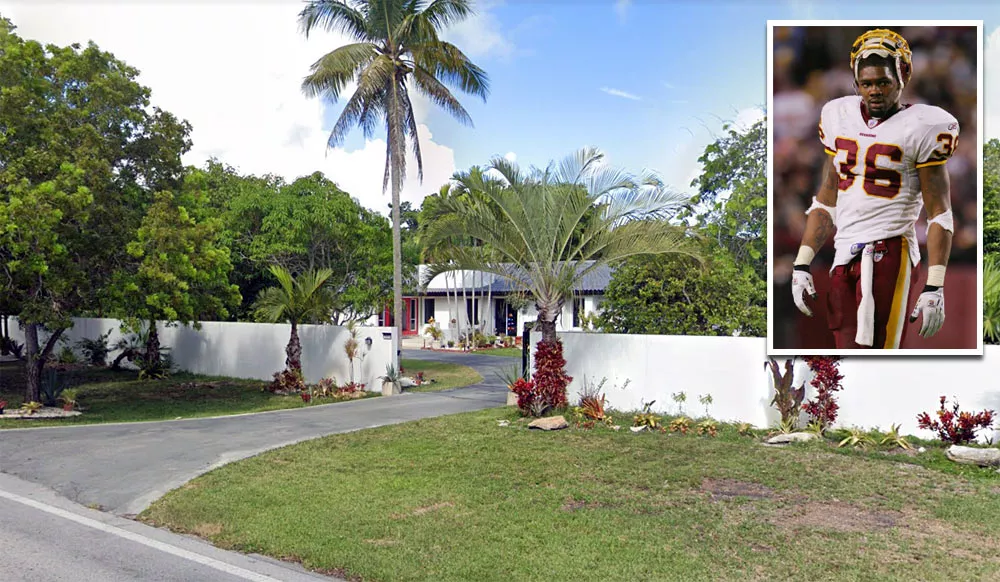 Image source: Google Maps
This Google Street View image of 18050 Old Cutler Road was taken in August 2022.
The house was built in 1971. It is 3,700 square feet in size and has four bedrooms. It was last sold for $460,000 in May 2011.
Aerial image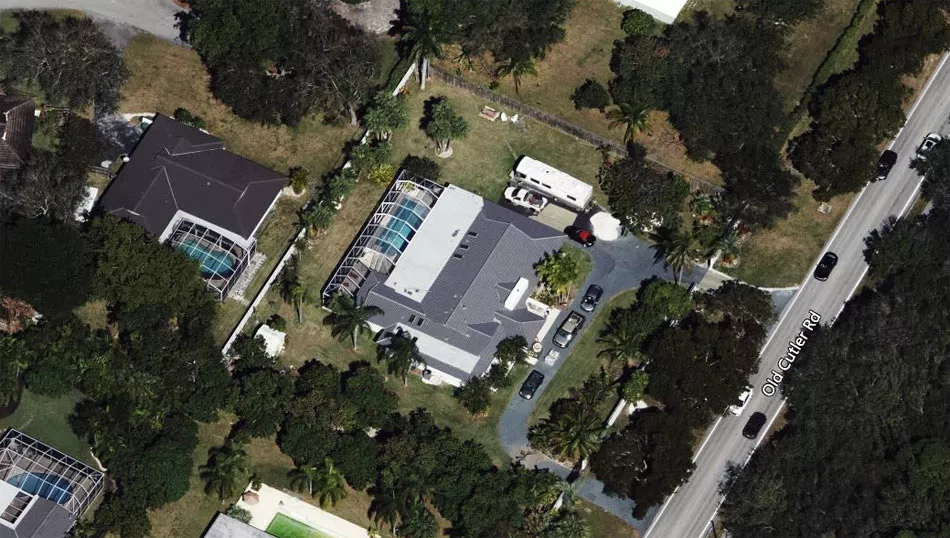 Image source: Bing Maps
This is a "Bird's Eye" view of the house, which sits on a 0.77-acre lot. It is estimated that the property is now worth more than $1 million.
Burglars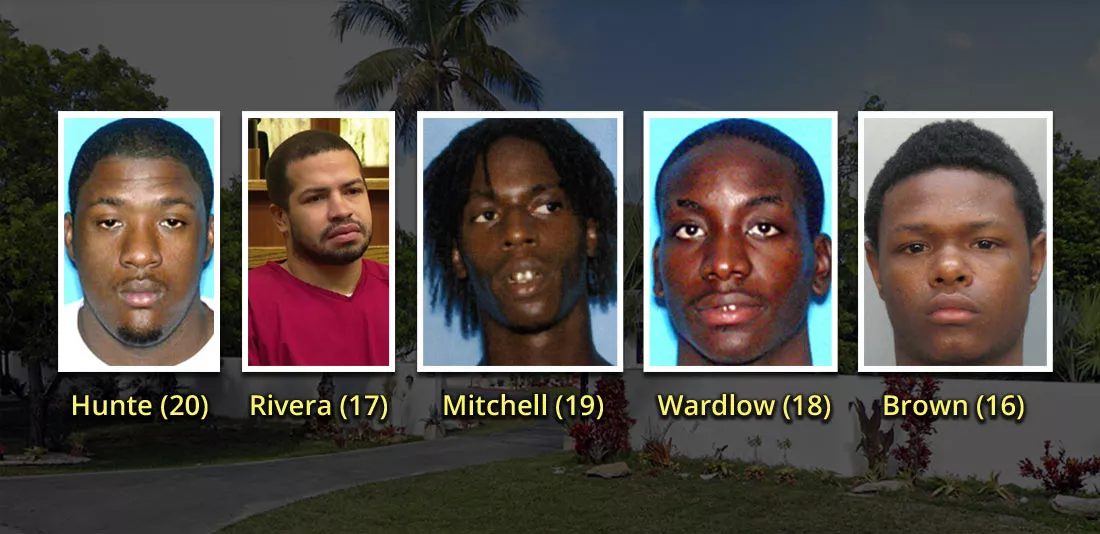 At the time of the shooting, the five burglars were aged between 16 and 20.
On the night of the incident, the group traveled 150 miles from Fort Meyers to Miami to rob Taylor's home. They reportedly believed that the "free safety" had a stash of money hidden on the property.
Venjah Hunte entered a guilty plea and was sentenced to 29 years in prison. He later requested a sentence reduction. However, this was denied.
After several delays and trial postponements, Eric Rivera, Jr. was found guilty of second-degree murder and sentenced to 57 years in prison.
Jason Scott Mitchell was convicted of first-degree murder and sentenced to life in prison.
Charles Wardlow pleaded guilty and was sentenced to 30 years in prison.
The youngest of the group, Timmy Lee Brown, entered a guilty plea and was sentenced to 18 years in prison.
Closest Locations
Other locations that are relatively close to this address: Roughly 24 miles away.
Death Location in Miami Beach, Florida Roughly 60 miles away.
Death Location in Pompano Beach, Florida Roughly 149 miles away.
Murder House in Port St. Lucie, Florida