The house where Rock Hudson died
Place of Interest in Beverly Hills, California, United States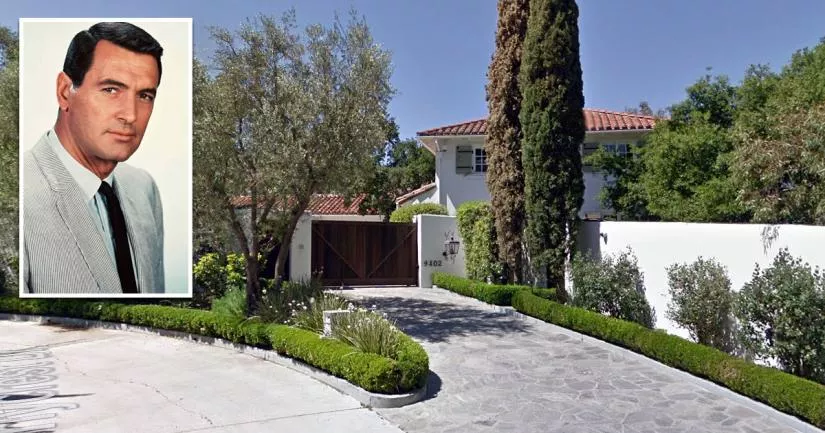 This is the house where Rock Hudson died.
It is situated at 9402 Beverlycrest Drive in Beverly Hills, California.
Hudson was one of the first celebrities to die of AIDS. His diagnosis came at a time when the disease was relatively new and unknown.
During the early 1980s, AIDS was effectively a death sentence, as there were no known treatments on the market. It wasn't until two years after his passing that the FDA approved the drug azidothymidine (AZT).
Hudson rose to fame as a Hollywood heartthrob who starred in movies such as Magnificent Obsession (1954), All That Heaven Allows (1955), Giant (1956), and Doris Day: Pillow Talk (1959).
Although he kept his homosexuality hidden from the public, it was an open secret among his co-stars and other figures in the entertainment industry.
His film career declined during the 1960s following a string of box office disappointments. As a result, he shifted his focus to television.
Between 1971 and 1977, he portrayed Police Commissioner Stuart "Mac" McMillan in the TV series McMillan & Wife.
The actor's final role was in the soap opera Dynasty. However, the producers were forced to kill off his short-lived character after he became too ill to work.
When Hudson was diagnosed with AIDS in June of 1984, he decided to keep his illness a secret.
At the time, doctors in France were using a new experimental antiretroviral drug called antimonium tungstate (HPA-23) to treat the disease. However, the FDA in the United States had yet to approve the drug for clinical trials.
Desparate for a cure, Hudson began flying to France for regular treatments.
Sadly, HPA-23 turned out to be a false hope, as it was later proven that the drug had no impact on HIV/AIDS.
On July 21st, 1985, Hudson was rushed to the hospital after he collapsed in his hotel room in Paris. Although his publicists initially claimed that the star was suffering from liver cancer, they soon admitted that he had AIDS.
When the actor flew back to the United States, he was so ill that he had to be lifted out of the plane on a stretcher and then flown to UCLA Medical Center by helicopter.
Husdon spent the last month of his life receiving palliative care at his house in Beverly Hills.
In the early hours of October 2nd, 1985, he died in his sleep at the age of 59.

Further information is available in the "Photos" section below.
Rock Hudson house address
Below, you will find the address and the GPS coordinates for this location.
GPS coordinates
The latitude and longitude coordinates for the house are:
34.096631, -118.403687
Map
To view directions on how to get there, you can use the Google Maps shortcut below:
Address
The full address for this location is:
9402 Beverlycrest Drive
Beverly Hills
California
CA 90210
United States
Directions
The house is situated in a quiet residential neighborhood that is accessible via Coldwater Canyon Drive.
Details about the general area
It lies on the northern outskirts of Beverly Hills in Los Angeles, California.
Private Property Warning
This is a private property. It is not a public place. Therefore, you should be respectful and not step foot on the property without permission.
Photos
Photos of the house and other related images.
---
9402 Beverlycrest Drive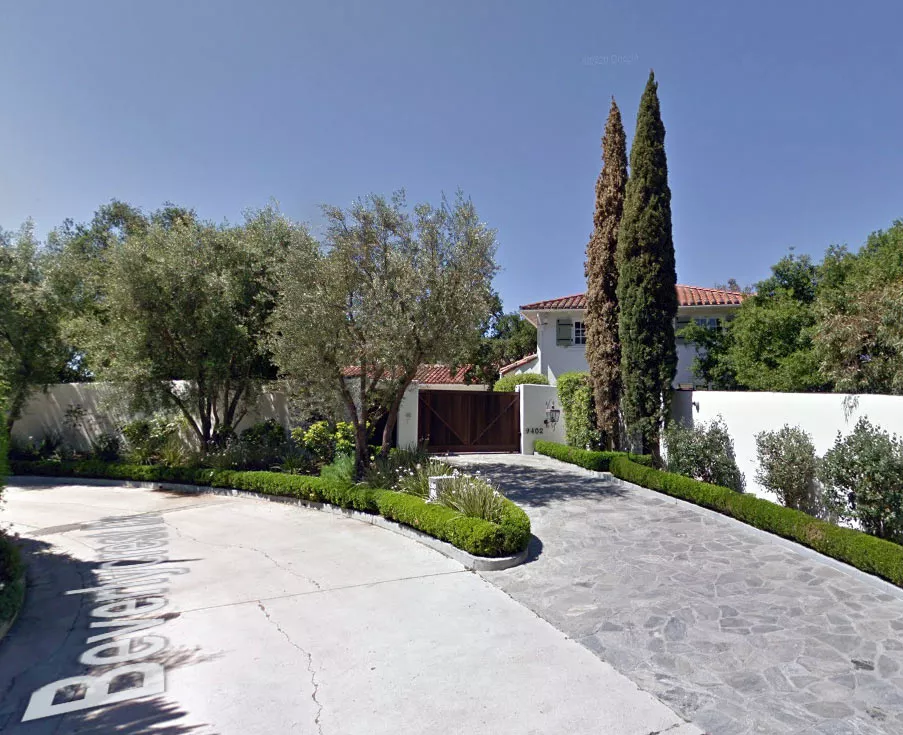 Image source: Google Maps
9402 Beverlycrest Drive is a large, hilltop estate that is surrounded by walls and trees. As a result, you may find it difficult to view it directly from the outside.
The Spanish-style mansion is roughly 24,000 square feet in size. It has a swimming pool, a tennis court, walk-in closets, a gym, and a two-bedroom guest house that sits beside the main entrance.
Hudson purchased the property in 1962. He nicknamed it "The Castle" because it is perched on top of a tall hill that provides an expansive view of downtown Los Angeles.
Following his death, it was bought by Microsoft co-founder Paul Allen.
The 3.2-acre property was last sold for $45 million in January of 2022.
Aerial view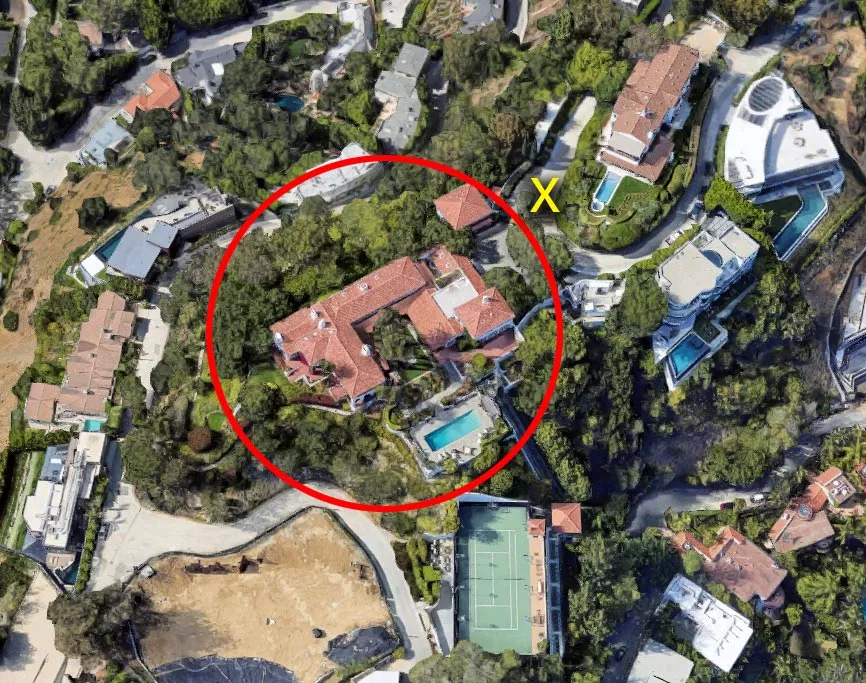 Image source: Google Maps
This is an aerial view of Hudson's former house.
The yellow "X" marks the spot where the Google Street View image above was captured.
Over the years, the property has seen a large number of changes, most of which were carried out by Allen.
Closest Locations
Other locations that are relatively close to this address: Roughly one mile away.
Place of Interest in West Hollywood, California, United States Roughly one mile away.
Place of Interest in Beverly Hills, California, United States Roughly one mile away.
Crime Location in West Hollywood, California, United States Roughly 2 miles away.
Crime Location in West Hollywood, California, United States Roughly 3 miles away.
Place of Interest in Beverly Hills, California, United States