The phone box where Jo Jo Dullard was last seen
Last Seen Location in Moone, Kildare, Ireland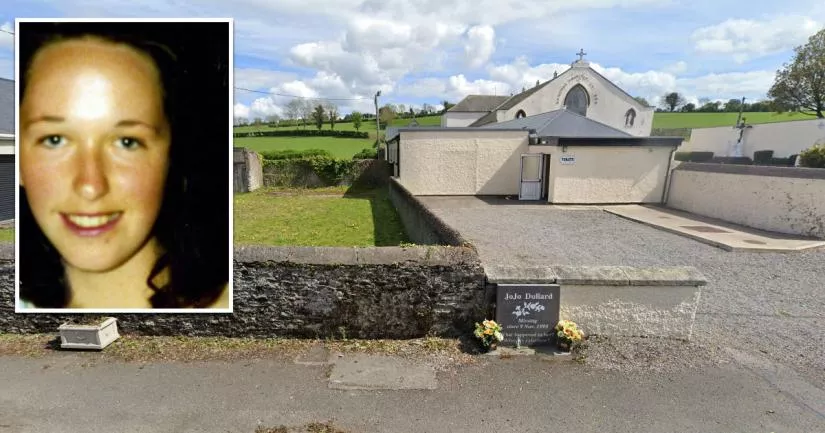 This is the location where missing woman Josephine "Jo Jo" Dullard was last seen.
It is situated in Moone, County Kildare.
Investigators believe that Dullard's killer picked her up on this street while she was hitchhiking for a ride home.
In November 1995, the 21-year-old dropped out of a beauty therapy course in Dublin and moved back to her sister's house in Callan, County Kilkenny.
On November 9th, 1995, Dullard returned to Dublin to collect a social welfare payment from a post office in Harold's Cross.
After collecting her money, she met with friends at Bruxelles Pub near Grafton Street.
Unfortunately, Dullard became sidetracked after her ex-boyfriend showed up at the bar. As a result, she missed the last bus to her hometown.
Determined to get home, she decided to take the next bus to Naas, Kildare. Although Naas wasn't particularly close to Callan, at least she'd be on her way.
After getting off the bus at Naas, she hitchhiked 35 kilometers southward to Moone.
By the time she reached the small village, the clock was starting to creep towards midnight.
At exactly 11.37 p.m. on that fateful Thursday night, Dullard called her friend from this public phone box outside the Holy Trinity Church.
During their conversation, she told her friend that she had missed her bus and that she was trying to hitchhike home. The pair also gossiped about recent events in their lives.
While they were chatting, Dullard held the door of the phone box open so that she could continue thumbing for a lift.
A number of passing motorists would later recall seeing the young woman that night. They also expressed regret at their decision to keep driving.
This was a busy place in 1995, as the main road between Dublin and Waterford used to go through Moone.
At some point during the phone call, Dullard suddenly stopped speaking and asked her friend to wait for a moment.
A car had finally pulled over.
After roughly 30 seconds of silence, she returned to the kiosk and told her friend that someone had offered her a lift.
Then, without giving any further details, she abruptly hung up the phone.
That was the last time anyone heard from Dullard.
Despite a major search and thousands of interviews, investigators were unable to find any trace of the missing Kilkenny woman.
One eyewitness said that they had seen a woman matching her description getting into the backseat of a darkly colored Toyota Carina. If Dullard did get into the backseat, then it suggests that there was more than one person in the vehicle at the time.
Unfortunately, this sighting did little to help the investigation, as the Carina was an extremely popular car during the 1990s.
In October 2020, nearly 25 years after she went missing, the Irish police officially upgraded Jo Jo Dullard's disappearance to a murder investigation.

Further information is available in the "Photos" section below.
Demolished
The phone box no longer exists. However, you can still visit the location.
Further Details
The Telefon phone box that Dullard used was replaced with a modern kiosk during the late 1990s. Then, roughly ten years later, the "newer" phone box was removed as well. These days, a memorial plaque is present at the site. Furthermore, you can still see a concrete outline of where the pay phone stood.
Jo Jo Dullard last seen location
Below, you will find the address and the GPS coordinates for this location.
Address
Moone, Kildare, R14 Y898, Ireland
The Eircode is R14 Y898
Map
To view directions on how to get there, you can use the Google Maps shortcut below:
GPS coordinates
The latitude and longitude coordinates for the phone box are:
52.974290, -6.815917
Directions
The plaque stands against a small pebble-dash wall outside of Holy Trinity Church in Moone. It is about 100 meters north of St. Colmcille's National School.
Details about the general area
Moone is a small village with a population of less than 500 people. It is situated about 10 kilometers away from Baltinglass in Wicklow.
Photos
Photos of the phone box and other related images.
---
Sanyo Walkman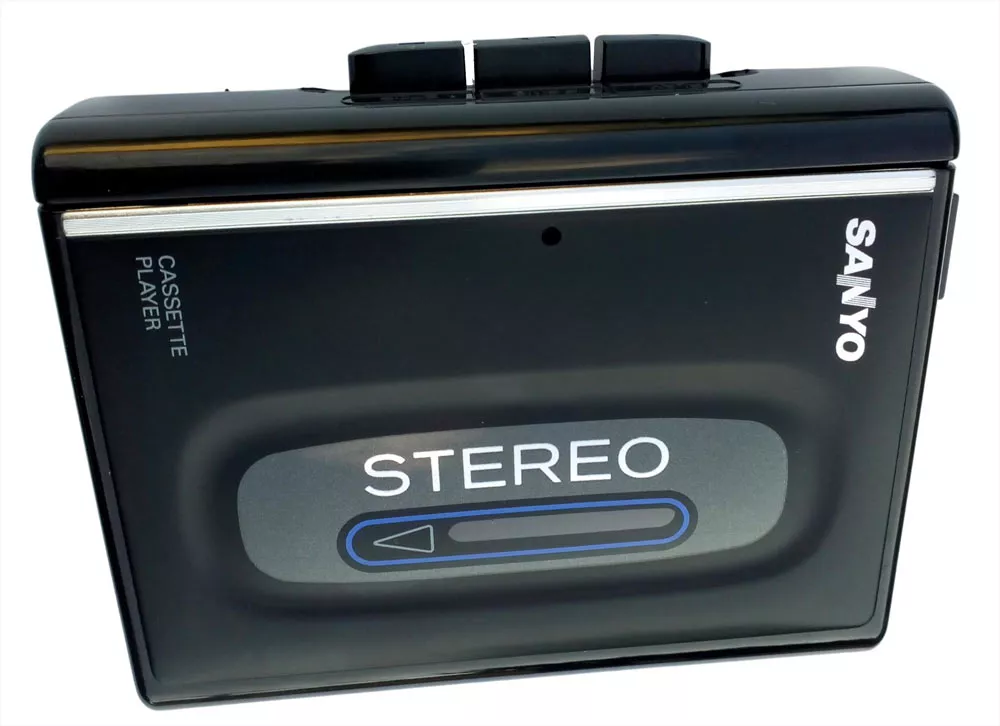 On the night that she went missing, Dullard was carrying a rucksack and a black MGP21 Sanyo Walkman. She was wearing jeans, black boots, and a dark-colored anorak jacket.
None of these items have ever been recovered.
Moone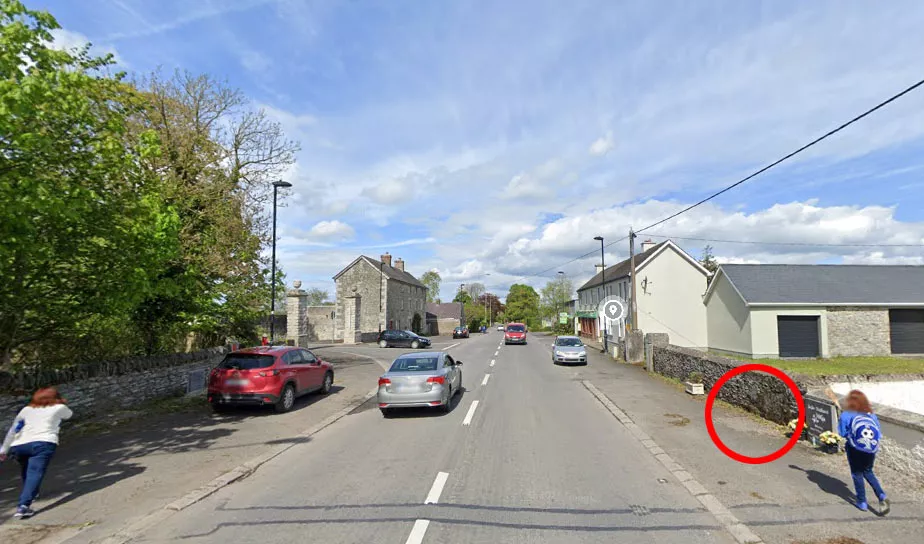 This is a Google Street View image of the main street in Moone. The red circle highlights the location where the public pay phone once stood.
On the night of November 9th, 1995, Dullard stopped here to call her friend. At the time, the 21-year-old was approximately 73 kilometers away from her hometown of Callan.
During their conversation, she continued thumbing for a ride until a car finally pulled over to the side of the road.
The main street in Moone was considerably busier back in 1995, as the Dublin-Waterford road went through the village. It wasn't until December 2000 that the town was bypassed.
Notably, a convicted rapist named Larry Murphy has been identified as a "person of interest" in Dullard's case.
In 2001, Murphy kidnapped a woman from Carlow and then drove to Kilkea in Kildare, where he raped her and attempted to smother her to death with a plastic bag. Kilkea is roughly 7 kilometers away from Moone.
Furthermore, Murphy lived 15 kilometers away from Moone at the time, in an area called Woodfield, Baltinglass.
Jo Jo Dullard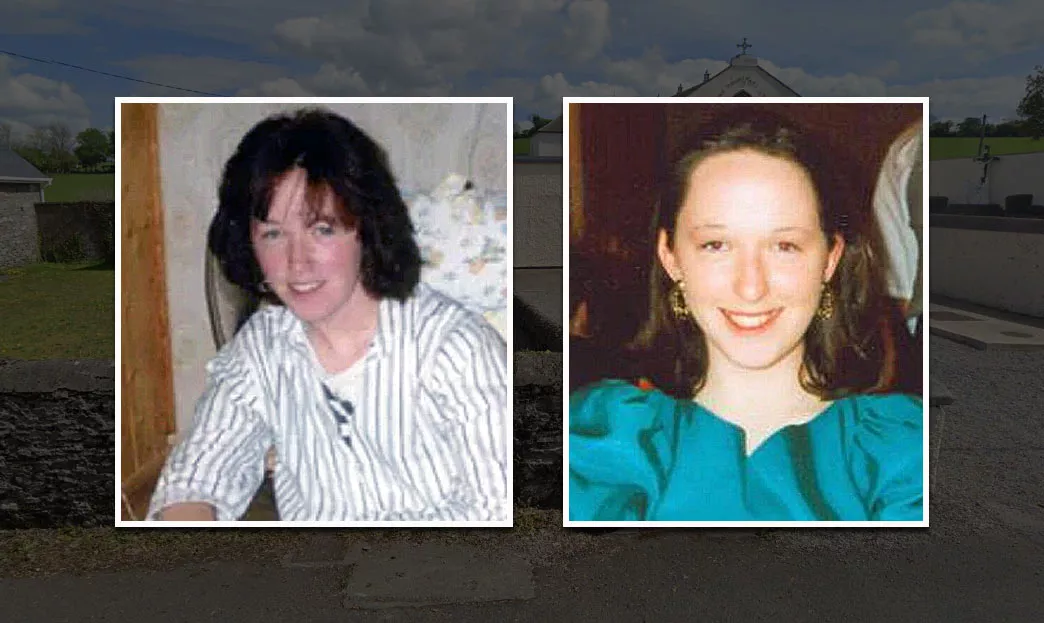 Jo Jo Dullard would have turned 49 in 2023. She was 5 feet 4 inches tall with dark, shoulder-length hair.
Telefon phone box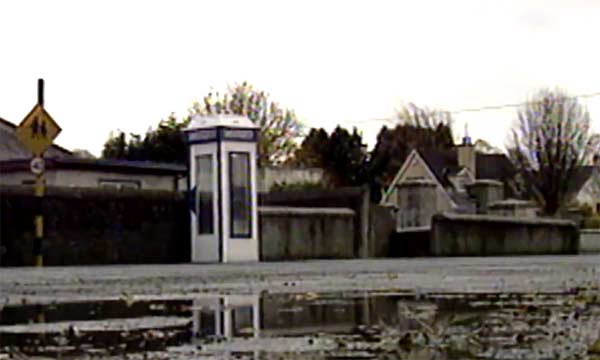 Image source: RTE News
This is a screengrab from RTE news footage that was recorded shortly after her disappearance.
The kiosk at night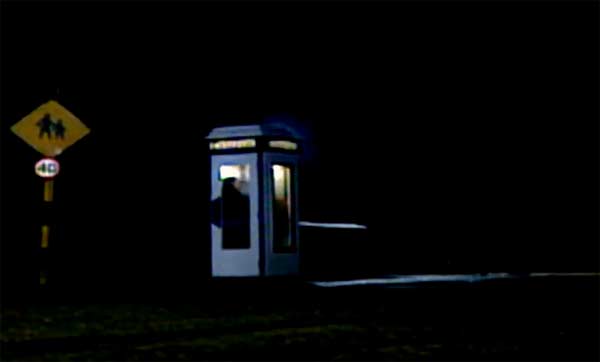 This screenshot shows how dark the street would have been at the time.
Dullard and Mary Cullinane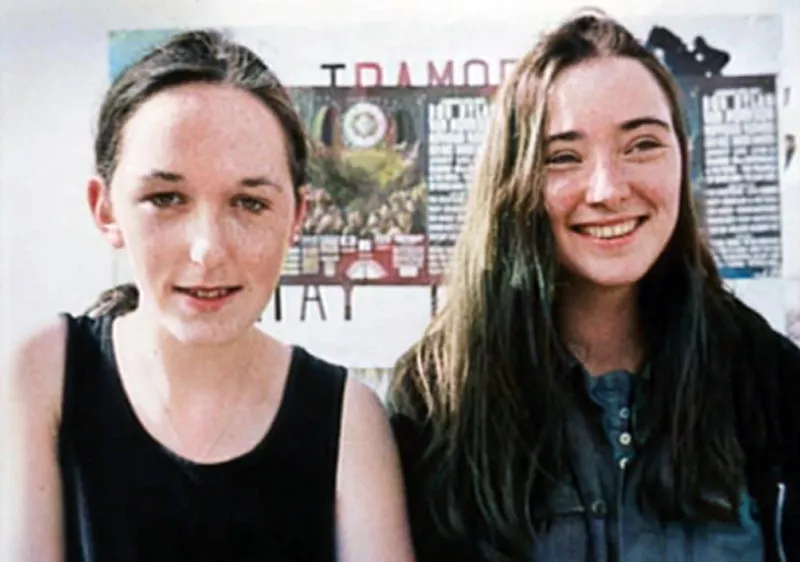 On the night of her disappearance, Dullard called her friend, Mary Cullinane, from the phone box in Moone. Sadly, she did not give Cullinane any details about the car that had pulled over.
Google Street View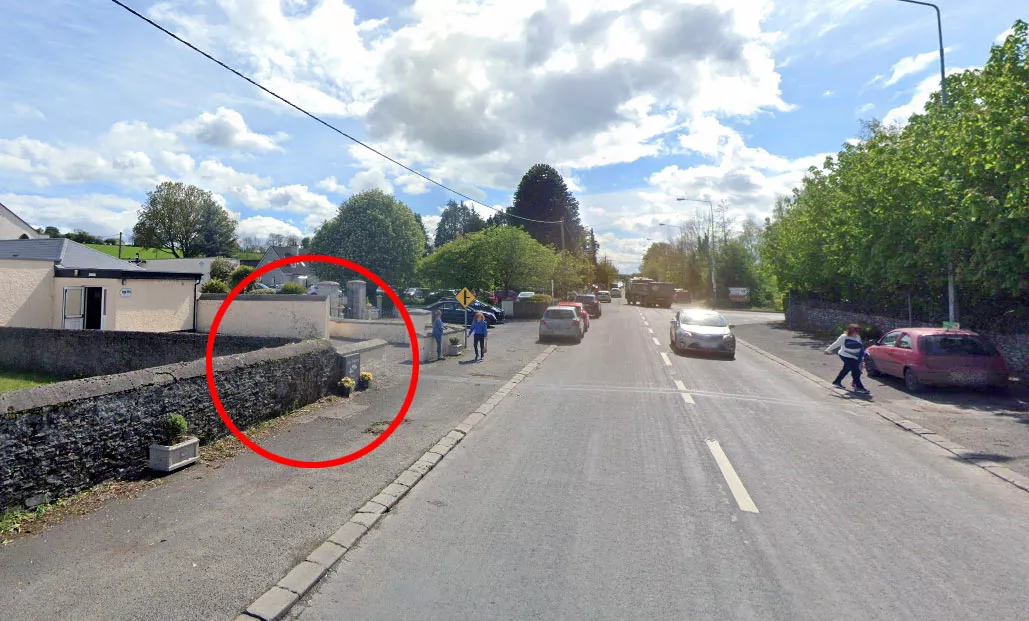 It was just before midnight when she reached the village of Moone.
Memorial plaque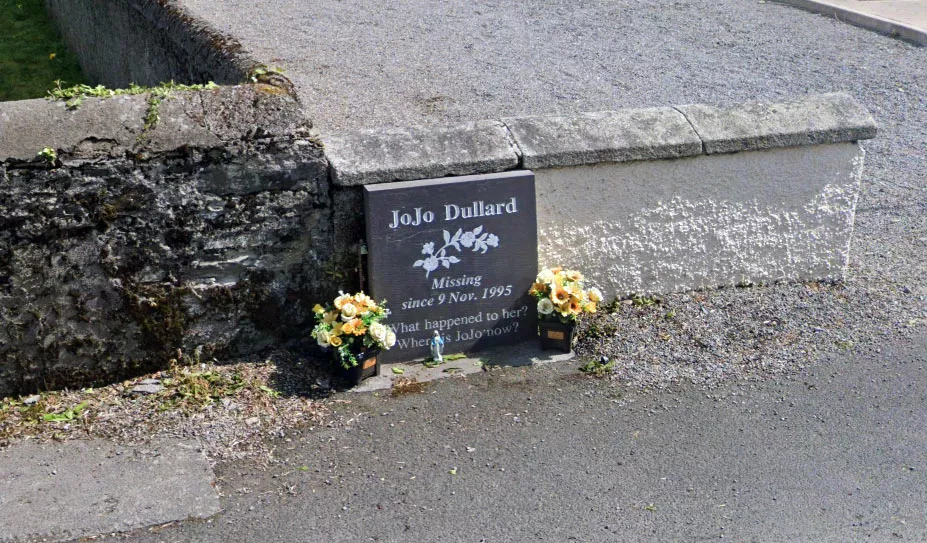 A memorial plaque is present at the site where she was last seen.
It reads as follows:
"What happened to her? Where is JoJo now?"
The Irish police did not begin investigating her disappearance until three days after she was reported missing. During that time, a number of potential leads may have been lost.
Bruxelles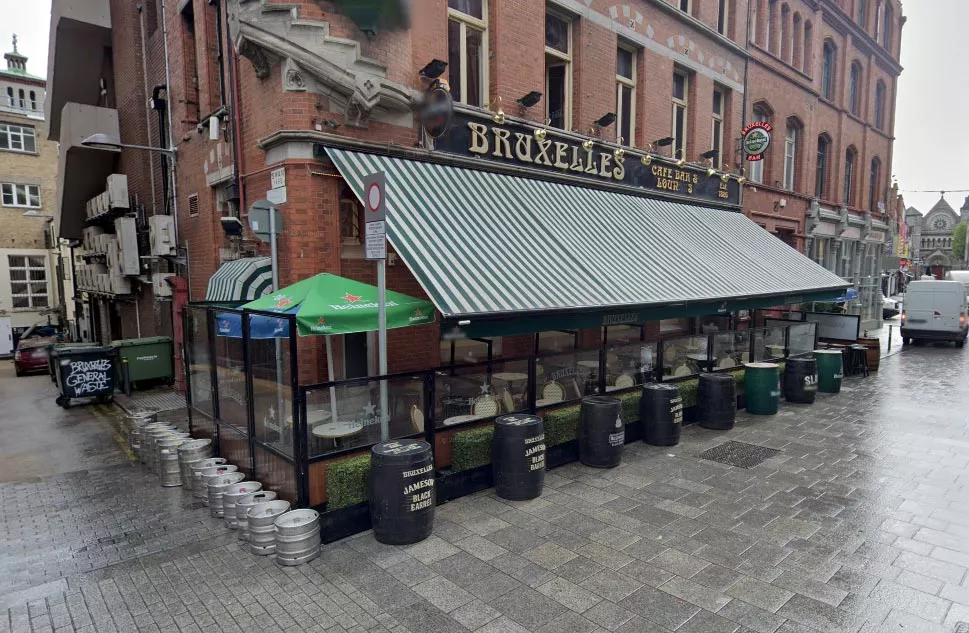 After collecting her social welfare payment in Harold's Cross, Dullard spent the afternoon at a bar called Bruxelles, which is situated near Grafton Street in Dublin.
It is likely that Dullard visited the bar to pass the time, as her bus was not scheduled to leave until 6 p.m.
Dullard chose Bruxelles because she was familiar with the place, having frequented it on multiple occasions while she was living in Dublin. One of her friends also worked behind the bar.
Later that afternoon, Dullard's ex-boyfriend arrived at the pub. For the next couple of hours, the pair drank together and reportedly became close.
After a few drinks, Dullard decided that she wanted to spend the night in Dublin. However, those plans fell apart when her ex's current girlfriend walked into the bar and saw them sitting together. This led to an argument, which resulted in her ex-boyfriend leaving Bruxelles.
Unfortunately, by that point, Dullard's 6 p.m. bus back to Callan had already left.
Determined to leave Dublin, she made the fateful decision to take the next bus to Naas and then hitchhike the rest of the day.
Dullard's route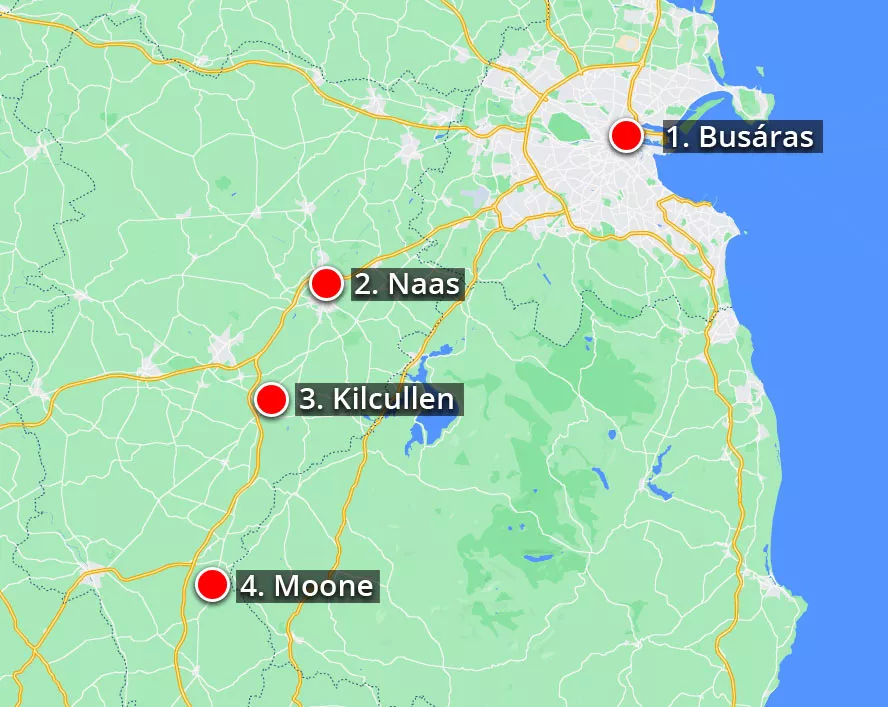 On the evening of November 9th, 1995, Jo Jo Dullard departed from the central bus station in Dublin (Busáras) and traveled to Naas.
She reached Naas at 10 p.m., and she immediately began hitchhiking.
Before long, an elderly man pulled over and offered to take her as far as Kilcullen. During their journey, he asked her to consider renting a B&B in Kilkcullen, as hitchhiking was too dangerous, especially for a young woman at night.
However, Dullard was determined to get back to Callan. Once she reached Kilcullen, she began thumbing for a ride again. Shortly afterwards, she was picked up by a man who agreed to drive her to Moone, a village that was 20 kilometers south.
She reached Moone at around 11.30 p.m. and proceeded to call her friend, Mary Cullinane, from the payphone outside the Holy Trinity Church.
While she was talking to Cullinane, an unidentified motorist saw her thumbing for a ride and pulled over.
It is strongly suspected that the motorist was Dullard's killer.
Toyota Carina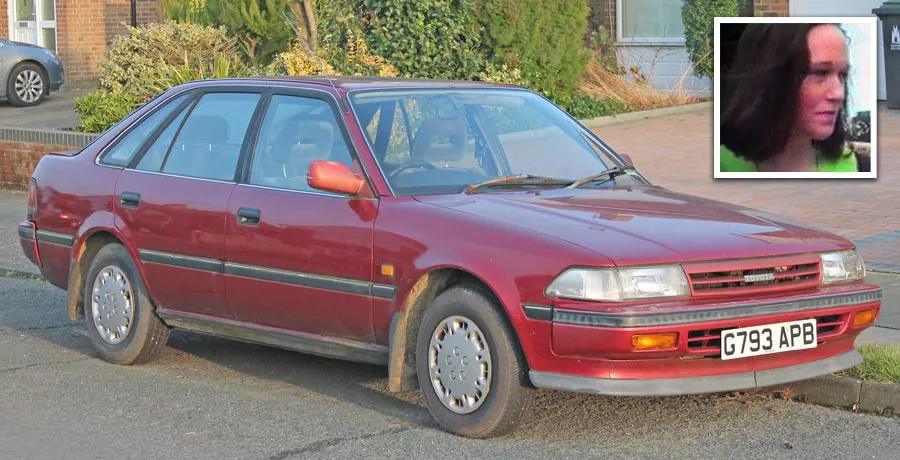 One witness said that they saw a woman matching Dullard's description getting into the back of a red Toyota Carina (similar to the model in the photograph above).
The person (or persons) who picked her up that night have never come forward.
Map Viewer
There is more than one location associated with this entry. To view all of these places on the same map, you can use the following feature:
Closest Locations
Other locations that are relatively close to this address: Roughly 59KM away.
Crime Location in Clondalkin, Dublin, Ireland Roughly 62KM away.
Crime Location in Lucan, Dublin, Ireland Roughly 68KM away.
Death Location in Ranelagh, Dublin, Ireland