Philip Cairns' house
Place of Interest in Rathfarnham, Dublin, Ireland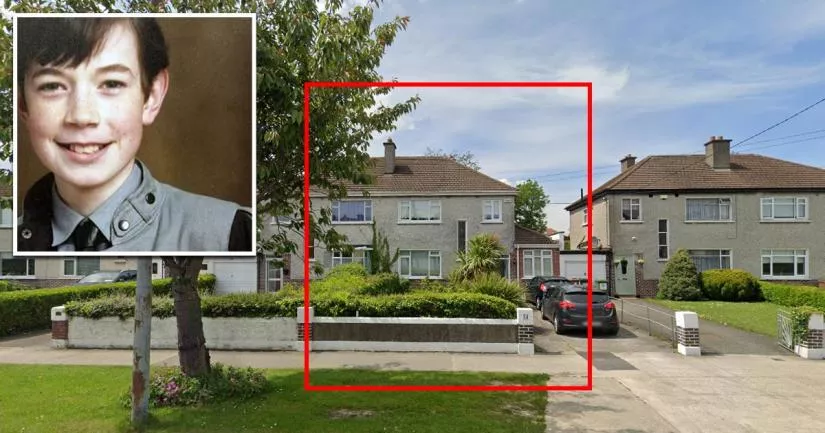 This is the house where Philip Cairns was living when he went missing.
At about 1:30 p.m. on October 23rd, 1986, the 13-year-old left this house to return to school.
At the time, he was a 1st year student at the Coláiste Éanna secondary school in Hillside Park.
The route in question is roughly 1.2 km long, and it should have taken him about 10-15 minutes to walk it.
Sadly, Cairns never made it back to school that day. After turning the corner to walk down Ballyroan Road, he was never seen again.
Despite a large-scale search and a huge amount of publicity, no trace of the teenager has ever been found. Rivers, lakes, and forests were all combed by volunteers.
Six days after he went missing, his schoolbag was discovered in a nearby laneway.
Investigators believe that it was placed there a number of days after Cairns went missing. This is because the bag was dry despite recent rainfall.
The placement of this bag may have been done to mislead the investigation—an act that is commonly referred to as "staging".
Although there were dozens of reported sightings of Cairns in the aftermath of his disappearance, all of them turned out to be false leads.
To this day, it remains one of Ireland's most well-known missing persons cases.

Further information is available in the "Photos" section below.
Where did Philip Cairns live?
Below, you will find the address and the GPS coordinates for this location.
GPS coordinates
The latitude and longitude coordinates for the house are:
53.291497, -6.308337
Map
To view directions on how to get there, you can use the Google Maps shortcut below:
Address
The full address for this location is:
38 Ballyroan Road
Rathfarnham
Dublin
D16 VW93
Ireland
The Eircode is D16 VW93.
Details about the general area
Ballyroan is a suburb of Rathfarnham in Dublin. It is in the south of Dublin, close to Marlay Park.
Private Property Warning
This is a private property. It is not a public place. Therefore, you should be respectful and not step foot on the property without permission.
Please be mindful that this is someone's home. Do not go near the house or make your presence felt.
Photos
Photos of the house and other related images.
---
Philip Cairns' route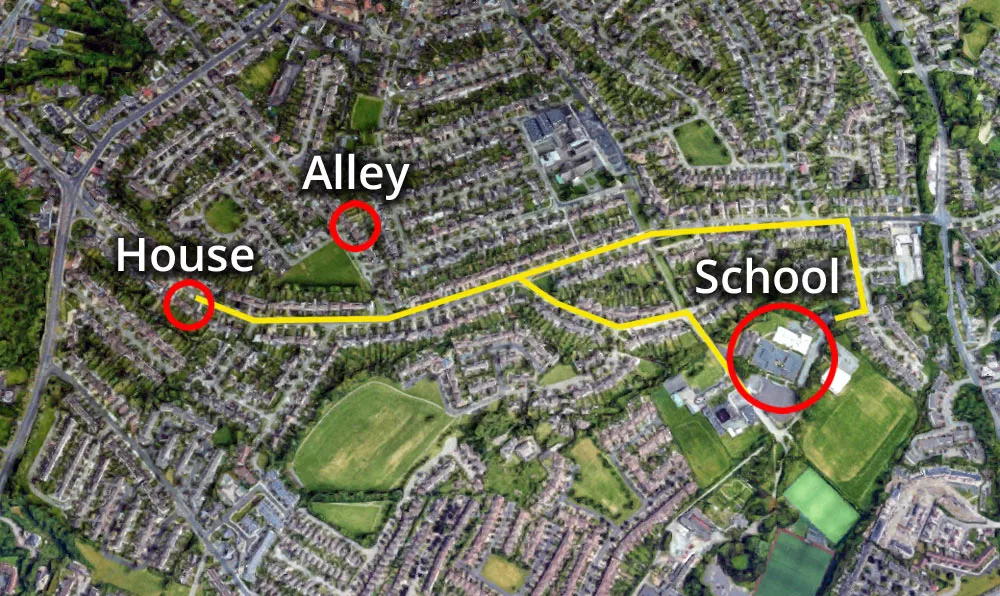 This is the route that Cairns was supposed to take that day. At the time of his disappearance, he had only recently started secondary school.
As you can see, the lane where his schoolbag was discovered is very close to his home on Ballyroan Road. It is about 450 meters away, which is a 2–5 minute walk.
The laneway where his schoolbag was found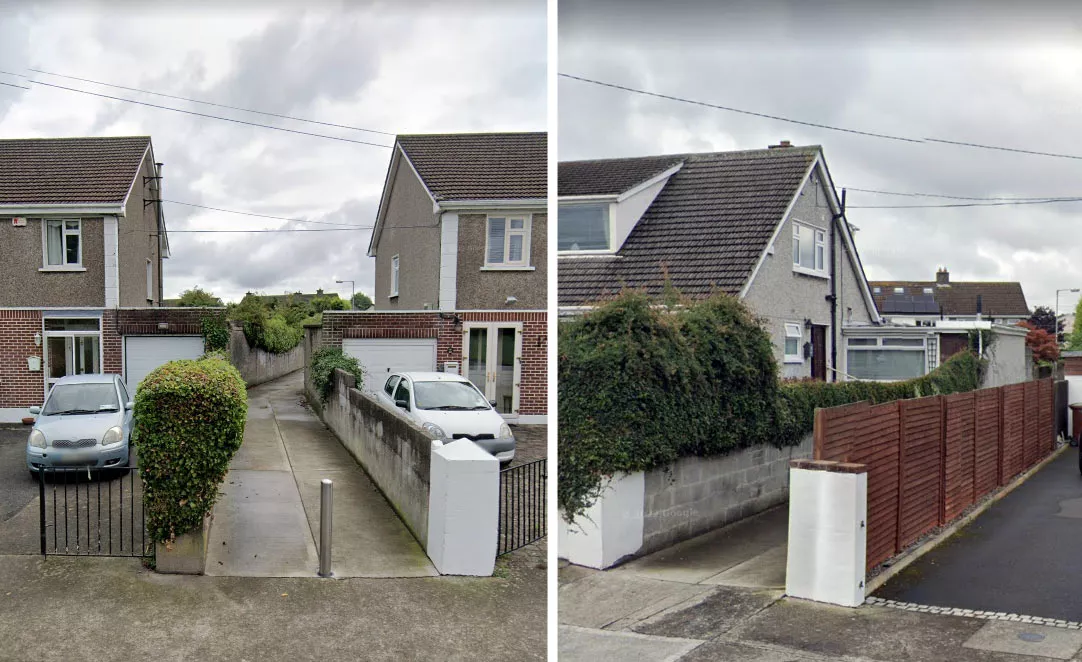 This is the lane where his schoolbag was found. It is about 100 meters long and connects Anne Devlin Drive with Anne Devlin Road.
Cairns' schoolbag was discovered six days after he went missing. It is believed that someone placed the bag in the alley at a later date, as it was dry despite recent rainfall.
Coordinates: 53.291175, -6.303821
His house in the 1980s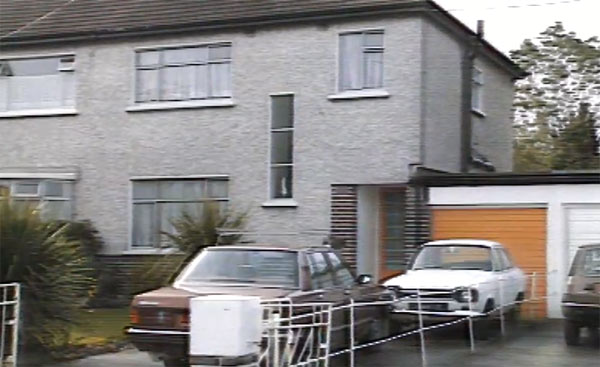 This photograph shows what the house looked like on the day that he went missing. The garage with the orange door no longer exists. In 2012, it was converted into an extension.
Volunteers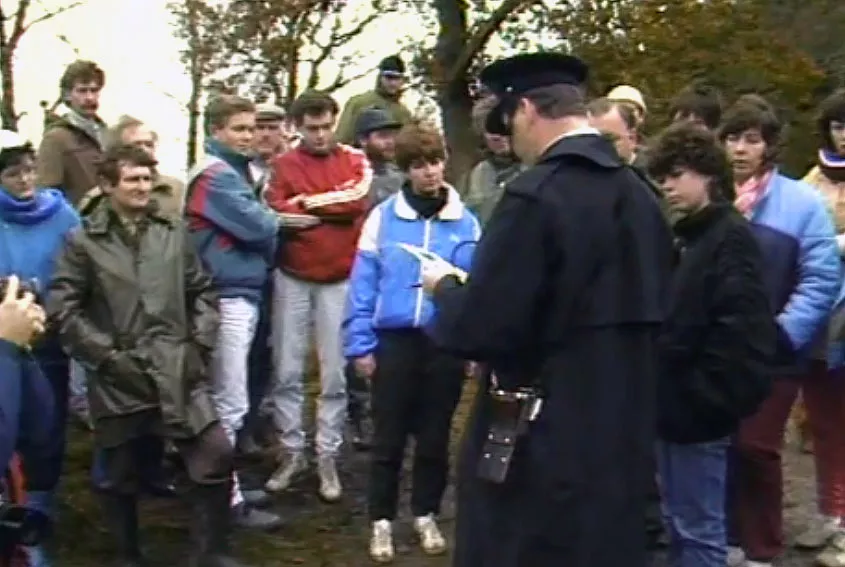 Volunteers searched for the 13-year-old in the foothills of the Dublin Mountains.
Gardai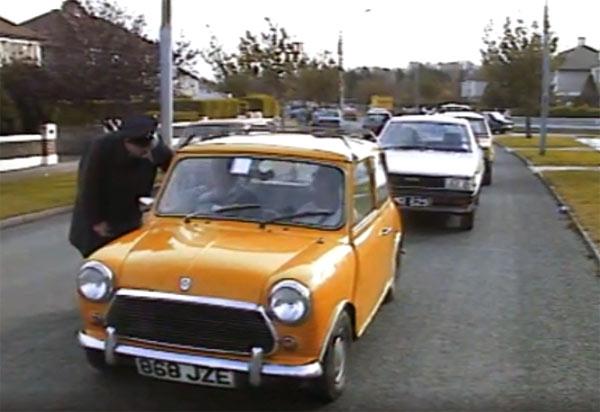 Following Cairns' disappearance, the Irish police canvassed the area by stopping motorists and showing them his photograph.
At the start of the investigation, there were reports that a woman in Tipperary had picked up a child matching his description. The boy claimed that he was from Waterford and that he had spent the previous night sleeping in a guest house. Unfortunately, this turned out to be a false lead.
Ballyroan Road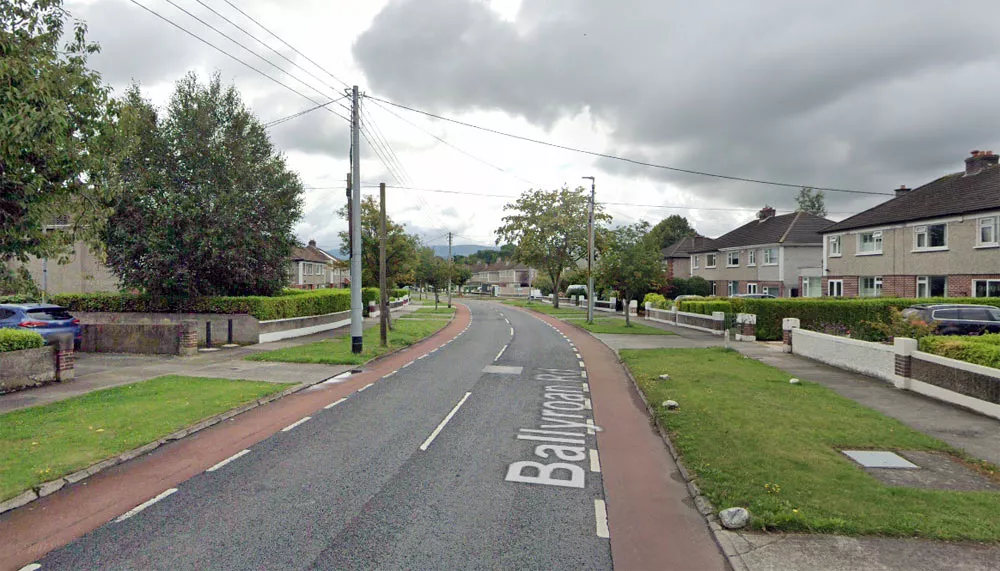 That afternoon, he would have walked down Ballyroan Road.
2009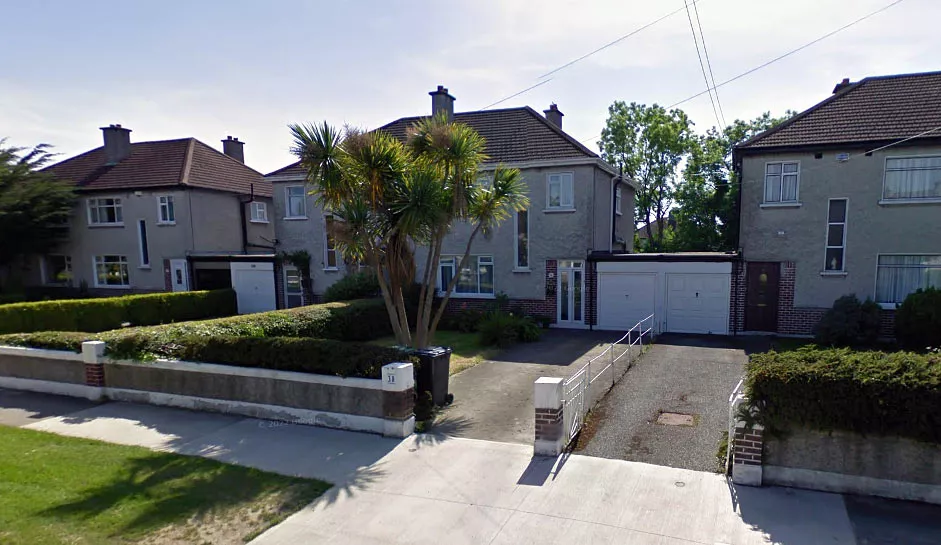 This Google Street View image of the property was taken in 2009. This was before the garage was converted into a pitched roof extension.
Schoolbag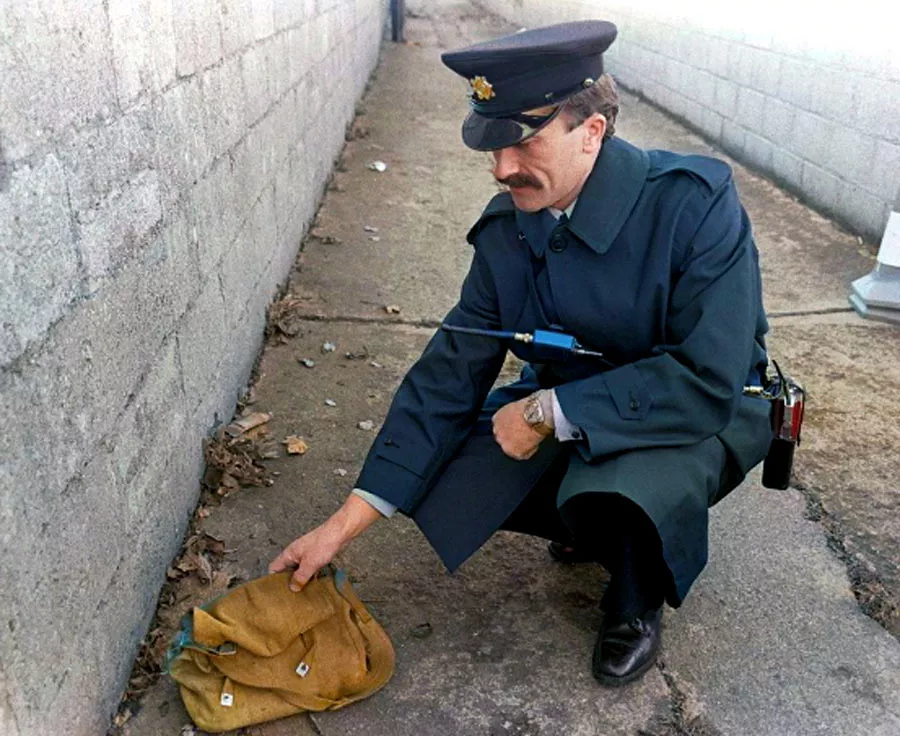 This colorized photograph shows a member of the Irish police kneeling down beside Cairns' schoolbag. The bag was missing two religion books and a geography book.
Eamonn Cooke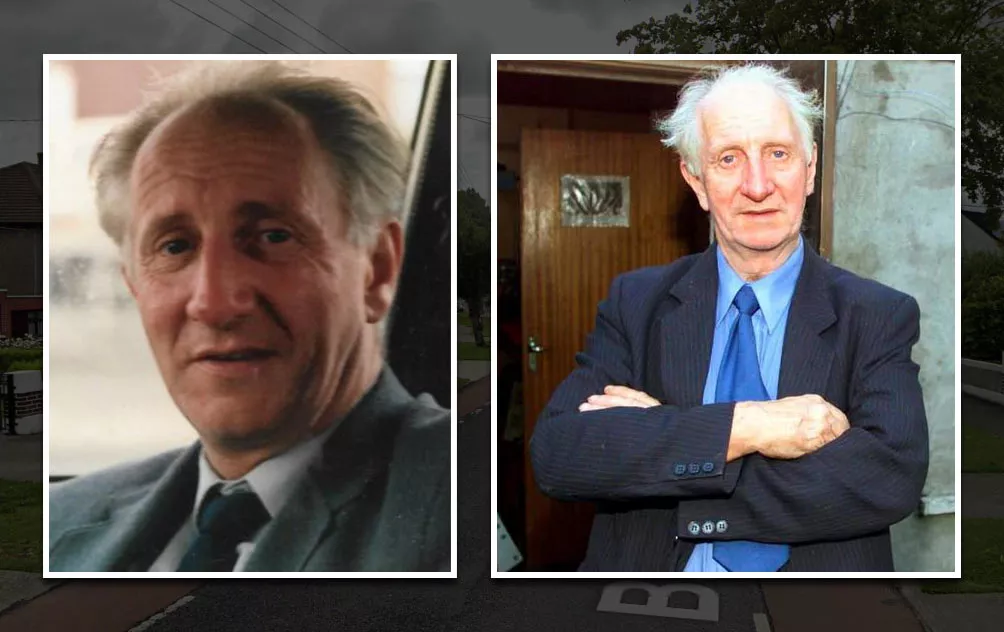 In 2016, a woman contacted the police and told them that she believed Cairns had been murdered by a former pirate radio DJ and convicted pedophile called Eamonn Cooke.
The woman, who was a victim of Cooke, was so terrified of him that she didn't come forward until she learned that he was dying.
According to the woman, she was in Cooke's car when they picked the 13-year-old up and drove to the DJ's pirate radio station at 58 Inchicore Road in Kilmainham.
At the time, she was just nine years old.
While they were at the studio, some kind of argument broke out, and Cooke hit Cairns over the head with an object.
When the incident occurred, she became upset and left the room. However, she later returned and saw the young boy lying on the floor.
After seeing blood, she reportedly fainted. Later, when she came to, she realized that she was in the back of Cooke's car and that Cairns was gone.
Cooke confirmed parts of the woman's story to detectives. However, at the time, he was receiving palliative care and suffering from dementia. Furthermore, he did not reveal the location of Cairns' remains.
Cooke died just as investigators believed that he was finally going to confess.
Although he was suffering from dementia, suspicions about his involvement were strengthened after he replied with key details to an open-ended question. Notably, many of these details matched up with what the woman had said.
DNA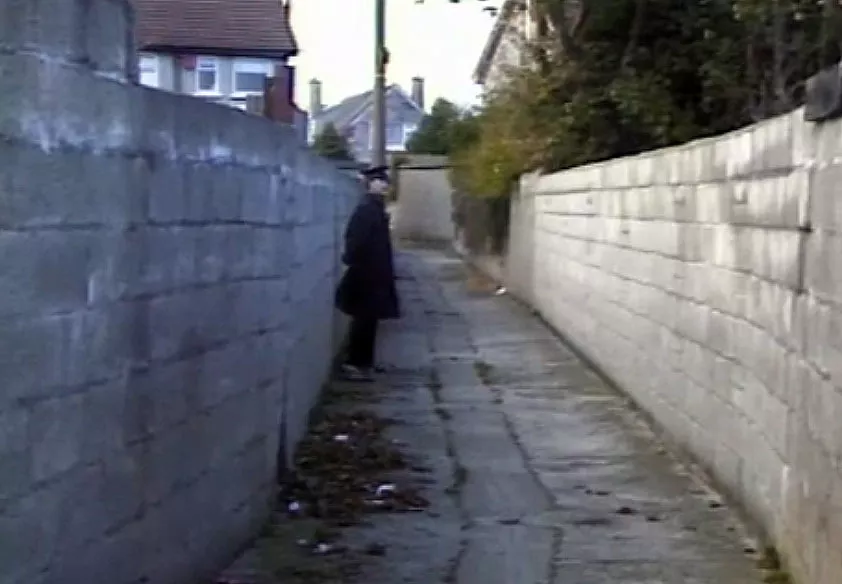 Investigators were able to retrieve "touch DNA" from the schoolbag using new technology. However, testing failed to link it with Cooke or any other person of interest.
It is hoped that this DNA will one day uncover the identity of the person who placed the bag in the laneway.
Visualize
There is more than one location associated with this entry. To view all of these places on the same map, you can use the following feature:
Closest Locations
Other locations that are relatively close to this address: Roughly 7KM away.
Crime Location in Ranelagh, Dublin, Ireland Roughly 8KM away.
Place of Interest in Dublin City, Dublin, Ireland Roughly 8KM away.
Crime Location in Ballsbridge, Dublin, Ireland Roughly 8KM away.
Crime Location in Clondalkin, Dublin, Ireland Roughly 8KM away.
Place of Interest in Dublin City, Dublin, Ireland