The location where Trevor Deely was last seen.
Crime Scene Location in Ballsbridge, Dublin, Ireland.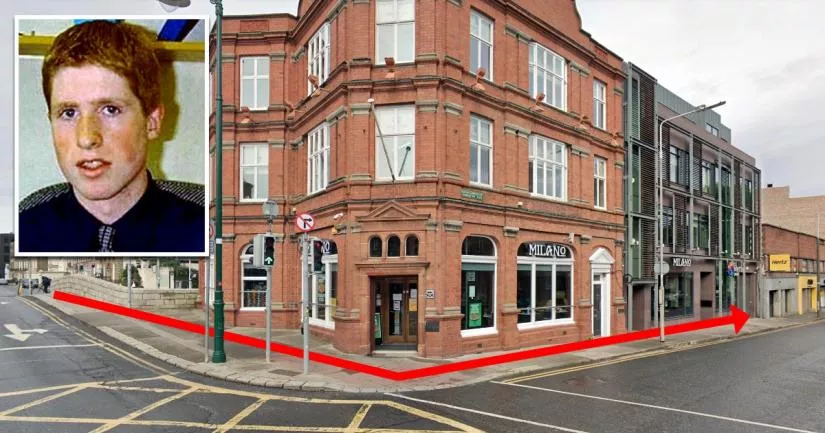 This is the location where Trevor Deely was last seen.
In the early hours of December 8th, 2000, a CCTV camera captured Deely walking past this building on Haddington Road.
Exactly 22 seconds later, an unidentified man stepped into the frame, walking in the same direction.
This was the last time that Deely was seen alive. Since then, there has been no trace of the missing 22-year-old.
Despite multiple public appeals, the man who seemingly followed Deely from afar has never come forward.
That night, Trevor was at a staff Christmas party. At the time, he was employed as an IT worker at the Bank of Ireland Asset Management department.
At around 3.20 a.m., he left a nightclub by himself and walked in the rain to his workplace near Leeson Street Bridge.
When he reached the entrance, he had a brief conversation with a man who had been standing outside of the bank for roughly 30 minutes. The authorities believe that this was the same man who followed him up Haddington Road.
Inside the bank, Trevor drank a cup of coffee and made conversation with a colleague who was working the night shift.
Thirty minutes later, he grabbed an umbrella and left, heading east along Wilton Terrace.
At the time, there was a taxi strike due to government plans to deregulate the industry. As a result, Trevor had to walk home.
About 500 meters up the road, he crossed the Baggot Street bridge and then turned left onto Haddington Road. It was at this location that a CCTV camera above an ATM machine captured the 22-year-old walking past with an umbrella.
This was the last known whereabouts of Trevor Deely.
Judging from the footage, it seems as though the unidentified man who was standing outside of the bank spotted him and decided to follow him.
What happened next remains a mystery.
Despite searches of the nearby canal, no trace of the young IT worker has ever been found.
To this day, he remains listed as a missing person.
Where was Trevor Deely last seen?
Below, you will find the address and the GPS coordinates for this location.
GPS Coordinates.
The GPS coordinates for the building are as follows.
Latitude: 53.334162
Longitude: -6.244986
Map.
Open 53.334162, -6.244986 in Google Maps to view directions on how to get there.
Address.
The full address for this location is:
1-2 Haddington Road
Ballsbridge
Dublin
D04 N1W6
Ireland
The Eircode is D04 N1W6.
Directions.
The building sits on the corner of Haddington Road and Baggot Street in Ballsbridge. At the time, it was occupied by the Bank of Ireland. These days, it is an Italian restaurant called Milano.
Photos.
Photos of the building and other related images.
---
Route.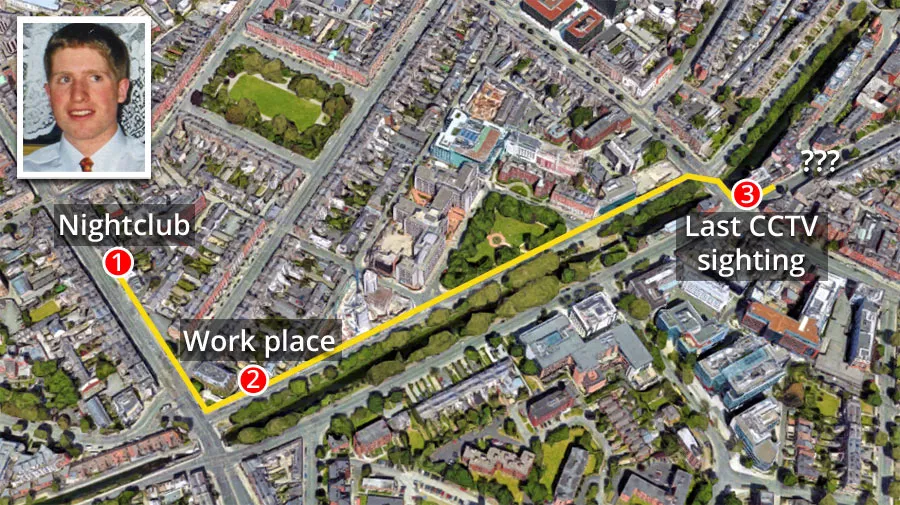 This aerial image shows the route that Trevor Deely took in the early hours of December 8th, 2000.
Trevor left the nightclub at Buck Whaleys at around 3.25 a.m. He then walked to his workplace, which was just around the corner.
The CCTV footage shows that an unidentified man was standing outside of the building at the time and that Trevor had a brief conversation with him.
Shortly after 4 a.m., Trevor left his workplace and traveled east along Wilton Terrace.
The last known sighting of the 22-year-old occurred at 4.14 a.m. At the time, he was walking up Haddington Road with an umbrella.
Unidentified man.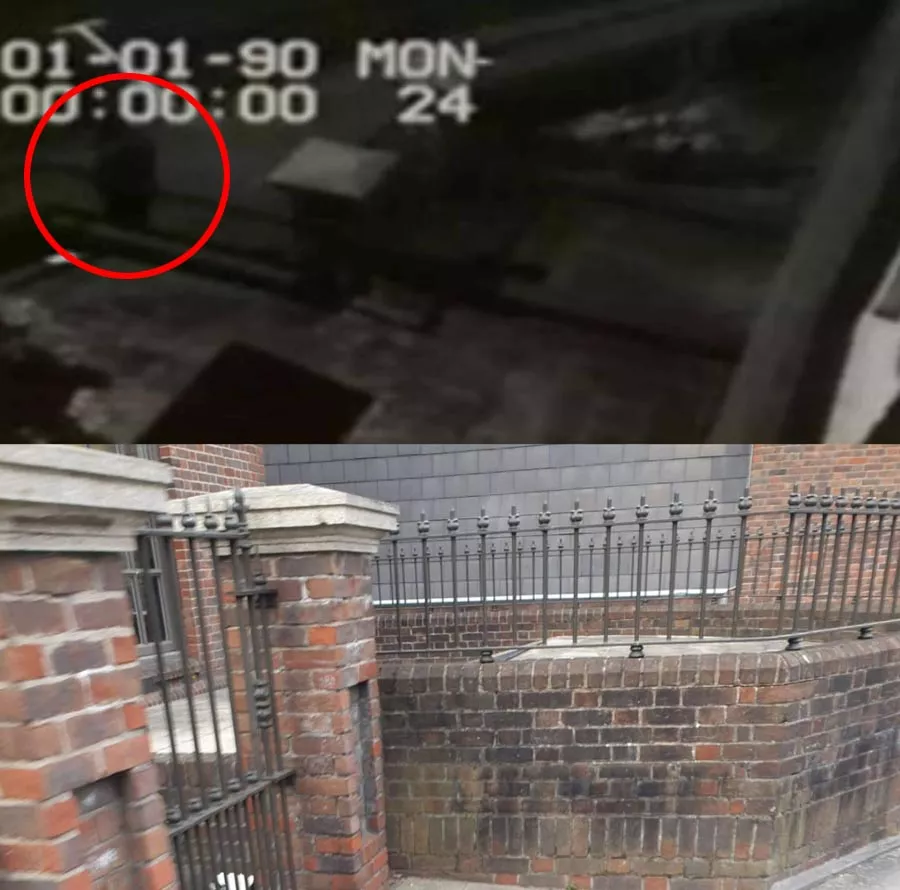 Image source: James Lawlor
This comparison photo was created by James Lawlor. It shows the exact spot where the unidentified man was standing when Trevor arrived at his workplace on Wilton Terrace.
According to the gardaí, this individual had been standing outside of the building since 3 a.m.
Gate.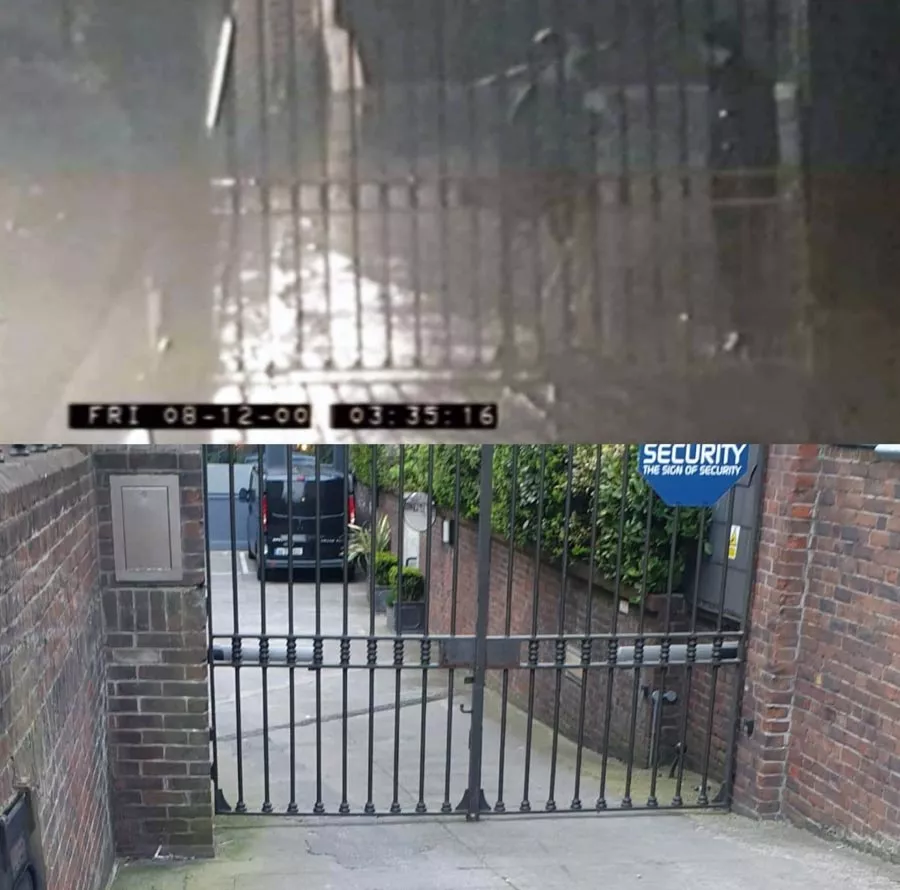 Image source: James Lawlor
The man in question stood beside Trevor while he was attempting to open the gate. The pair had a conversation for about 20 seconds.
At that point, it appears as though the man stood there with his head down and his back against the gate.
When Trevor finally opened the gate and went inside, this "person of interest" stayed in the same spot for at least 11 seconds (it may have been longer, as the released CCTV footage cuts off before he leaves).
There doesn't seem to be any indication that Trevor mentioned this interaction to the security guard who let him in or his coworker inside the building. Therefore, it stands to reason that he didn't find it strange or threatening.
The other possibility is that he did say something and that the gardai are withholding this information for investigative purposes.
Google Street View.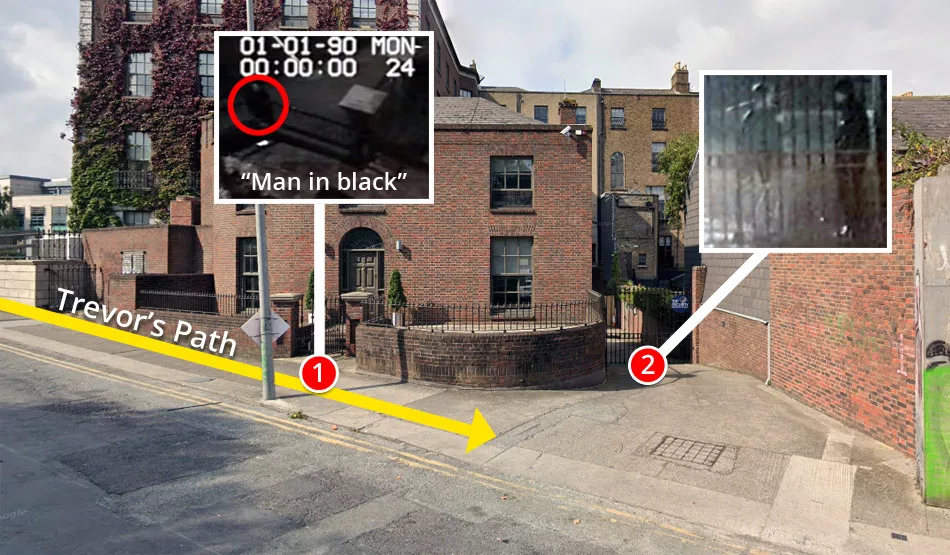 This Google Street View of Trevor's former workplace was taken in September of 2021.
The events, according to the CCTV timestamps:
03:34:17: Trevor Deely passes the man in black at Point 1. However, they don't seem to talk to one another. Judging by the footage, Trevor is talking on the phone. For the next 17 seconds, the man continues to stand there.
03:34:34: The man turns around and starts to walk over towards the gate (Point 2).
03:34:43: The man appears at the gate. Notably, Trevor hasn't appeared yet, even though we saw him walking past "Point 1" 23 seconds ago. This suggests that he stopped somewhere between "Point 1" and "Point 2". It is possible that he was talking to his colleague on the night shift and asking them to let him in.
03:35:01: Trevor finally arrives at the gate. Judging by the timestamps, he stopped somewhere between Point 1 and Point 2 for 44 seconds.
03:35:07: While Trevor is attempting to open the gate, the man in black stands beside him. They appear to have a brief conversation.
03:35:31: Trevor is still at the gate. At this point, it seems as though the other man's head slumps over to his right—almost as if he is finding it difficult to keep it up. This might suggest that he is under the influence of something. For the next 20 seconds, the man stands beside Trevor with his head down and his back against the gate. Judging by their body language, they don't appear to be talking to each other.
03:35:52: The gate finally opens and Trevor goes inside. It takes the man exactly three seconds to turn around and realize that the gate has been opened. By the time he turns around, it has already been shut. This sluggishness adds weight to the theory that he was under the influence.
04:02:19: 27 minutes later, Trevor exits the gate and fixes his jacket. He then walks over to the wall on his right. After opening his umbrella, he turns around and proceeds to walk east along Wilton Terrace.
Coordinates: 53.332523, -6.252236
He looks to his right.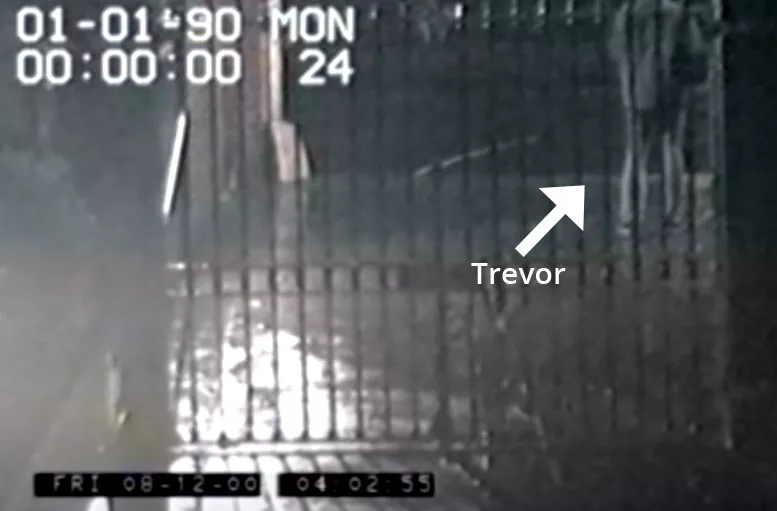 In the CCTV footage, he stands near the top of the lane and spends 22 seconds opening his umbrella. He then walks off to the left.
Position.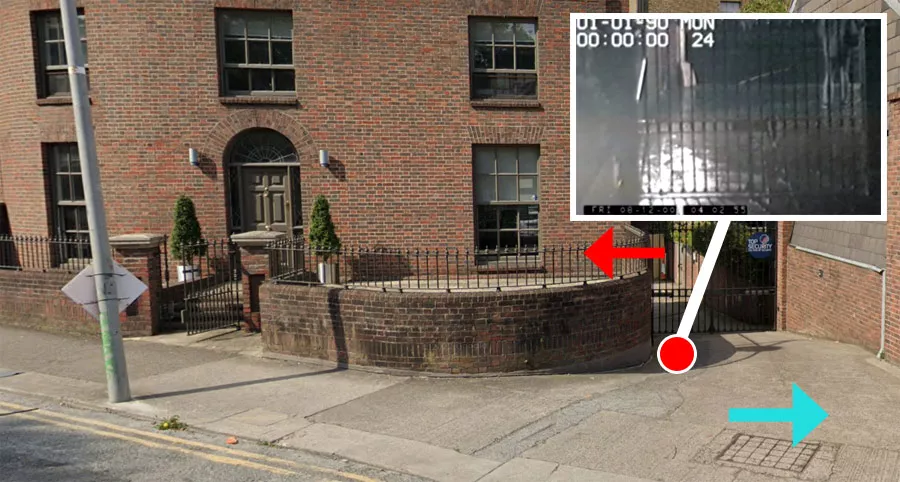 This Google Street View shows his approximate position in the previous CCTV still.
The red arrow is pointing towards the direction that he originally came from. The blue arrow represents the direction that he walked in after leaving his workplace.
Wilton Terrace.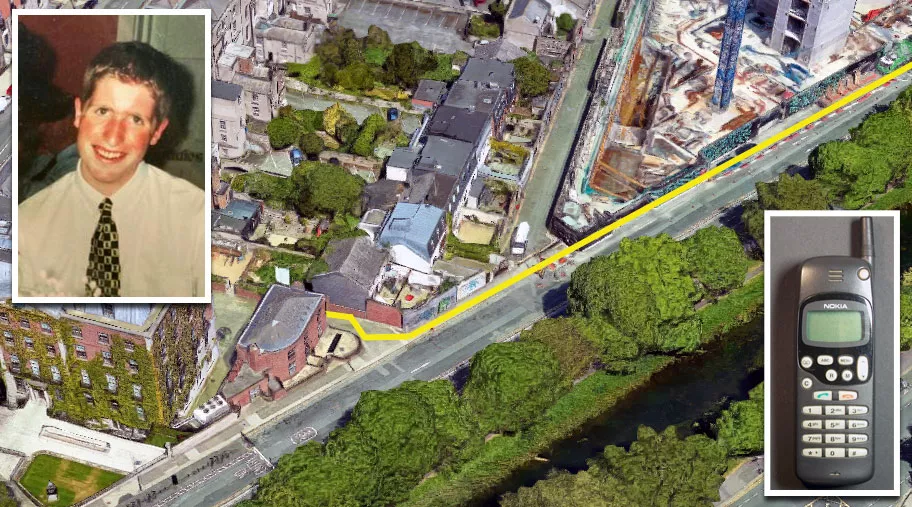 At 4.03 a.m., he started walking east on Wilton Terrace. Three minutes into his journey, he used his Nokia 1610 to call his friend.
However, his friend was asleep at the time. As a result, the call went to his voicemail.
In the voicemail message, Trevor said that everything was good and that he would see him tomorrow.
Trevor's Nokia has never been found.
Baggot Street Bridge.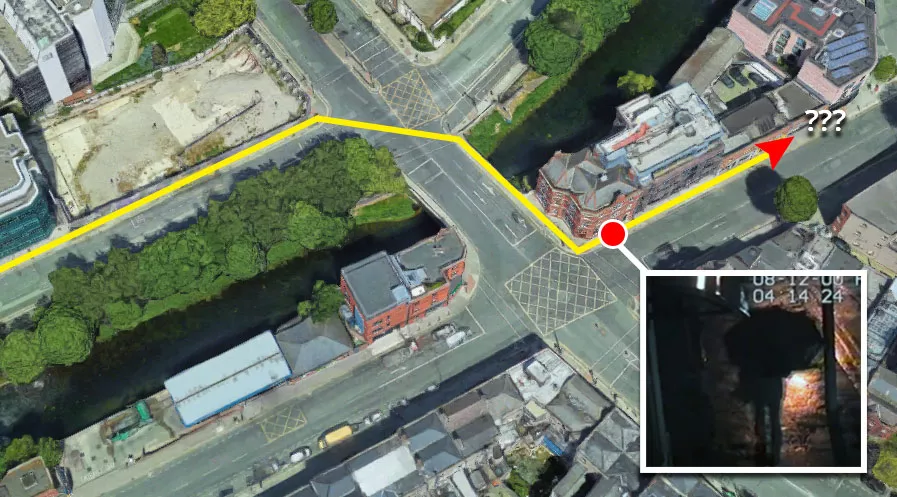 Once Trevor Deely reached Baggot Street, he crossed the bridge and then turned to his left, heading northeast on Haddington Road.
The red dot pinpoints the area where he was last captured on CCTV.
This is his last known location.
The "man in black".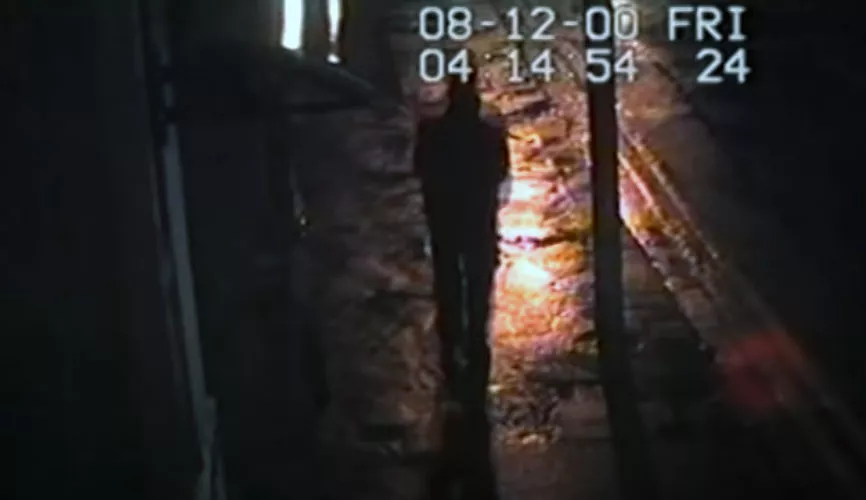 Roughly 22 seconds after Trevor Deely walked past this camera, the "man in black" appears.
This suggests that he was tailing the 22-year-old.
The man in question takes short, quick steps. His hands appear to be in his front jacket or hoodie pockets.
The average person walks at a pace of about 1.4 meters per second. If we take the 22-second "lag" into account, then it seems as though he was 10–20 meters behind Trevor, depending on his speed.
When the CCTV footage is slowed down to match the timestamp, you can see that neither of the men appears to be walking too quickly. It takes Trevor 12 seconds to walk across a distance of about 3-4 meters.
This is supported by Google Maps data, which shows that the route in question takes about 7 minutes by foot. If the time on both camera systems was relatively in sync, then it means that the walk took him four minutes longer than it should have.
Notably, Trevor seems to stagger to his left during the clip. Although he wasn't "blackout drunk," he would have been intoxicated at the time. It was also raining, which may have slowed him down even further.
The rest of the route.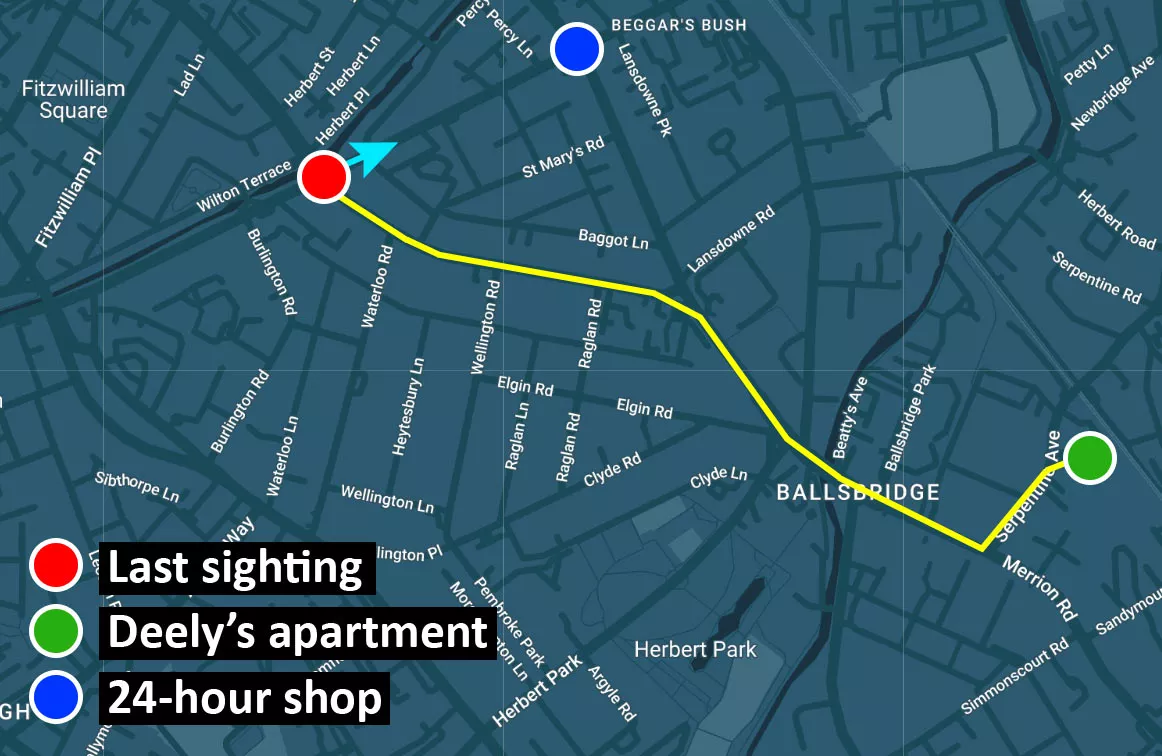 That night, it seems as though Trevor intended on walking along this route towards his apartment building on Serpentine Avenue.
Sadly, he never made it that far.
Trevor's movements after he walked past the CCTV camera on Haddington Road remain a mystery.
The route that he chose is slightly longer than the quickest route back to his apartment.
However, we do know that he was a smoker, and there was a 24-hour shop on Bath Avenue, at the eastern end of Haddington Road (close to Slattery's D4 on the map above).
If he needed cigarettes, then it is very possible that he decided to walk over to this shop before travelling back to his apartment.
Smokers tend to smoke a lot more after they've consumed alcohol, to the point that they nearly become chain smokers. This is because their cravings increase.
Notably, he did not light up a cigarette after leaving his workplace. This might suggest that he was fresh out.
Because his phone reportedly remained active for a number of days, it seems unlikely that he fell into the canal or the River Dodder. Furthermore, Trevor's umbrella was never found. In the surveillance footage, we can see that it was open. If he did fall into a river, then it seems likely that the umbrella would have turned up at some point during the search.
Trevor went missing four days before US President Bill Clinton was due to arrive in Ireland. Therefore, it is possible that it was swept up during the city-wide clean up.
An umbrella on the street after a night of rain would not have raised too many eyebrows.
If he didn't fall into the water, then one has to wonder how a man that was 6 feet tall managed to vanish from the middle of Dublin City without a trace.
If Trevor did die at the hands of another person, then it is likely that his killer had enough privacy to make him disappear.
In other words, he probably didn't attack him on the side of a busy city street and then haul his body to a discreet location. That would have been an incredibly difficult feat to pull off without being spotted, even at that time of the morning (the CCTV footage shows that there was still a considerable amount of traffic in the area).
Moving dead weight is also physically taxing.
If the "man in black" was involved in Trevor's death, then it is possible that he either chased the 22-year-old off-path to a secluded location or he managed to lure him back to another address. For example, the pair may have started talking, and he may have invited Trevor back to his house for drinks.
Trevor was drunk, and he was facing a 25-minute walk back to his apartment in the rain. As a result, he may have been willing to accept such an invitation.
This doesn't seem to have been a well-planned crime, as the man in question appeared to be somewhat under the influence during the earlier footage.
Therefore, it seems plausible that Trevor's death occurred during a robbery or an altercation at a private residence that spiraled out of control.
If you have any information about the disappearance of Trevor Deely, please call the Pearse Street Garda Station at (01) 666 9000.
Closest locations.
Other locations that are relatively close to this place. Roughly 2KM away.
Crime Location in Ranelagh, Dublin, Ireland Roughly 6KM away.
Crime Location in Cabra, Dublin, Ireland Roughly 7KM away.
Crime Location in Whitehall, Dublin, Ireland Roughly 8KM away.
Place of Interest in Rathfarnham, Dublin, Ireland Roughly 9KM away.
Crime Location in Finglas, Dublin, Ireland