The location where the "Fire Escape Collapse" photograph was taken
Place of Interest in Boston, Massachusetts, United States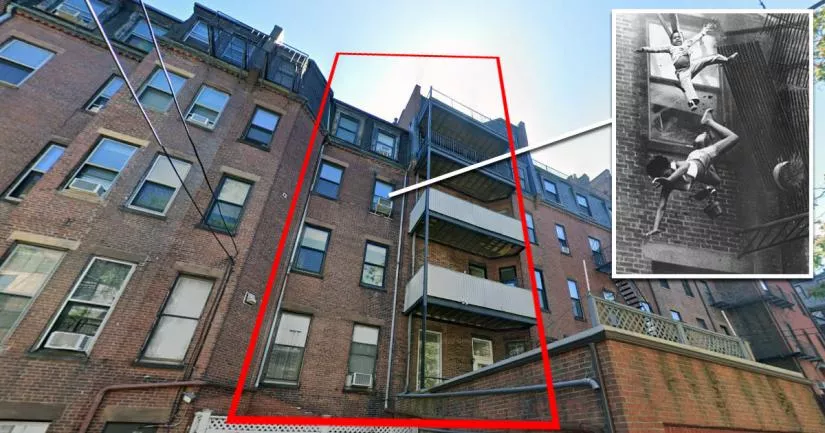 This is the location where the famous "Fire Escape Collapse" photograph was taken.
It is situated behind 129 Marlborough Street in Boston, Massachusetts, in Public Alley 419.
The photo, which is also known as "Fire on Marlborough Street", was taken by Stanley Forman on July 22nd, 1975. At the time, he was working as a photographer for the Boston Herald newspaper.
That day, Forman heard that a fire had broken out at an apartment building on Marlborough Street. After following a fire truck to the scene, he began taking pictures of what he thought would be a routine rescue operation.
When he reached the alley, Forman could see that 19-year-old Diana Bryant and her 2-year-old goddaughter, Tiare Jones, were standing at the top of the fire escape.
As one of the fire trucks was raising its ladder, the fire escape suddenly collapsed, sending Diana and Tiare tumbling to the ground below.
Forman, who had been continuously taking pictures of the rescue, caught the exact moment when the pair started falling. Once it dawned on him what was happening, he reportedly turned his head away and refused to look at the aftermath.
Diana Bryant, who fell five stories, suffered multiple head injuries and died later in the hospital. Fortunately, two-year-old Tiare Jones managed to survive the fall, as she landed on her godmother and was cushioned from the full impact.
Within 24 hours, the photo was published in more than 100 newspapers across the United States. It also appeared in a number of foreign publications.
Responses to the image were understandably varied. Some believed that it was a morbid invasion of someone's final moments. Others felt that it was a shocking reminder that fire safety precautions needed to be drastically improved.
Following its publication, the city of Boston immediately began to work on introducing new inspection laws for fire escapes. It also agreed to increase fines for violations, as many landlords were opting to pay the small fines instead of shelling out money for costly repair work.
During an investigation into the collapse at Marlborough Street, it was determined that one of the iron supports under the balcony had given way. At the time, many of the fire escapes in the downtown area of Boston were reportedly rusting due to a lack of maintenance.
In an interview with the New York Times, one anonymous iron worker claimed that he had recently worked on a balcony that hadn't been treated in 50 years.
Moral debate aside, there is no denying the impact that Forman's photograph had on fire safety codes.
One year after the tragic incident, his photo won the Pulitzer Prize for Spot News Photography. It was also awarded the title of World Press Photo of the Year.
To this day, it remains one of the most famous photographs of all time.
Fire Escape Collapse photo location
Below, you will find the address and the GPS coordinates for this location.
GPS coordinates
The latitude and longitude coordinates for the apartment building are:
42.353461, -71.078123
Map
To view directions on how to get there, you can use the Google Maps shortcut below:
Address
The full address for this location is:
129 Marlborough Street
Boston
Massachusetts
MA 02116
United States
Directions
The photo was taken at the back of the building, in Public Alley 419. The alley in question runs between Clarendon Street and Dartmouth Street.
Photos
Photos of the apartment building and other related images.
---
129 Marlborough Street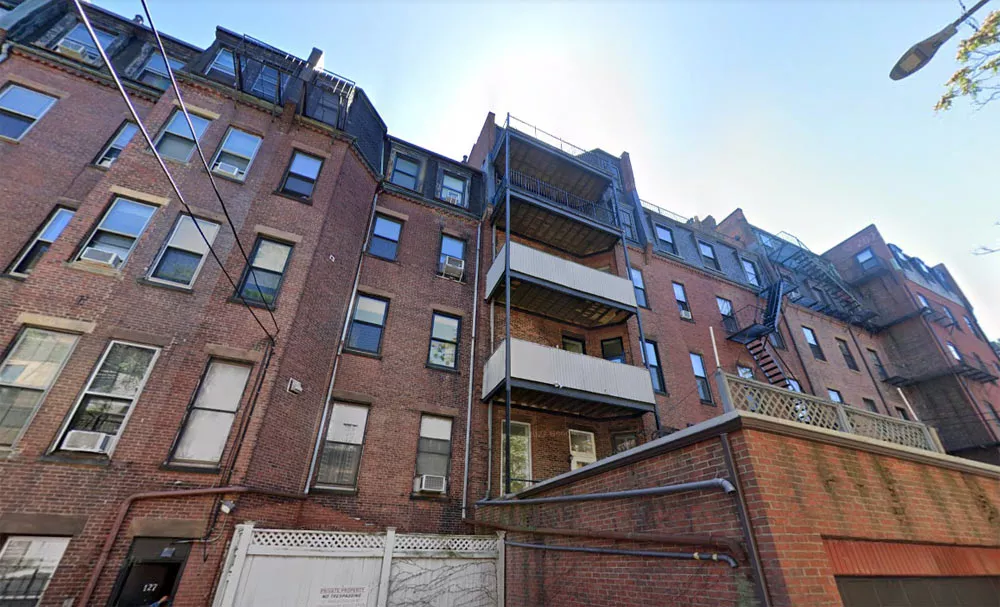 This Google Street View image of the back of 129 Marlborough Street was taken in September of 2022.
As you can see, the original fire escape has been replaced by balconies.
Diana Bryant was a 19-year-old hairdresser who loved children. On the day of the incident, she had agreed to babysit her two-year-old goddaughter, Tiare Jones.
Tiare's mother, Pat Jones, didn't find out about the fire until the following morning, when she looked down at someone's newspaper and saw the photograph of her daughter falling from the fire escape.
At the time, she was traveling to work on a bus and had to jump off at the next stop.
Aerial map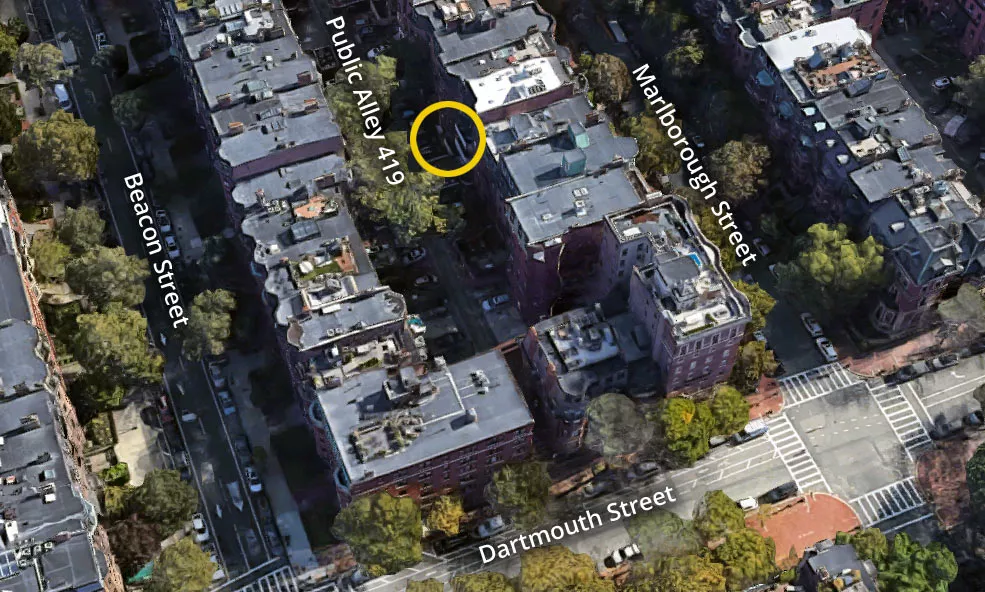 This aerial map highlights the location where Forman took his picture.
The incident occurred at the back of an apartment building on Marlborough Street.
What happened to Tiare Jones?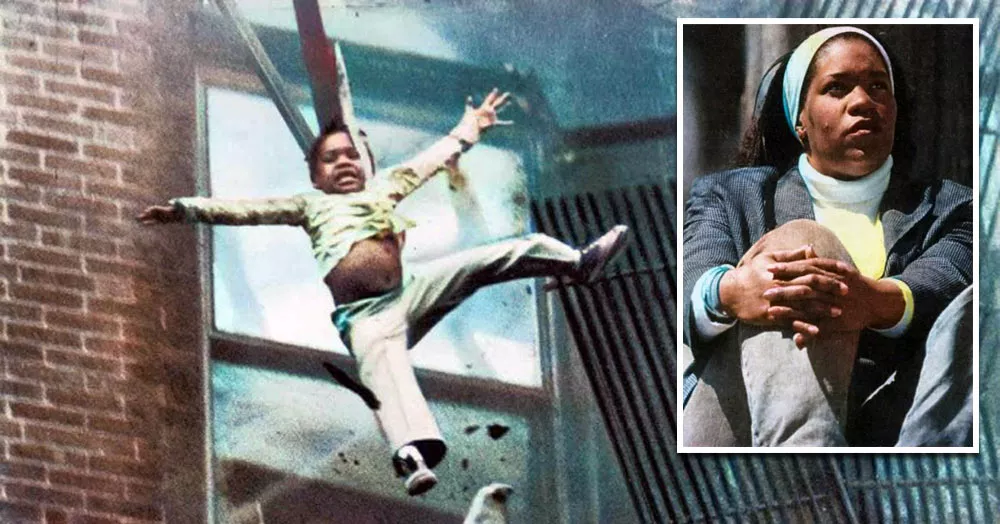 Sadly, Tiare Jones lived an unhappy life following the incident.
According to an article published in the Boston Globe in 1999, she spent a lot of her childhood in foster care.
Her father left shortly after the photograph was taken.
In 1978, Tiare and her sister accidentally set their apartment on fire while they were playing with matches.
Following the fire, the Department of Social Services told Tiare's mother, Pat, that she must quit one of her two jobs in order to supervise her daughters more closely. However, Pat was unable to do so due to financial constraints. Consequently, Tiare and her sister were both taken into foster care.
Growing up, Tiare had a teenage pregnancy, suffered domestic abuse, and struggled with addiction.
In 1999, she was 26 years old and living in a halfway house, hoping to rebuild her life.
She had four young daughters, all of whom had been taken away from her by the Department of Social Services. However, by the time the article was published, she had regained custody of her oldest daughter and was hoping to turn things around.
Unfortunately, we were unable to find any new updates on Tiare.
In 2007, Tiare's mother, Pat, appeared in a Boston Globe article about the subprime mortgage crisis. In that article, it was noted that she had taken custody of her four grandchildren.
Closest Locations
Other locations that are relatively close to this place. Roughly 4 miles away.
Filming Location in Chelsea, Massachusetts, United States Roughly 18 miles away.
Filming Location in Salem, Massachusetts, United States Roughly 18 miles away.
Filming Location in Salem, Massachusetts, United States Roughly 20 miles away.
Filming Location in Marblehead, Massachusetts, United States Roughly 41 miles away.
Serial Killer House in Woonsocket, Rhode Island, United States