The motorcycle shop where Todd Kohlhepp shot four people
Crime Scene Location in Chesnee, South Carolina, United States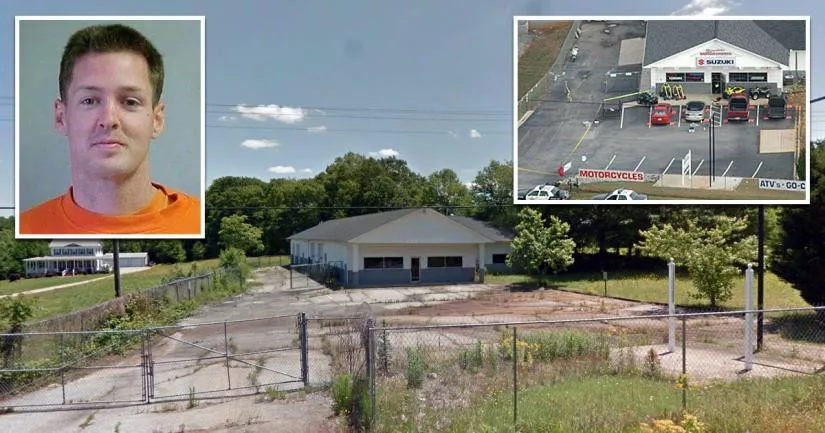 This is the former Superbike Motorsports store where serial killer Todd Kohlhepp murdered four people.
It is situated at 6842 Parris Bridge Road in Chesnee, South Carolina.
The store was closed after the shootings. Judging by Google Street View images, the unit has been lying vacant ever since.
On November 6th, 2003, Kohlhepp entered the store and shot the owner, Scott Ponder, his mother, Beverly Guy, and two employees, Brian Lucas and Chris Sherbert.
The four murders remained unsolved until November 3rd, 2016, when Kohlhepp was arrested for kidnapping a woman named Kala Brown.
Following his arrest, he admitted to murdering three people on his property in Woodruff between 2015 and 2016. He also told investigators that he was responsible for the quadruple homocide at Superbike Motorsports in 2003.
According to Kohlhepp, he had purchased a Suzuki motorcycle from the store at some point in 2003. However, he was too inexperienced to ride it.
When he attempted to return the bike, the owner and employees reportedly laughed at him and made fun of him.
A few days later, the Suzuki in question was stolen.
Kohlhepp believed that Superbike Motorsports was behind the theft because the bike was taken from the same location that they had delivered it to. He also claimed that one of the employees hinted at their involvement.
He told detectives that he "let it slide" for a while. However, he eventually "got mad about it."
On November 6th, 2003, he entered Superbike Motorsports and pretended to be interested in buying another bike. Then, when the other customers had left, he took out a Beretta 92S 9mm and opened fire.
After shooting Ponder, Guy, Lucas, and Sherbert, he walked through the shop and "finished the job" by firing a bullet into each of their foreheads.
This detail about shooting each victim in the forehead convinced the police that he was telling the truth, as they had never released that information to the public. He was also able to describe the exact ammunition that he had used.
Following the murders, he took the gun apart and threw it into a dumpster near his apartment building.
In May of 2017, Kohlhepp pleaded guilty to the four murders at Superbike Motorsports and was sentenced to life in prison.
Where was Superbike Motorsports?
Below, you will find the address and the GPS coordinates for this location.
GPS coordinates
The latitude and longitude coordinates for the store are:
35.123400, -81.914180
Map
To view directions on how to get there, you can use the Google Maps shortcut below:
Address
The full address for this location is:
Superbike Motorsports
6842 Parris Bridge Road
Chesnee
South Carolina
SC 29323
United States
Directions
The Superbike Motorsports store was situated near the corner of Parris Bridge Road and Fish Camp Road. The vacant lot is roughly 4 miles southwest of Chesnee.
Details about the general area
Chesnee is a small city in Spartanburg and Cherokee counties. It is close to the state line between South Carolina and North Carolina.
Private Property Warning
This is a private property. It is not a public place. Therefore, you should be respectful and not step foot on the property without permission.
Photos
Photos of the store and other related images.
---
6842 Parris Bridge Road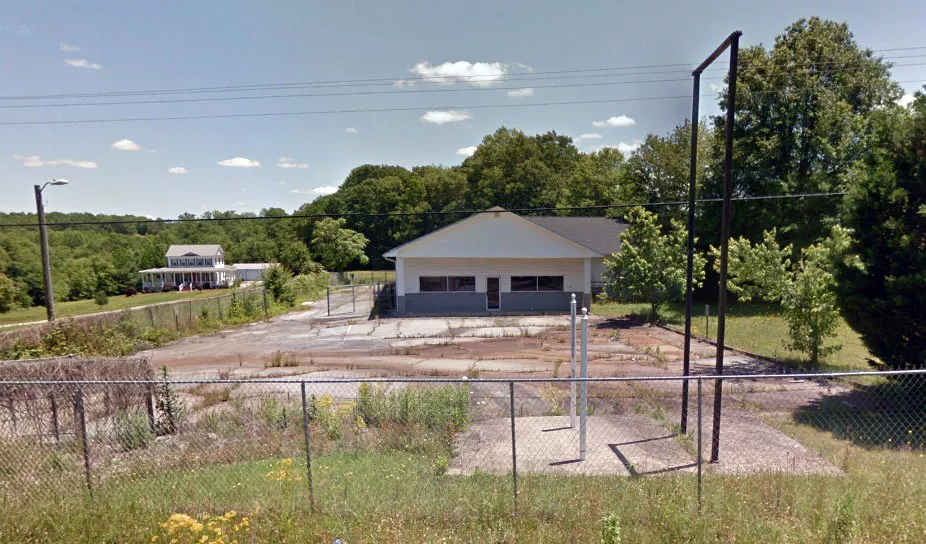 This Google Street View image of 6842 Parris Bridge Road was taken in May of 2019.
Judging by older Street View images, the building has remained vacant since the murders.
Scott's wife, Melissa Ponder, was seven weeks pregnant when the killings took place. Following her husband's murder, she moved back to Arizona to be closer to her family.
She sold this property for $119,000 at an auction in 2007.
Tragically, Melissa lost her second husband, MCSO Lt. Chad Brackman, on November 10th, 2021, after he was struck by a vehicle while he was working traffic control in Scottsdale, Arizona.
Victims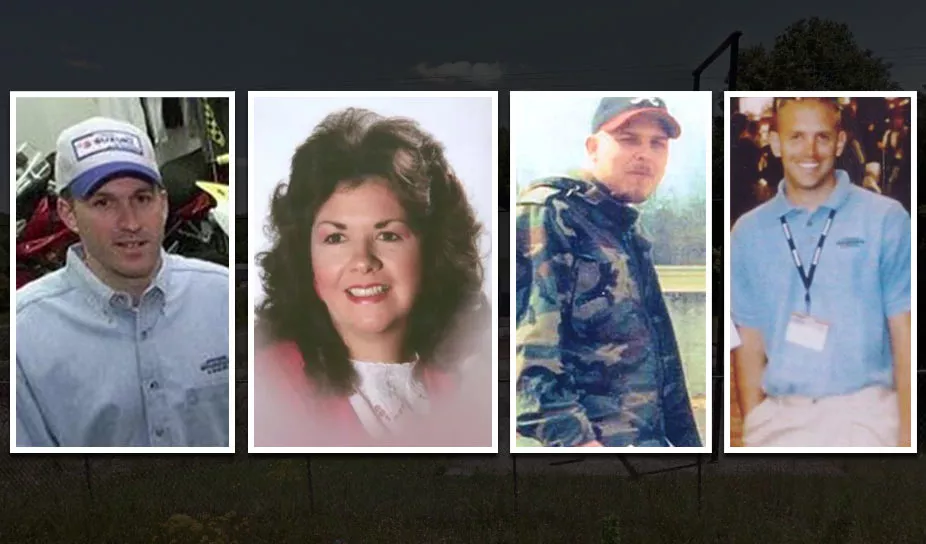 That day, Kohlhepp murdered Scott Ponder (30), Beverly Guy (52), Chris Sherbert (26), and Brian Lucas (29).
Closest Locations
Other locations that are relatively close to this place. Roughly 23 miles away.
Serial Killer House in Moore, South Carolina, United States Roughly 32 miles away.
Crime Location in Woodruff, South Carolina, United States Roughly 70 miles away.
Crime Location in Leicester, North Carolina, United States Roughly 144 miles away.
Place of Interest in Augusta, Georgia, United States