Frank Cali's house
Mobster House
25 Hilltop Terrace, Staten Island, NY 10304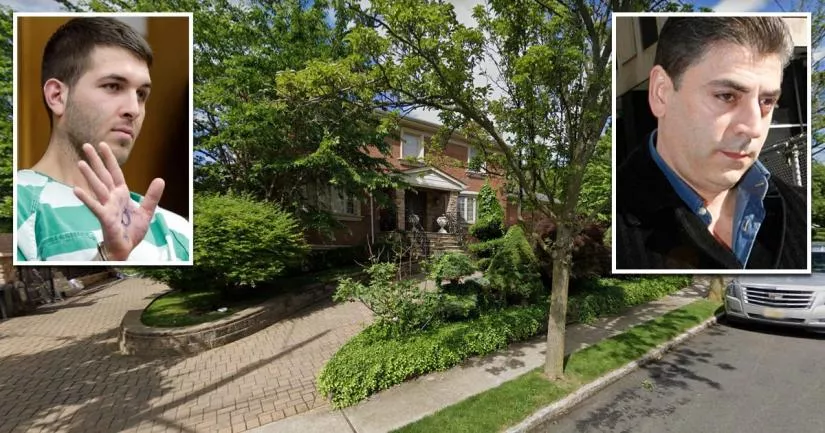 This is the former house of mob boss Frank Cali.
It is located at 25 Hilltop Terrace in Staten Island, New York.
"Franky Boy" Cali became a respected name in the Gambino family by being a good earner. In the eyes of many, he represented the future of the organization.
Over the years, he reportedly made millions of dollars in "businesses" such as loan sharking, gambling, and drug trafficking. He also had financial interests in the food and construction industries.
His reputation was strengthened even further when he married a woman named Rosaria Inzerillo, who was related to a number of high-ranking mafiosos in the Sicilian Mafia.
The authorities considered "Franky Boy" to be a "ghost" who kept a very low profile. Although the FBI tailed him and kept him under heavy surveillance, they only managed to arrest him once. In that case, he pleaded guilty to extortion and received a short prison sentence.
In 2011, informants reported that Cali had been appointed as the new underboss of the family—a role that put him second-in-command.
Four years later, a respected mafia writer named Jerry Capeci claimed that the 50-year-old had replaced Domenico Cefalù as the acting boss of the Gambino family. At the time, Cefalù had reportedly decided to step down from his position.
On the night of March 13th, 2019, a man named Anthony Comello crashed his pickup truck into Cali's Cadillac Escalade, which was parked outside of his residence in Todt Hill.
When Cali went outside to see what had happened, Comello opened fire and shot him multiple times in the chest.
Following the shooting, the Gambino boss was taken to Staten Island University Hospital North, where he was pronounced dead.
At first, it seemed as though New York had just witnessed its first mob hit on a boss since the 1985 killing of Paul Castellano. However, it soon emerged that Comello wasn't a hitman. Instead, he was a paranoid conspiracy theorist who believed that the CIA had infiltrated the Gambino family.
During questioning, the 24-year-old gave a number of bizarre explanations about why he had shot Cali. In one interview, he claimed that he had gone to the mobster's home to arrest him and turn him over to the military. In another, he said that the family of former Gambino boss John Gotti had ordered the shooting.
In June 2020, Comello was deemed mentally unfit to stand trial. He is currently awaiting further evaluation at a mental health facility.
The case will not proceed until the court believes that he fully understands the charges against him.

Further information is available in the "Photos" section below.
Frank Cali house address
Below, you will find the address and the GPS coordinates for this location.
Address
25 Hilltop Terrace, Staten Island, New York, NY 10304, USA
Map
To view directions on how to get there, you can use the Google Maps shortcut below:
GPS coordinates
The latitude and longitude coordinates for the house are:
40.591216, -74.108866
Directions
The house is situated in a quiet, leafy neighborhood in the Todt Hill area of Staten Island. The street is accessible via 4 Corners Road.
Private Property Warning
This is a private property. It is not a public place. Therefore, you should be respectful and not step foot on the property without permission.
This is someone's home. Please do not go near the property or make your presence felt.
Photos
Photos of the house and other related images.
---
25 Hilltop Terrace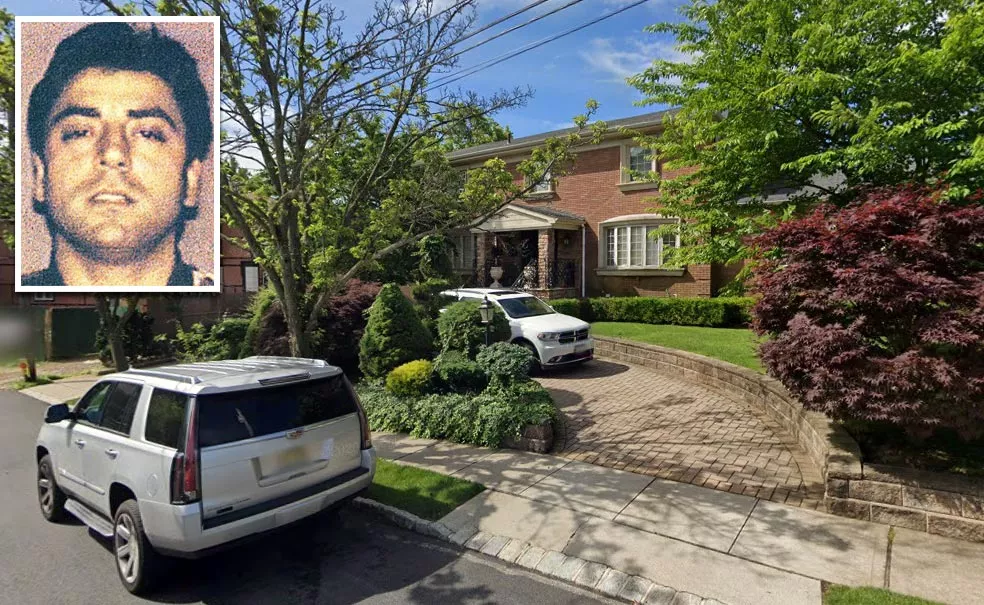 This Google Street View image of 25 Hilltop Terrace was taken in June 2018—roughly nine months before the shooting took place.
The house was built in 1970. It has four bedrooms and is 3,360 square feet in size.
Public records show that Cali (top-left) purchased it in July 2007 for $1.2 million.
"Franky Boy" first appeared on the FBI's radar in 1996, after he managed a phone card fraud scheme for the Gambino crime family. Shortly afterwards, he was inducted into the organization as a "made man".
From that point on, his "career" rocketed upward, as he made the family millions of dollars and helped to forge deals with mafia members in Sicily.
Aerial image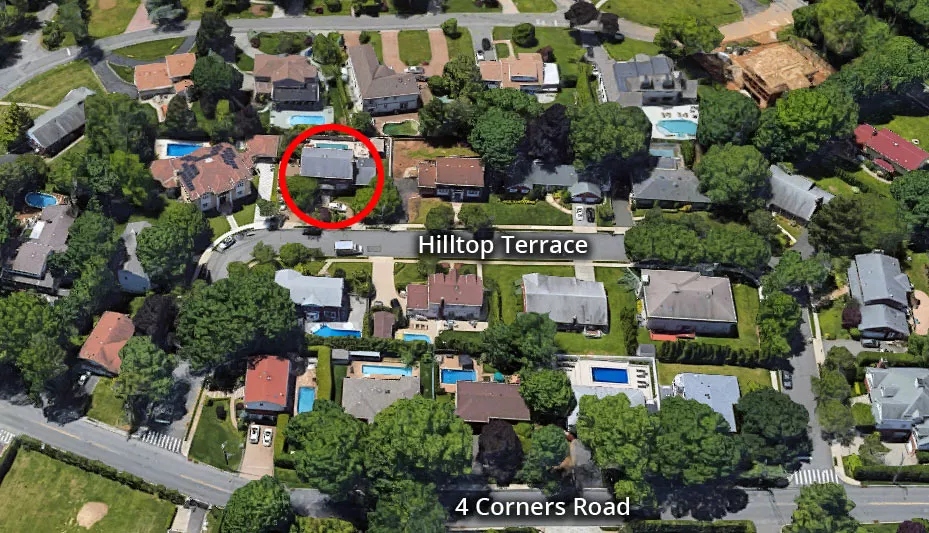 There are two entrances to Hilltop Terrace, both of which are on 4 Corners Road.
Interestingly, the house is just a two-minute drive away from the former mansion of murdered Gambino boss Paul Castellano.
Closest Locations
Other locations that are relatively close to this address: Roughly 6 miles away.
Crime Location in Brooklyn, New York Roughly 6 miles away.
Crime Location in Brooklyn, New York