Jennifer Syme's crash site
Crash Site Location in Los Angeles, California, United States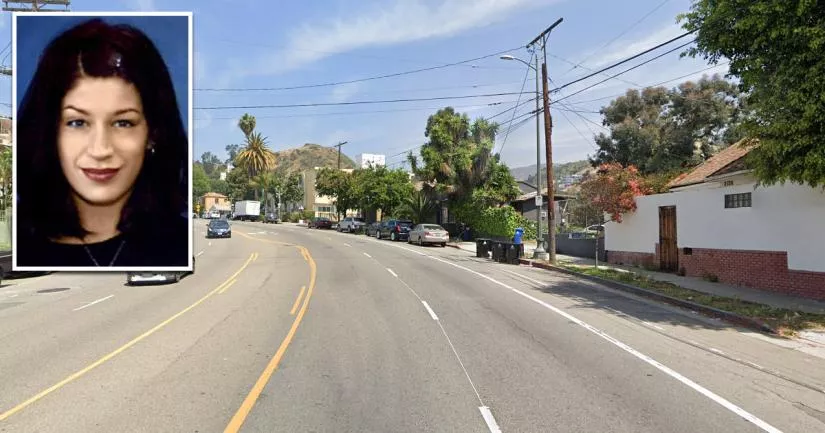 This is the location where Jennifer Syme died in a car crash.
It is situated in the 2100 block of Cahuenga Boulevard in Los Angeles, California.
Syme was a personal assistant, actress, and record company executive.
In 1998, she began dating actor Keanu Reeves after they met at a party. By Christmas of 1999, they were expecting their first child—a daughter whom they planned on naming Ava Archer.
Sadly, the child was stillborn at 8 months.
The grief of losing their baby daughter, coupled with Syme's postnatal depression, put so much strain on their relationship that they broke up in early 2000.
However, despite the breakup, they remained close friends and had reportedly brunched together the day before the accident.
On the night of April 1st, 2001, Syme attended a party at the house of rock star Marilyn Manson.
Early the next morning, she was sent home with a designated driver. However, for reasons unknown, she decided to jump into her black Jeep Cherokee and drive northward along Cahuenga Boulevard.
Although her parents alleged that she was attempting to return to Manson's party, this was never proven.
At exactly 6.15 a.m., Syme crashed into three parked cars at this section of Cahuenga Boulevard, just north of the Hollywood 101 Freeway. The 28-year-old, who was not wearing a seatbelt, died instantly after she was partially thrown from the vehicle.
Her autopsy report showed that she had alcohol, painkillers, and cocaine in her system. The cause of death was a head injury that shattered her skull.
Later that day, as news about the crash began to spread, a heartbroken Keanu reportedly called the coroner's office to ask if "Jen Syme was there." When they confirmed that she was, he offered to identify the body. However, he was told that it wasn't necessary, as they had already identified her by using her driver's license.
Reeves was a pallbearer at Syme's funeral, which was held at the Good Shepherd Catholic Church in Beverly Hills. Afterwards, she was buried next to their daughter at the Pierce Brothers Westwood Village Memorial Park & Mortuary.

Further information is available in the "Photos" section below.
Where did Jennifer Syme crash?
Below, you will find the address and the GPS coordinates for this location.
GPS coordinates
The latitude and longitude coordinates for the street are:
34.109727, -118.331201
Map
To view directions on how to get there, you can use the Google Maps shortcut below:
Address
The full address for this location is:
N Cahuenga Blvd
Los Angeles
California
CA 90068
United States
Directions
Syme's crash occurred in the 2100 block of Cahuenga Boulevard. It is just north of the overpass for the 101 Freeway, on the northern outskirts of Hollywood.
Photos
Photos of the street and other related images.
---
Crash site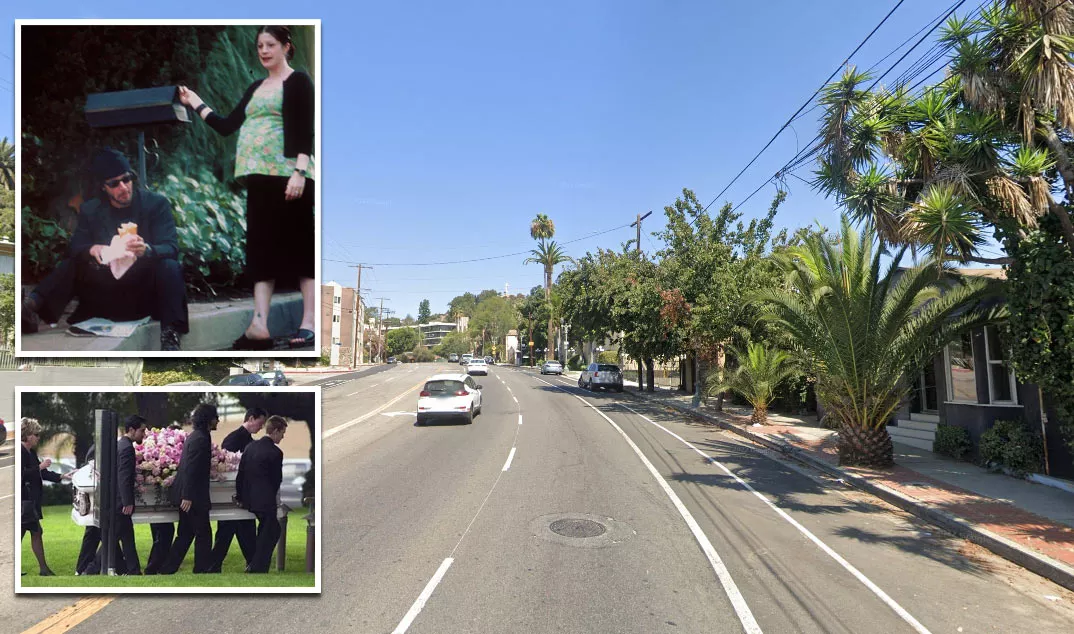 This Google Street View image of the crash site was taken in August of 2022, more than twenty years after the accident took place.
In the top-left corner, you can see a photograph of Keanu Reeves and Jen Syme. At the time, she was pregnant with their unborn daughter, Ava Archer.
The image in the bottom left shows Keanu (front, left) carrying Jen's coffin at her funeral.
Photographs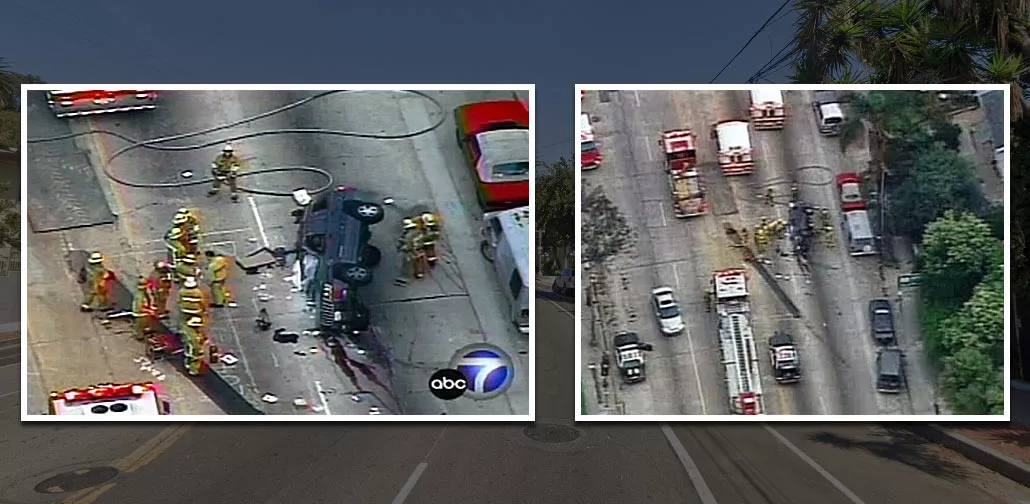 At the time of the accident, Jennifer was driving north along Cahuenga Boulevard, about half a mile east of the Hollywood Bowl amphitheater.
After losing control of her vehicle, she struck a row of parked cars. At that point, her Jeep Cherokee overturned, and she was partially ejected.
Reeves called the coroner's office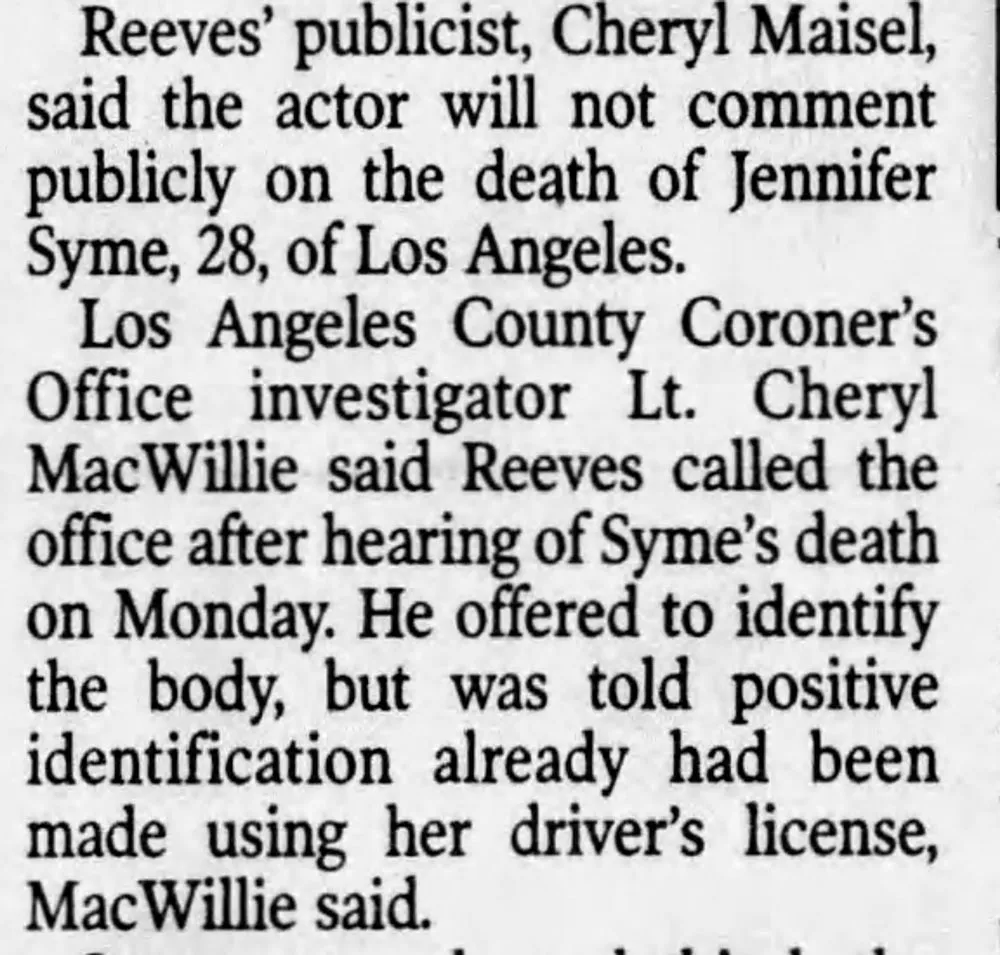 Following the accident, Reeves called the Los Angeles County Coroner's Office and offered to identify Jen's body.
However, he was told that they had already done so using her driver's license.
Marilyn Manson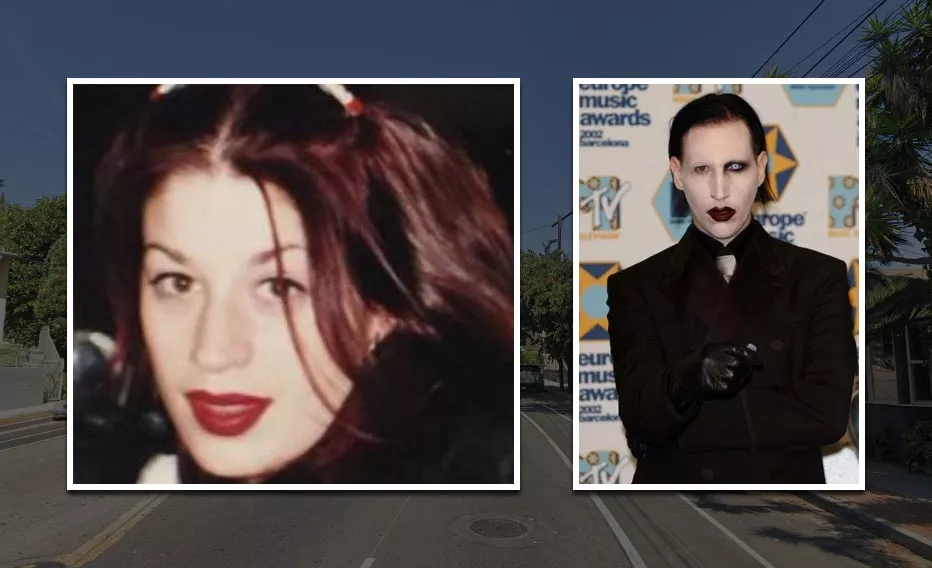 In 2002, Jennifer Syme's mother, Maria St. John, filed a wrongful-death lawsuit against Marilyn Manson.
The lawsuit claimed that Manson had given Syme drugs and that he had also instructed her to drive back to his house.
However, the rock star denied these claims. According to him, he had asked a designated driver to take her home at around 5.50 a.m. At that point, she got into her own vehicle for reasons unknown.
The case was eventually dismissed in 2003.
In 2021, several women accused Manson of sexual and physical abuse. This has rekindled people's interest in the circumstances surrounding the crash.
Closest Locations
Other locations that are relatively close to this address: Roughly one mile away.
Place of Interest in Los Angeles, California, United States Roughly one mile away.
Crash Site Location in Los Angeles, California, United States Roughly 2 miles away.
Place of Interest in Los Angeles, California, United States Roughly 2 miles away.
Crime Location in Los Angeles, California, United States Roughly 2 miles away.
Place of Interest in Los Angeles, California, United States