The boat club where Roy DeMeo was found murdered
Crime Scene Location in Brooklyn, New York, United States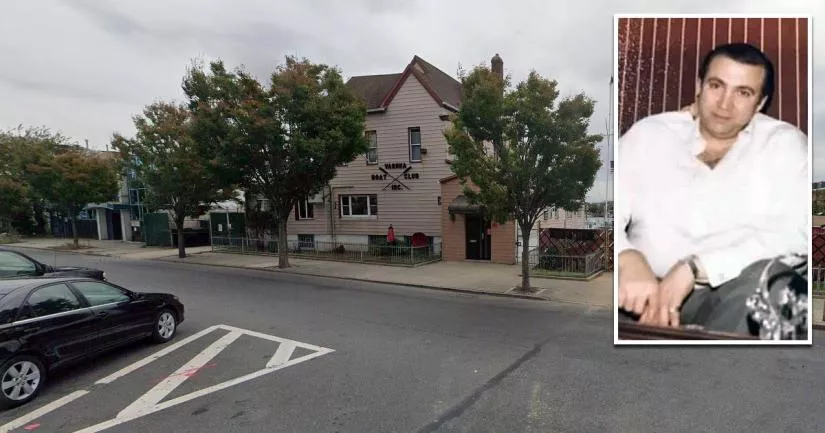 This is the boat club where Roy DeMeo was found murdered.
It is called the Varuna Boat Club and it is situated at 2806 Emmons Avenue in the Sheepshead Bay area of Brooklyn, New York.
He was a soldier for the Gambino family
DeMeo was a mobster who worked as a soldier for the Gambino crime family. During the 1970s and early 1980s, he headed the notorious "DeMeo crew", which operated out of the Gemini Lounge on Flatlands Avenue.
Over the years, his crew picked up a fearsome reputation for dismembering people and making them disappear.
Although estimates vary, it is believed that the group committed 100–200 murders.
In the late 1970s, DeMeo set up a huge auto theft enterprise. The operation, which became known as "the Empire Boulevard Operation", involved shipping stolen cars to Puerto Rico and the Middle East.
However, in 1980, the operation fell apart after the FBI raided the warehouse that served as its headquarters.
Although this raid added to DeMeo's legal woes, the truth is that his downfall was already in the making.
Why was he killed?
Despite warnings from the leadership of the family, his crew continued to carry out unsanctioned killings.
At one point, they even put out the word to other crime families in New York that they were available for murder contracts.
Roy also openly bragged about some of the killings that he had personally orchestrated.
Another contentious issue was their decision to sell drugs.
When Paul Castellano became the new boss of the Gambino family in 1976, he forbade his men from getting involved in the drug trade.
However, the DeMeo crew largely ignored Castellano's order. In their eyes, selling cocaine and marijuana was just far too profitable to pass up.
By 1982, federal authorities were investigating the large number of murders and disappearances that were linked to Roy DeMeo and his crew.
Around the same time, Castellano began to worry that certain members of his family were "acting out" and drawing too much attention.
There were also fears that the authorities were honing in on Roy for his auto theft operation and that he might "flip" if he was faced with a harsh prison sentence.
All in all, it appears as though the longtime Gambino soldier was seen as a loose cannon who might bring everyone else down with him.
Consequently, Castellano ordered his death.
Roy DeMeo's death
DeMeo disappeared on January 10th, 1983, after he attended a meeting with members of his own crew.
His family knew that something was wrong when he failed to show up at his daughter's birthday party.
Ten days later, a local businessman called the police to report that a maroon Cadillac Coupe DeVille had been abandoned in the parking lot of the Varuna Boat Club in Sheepshead Bay.
Inside the trunk, the authorities found DeMeo's body. He had been shot multiple times in the head.
Roy was well aware that his life was in danger. In the days leading up to his death, he had reportedly thought about faking his own death.
Before leaving to attend the meeting, he deliberately left his ring, wallet, and watch at home—a sign that he knew he wasn't coming back.

Further information is available in the "Photos" section below.
Where was Roy DeMeo's body found?
Below, you will find the address and the GPS coordinates for this location.
GPS coordinates
The latitude and longitude coordinates for the boat club are:
40.583663, -73.940535
Map
To view directions on how to get there, you can use the Google Maps shortcut below:
Address
The full address for this location is:
Varuna Boat Club
2806 Emmons Avenue
Brooklyn
New York
NY 11235
United States
Directions
The boat club is situated in the Sheepshead Bay neighborhood of Brooklyn. It is situated close to the corner of Emmons Avenue and East 28th Street, which connects to Shore Parkway.
Private Property Warning
This is a private property. It is not a public place. Therefore, you should be respectful and not step foot on the property without permission.
Photos
Photos of the boat club and other related images.
---
Varuna Boat Club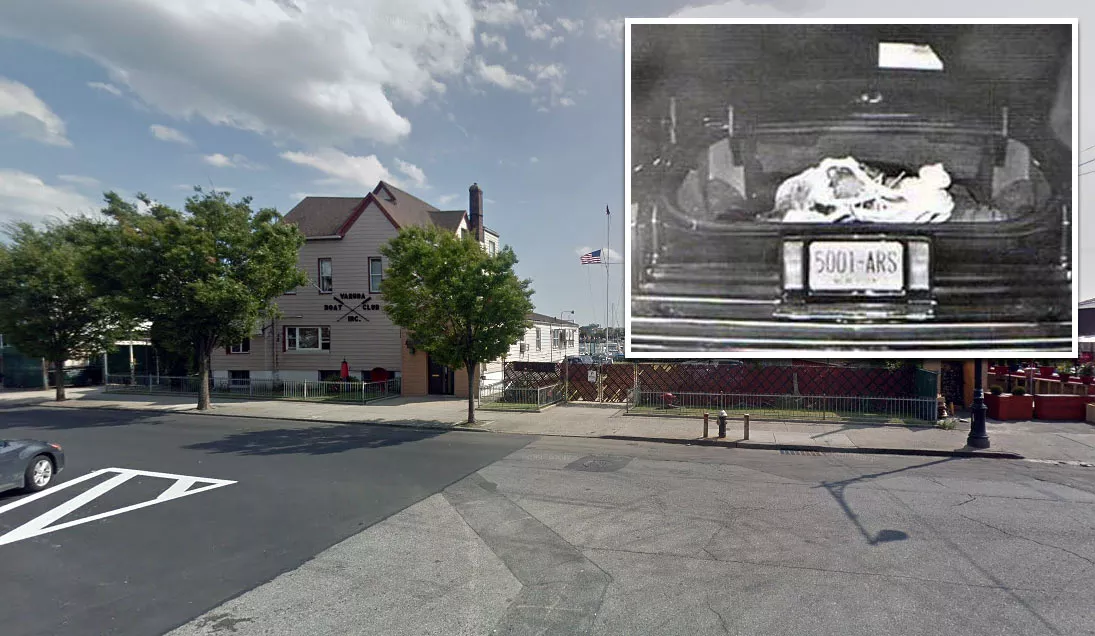 This Google Street View image of the Varuna Boat Club was taken in August of 2017.
In the top right-hand corner, you can see a police photograph of DeMeo's body in the trunk of his wife's Cadillac.
The car had been abandoned in the parking lot of the club.
Due to the cold weather, Roy's body was partially frozen. It lay underneath a chandelier that he had placed in the trunk shortly before his death.
The vehicle had been reported to the police at an earlier date. However, at the time, the mobster wasn't listed as a missing person. Consequently, the officers who arrived at the boat club determined that it wasn't stolen and decided to leave it alone.
Who killed Roy DeMeo?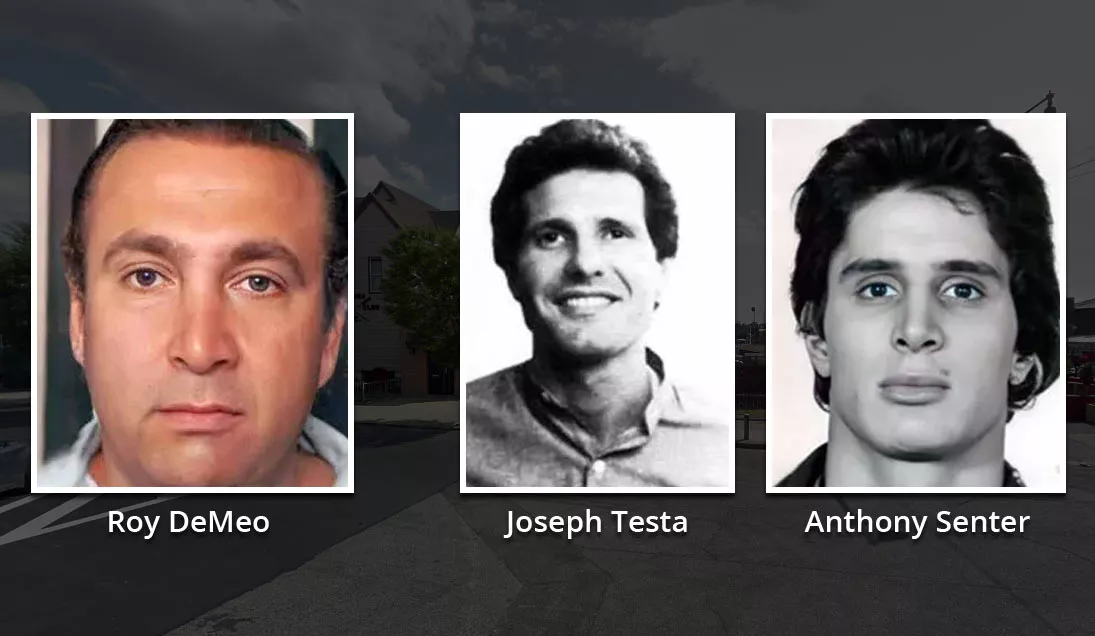 According to a number of mob sources, Roy DeMeo was killed by Joseph Testa and Anthony Senter, who were senior members of his own crew.
When Gambino boss Paul Castellano first ordered the hit, he struggled to find someone to carry it out.
DeMeo was a fearsome individual who had been personally involved in the murders of more than three dozen people. He was also surrounded by a small army of experienced hitmen. As a result, many of Castellano's capos shyed away from getting involved.
In one bugged conversation, it was noted that even John Gotti was hesitant to take the job.
Castellano reportedly wanted to wipe out the entire DeMeo crew because they had turned into a bloodthirsty gang of "serial killers."
Their eagerness to kill anyone who crossed them was proving to be bad for business.
In 1983, Catellano's protege, Frank DeCicco, approached Testa and Senter and told them that there was a contract on their heads. During this meeting, he promised that their lives would be spared if they agreed to take out DeMeo.
By that stage, it is likely that Testa and Senter had their own worries about their boss' legal woes. At the time, it was common knowledge that he was the target of a large federal investigation. If he agreed to turn state witness, the entire crew would spend the rest of their lives behind bars.
On January 10th, 1983, the two men lured their boss to a "meeting" at a house in the Canarsie neighborhood of Brooklyn.
Then, while he was seated and about to receive a cup of coffee, they opened fire on him at close range.
After murdering DeMeo, they shoved his body into the trunk of his own vehicle and parked it at the Varuna Boat Club.
Following the murder, Testa and Senter were left unharmed. However, they were forced to leave the Gambino family.
Newspaper clipping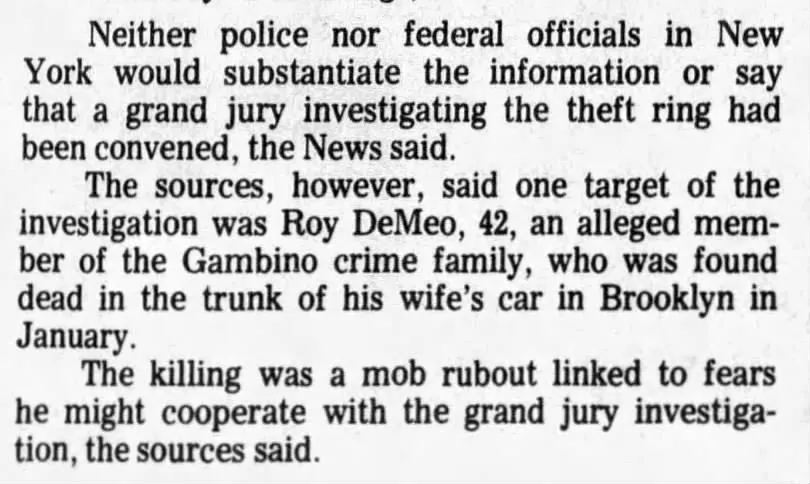 This newspaper clipping is from an article that was published in the Billings Gazette on April 10th, 1983.
The Gambino family had more than enough reasons to want DeMeo dead.
Not only was he drawing too much attention to their business, there were also fears that he might cooperate with the authorities.
Closest Locations
Other locations that are relatively close to this address: Roughly 2 miles away.
Place of Interest in Brooklyn, New York, United States Roughly 3 miles away.
Crime Location in Brooklyn, New York, United States Roughly 3 miles away.
Crime Location in Brooklyn, New York, United States Roughly 4 miles away.
Crime Location in Brooklyn, New York, United States Roughly 5 miles away.
Crime Location in Brooklyn, New York, United States