Castletown: The town where Hardy Bucks is set
Filming Location in Swinford, Mayo, Ireland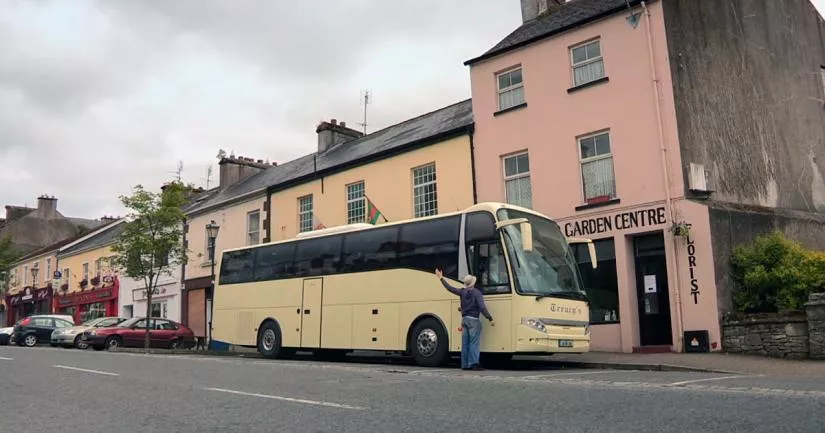 The Irish comedy series Hardy Bucks is set in a fictional town called Castletown.
In real life, it was filmed in Swinford, County Mayo. However, the show's creators opted to use a fictional name.
It is possible that they did this to make the village sound more like a stereotypical place in the west of Ireland.
In other words, the name Swinford didn't sound rural enough.
Although there is a village called Castletown in County Wexford, it has no connection to the show.
Most of the scenes in Hardy Bucks were filmed near the town center. However, it is worth noting that Buzz and Eddie's cottage is located about 5 kilometers away.
Many of the actors are from Swinford. Although Eddie (Martin Maloney) and Higgins (Chris Tordoff) were both born in England, their families moved to County Mayo when they were in their early teens.
Higgins, Eddie, and Buzz originally created Hardy Bucks as a college project, drawing inspiration from the Canadian mockumentary series Trailer Park Boys.
They then turned it into a YouTube series before it was eventually picked up by RTE.

Further information is available in the "Photos" section below.
Where is Castletown?
Below, you will find the address and the GPS coordinates for this location.
Address
Main Street, Swinford, Mayo, Ireland
Map
To view directions on how to get there, you can use the Google Maps shortcut below:
GPS coordinates
The latitude and longitude coordinates for Castletown are:
53.943677, -8.950035
Details about the general area
Swinford is situated in the northeast of Mayo, near County Sligo. It is relatively close to places such as Castlebar and Lough Conn.
Photos
Photos of Castletown and other related images.
---
Strength of a Woman sculpture
Episode 1, Season 1 - The Shkyline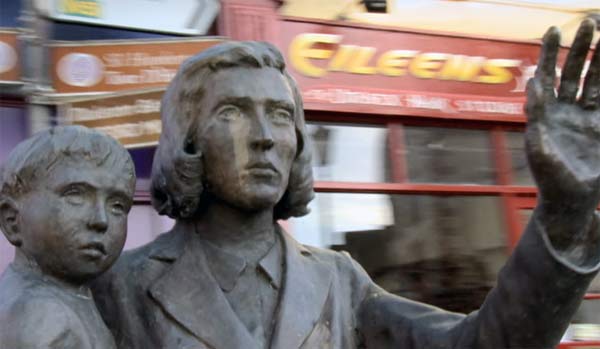 Throughout the series, viewers are shown several clips of a bronze statue of a woman holding a child and waving. The statue, which is called "Strength of a Woman", is located on Main Street in the center of the town.
The sculpture is dedicated to all of the women who remained at home in Mayo while their husbands emigrated abroad in search of work.
Buzz and Eddie on Main Street
Episode 2, Season 1 - Zambezi Nights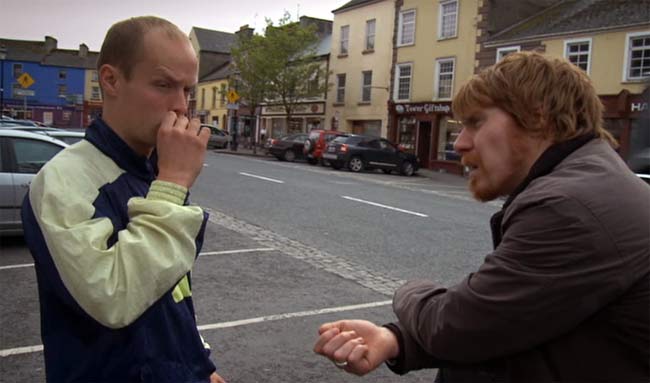 Buzz and Eddie chat by a bench on Main Street in Swinford. Shortly afterwards, Viper Higgins pulls out of an alley across the road and tells Eddie that he has a surprise for him.
Coordinates: 53.944295, -8.951009
"Please, Durkan. Observe me."
Episode 2, Season 1 - Zambezi Nights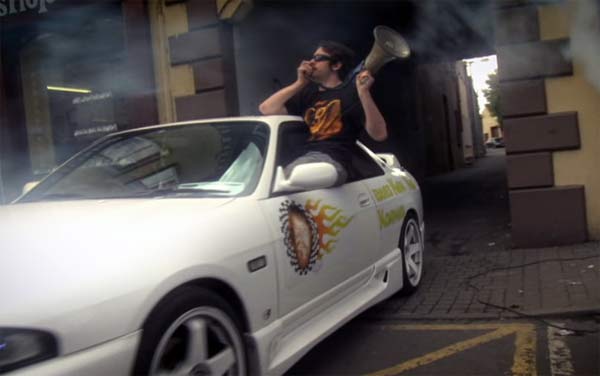 The "surprise" is that the Viper now owns Eddie's beloved Skyline.
Eddie, French Toast, and Buzz
Episode 4, Season 1 - A Castletown Christmas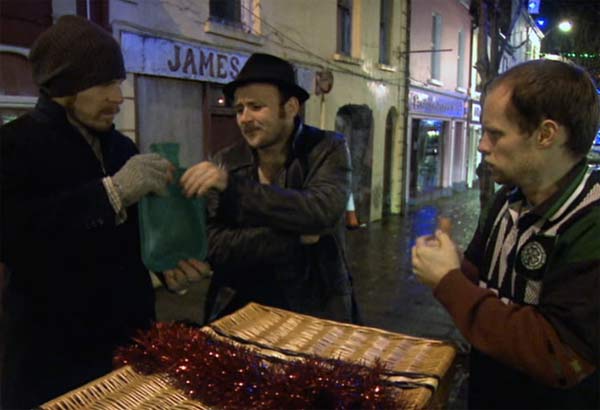 Eddie, French Toast, and Buzz standing outside of Moore's pub on Main Street.
Castletown
Episode 1, Season 2 - America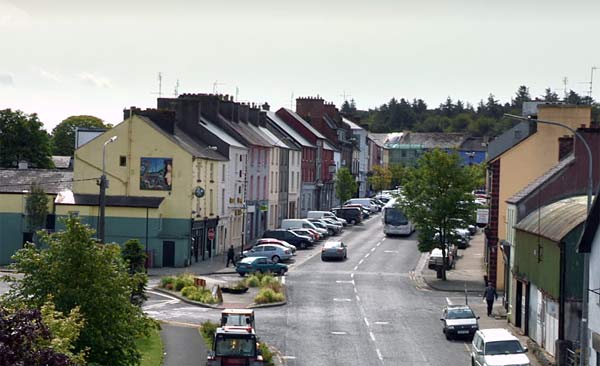 This "establishing shot" shows the junction between Main Street, Brookeville Avenue, and Circular Road. The yellow building on the left is home to a pub called the Sheepwalk Bar.
Buzz gives financial advice
Episode 1, Season 2 - America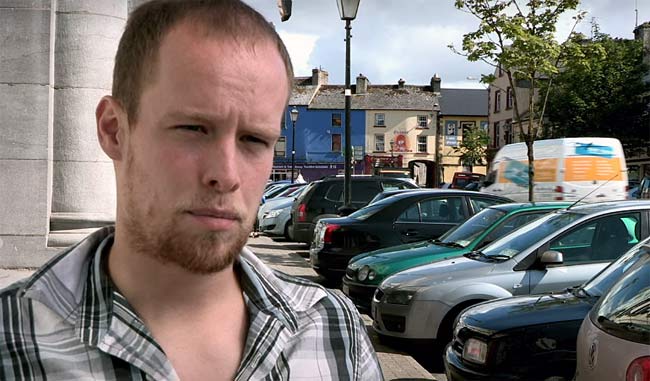 Buzz gives us financial advice:
"The solution to the current economic crisis, I would say, is to go into the shops and only buy penny sweets. There's boys going around buying chocolate bars. There's boys going around buying these big packets of sweets. Buy small. Save big."
Queuing for the dole
Episode 1, Season 2 - America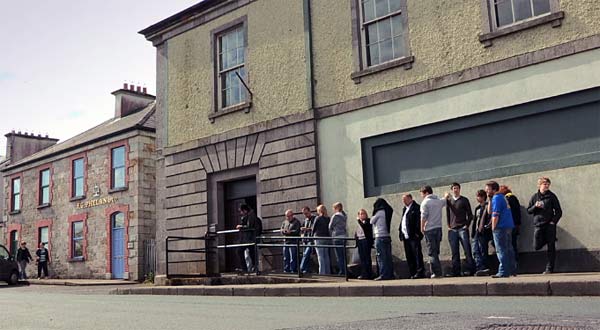 Unemployed Castletown residents queue for the dole outside of this "post office" on Davitt Place.
Eddie and Buzz can be seen walking past the F.G. Phelan building on the left.
In real life, this building is vacant.
Coordinates: 53.942246, -8.951232
Railway bridge
Episode 5, Season 2 - The Stag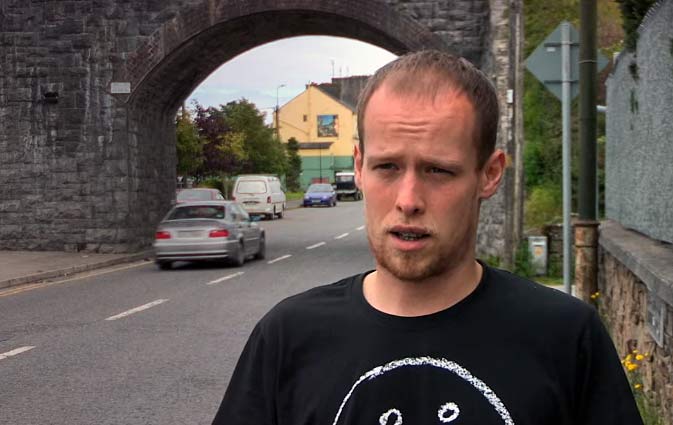 This railway bridge appears in a number of episodes.
Viper's Vapours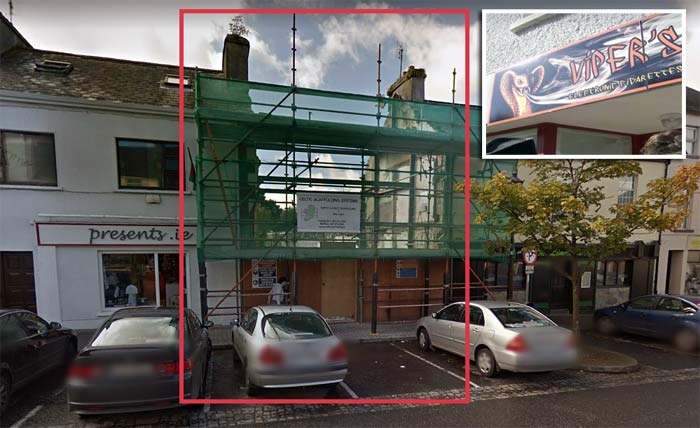 Unfortunately, the building that housed "Viper's Vapours" was demolished at some point in 2012.
Swinford Handball Alley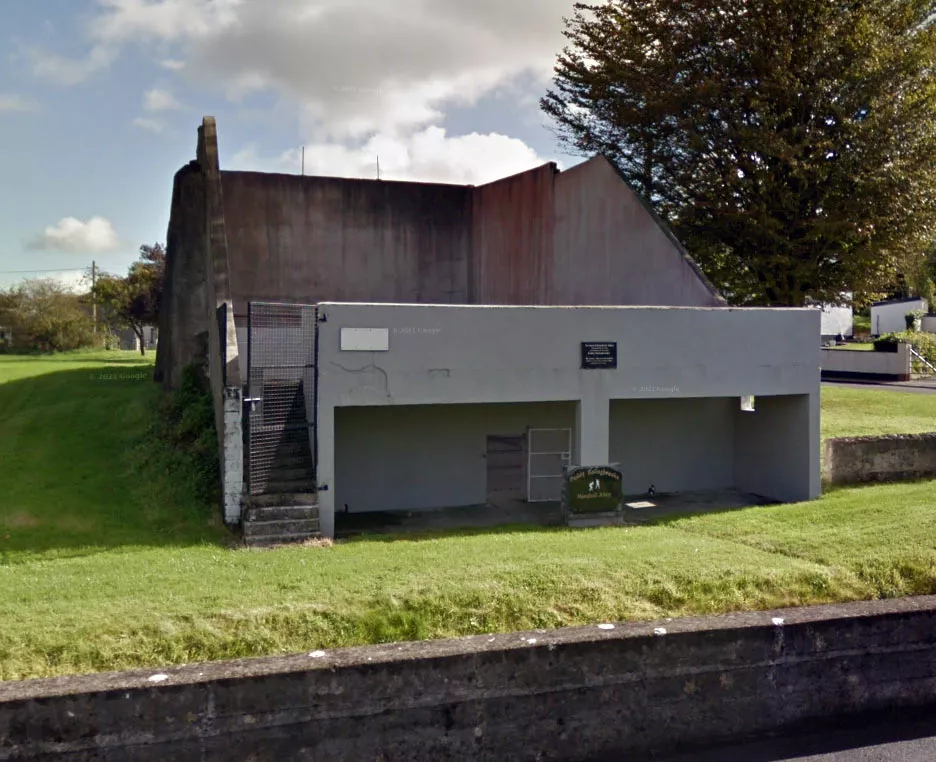 This is the handball alley where Eddie Durkan fought Francis Higgins in the YouTube series.
It is also the place where the lads trained for King of the Town.
Coordinates: 53.942680, -8.948752
Playground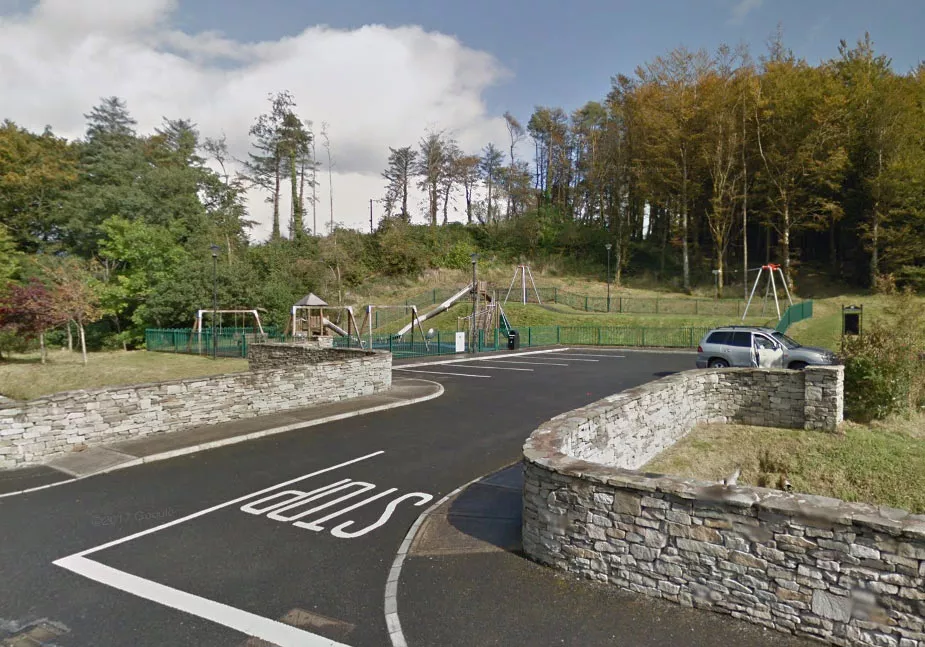 This is the playground where Viper Higgins was supposed to fight the Sligo boys.
Zambezi Nights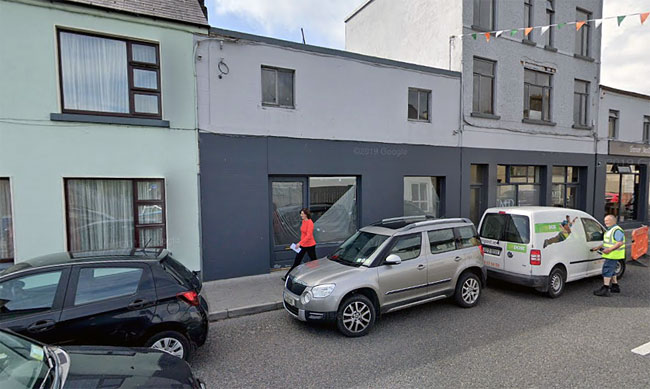 Boo attempted to set up an African restaurant called Zambezi Nights at this premises on Bridge Street.
Coordinates: 53.943930, -8.948080
Map Viewer
There is more than one location associated with this entry. To view all of these places on the same map, you can use the following feature:
Closest Locations
Other locations that are relatively close to this address: Less than 1KM away.
Filming Location in Swinford, Mayo, Ireland