The street where Big L was shot dead
Crime Scene Location in Harlem, New York, United States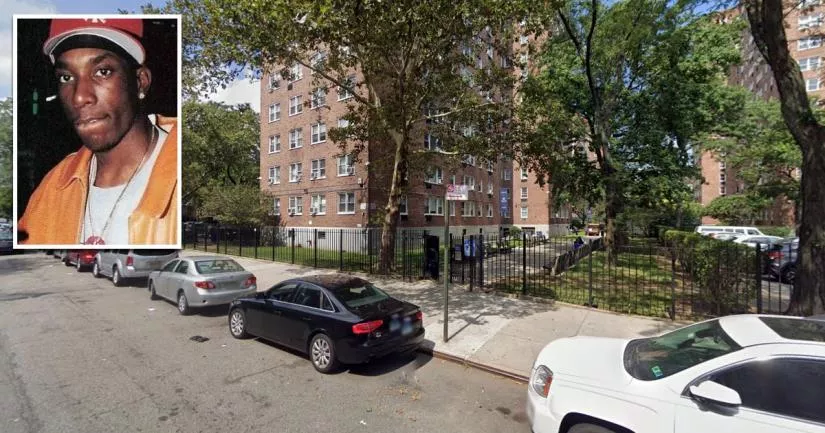 This is the location where "Big L" was murdered.
On the evening of February 15th, 1999, the 24-year-old was found dead on this street in Harlem. The rapper, whose real name was Lamont Coleman, had been shot nine times in the chest and face during a drive-by shooting.
Initially, there were fears that Big L's death was a continuation of the East Coast–West Coast hip hop that had already claimed the lives of Tupac Shakur and Biggie Smalls.
However, the police were quick to dismiss this theory, as the rapper stayed out of trouble and didn't seem to have any personal issues with anyone.
From their perspective, he was a "good kid" who focused most of his energy on making music.
Although he "talked tough" in some of his lyrics, that was just for show. In real life, he was reportedly humble and quiet.
Because of his trouble-free past, it took months before the authorities were able to identify a suspect or find a motive for the shooting.
In May of 1999, the police announced that Coleman's childhood friend, Gerard Woodley, had been arrested in connection with the crime.
In their statement, they theorized that the rapper may have been killed because of something that one of his brothers did.
Woodley could not retaliate against Big L's brothers because they were both in prison at the time. As a result, he may have decided to target the up-and-coming rapper instead.
One theory is that Big L's older brother put out a hit on Woodley and two other gang members and that the rap star was asked to help the gunman by pointing out who the targets were.
In early 1999, Woodley survived an attempt on his life. In the weeks leading up to this failed hit, Big L was reportedly seen in the presence of the hitman.
If this was true, then the gang may have reasoned that he was somehow involved in the attack.
Another theory is that Big L was far less innocent than he was originally portrayed. A number of sources have claimed that he was a member of a local gang that robbed drug dealers. However, there is a lot of debate about the extent of his involvement.
Although the police arrested Woodley on suspicion of murder, the case was eventually dropped by the district attorney due to a lack of evidence.
During the investigation, they were unable to find surveillance footage that might implicate him in the crime. They also found it difficult to track down witnesses who were willing to testify, as many people in the neighborhood were opposed to the idea of "snitching".
As a result, Big L's murder became a cold case.
Seventeen years later, Gerard Woodley's life of crime finally caught up to him.
On the night of June 24th, 2016, he was gunned down outside of 106 W. 139th Street, which is less than 250 yards away from the location where Big L was found dead.
Both cases remain unsolved to this day.

Further information is available in the "Photos" section below.
Where was Big L killed?
Below, you will find the address and the GPS coordinates for this location.
GPS coordinates
The latitude and longitude coordinates for the site are:
40.816131, -73.937415
Map
To view directions on how to get there, you can use the Google Maps shortcut below:
Address
The full address for this location is:
45 W 139th Street
Harlem
New York
NY 10037
United States
Directions
It is situated roughly 150 yards east of the intersection between Malcolm X Boulevard (Lenox Avenue) and West 139th Street in the northeast of Harlem, New York.
Photos
Photos of the site and other related images.
---
45 West 139th Street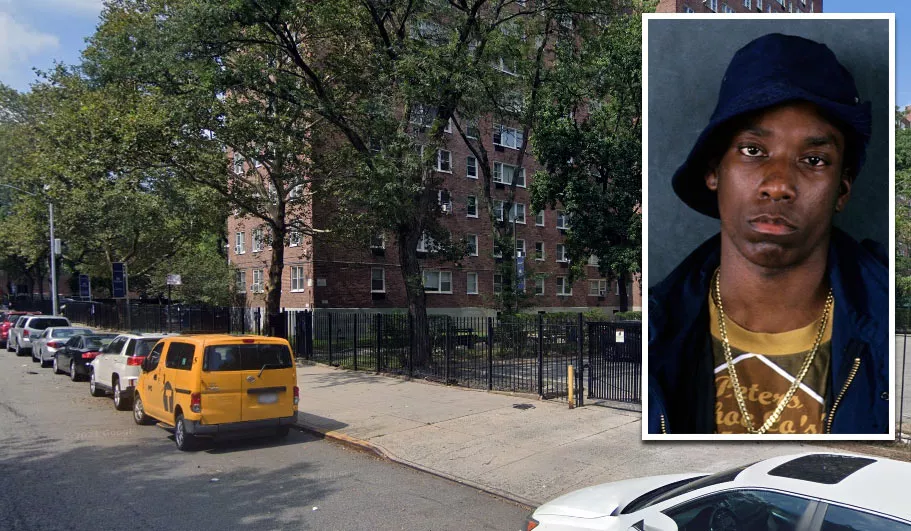 This Google Street View image of 45 West 139th Street was taken in August of 2021.
According to the police report, Big L was shot dead at this location at around 8:30 p.m. on February 15th, 1999.
At the time of his death, the rapper was reportedly close to signing with Roc-A-Fella Records.
Lifestylez ov da Poor & Dangerous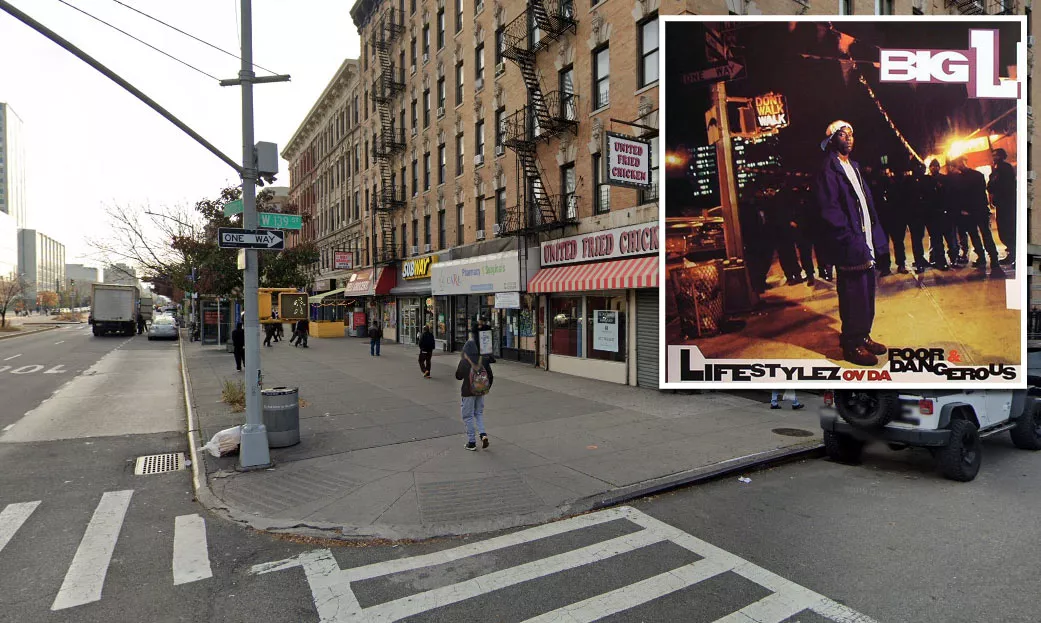 The cover photograph for Big L's album "Lifestylez ov da Poor & Dangerous" was taken on the corner of Malcolm X Boulevard (Lenox Avenue) and West 139th Street.
The corner is less than 200 yards away from the site where he was killed in a drive-by shooting.
Coordinates: 40.816666, -73.939206
104 West 139th Street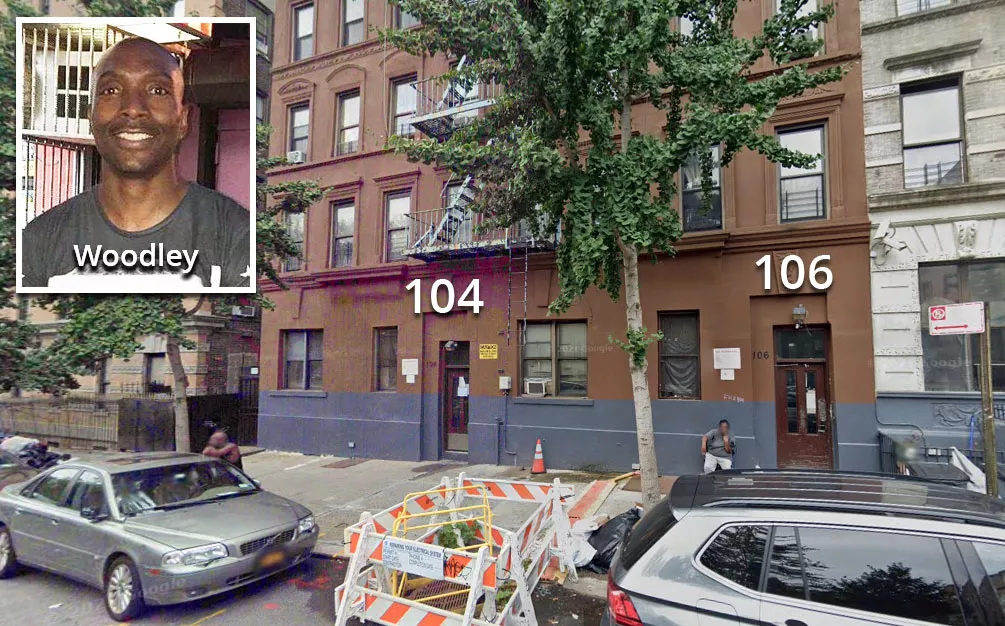 Big L lived at 104 West 139th Street, which is just a couple of feet west of the corner where his album photo was taken.
Interestingly, the suspect in his murder, Gerard Woodley, was gunned down outside of 106 West 139th Street, which is right next door. Woodley is pictured in the top left-hand corner.
Coordinates: 40.816896, -73.939817
139th Street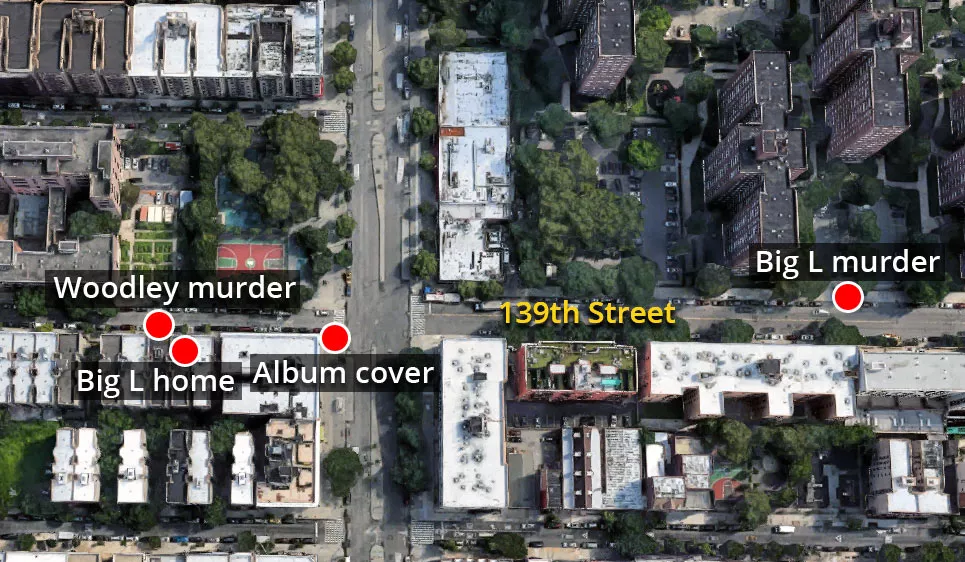 This aerial image of 139th Street puts each location into perspective. As you can see, all of these events occurred in close proximity to one another.
The album was released in 1995, Big L was murdered in 1999, and Woodley was gunned down in 2016.
Because of the timeframe involved, the police do not believe that Woodley's murder was connected to Big L's shooting. At the time, he was a suspect in multiple homicides. He was also reportedly involved in the drug trade.
Visualize
There is more than one location associated with this entry. To view all of these places on the same map, you can use the following feature:
Closest Locations
Other locations that are relatively close to this address: Roughly one mile away.
Filming Location in Harlem, New York, United States Roughly 2 miles away.
Filming Location in The Bronx, New York, United States Roughly 3 miles away.
Crime Location in East Harlem, New York, United States Roughly 4 miles away.
Serial Killer House in The Bronx, New York, United States Roughly 4 miles away.
Crime Location in Manhattan, New York, United States