The house where Andrew Lackey murdered Charles Newman.
Crime Scene Location in Athens, Alabama, United States.
This is the house where Andrew Lackey murdered Charles Newman.
It is situated at 611 Hine Street N in the northeast of Athens, Alabama.
On Halloween night in 2005, Lackey broke into the home of Charles Newman, an 80-year-old veteran who lived by himself.
Lackey was a close friend of the veteran's estranged grandson, Derrick Newman.
At some point in 2004, Derrick told Lackey that his grandfather was a wealthy man who had a vault that was filled with gold bars and cash.
Lackey was reportedly desperate for money. As a result, he hatched a plan to break into the veteran's house and force him to open the vault.
Activity on his home computer showed that he had been planning the "heist" for at least ten months.
On October 31st, 2005, the 22-year-old rented a white Nissan Altima and drove to this residence on Hine Street. Shortly after 7.30 p.m., he forced open the back door and entered the property with a knife.
During the break-in, the veteran managed to call 911. During the call, the pair could be heard exchanging words with one another. At one point, Lackey was shouting in the background and demanding to know where the vault was.
During the altercation, Newman grabbed his Rossi .38 revolver and opened fire on the 22-year-old, hitting him in the chest. In response, Lackey stabbed Newman roughly 70 times. He also took the veteran's gun from him and shot him.
An autopsy report later revealed that Newman sustained 54 stab wounds and lacerations to his head, as well as several injuries to his neck.
After fleeing the house, Lackey drove away in his rental vehicle. However, not long after, he was forced to pull over at a Madison convenience store and call for an ambulance.
When the police arrived and found Lackey sitting at the front of the store, he claimed that he didn't know how he had received a bullet wound to his left chest. He also told them that he didn't know where it happened.
"I have no idea. I don't know anything. I just know I've been shot."
The police put two and two together when they learned that a murder had taken place at Charles Newman's address in Athens. They also found a bloody knife in his rented vehicle.
As a result, they immediately arrested Lackey after he was discharged from the hospital.
In March of 2008, a jury found him guilty of capital murder and sentenced him to death.
Five years later, on July 25th, 2013, Andrew Lackey was strapped into a gurney and executed by lethal injection.
Charles Newman's house.
Below, you will find the address and the GPS coordinates for this location.
GPS Coordinates.
The GPS coordinates for the house are as follows.
Latitude: 34.810352
Longitude: -86.983452
Map.
Open 34.810352, -86.983452 in Google Maps to view directions on how to get there.
Address.
The full address for this location is:
611 Hine Street North
Athens
Alabama
AL 35611
United States
Directions.
The house is roughly 0.3 miles north of the intersection between Buck Island Road and Hine Street North. It is relatively close to Robert Allen Tinnon Park.
Details about the general area.
Athens is a small city in Limestone County in the north of Alabama. It is roughly 20 miles west of Huntsville.
Private property warning.
This is a private property. It is not a public place. Therefore, you should be respectful and not step foot on the property without permission.
Photos.
Photos of the house and other related images.
---
611 Hine St N.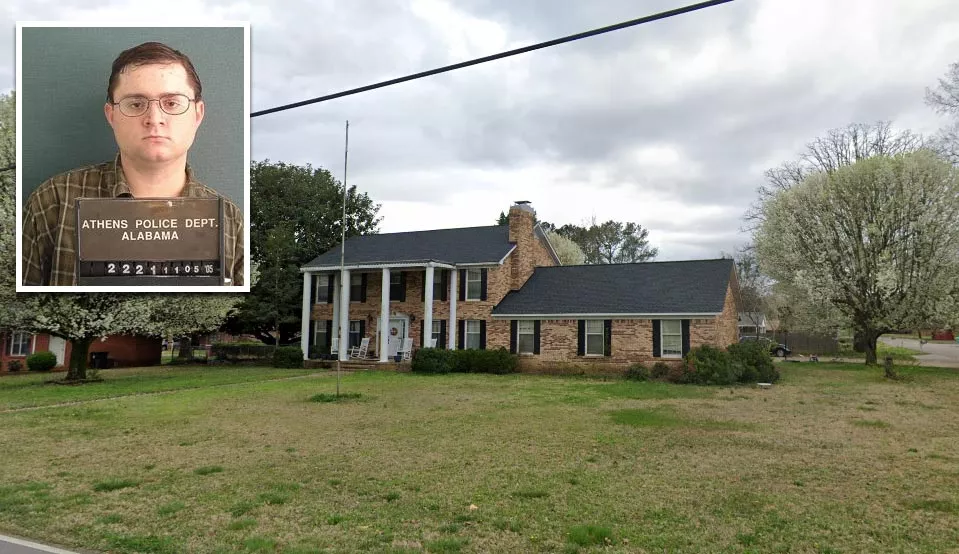 This Google Street View image of 611 Hine St N was taken in March of 2021.
The house was built in 1982 and it is roughly 2,400 sq ft in size. It was last sold in 2014.
Andrew Lackey attempted suicide while he was sitting on death row. Following the failed attempt, he dropped all of his appeals against his death sentence.
Charlie Newman.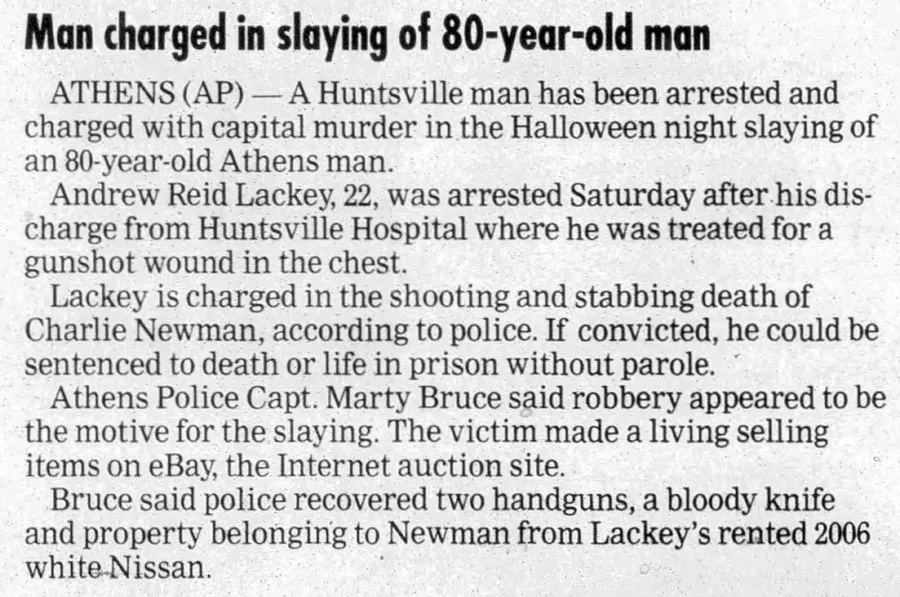 Image source: The Selma-Times Journal - Nov 8th 2005
When the police searched Lackey's rented vehicle, they discovered a bloody knife, two handguns, and property belonging to Charlie Newman.
At the time of the murder, the 22-year-old was reportedly making a living by selling items on eBay.
This location belongs to the following categories.
Crime Scenes
Closest locations.
Other locations that are relatively close to this place. Roughly 139 miles away.
Filming Location in Rome, Georgia, United States