Patsy Cline's crash site
Crash Site Location in Camden, Tennessee, United States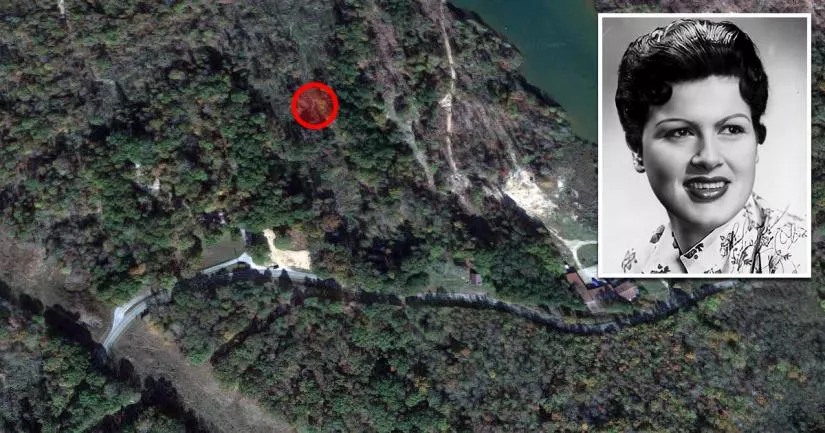 This is the site where singer Patsy Cline died in a plane crash.
It is situated at 2082 Mount Carmel Road in Camden, Tennessee.
On the afternoon of March 5th, 1963, Cline and two other country music performers—Cowboy Copas and Hawkshaw Hawkins—took off from Fairfax Municipal Airport in Kansas City.
Their intended destination was their hometown of Nashville, Tennessee.
That day, they boarded a small Piper PA-24 Comanche plane that was being piloted by Cline's manager, Randy Hughes.
Although Hughes held a private license, he was an inexperienced pilot who was not qualified to fly in poor visual conditions.
During a quick stop in Dyersburg, he was warned about high winds and informed that the current visibility was "marginal." He was also told that the weather conditions in Nashville were below the minimum level that is required for visual flights.
Despite being offered food and shelter for the night, Hughes and the three musicians decided that they wanted to continue eastward. Before taking off again, Hughes told one airport employee that he'd return if the conditions worsened.
Shortly after the plane took off again, a witness near Camden saw it descending at a 45-degree angle. A few minutes later, it crashed into this forested area near Highway 70.
Cline, Hughes, Copas, and Hawkins were all killed instantly.
The plane, which hit the ground at about 175 miles per hour, was completely destroyed. Its debris was scattered across an area that was roughly 22,000 square feet in size.
That night, news of the aircraft's disappearance was broadcast on TV and radio stations all around the country.
The following morning, the wreckage was discovered by singer Roger Miller, who was a good friend of Cline's. After hearing about the plane's disappearance, he had driven from Nashiville to the crash site to aid in the search.
According to Miller, he ran through the forest and spotted the plane, which had crashed nose down.
During the investigation, it was determined that the accident was most likely caused by Hughes' inexperience, as there was no evidence of a mechanical failure or anything that might suggest the aircraft wasn't operating normally.
Shortly after takeoff, he encountered poor weather conditions that prevented him from being able to see the ground.
When he finally cleared the clouds and realized which direction he was flying in, it was already too late. By that stage, the plane was hurtling downward.

Further information is available in the "Photos" section below.
Patsy Cline crash site location
Below, you will find the address and the GPS coordinates for this location.
GPS coordinates
The latitude and longitude coordinates for the site are:
36.062159, -88.160563
Map
To view directions on how to get there, you can use the Google Maps shortcut below:
Address
The full address for this location is:
2082 Mount Carmel Road
Camden
Tennessee
TN 38320
United States
Directions
The entrance to Cline's memorial site is situated on Mount Carmel Road, which is about one mile north of Highway 70. It is roughly two miles west of Camden, Tennessee.
Photos
Photos of the site and other related images.
---
Flight route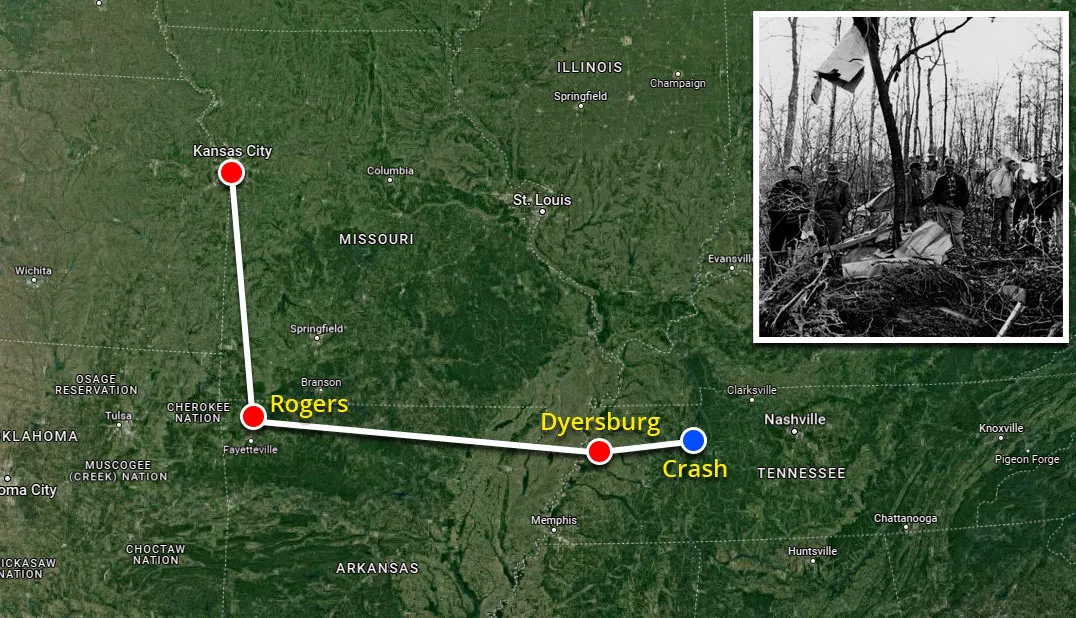 This map shows the flight route that Patsy Cline's plane took that day.
The Piper PA-24 Comanche left Fairfax Municipal Airport in Kansas City at 2 p.m.
After heading south, Hughes stopped in Rogers, Arkansas, for refueling.
Later that day, he also stopped at Dyersburg Regional Airport, where he was warned about the challenging weather conditions.
After consulting with the three musicians, he decided to continue eastward towards Nashville.
22 minutes after leaving Dyersburg, the aircraft crashed into a wooded area near Camden, Tennessee.
Crash site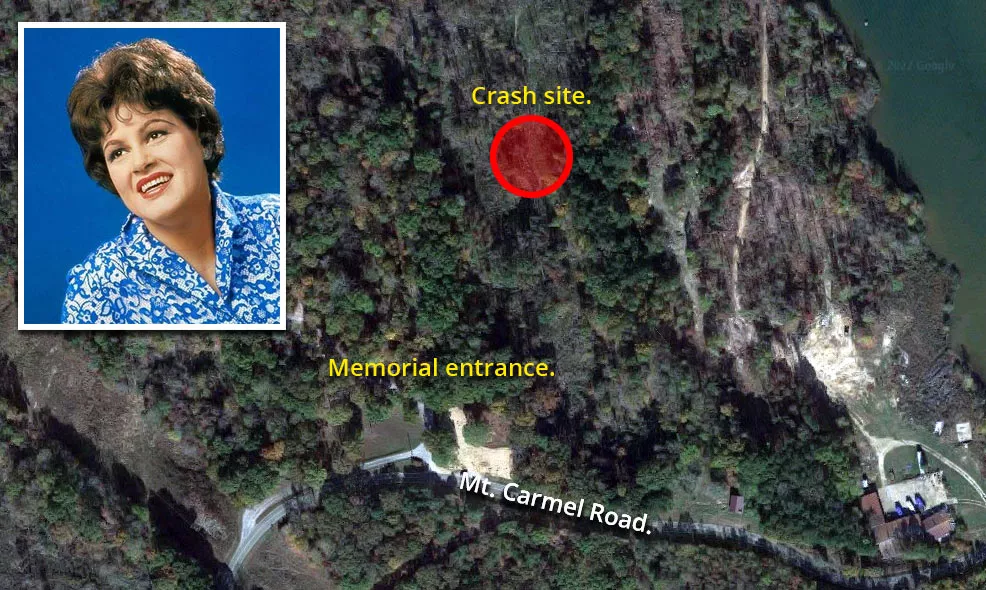 The crash site is situated about 200 yards from the entrance.
A sign on the pathway asks visitors to remain silent out of respect.
Once you reach the crash site, you'll see a large boulder with the following inscription:
"On this site. March 5th, 1963. Patsy Cline, Cowboy Copas, Hawkshaw Hawkins, and Randy Hughes lost their lives in a plane crash. In loving memory. July 6th, 1966."
Nashville Banner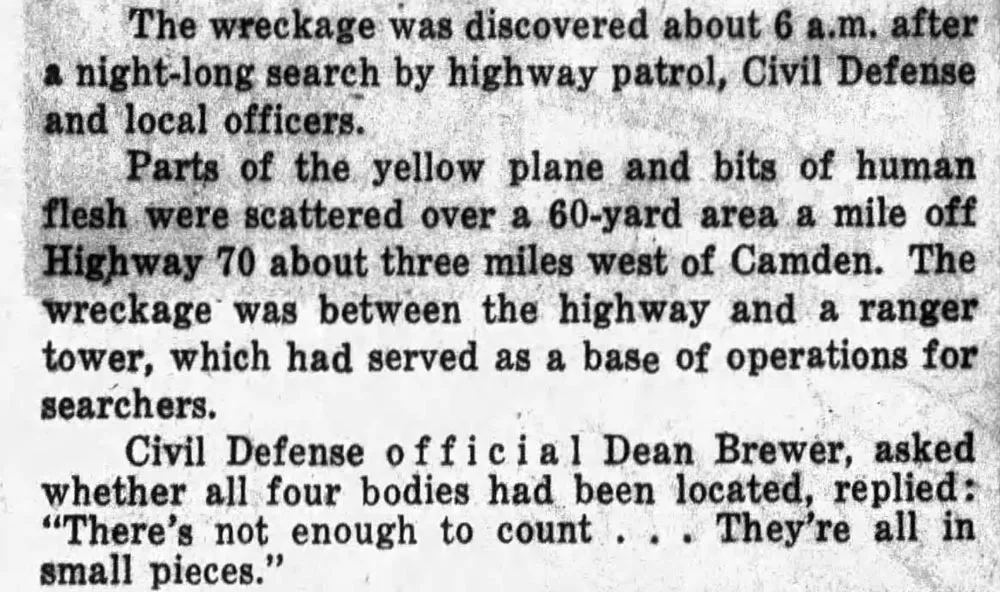 This gruesome description of the scene appeared in the Nashville Banner newspaper on March 6th, 1963.
Crash photo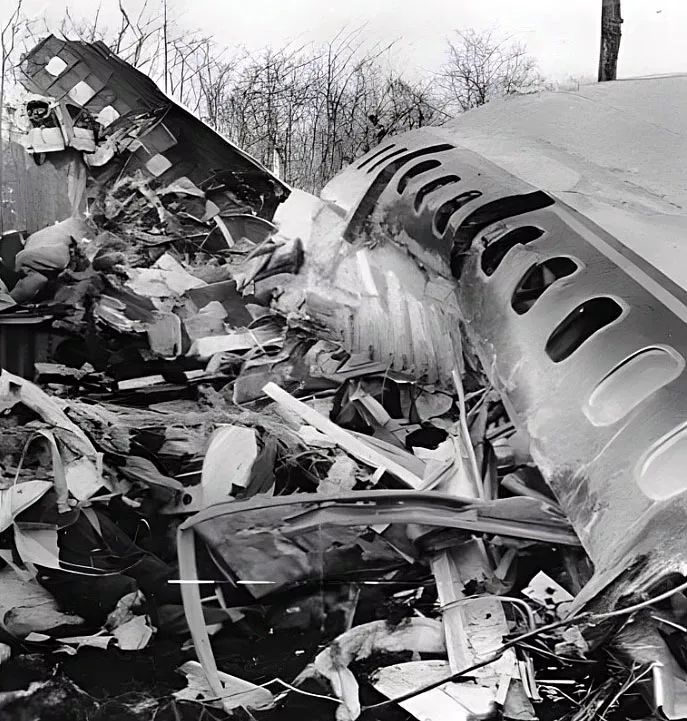 Using various AI tools, we were able to enhance this photograph of the plane crash.
Cowboy Copas and Hawkshaw Hawkins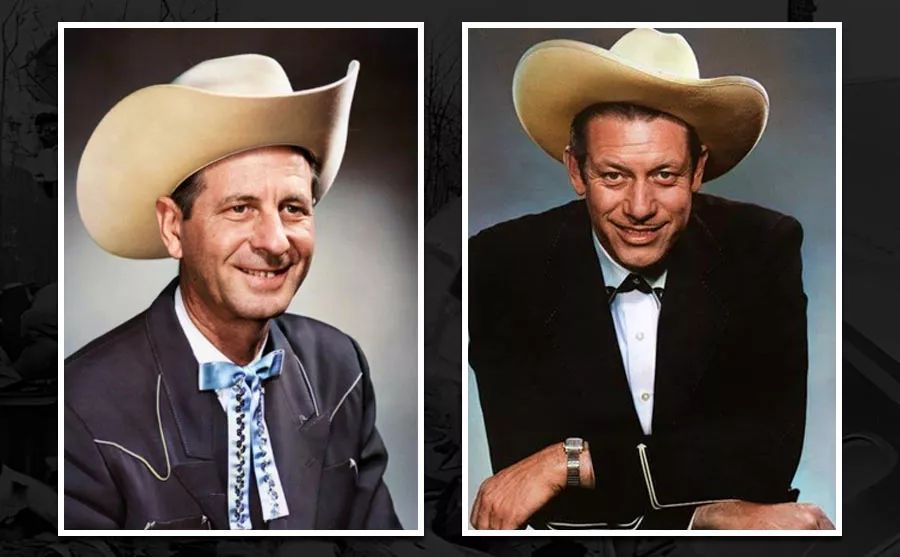 Musicians Cowboy Copas and Hawkshaw Hawkins were also killed that day.
Randy Hughes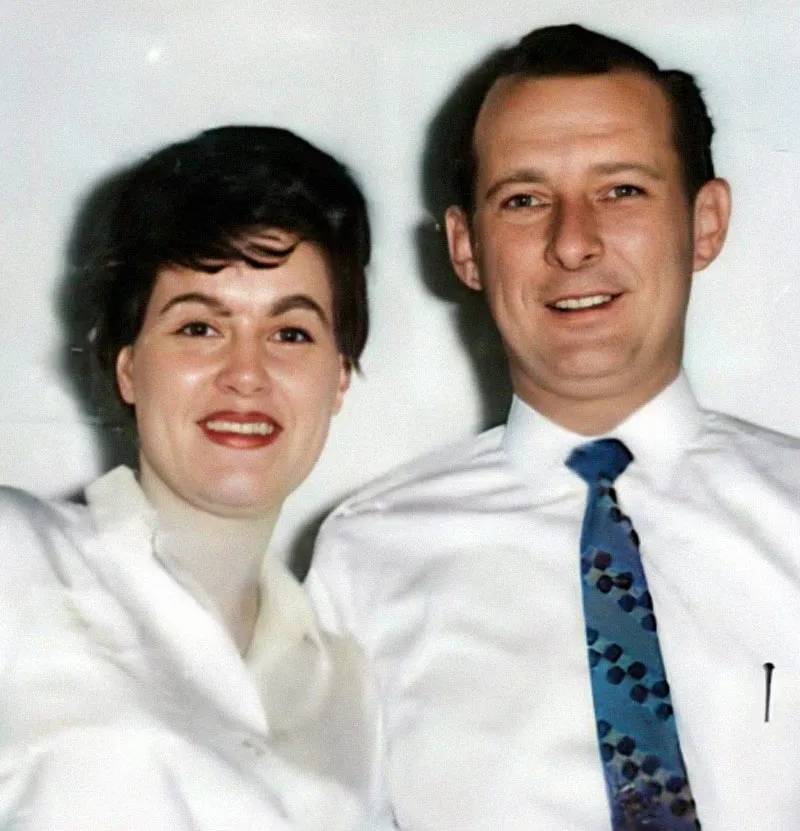 Although Cline's manager, Randy Hughes, had a private license, he was not experienced enough to fly in poor weather conditions.
When he flew into the clouds, he quickly lost his sense of direction.
This location belongs to the following categories:
Celebrities
Closest Locations
Other locations that are relatively close to this address: Roughly 136 miles away.
Crime Location in Athens, Alabama, United States Roughly 146 miles away.
Filming Location in Cape Girardeau, Missouri, United States Roughly 154 miles away.
Crime Location in Memphis, Tennessee, United States Roughly 154 miles away.
Place of Interest in Memphis, Tennessee, United States Roughly 190 miles away.
Crash Site Location in Sparta, Tennessee, United States