Antoine Dodson's interview location
Filming Location in Huntsville, Alabama, United States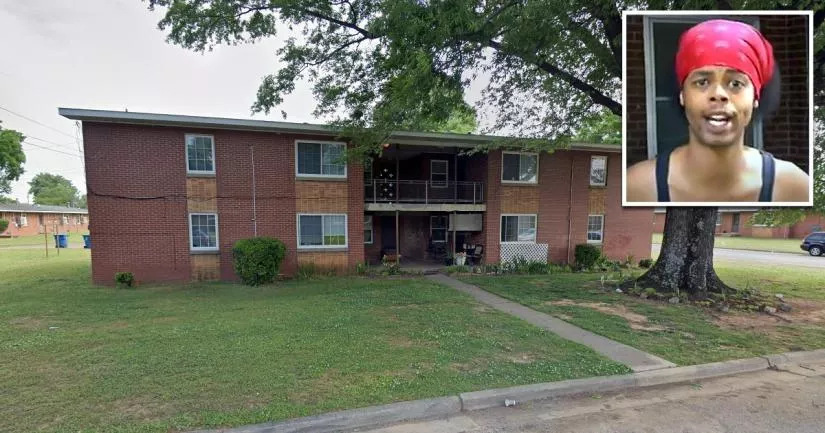 This is the location where Antoine Dodson gave his viral "Hide Yo Kids, Hide Yo Wife" interview.
It is situated at 501 Webster Drive NW in Huntsville, Alabama.
In the early hours of July 28, 2010, Dodson scared off a man who had reportedly broken into his sister's second-story bedroom.
It is believed that the unidentified intruder used a garbage can at the back of the building to climb onto a ledge beneath the window.
His sister, Kelly, claimed that the man in question had tried to rape her, as he pulled at her clothes and then grabbed her when she started resisting.
Dodson woke up and rushed into Kelly's bedroom after he heard her screaming for help. At that point, the alleged rapist escaped via the bedroom window and ran away.
Following the incident, WAFF-48 News sent a reporter to Webster Drive to interview the two siblings.
Dodson's angry interview quickly became an Internet meme due to his flamboyant, over-the-top delivery.
When the reporter asked him to comment on the break-in, he responded:
"Well, obviously, we have a rapist in Lincoln Park. He's climbing in your windows. He's snatching your people up, trying to rape them. So ya'll need to hide yo kids, hide yo wife, and hide yo husband, because they're raping everybody out here."
Later on in the segment, he also mocked the intruder for leaving behind his t-shirt and fingerprints:
"We got your t-shirt. You done left your fingerprints and all. You are so dumb. You are really dumb. For real."
Shortly after the interview went viral, a musical comedy group called the Gregory Brothers autotuned Dodson's vocals and released the single "Bed Intruder Song".
At the time of writing, the song had more than 153 million views on YouTube.
Following the interview, Dodson appeared on a string of talk shows and radio stations. He also performed at the 2010 BET Hip Hop Awards.
His newfound fame drastically improved his financial situation, as he received a 50% cut from "Bed Intruder Song", which sold more than 250,000 copies on iTunes.
This money, coupled with public donations and sales of merchandise, gave him the means to buy his family a house in a safer area.

Further information is available in the "Photos" section below.
Antoine Dodson's former apartment
Below, you will find the address and the GPS coordinates for this location.
GPS coordinates
The latitude and longitude coordinates for the apartment are:
34.742858, -86.591557
Map
To view directions on how to get there, you can use the Google Maps shortcut below:
Address
The full address for this location is:
501 Webster Drive NW
Huntsville
Alabama
AL 35801
United States
Directions
Webster Drive is situated in a housing project called Lincoln Park. The entrance is roughly 400 yards (365 meters) north of the intersection between Washington Street and Pratt Avenue.
Details about the general area
Huntsville is a city in Madison County, which is in the north of Alabama, near the state line with Tennessee.
Private Property Warning
This is a private property. It is not a public place. Therefore, you should be respectful and not step foot on the property without permission.
Photos
Photos of the apartment and other related images.
---
Antoine Dodson's interview location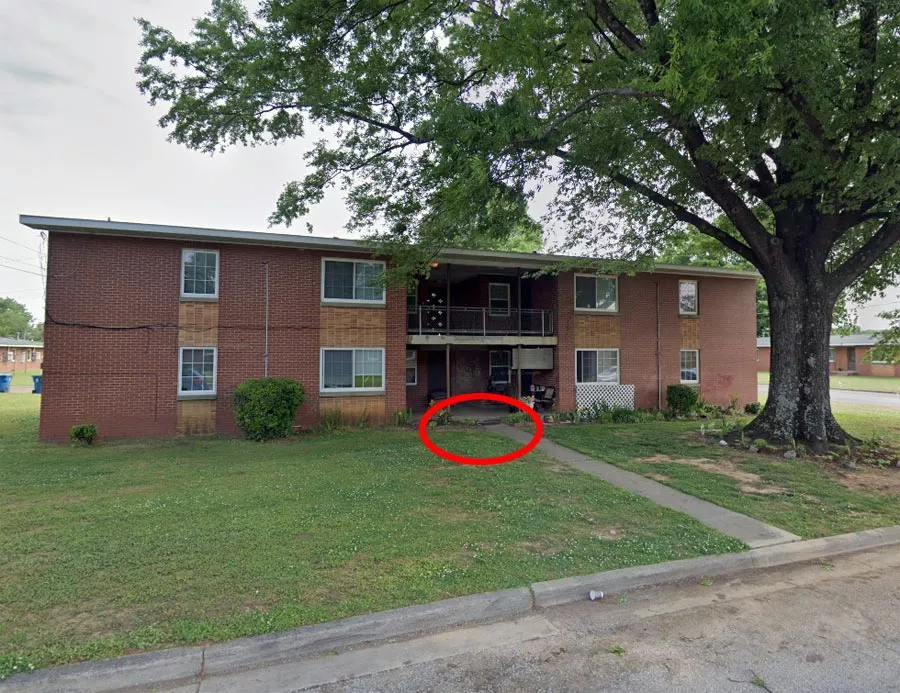 This Google Street View image of 501 Webster Drive NW in Huntsville was taken in May of 2022—nearly 12 years after Dodson gave his viral interview to WAFF-48 News.
The interview took place at the main entrance to the apartment.
Intruder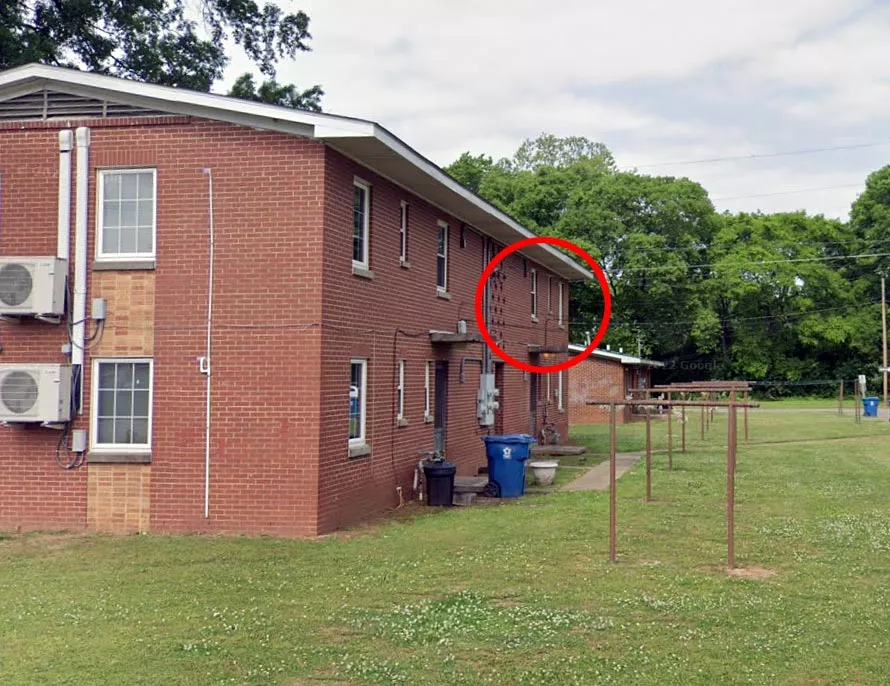 The intruder reportedly used a garbage can to climb up onto a ledge below Kelly Dodson's bedroom window.
The window in question is situated at the northwest corner of the apartment building.
After entering the room, the man allegedly climbed into Kelly's bed and attempted to remove her clothes. At that point, she began to push him away and scream for help.
Rashaad Cooper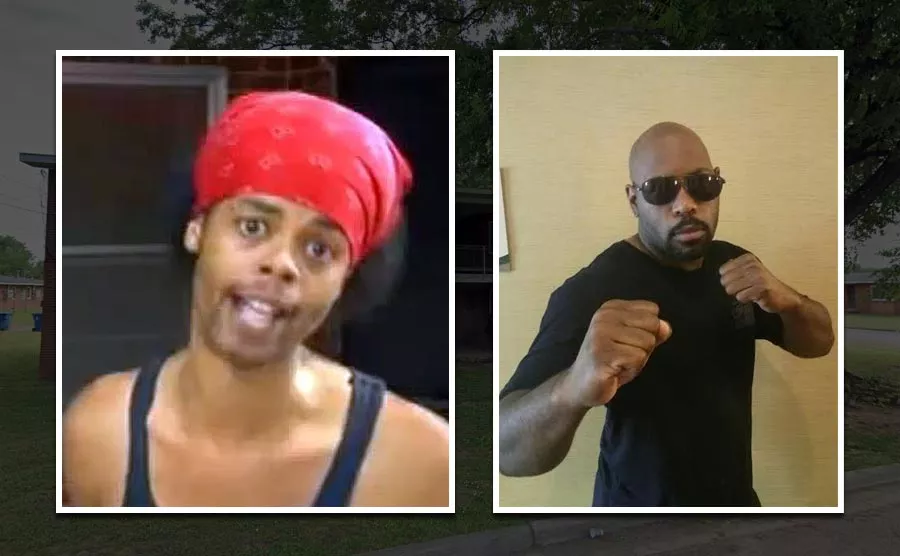 Dodson claimed that the intruder who attempted to rape his younger sister was a local man named Rashaad Cooper (pictured right).
However, Cooper has disputed Dodson's version of events and accused him of profiting off of his life.
According to Cooper, he and Kelly Dodson had started a casual relationship shortly before the incident took place. He also denied entering the bedroom via the window.
Cooper claimed that he was already in the house "chilling" when Kelly attempted to do something that he "wasn't down for yet."
According to Cooper, she became so enraged and physically abusive that he decided to flee through the second-story window.
The following day, he saw the interview on the news.
Cooper decided to move away from the area after he realized that the accusation about him being a rapist had spread throughout the neighborhood.
In 2014, Cooper and Antoine Dodson decided to settle things in a celebrity boxing match.
When the first round began, Cooper immediately knocked Dodson to the floor and began to taunt him. However, he reportedly twisted his ankle when the referee pushed him away.
From that point on, Cooper struggled to stay in the fight. He also started to become noticeably tired.
At points, it looked more like a WWE match than a legitimate boxing bout.
In the end, Dodson won the fight after he managed to knock Cooper out in the third round.
Closest Locations
Other locations that are relatively close to this address: Roughly 28 miles away.
Crime Location in Athens, Alabama, United States Roughly 110 miles away.
Filming Location in Rome, Georgia, United States Roughly 131 miles away.
Crash Site Location in Sparta, Tennessee, United States Roughly 145 miles away.
Crash Site Location in New Hope, Georgia, United States