The location where John Lennon was shot dead
Crime Scene Location in Manhattan, New York, United States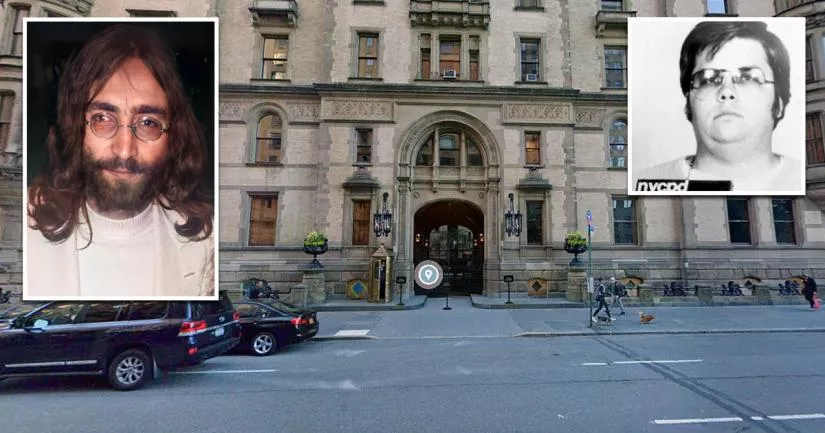 This is the apartment building where John Lennon was shot dead.
It is called the Dakota, and it is situated at 1 West 72nd Street in Manhattan, New York.
On the night of December 8th, 1980, Lennon and his wife, Yoko Ono, were approaching the front entrance of the Dakota when a crazed fan named Mark Chapman pulled a revolver out of his coat jacket and opened fire on the Beetle's singer.
Lennon collapsed after being struck four times in the back.
Bizarrely, his assailant made no effort to flee the scene of the crime. Instead of running away, he nonchalantly stood on West 72nd Street and proceeded to read J. D. Salinger's novel, The Catcher in the Rye.
When the police arrived, Chapman calmly apologized to the responding officers for "ruining their night."
Although the police rushed Lennon to a nearby hospital, the damage to the arteries around his heart was far too extensive.
As a result, efforts to resuscitate him failed, and he was pronounced dead 15 minutes after his arrival.
Roughly six hours before the shooting, Chapman had approached Lennon while he was leaving the apartment building and asked him for an autograph. The singer obliged, despite the fact that he was late and his limousine was waiting for him.
After Lennon and Ono left, Chapman hung around the front entrance and patiently waited until they returned. When the couple finally arrived back at the Dakota, he stood and watched them as they walked past. Then, once they had their backs to him, he pulled out a gun and opened fire on Lennon from behind.
Originally, Chapman claimed that he murdered Lennon because he was a "phony" who had made controversial remarks about the Beatles being "more popular than Jesus." However, he later revealed that his true motive was to gain worldwide notoriety:
"It was just self-glory, period. It was nothing more than that. It boiled down to that. There's no excuses."
In January of 1981, he pleaded guilty to murder. Seven months later, a judge sentenced him to 20 years to life.
He remains in prison to this day.
Where was John Lennon shot?
Below, you will find the address and the GPS coordinates for this location.
GPS coordinates
The latitude and longitude coordinates for the apartment building are:
40.776523, -73.976337
Map
To view directions on how to get there, you can use the Google Maps shortcut below:
Address
The full address for this location is:
The Dakota
1 W 72nd Street
Manhattan
New York
NY 10023
United States
Directions
The Dakota apartment building sits on the corner of West 72nd Street and Central Park West in New York City. The front entrance is roughly 200 feet away from Central Park.
It is a short walk away from Strawberry Fields, which is a tiled section of Central Park that is dedicated to Lennon.
Photos
Photos of the apartment building and other related images.
---
Then and now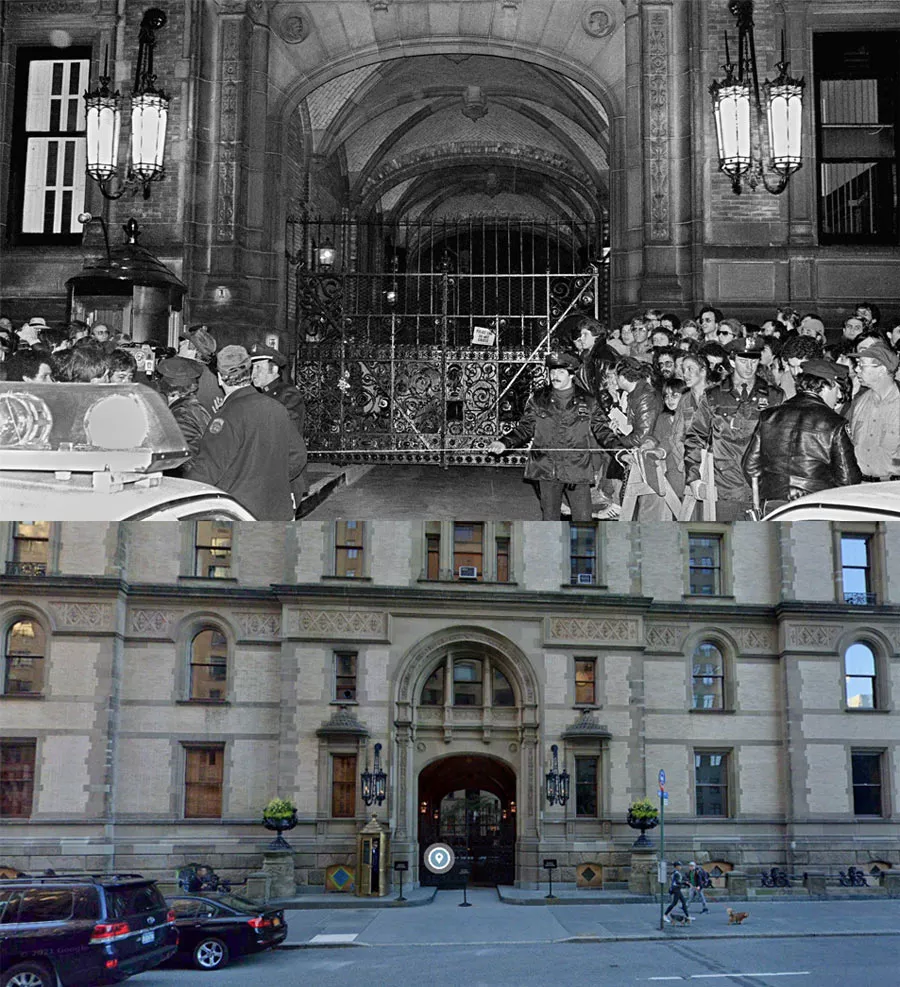 The photograph at the top was taken shortly after Lennon's murder. When news broke about the shooting, hundreds of fans started to gather outside the apartment building.
The Google Street View image at the bottom is from October of 2017.
Autograph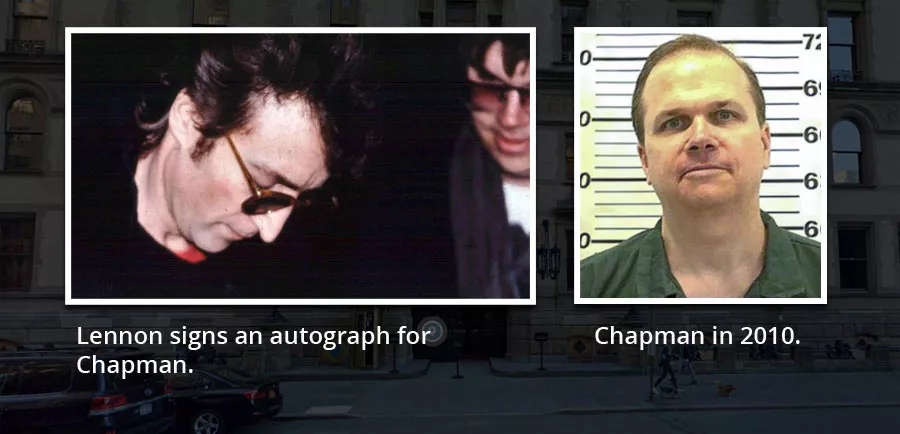 A photographer took a picture of the exact moment when Lennon stopped to give Chapman an autograph.
Chapman later admitted that the Beatles singer had been very kind and patient with him.
Despite this, he still decided to stick around and shoot him.
Chapman's most recent parole hearing was held in 2020. However, his parole was denied after he suggested that killing Lennon gave him "glory."
During his closing statement, he admitted that his actions were selfish. He also apologized to Yoko Ono for murdering her husband.
As of 2023, Chapman is incarcerated at the Green Haven Correctional Facility in Beekman, New York. He is currently 67 years old.
His next parole hearing is due to take place in February of 2024.
Aerial image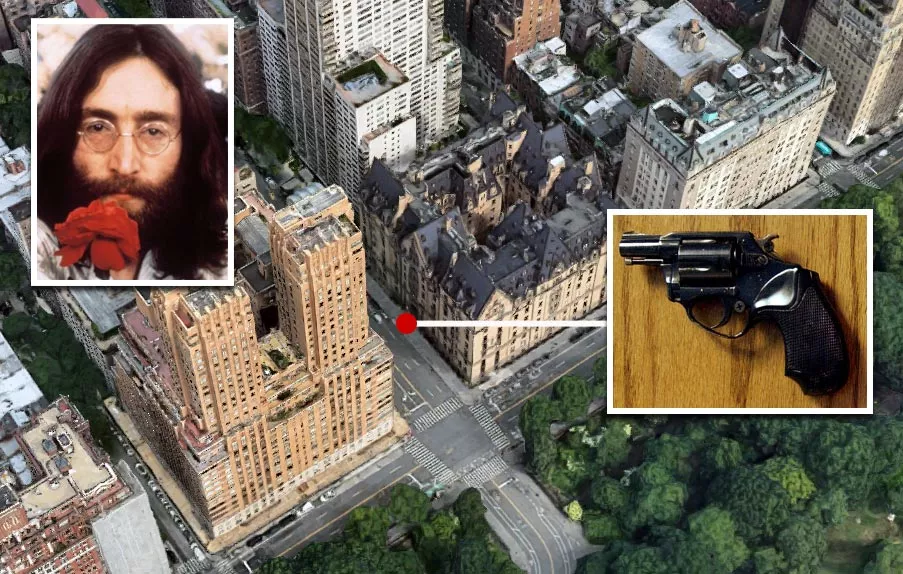 This is an aerial image of the area around West 72nd Street and Central Park West.
Lennon was shot with a .38 special revolver. After being critically wounded, he stumbled through the gates of the Dakota and collapsed on the steps to his right.
Murder site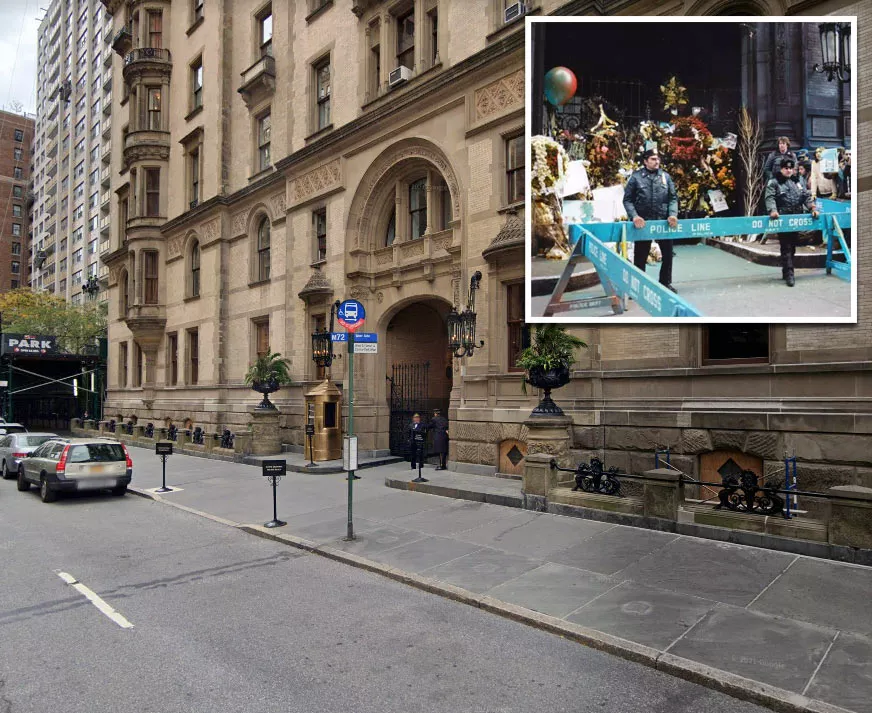 Following the murder, fans began to leave flowers at the entrance to the Dakota. The NYPD erected crowd barriers to prevent people from entering the property.
Closest Locations
Other locations that are relatively close to this place. Roughly one mile away.
Crime Location in Manhattan, New York, United States Roughly one mile away.
Crime Location in Manhattan, New York, United States Roughly one mile away.
Crime Location in Manhattan, New York, United States Roughly 2 miles away.
Crime Location in Manhattan, New York, United States Roughly 2 miles away.
Crime Location in Manhattan, New York, United States