Chris Benoit's house.
Crime Scene Location in Fayetteville, Georgia, United States.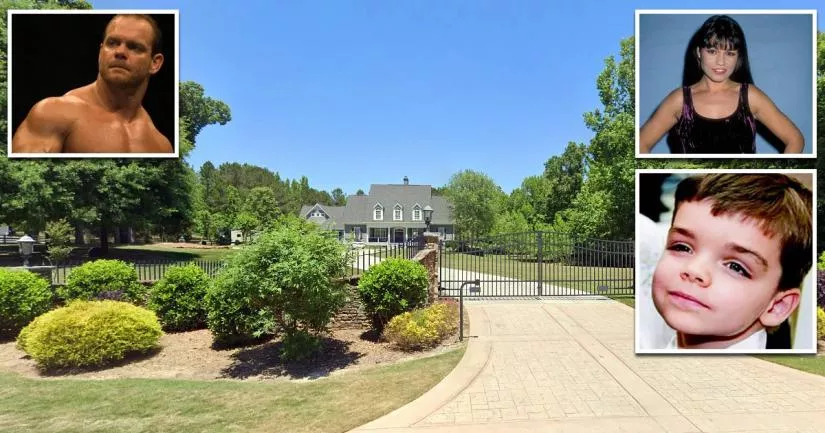 This is the house where WWE wrestler Chris Benoit murdered his wife and son before committing suicide.
It is situated at 130 Green Meadow Lane in Fayetteville, Georgia.
On June 25th, 2007, WWE CEO Vince McMahon announced that Chris Benoit, his wife Nancy, and their seven-year-old son Daniel had been found dead at their home.
Although the WWE paid tribute to "The Rabid Wolverine" and dedicated an entire show to his legacy, it wasn't long before the company realized that it needed to distance itself from him.
Within days, shocking details started to emerge. At that point, it became clear that this was not a tragic accident.
The truth was unthinkable: Chris Benoit had murdered his wife and child before hanging himself from a weight machine in his personal gym.
On June 22nd, he knelt on Nancy's back and strangled her to death with a cord. Not long afterwards, he sedated his son Daniel with Xanax and suffocated him to death.
After murdering his wife and son, he placed bibles beside their bodies.
The following day, Benoit contacted a colleague at the WWE and told them that he would be late for a show because Nancy and Daniel had food poisoning.
However, he never showed up.
After missing the event, Benoit contacted his colleague again and stated that he would fly out to Houston the following morning.
In the early hours of June 24th, the wrestler sent several text messages to people that he knew. These messages contained his address and details about how to enter the house.
Later that morning, Benoit did not arrive at the airport. However, he managed to allay suspicions by contacting the WWE and telling them that he would take a later flight.
That night, he failed to appear yet again. He also stopped answering his phone.
The next day, on June 25th, 2007, officials at the WWE started to worry about the fact that one of their biggest superstars had gone silent. They also learned about the strange text messages that he had sent.
Fearing that something was wrong, they decided to contact the police in Fayetteville and ask them to carry out a welfare check.
After the police breached the house, they discovered the bodies of Benoit, his wife, and their son in separate rooms. Although the police informed the WWE that three bodies had been found and that it was now a "major crime scene," they did not provide specific details.
When news of the deaths first broke, Benoit's colleagues initially believed that it was a tragic accident or that someone else had murdered the family.
They could not imagine his involvement in such a horrific crime. To them, he was a quiet and friendly guy who got along with everyone.
As a result, they felt completely blindsided when the truth finally came to light.
Christ Benoit's house address.
Below, you will find the address and the GPS coordinates for this location.
GPS coordinates.
The latitude and longitude coordinates for the house are:
33.393382, -84.520651
Map.
To view directions on how to get there, you can use the Google Maps shortcut below:
Address.
The full address for this location is:
130 Green Meadow Lane
Fayetteville
Georgia
GA 30215
United States
Directions.
The house is roughly two miles east of Peachtree City in Georgia. It is situated in a cul-de-sac that is accessible via Quarters Road.
Private property warning.
This is a private property. It is not a public place. Therefore, you should be respectful and not step foot on the property without permission.
Photos.
Photos of the house and other related images.
---
130 Green Meadow Lane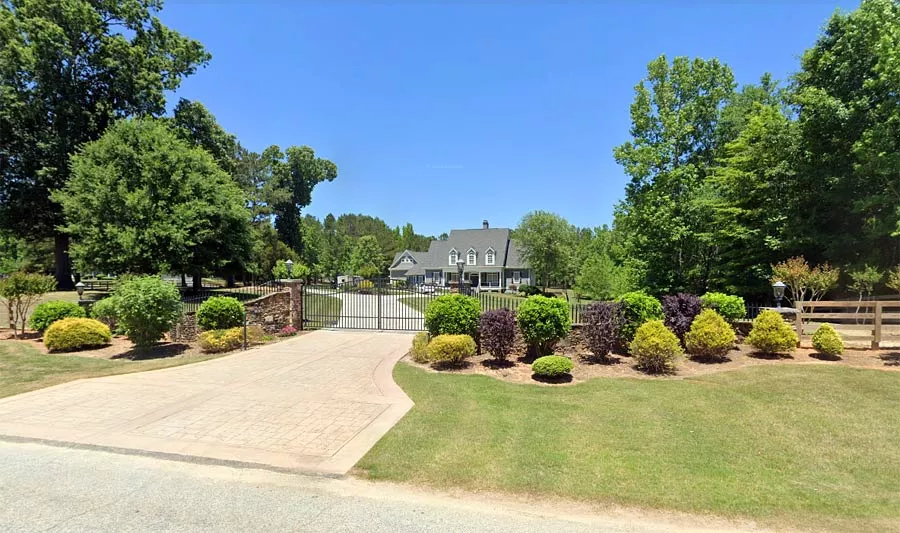 This Google Street View image of 130 Green Meadow Lane was taken in May of 2022.
The house was built in 2005 and is 5,380 sq ft in size. It has six bedrooms and six bathrooms.
In February of 2009, the house was listed for sale at $750,000. However, it was sold a couple of months later at a foreclosure "sale" price of $287,500.
Photos of the inside of the house.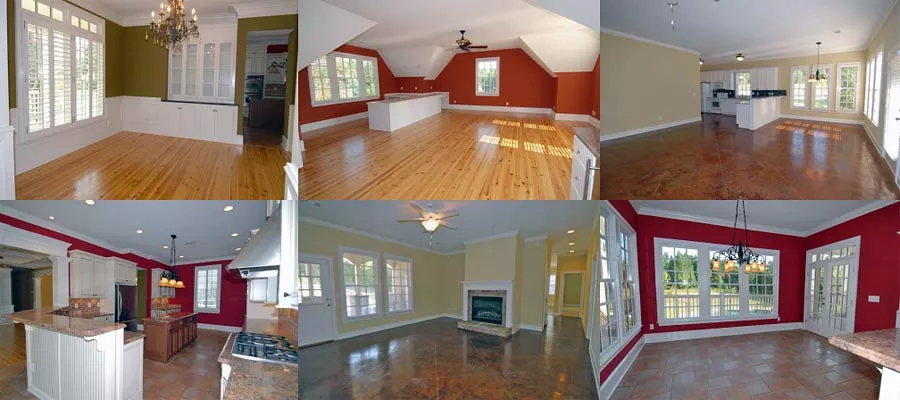 These photographs of the inside of Chris Benoit's house were taken in 2008.
Aerial image.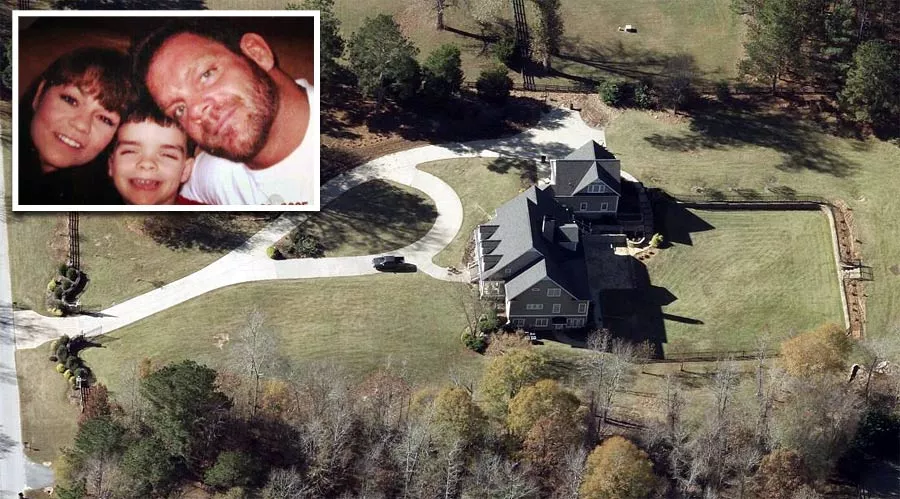 This is an aerial image of the property, facing west.
Inset is a photograph of Nancy, Daniel, and Chris during happier times.
Nancy and Chris had dated since 1997. Their son, Daniel, was born in February of 2000. Nine months later, the couple decided to tie the knot.
In 2003, Nancy filed for divorce against Benoit, citing "cruel treatment". She also filed for a restraining order.
However, these filings were both dropped later that year.
Crime scene.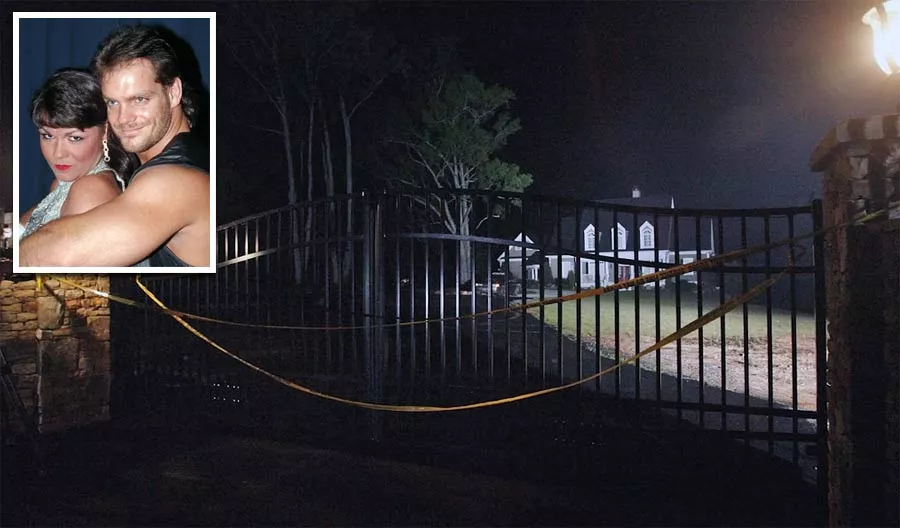 This photograph from 2007 shows the property cordoned off with tape.
When Benoit failed to show up on June 25th, 2007, the head of WWE's security team decided to call the Fayetteville Police Department.
Here is a partial transcript of that phone call:
"Yesterday, he was supposed to show up at a Pay-Per-View. He never got on the plane, never showed up. They tried to reach his wife, Nancy. She didn't answer. They tried to call his house. It's out of character for him."
After the police broke into the house, they discovered Nancy's body in an upstairs room. She had been tied up, strangled to death, and then wrapped in a towel. Her body was bloated due to the effects of decomposition.
In another room, they found the remains of seven-year-old Daniel.
When the officers entered the gym, they were met with the gruesome sight of Benoit hanging from a weight machine.
Nancy Benoit.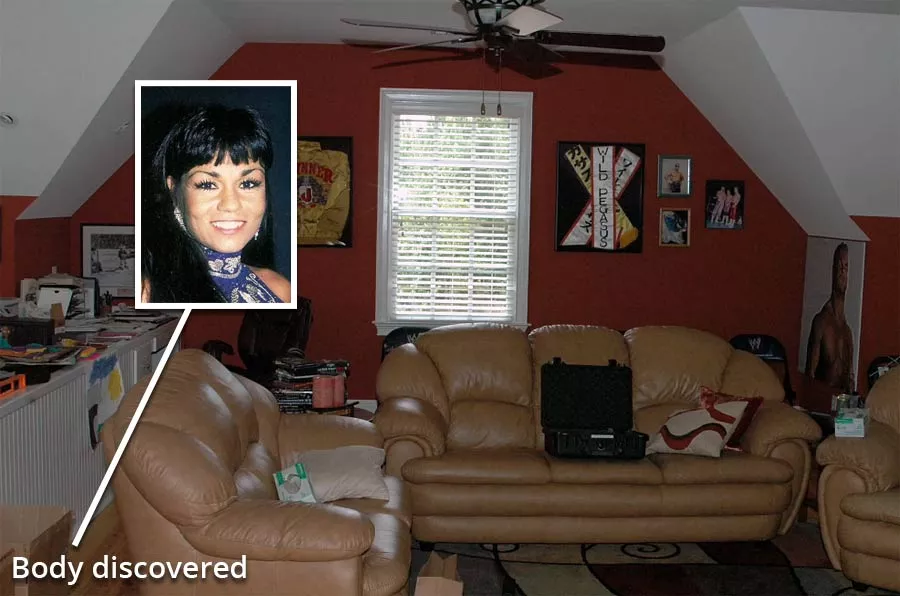 Nancy Benoit's body was discovered in a spare room that had been converted into an office space and an entertainment room.
According to the police report, her remains were lying on a hardwood floor between the seating area and a wet bar.
Closest locations.
Other locations that are relatively close to this place. Roughly 11 miles away.
Filming Location in Fayetteville, Georgia, United States Roughly 13 miles away.
Filming Location in Riverdale, Georgia, United States Roughly 15 miles away.
Filming Location in Palmetto, Georgia, United States Roughly 16 miles away.
Filming Location in Griffin, Georgia, United States Roughly 24 miles away.
Filming Location in Stockbridge, Georgia, United States