Bradley's Big Buy from Stranger Things
Filming Location in Palmetto, Georgia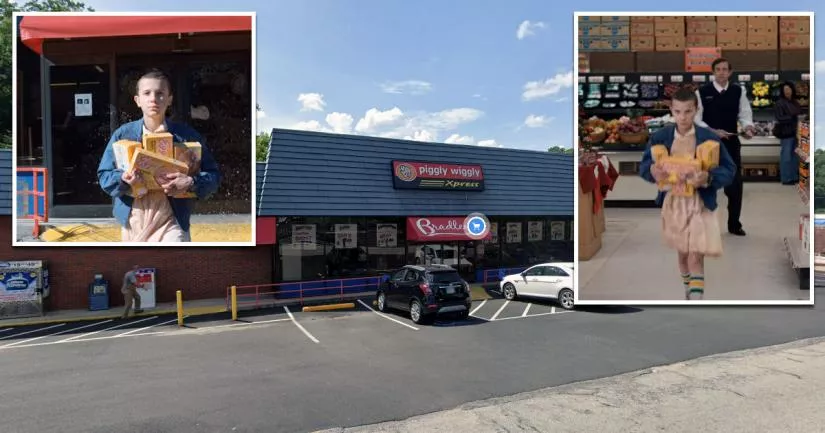 This is the grocery store from the sci-fi horror series Stranger Things.
In the show, it is known as Bradley's Big Buy. However, in real life, the scene was filmed at Piggly Wiggly in Palmetto, Georgia.
In Episode 6 of Season 1, Eleven walks into this store to steal her favorite waffles.
As she is walking towards the fridges, employees and other shoppers notice her disheveled appearance and begin to stare at her (at the time, she had been hiding out in the woods following an altercation with Lucas).
An employee chases after Eleven when he sees her marching towards the exit with several boxes of Eggo waffles in her hands.
However, the chase does not last long.
Once she is outside, she uses her psychokinetic abilities to slam the automatic doors behind her, causing the glass to shatter everywhere.
Bradley's Big Buy address
Below, you will find the address and the GPS coordinates for this location.
Address
506 Center Street, Palmetto, Georgia, GA 30268, USA
Map
To view directions on how to get there, you can use the Google Maps shortcut below:
GPS coordinates
The latitude and longitude coordinates for the store are:
33.519562, -84.669189
Directions
The store is situated near Main Street in Palmetto. It is close to the corner between Menefee Street and Center Street.
Closest Locations
Other locations that are relatively close to this address: Roughly 9 miles away.
Filming Location in Fayetteville, Georgia Roughly 17 miles away.
Filming Location in Riverdale, Georgia Roughly 19 miles away.
Filming Location in East Point, Georgia Roughly 19 miles away.
Filming Location in East Point, Georgia