Steve Harrington's house from Stranger Things
Filming Location in Riverdale, Georgia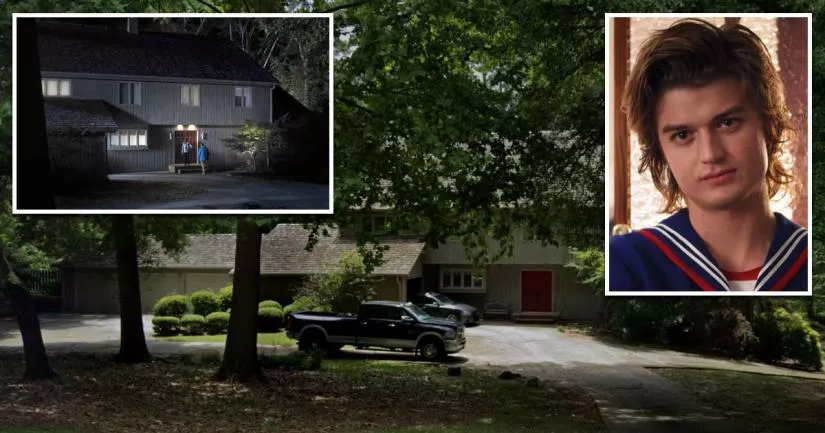 This is Steve Harrington's house from Stranger Things.
It is located at 8253 Carlton Road in Riverdale, Georgia.
In Episode 2 of Season 1, Nancy Wheeler and her friend Barbara Holland attend a small party at Steve's home.
At the time, Steve and Nancy were romantically interested in each other. However, Barbara felt like a third wheel and was keen on leaving the party.
While Steve and Nancy are busy "getting it on" upstairs, Barbara decides to sit outside and wait beside the swimming pool.
As she is sitting on the diving board and dipping her feet in the water, the pool lights suddenly begin to flicker. Seconds later, a humanoid Demogorgon creature from the "Upside Down" world attacks her from behind.
Although the creature doesn't kill her immediately, it does drag her back to its own dimension, where it eventually mauls her to death in the empty "Upside Down" version of Steve's swimming pool.
Steve Harrington house address
Below, you will find the address and the GPS coordinates for this location.
Address
8253 Carlton Road, Riverdale, Georgia, GA 30296, USA
Map
To view directions on how to get there, you can use the Google Maps shortcut below:
GPS coordinates
The latitude and longitude coordinates for the house are:
33.530165, -84.431176
Directions
The house sits across from the intersection between Carlton Road and Creekridge Circle. It is accessible via Helmer Road off State Route 85.
Private Property Warning
This is a private property. It is not a public place. Therefore, you should be respectful and not step foot on the property without permission.
Closest Locations
Other locations that are relatively close to this address: Roughly 8 miles away.
Filming Location in Fayetteville, Georgia Roughly 13 miles away.
Filming Location in East Point, Georgia Roughly 14 miles away.
Filming Location in East Point, Georgia Roughly 14 miles away.
Filming Location in East Point, Georgia