Bruce McArthur's apartment
Serial Killer House in Toronto, Canada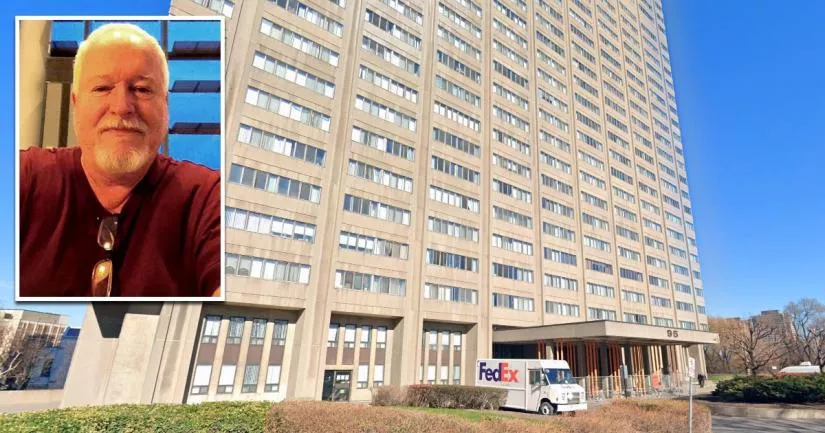 Serial killer Bruce McArthur lived in a two-bedroom apartment on the 19th floor of this building in Thorncliffe Park, Toronto.
His apartment number was 1915.
He started living here in 2007 or 2008.
Between 2010 and 2017, McArthur murdered eight men in his bedroom through "ligature strangulation".
However, his age and the sophistication of his crimes have led detectives and criminologists to believe that he started killing people much earlier than 2010. This is because most serial killers tend to start between the ages of 25 and 35.
On January 18th, 2018, a police surveillance team spotted a young man entering this building with McArthur. By that stage, the authorities had enough evidence to prove that McArthur was involved in the murders of Selim Esen and Andrew Kinsman. As a result, they decided to enter the apartment and arrest him.
Their decision to end the surveillance and execute the arrest proved to be the correct one, as they found the young man tied to a bed.
Following his arrest, a police forensic team spent four months combing through his apartment. The walls, furniture, ceilings, and floors were all painstakingly examined.
In January of 2019, McArthur pleaded guilty to eight charges of first-degree murder. A month later, he was sentenced to life imprisonment without the possibility of parole for 25 years.
This means that he will not be able to apply for parole until he reaches the age of 91. And even then, it is extremely likely that his application will be denied.
Where did Bruce McArthur live?
Below, you will find the address and the GPS coordinates for this location.
GPS coordinates
The latitude and longitude coordinates for the apartment are:
43.707529, -79.340463
Map
To view directions on how to get there, you can use the Google Maps shortcut below:
Address
The full address for this location is:
Apartment #1915
95 Thorncliffe Park Drive
Toronto
ON M4H 1L7
Canada
Directions
The apartment is in the East York district of Toronto. It is just north of the Don Valley Parkway expressway, in a neighborhood called Thorncliffe Park. The entrance is near the intersection between Overlea Boulevard and Thorncliffe Park Drive.
Private Property Warning
This is a private property. It is not a public place. Therefore, you should be respectful and not step foot on the property without permission.
Quick facts and trivia.
He married Janice Campbell in the 1970s. However, he came out as gay roughly twenty years later. Although the couple continued living together for a while, they eventually separated in 1997. At that point, McArthur decided to move to Toronto.
At the time of the murders, he was working as a landscaper.
McArthur buried his victims' remains in large flower pots and planters.
His first known attack took place on October 31st, 2001. That night, he repeatedly struck a man with a metal bar after he was invited back to his apartment. The man survived the assault, although he was left unconscious for a period of time.
He worked as a mall Santa in 2013 and 2014.
McArthur contacted his victims through gay dating websites and fetish websites.
He typically targeted men who looked Middle Eastern or Asian.
In July of 2017, the Toronto Police Service setup a task force to investigate the disappearances of local men.
The first clue was discovered in the calendar of missing man Andrew Kinsman. On the calendar entry for the date that he went missing, Andrew had written the name "Bruce".
During the investigation, more than 18,000 photographs were found in Bruce McArthur's apartment.
Photos
Photos of the apartment and other related images.
---
95 Thorncliffe Park Drive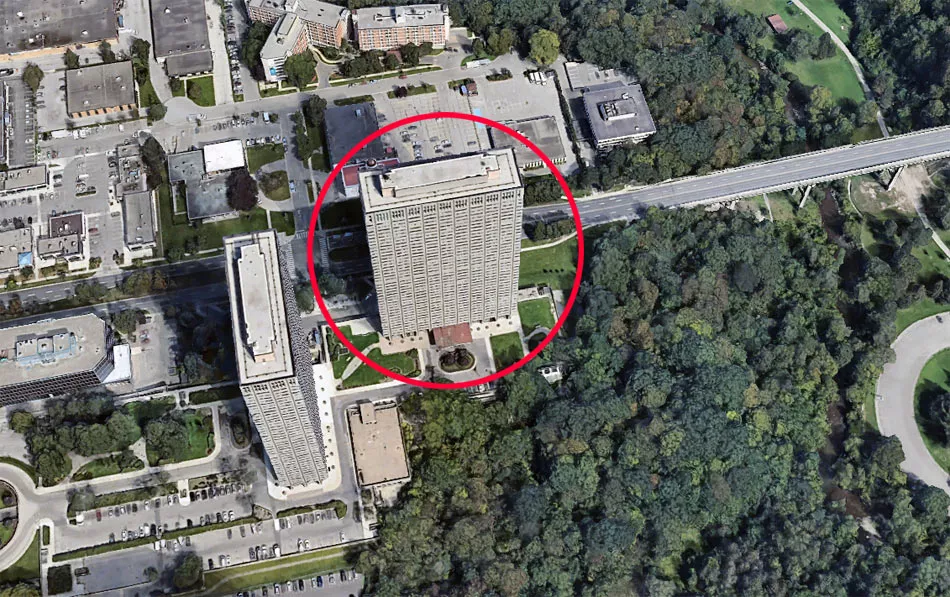 An aerial image of the apartment building at 95 Thorncliffe Park Drive. It sits right beside Overlea Boulevard.
Police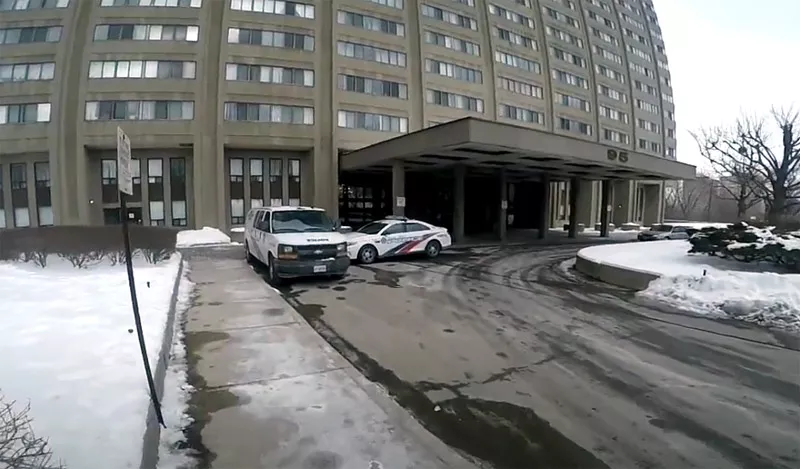 During the four-month-long forensic investigation on McArthur's apartment, Toronto Police Service vehicles were constantly parked outside of the building.
Bedroom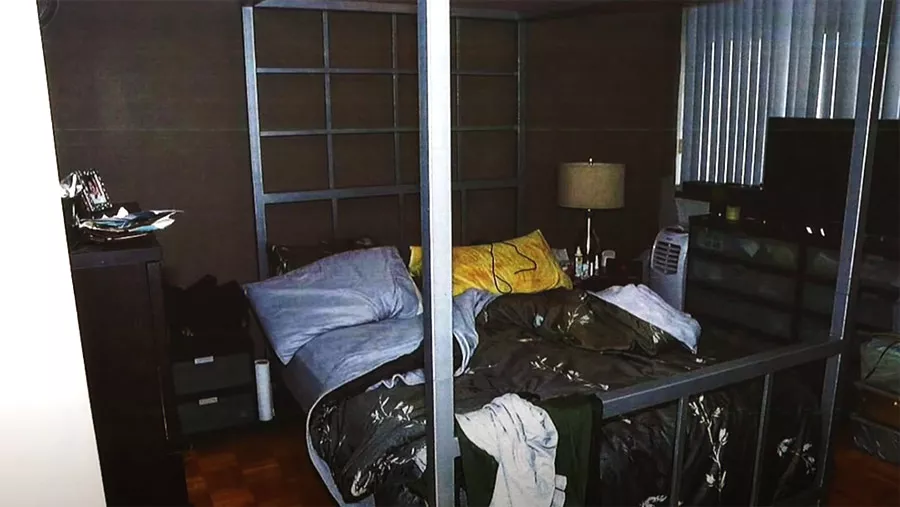 A photograph of McArthur's bedroom. This is where he strangled many of his victims.
It is likely that he specifically chose this metal bed frame because it was sturdy and it offered multiple points to constrain his victims.
When the police entered the apartment on January 18th, 2018, they discovered a frightened young man tied to this bed. McArthur had also placed a black bag over his head.
During a search of the apartment, investigators found individually-labelled folders. McArthur was using these folders to store photographs of his victims - both dead and alive.
Following their deaths, the victims were posed and photographed wearing fur coats, cigars and hats.
Bruce McArthur's victims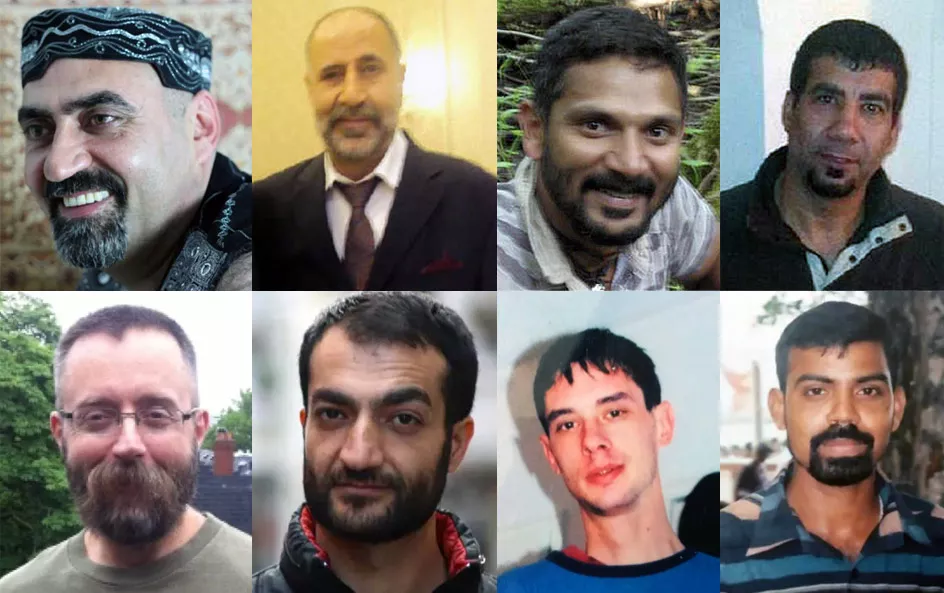 Bruce McArthur murdered eight men between 2010 and 2017.
His first known victim was Skandaraj "Skanda" Navaratnam (third man from the left, on the top row). Skanda was last seen on September 6th, 2010. He had romantic ties with McArthur and had worked for his landscaping business in the past.
Photographs of McArthur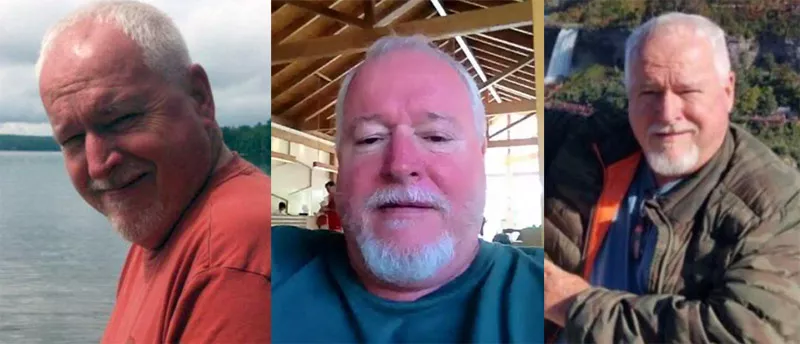 Bruce McArthur was born in Lindsay, Ontario in 1951. In 1979, he moved to Oshawa with his wife.
In the early 1990s, he started having sexual affairs with other men. Not longer after, he admitted to his wife that he was homosexual.
At some point during the late 1990s, McArthur moved to Toronto in order to live closer to its gay community. Throughout the 2000s, he regularly visited bars in Church and Wellesley, which is a LGBT village in Toronto.
He committed his first known murder at the age of 58.
Closest Locations
Other locations that are relatively close to this place. Roughly 103 miles away.
Crime Location in Ogden, New York, United States Roughly 119 miles away.
Serial Killer House in Rochester, New York, United States Roughly 121 miles away.
Crime Location in Webster, New York, United States