The location where Jesse James was shot dead
Death Location in St. Joseph, Missouri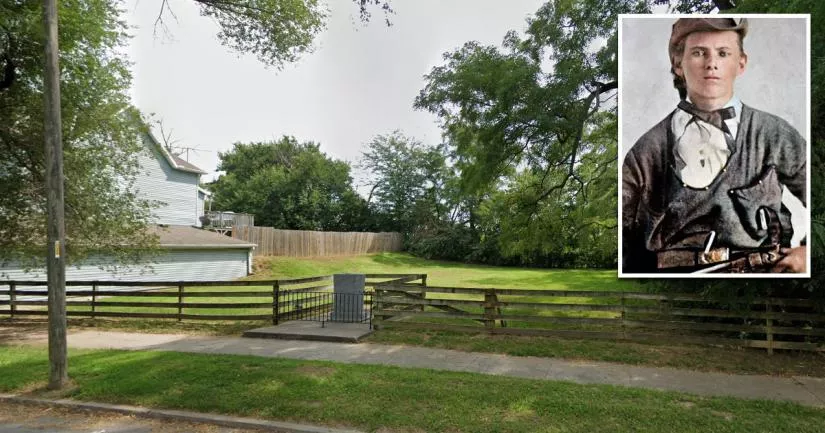 This is the site where American outlaw Jesse James was shot dead.
It is located at 1318 Lafayette Street in St. Joseph, Missouri.
This was the original address of James' rented home.
The house has been moved twice since his death. In 1939, it was relocated to the Belt Highway. Then, in 1977, it was moved to its current location, which is on the grounds of the nearby Patee House.
James and his brother, Frank, were the leaders of the fearsome "James-Younger Gang", which carried out a series of bank and stagecoach robberies between 1861 and 1876.
By 1881, the gang was no more, as most of its members were either dead or in prison. Furthermore, Frank had decided to retire from his life of crime and move eastward to Virginia.
In 1982, James was hiding out at this address with his family and two brothers named Charley and Robert (Bob) Ford, whom he had asked to live with him for protection.
James' trust in the Ford brothers proved to be his downfall, as Bob soon realized that he could make a large amount of money by orchestrating his capture.
During a secret meeting, the Governor of Missouri, Thomas Crittenden, reportedly promised Bob a full pardon and a bounty reward if he killed the notorious fugitive.
Things came to a head on the morning of April 3rd, 1882, when James picked up a newspaper and saw that a friend of the Ford brothers had confessed to killing Wood Hite.
Hite was James' cousin and a fellow outlaw. Five months earlier, he had been shot dead during a heated argument about a love interest and then buried in an unmarked grave.
The Ford brothers said that James immediately became suspicious when he read the newspaper article about Hite's death. Not only had one of their friends killed his cousin, but they had failed to inform him about the incident.
Later that morning, James put his pistols down, stood on a chair, and attempted to straighten a picture on the wall.
Sensing that it may be his last opportunity to strike, Bob immediately pulled out his pistol and shot the wanted fugitive in the back of the head, just behind the ear.
The shooting proved to be huge news, as crowds of people soon flocked to this street to catch a glimpse of James' body.
The Ford brothers, who were expecting to receive a hefty reward, quickly surrendered themselves to the authorities. However, they were shocked to find out that they were being charged with murder.
Fortunately for them, it seems as though Crittenden stuck to his word, as he pardoned both of them just two hours after a judge had sentenced them to hang for the crime.

Further information is available in the "Photos" section below.
Jesse James death location
Below, you will find the address and the GPS coordinates for this location.
Address
1318 Lafayette Street, St. Joseph, Missouri, MO 64503, USA
Map
To view directions on how to get there, you can use the Google Maps shortcut below:
GPS coordinates
The latitude and longitude coordinates for the site are:
39.757893, -94.844072
Directions
The house is roughly 0.2 miles east of the intersection between South 10th Street and Lafayette Street.
Details about the general area
St. Joseph is about 40 miles north of Kansas City.
Photos
Photos of the site and other related images.
---
1318 Lafayette Street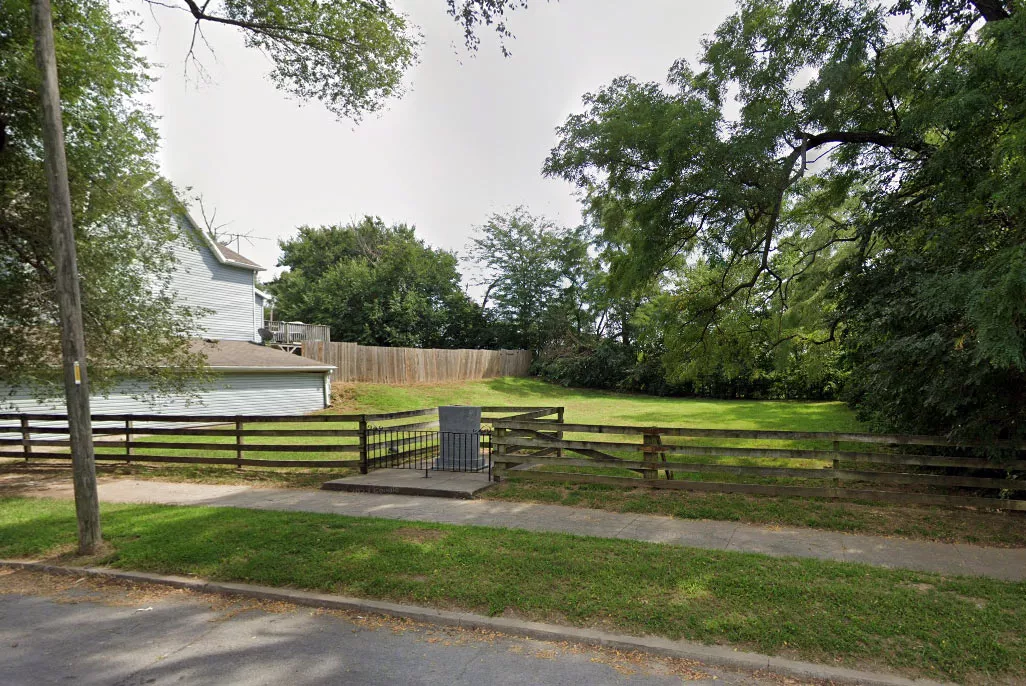 Image source: Google Maps
This Google Street View image of 1318 Lafayette Street was captured in August 2023.
These days, the address is an empty lot that contains a memorial stone.
The stone reads as follows:
"Jesse James Hill: Outlaw Jesse James was killed here on April 3, 1882, by Bob Ford. The house is now on the grounds of the Pattee House museum, two blocks south. This hill has been lowered more than 50 feet.
At the time of James' death, his home sat on top of a large hill that overlooked Pattee House.
Jesse James' house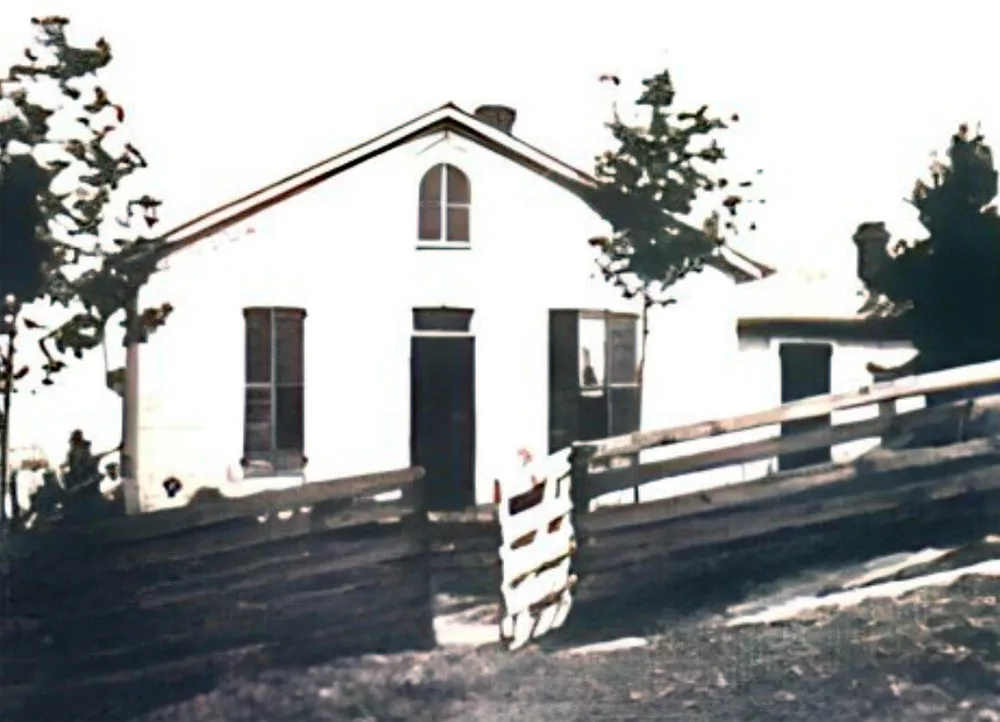 This is an AI-enhanced photograph of Jesse James' house.
Pattee House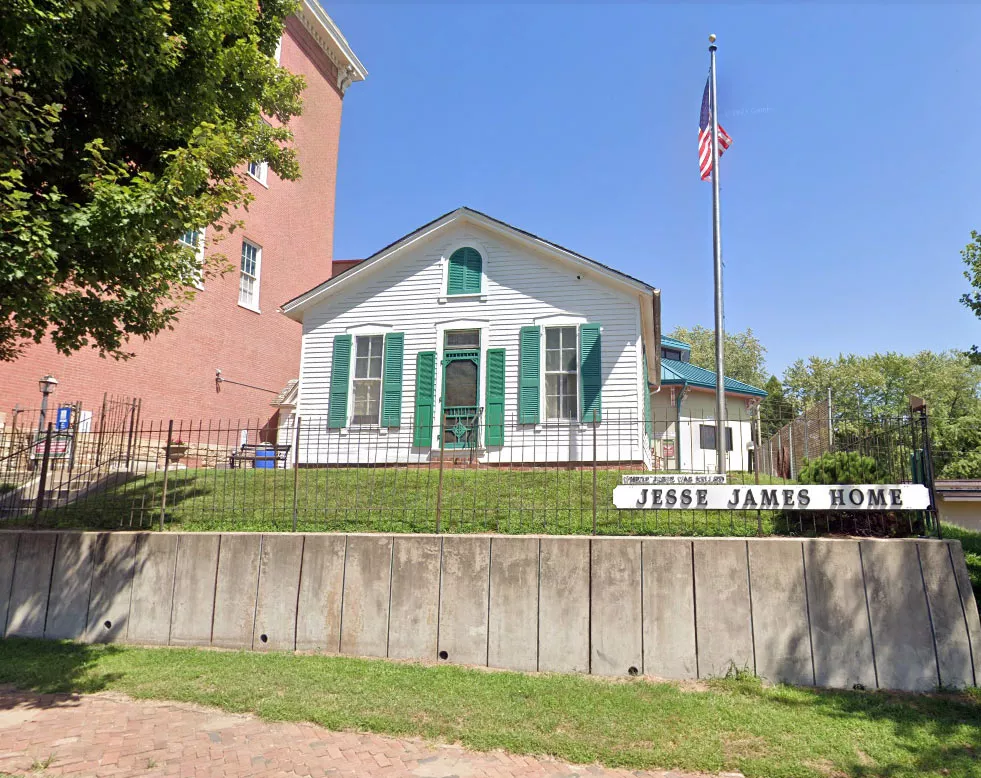 Image source: Google Maps
These days, the house is situated on the grounds of Pattee House, which is a five-minute walk south of Lafayette Street.
James moved into the rented property on December 24th, 1981, under the alias Thomas Howard. At the time, there was a $10,000 bounty on his head.
Following his death, his family found themselves in financial difficulties and were forced to sell all of their belongings.
Although the Ford brothers were eventually pardoned for the murder, they only received a small portion of the reward. Afterwards, they joined a touring stage show and reenacted the shooting for audiences.
Coordinates: 39.755634, -94.845286
Illustration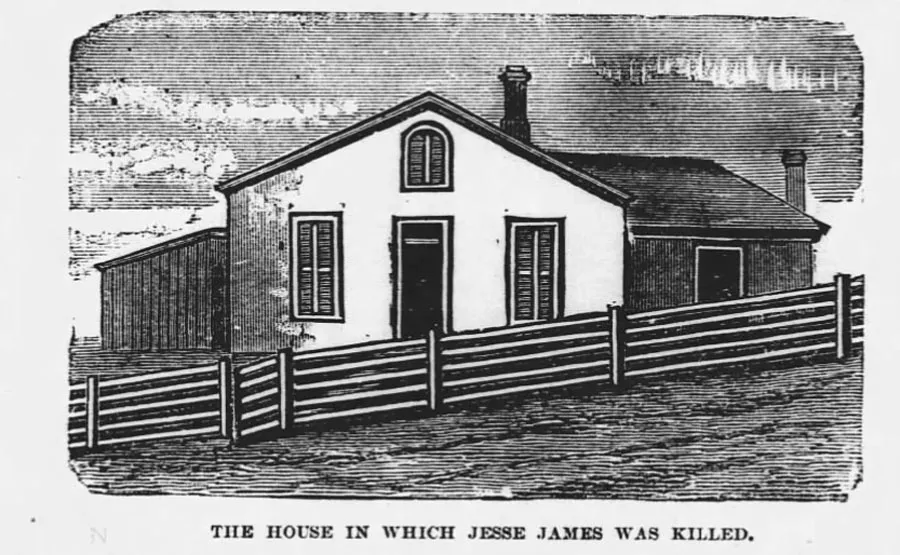 This illustration of James' house appeared in the Pittsburg Smelter newspaper on April 15th, 1882.
The article described it as a 1.5-story building that sat on top of a hill near the World's Hotel (Pattee House). Such was its elevation that it "commanded a view of the approaches for a long distance."
Map Viewer
There is more than one location associated with this entry. To view all of these places on the same map, you can use the following feature:
Closest Locations
Other locations that are relatively close to this address: Roughly 49 miles away.
Crime Location in Skidmore, Missouri Roughly 63 miles away.
Crime Location in Kansas City, Missouri Roughly 69 miles away.
Crime Location in Kansas City, Missouri