Herb Baumeister's house
Serial Killer House in Carmel, Indiana, United States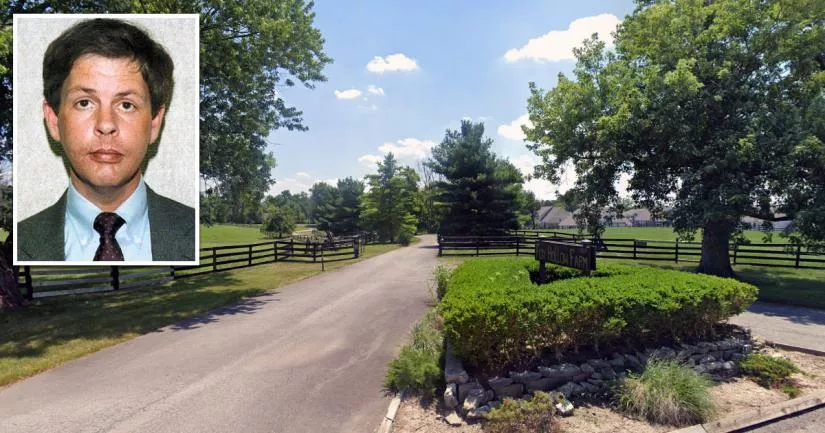 This is the house where serial killer Herb Baumeister lived.
It is situated at 1111 East 156th Street in Carmel, Indiana.
Baumeister is believed to have killed 23 men between 1980 and 1996.
I-70 Strangler
During the 1980s, a dozen men were murdered and then dumped in rural areas in Indiana and western Ohio.
The killer, who was dubbed the I-70 Strangler, had seemingly picked up his victims from gay bars in Indianapolis and then strangled them to death.
By 1992, the bodies had stopped turning up. However, gay men of a certain height and age range continued to go missing from the city at an alarming rate.
This indicated to the police that the killer had decided to change his M.O. by dumping their remains elsewhere.
Tony Harris
In 1992, the police were contacted by a man named Tony Harris, who claimed that a gay bar patron called "Brian Smart" had nearly strangled him to death during an erotic asphyxiation session at an unlit Tudor mansion "in the suburbs."
Fortunately, the man in question let him go and agreed to drive him back to the city after he feigned unconsciousness.
Notably, Harris also told officers that he believed "Brian Smart" was responsible for the recent disappearance of his friend, Roger Goodlet. On the night that they met, Smart seemed strangely "captivated" by Goodlet's missing person poster at the bar.
Although Harris attempted to figure out Smart's real identity, he was unable to do so without raising suspicions. Furthermore, the only thing he could remember about the house was that there was a sign at the entrance that had the word "farm" written on it.
As a result, the lead went nowhere.
Brian Smart is identified as Herb Baumeister
Three years later, the investigation finally got the break that it desperately needed.
On the night of August 29th, 1995, Harris was sitting in the Varsity Lounge on North Pennsylvania Street when the elusive "Brian Smart" suddenly entered the bar.
By that point, Harris had given up hope of ever seeing him again.
Despite feeling nervous, he managed to play it cool and casually chat with Smart until he finally got the chance to see the license plate number on his pickup truck.
When the police searched for license plate 75237A, they learned that it belonged to a thrift store owner named Herb Baumeister, who lived at Fox Hollow Farm in Carmel, Indiana.
Realizing that they had finally found their man, the investigators immediately put the businessman under surveillance.
In November of 1995, they approached Baumeister at his Sav-A-Lot store on Washington Street and informed him that he was a suspect in the disappearances of several gay men. Baumeister, who was clearly nervous, refused to give them permission to search his house. He also told them that they needed to direct any further questions to his lawyer.
Although they attempted to outmaneuver Baumeister by approaching his wife, Julie, she also refused to give them permission.
Skeletons are found at Fox Hollow Farm
By the summer of 1996, Baumeister's behavioral changes, the revelation that he was a suspect, and his failing business had pushed his marriage with Julie over the edge.
When the couple initiated divorce proceedings against one another in 1996, Julie decided to contact the police and invite them to search the property.
On June 24th, 1996, police officers arrived at the residence while Baumeister was out of town. Julie and her lawyer met them at the front door before leading them out to a wooded area at the back, just beyond the patio.
During an initial search of the backyard, the officers discovered pieces of bones lying amongst the dirt and low grass. The bones in question were so small that they resembled small rocks and pebbles.
This discovery led to a thorough forensic examination of the backyard, which unearthed the skeletal remains of 11 men.
Suicide
When the authorities issued an arrest warrant for Baumeister, he fled to Ontario, Canada, before making his way to Pinery Provincial Park on Lake Huron.
There, on the evening of July 3rd, 1996, he put a .357 Magnum up to his head and committed suicide. Although he left a note talking about his failing business and marriage, he never mentioned any of his victims.

Further information is available in the "Photos" section below.
Fox Hollow Farm address
Below, you will find the address and the GPS coordinates for this location.
GPS coordinates
The latitude and longitude coordinates for the farm are:
40.012034, -86.137940
Map
To view directions on how to get there, you can use the Google Maps shortcut below:
Address
The full address for this location is:
Monon Hills Court
Carmel
Indiana
IN 46032
United States
Directions
The entrance to Fox Hollow Farm is roughly 0.4 miles east of the intersection between East 156th Street and Oak Ridge Road. Baumeister's former house is situated at the end of Monon Hills Court.
Details about the general area
Carmel is a suburban city that lies to the north of Indianapolis.
Private Property Warning
This is a private property. It is not a public place. Therefore, you should be respectful and not step foot on the property without permission.
Photos
Photos of the farm and other related images.
---
Herb Baumeister's house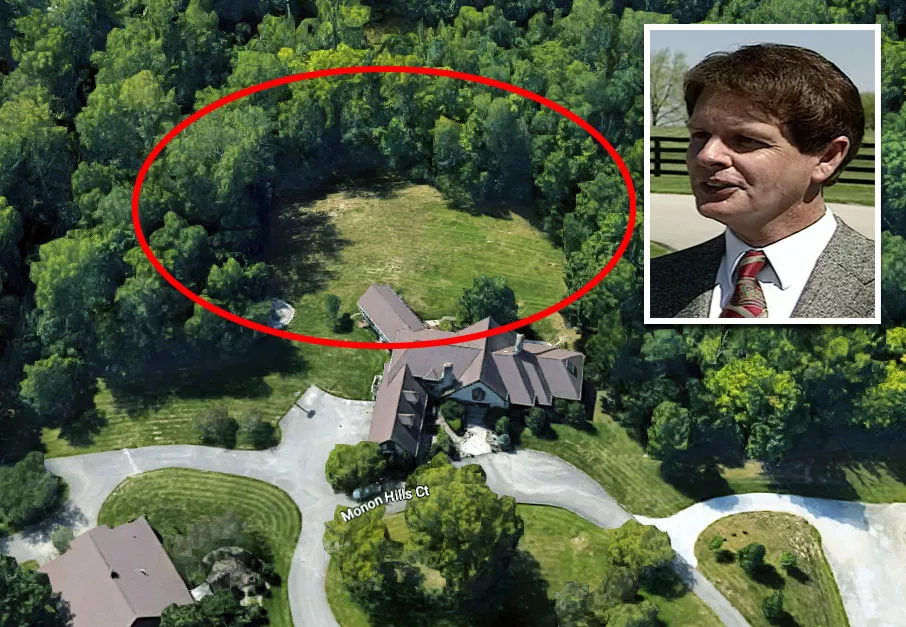 Image source: Google Maps
Herb Baumeister's former house is situated at the end of Monon Hills Court in Carmel, Indiana.
In June of 1996, the police discovered human bone fragments strewn across the back of the property. A thorough search by a team of 60 volunteers uncovered more than 5,000 bone fragments, rib cages, spines, and teeth in the backyard and a drainage ditch beside an adjoining property.
During the search, one volunteer reportedly exclaimed, "Jesus Christ, they're everywhere."
Baumeister had managed to keep his activities hidden from his family by waiting until they had left town. In the summer months, Julie would often take their children to Herb's mother's house for weeks at a time.
Once his family was gone, the well-spoken businessman would troll for victims in Indianapolis' gay bars and then lure them back to his house in Carmel.
After strangling his victims to death, he seemingly burned their corpses under piles of branches and leaves.
Two years before he became a suspect, one of his children discovered a skull in the backyard. However, he managed to convince his wife that it was just a medical replica that had been given to him by his late father.
Search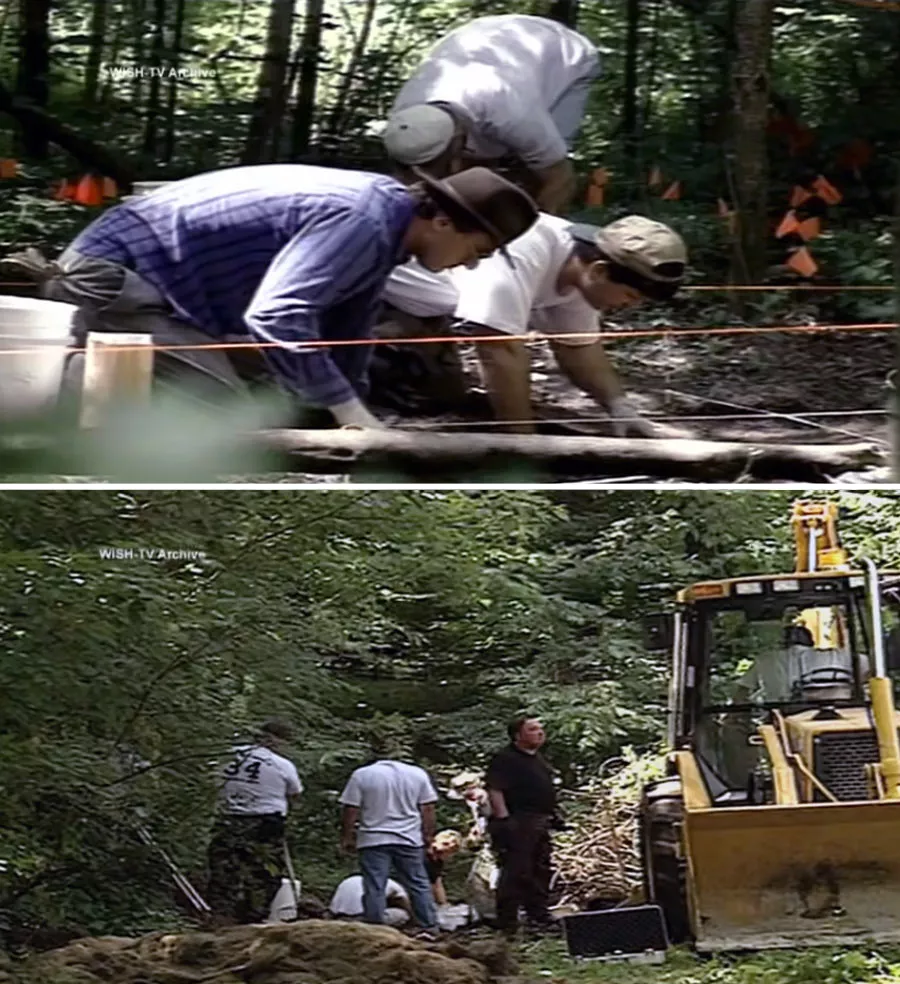 These images of the search effort were captured in 1996. Many of the bones were found in the wooded area at the back of the property.
Fox Hollow Farm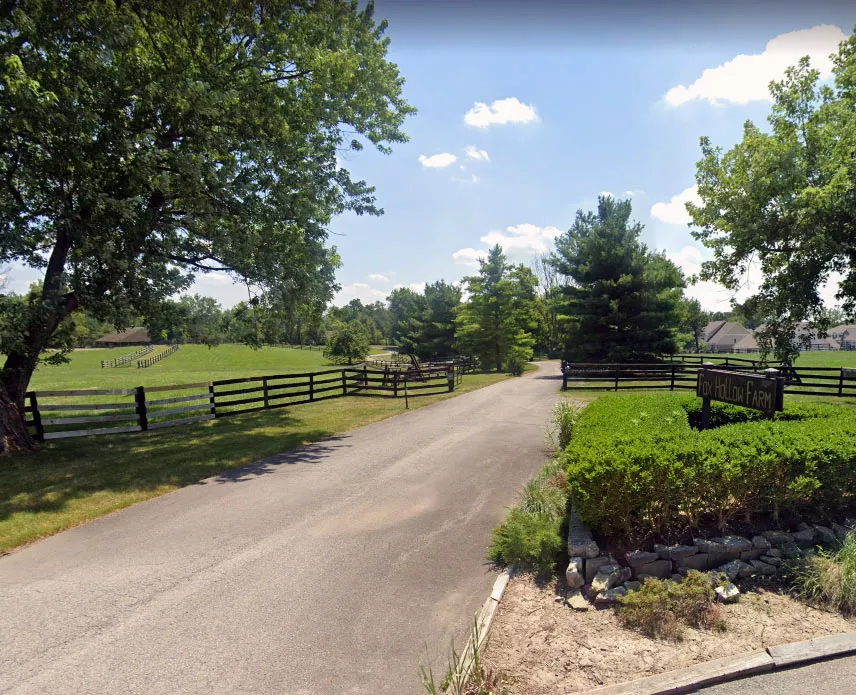 Although the surviving witness, Tony Harris, knew that he was in the suburbs, he was unable to figure out the exact location.
As Baumeister was driving him back towards the city, he caught a glimpse of a sign that had "farm" written on it. Notably, there is a sign for "Fox Hollow Farm" at the entrance to Monon Hills Court.
Aerial image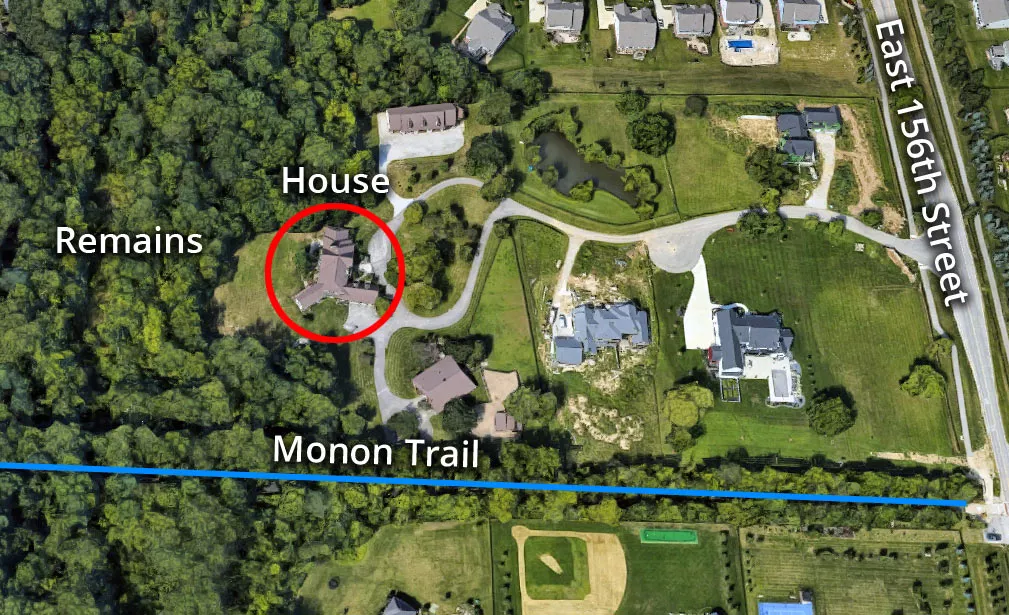 This is a west-facing aerial image of Baumeister's former property.
The forested area at the back is situated beside the Monon Walking Trail, which runs through East 156th Street and Oak Ridge Road.
Baumeister became rich after he founded a thrift store chain called Sav-A-Lot in 1988. However, by the mid-1990s, he was reportedly in financial difficulties.
Drainage ditch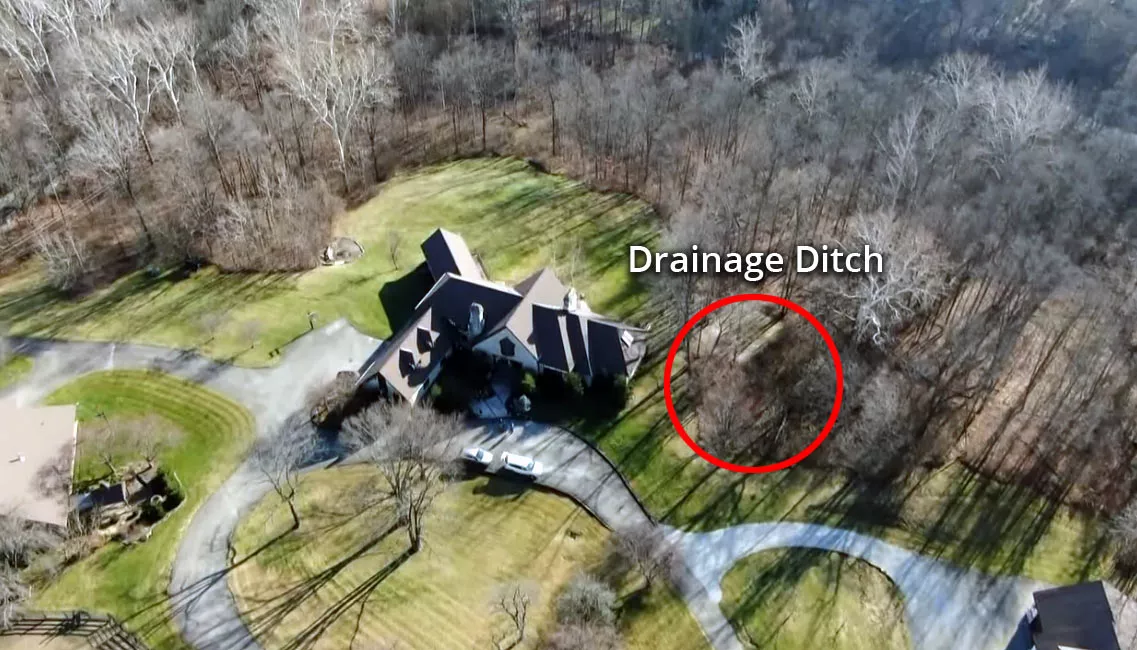 Image source: WTHR
Most of the intact bones were found in the drainage ditch on the western side of the house.
The new owner, Robert Graves, says that he still finds human bones on his land. Whenever he does come across one, he sends it to the University of Minnesota for DNA testing.
So far, three of the eleven victims remain unidentified. It is hoped that DNA testing will one day give them back their names.
Wife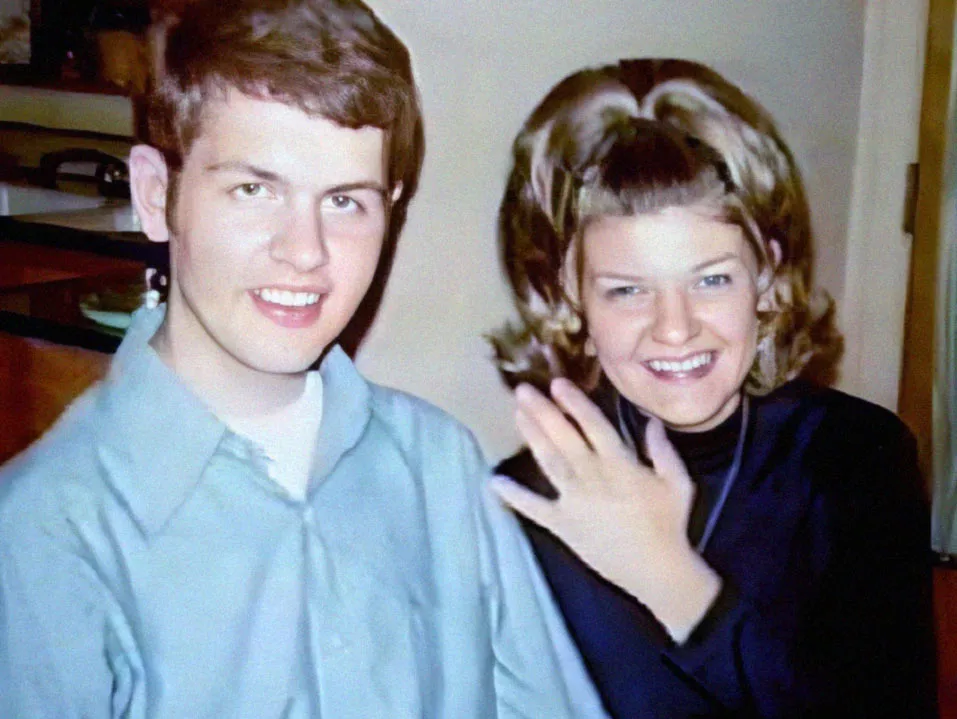 Baumeister married his wife, Julie Saiter, in November of 1971. The couple had three children: Marie, Erich, and Emily.
According to Julie, they only had sex about six times throughout the course of their 25-year marriage.
This, combined with his penchant for targeting gay men, suggests that Baumeister was a closeted homosexual.
When their son discovered a skull in the backyard, Baumeister told his wife that it was a medical skeleton that had been given to him by his late father. At the time, his explanation made sense to her, as his father was an anesthesiologist.
By the mid-1990s, their marriage was on the rocks, and she had become frightened by his erratic behavior and mood swings.
I-70 Strangler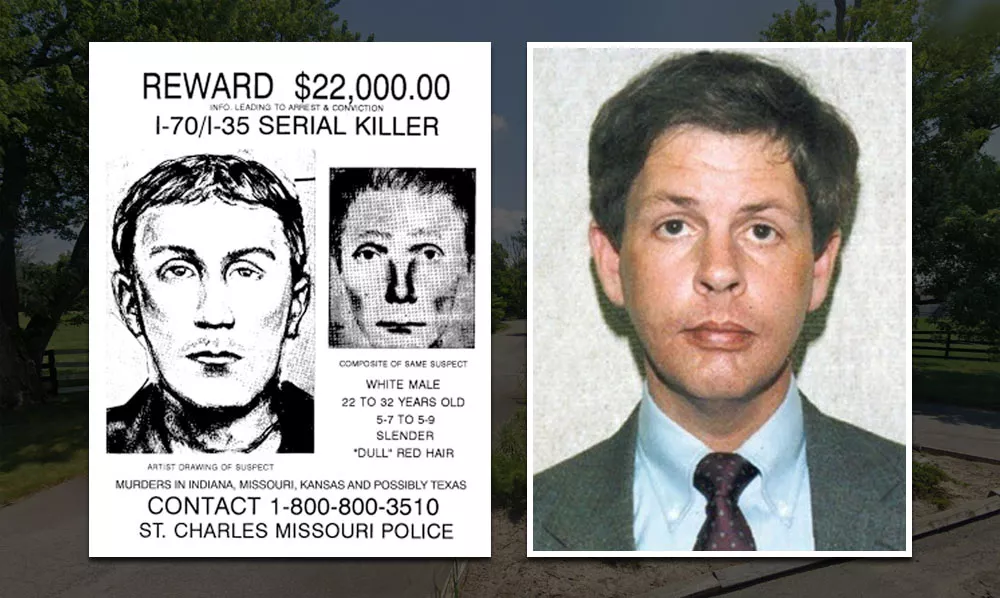 Baumeister is also suspected of being the I-70 Strangler—a serial killer who dumped a dozen bodies along Interstate 70 during the 1980s and early 1990s.
All of the victims were gay men who had vanished from Indianapolis and then ended up in western Ohio.
Notably, the sketch of the I-70 killer bears a striking resemblance to Baumeister.
During the investigation, the police learned that he had made dozens of business trips to Ohio during the 1980s.
Following his arrest, one witness came forward to state that they had seen him pick up one of the I-70 victims in 1988.
The last I-70 victim was discovered in 1991, which was the same year that Baumeister purchased this expansive property in Westfield.
He now had direct access to a private, wooded area. This may have convinced him that he no longer needed to venture into rural areas in Indiana and western Ohio. Instead, he could just dump his victims in his own backyard.
Woods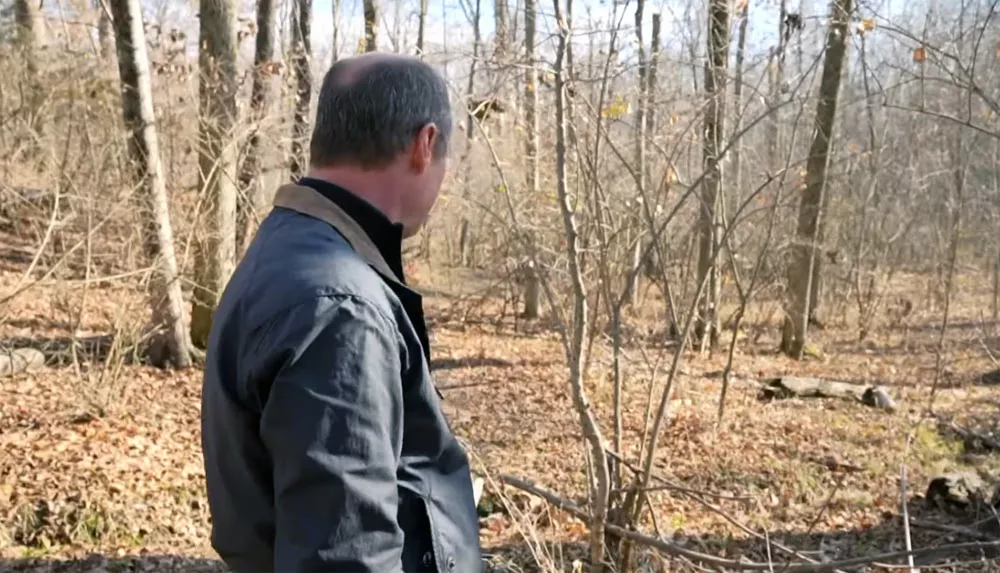 Image source: WTHR
This image shows the new owner, Robert Graves, standing in the wooded area at the back of his house.
Mannequins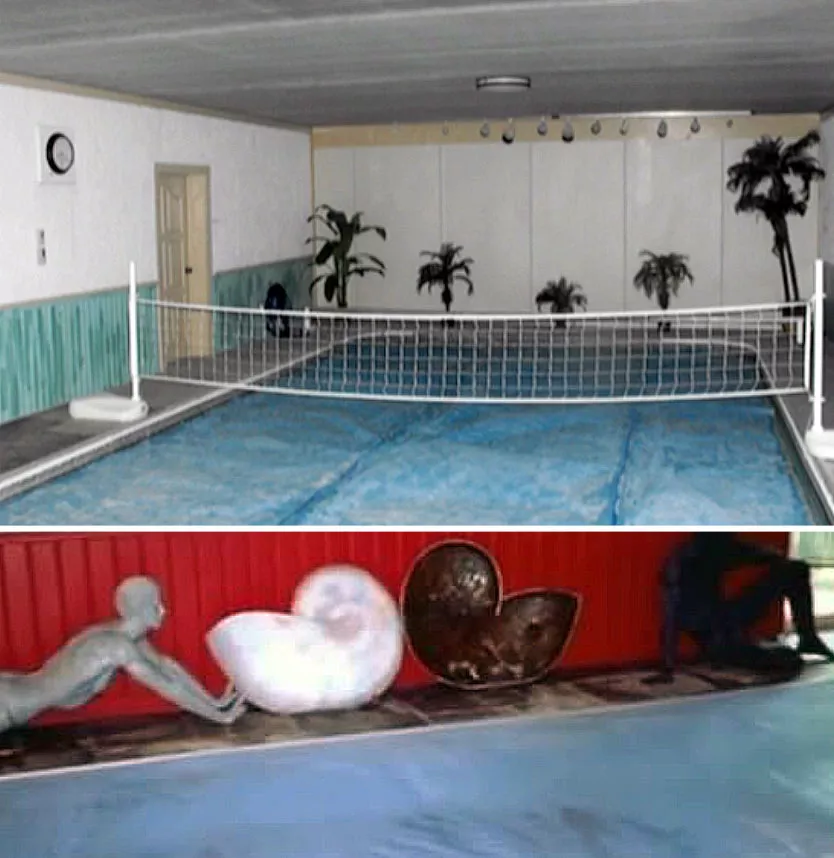 Tony Harris told the police that "Brian Smart" led him downstairs to a pool area that was lined with mannequins in different poses.
When Baumeister noticed Harris looking at the mannequins, he reportedly said, "I get lonely down here. They keep me company."
At that point, he implored Harris to take a swim in the pool while he sat and watched.
While Harris was splashing about in the pool, Baumeister started talking about erotic asphyxiation and how it was such a "great buzz."
When Harris agreed to try it out, Baumeister placed a pool hose around his neck and began to choke him. However, as the garroting intensified, Harris pretended to lose consciousness.
Suddenly, Baumeister let go of the hose.
Judging by his reaction, it seems as though he wasn't planning on murdering Harris that night. After calling his name, shaking his body, and waking him up, he angrily shouted, "You scared the sh*t out of me!" He also admitted that there had been "accidents" before.
Upon hearing this, Harris reportedly asked him if the same thing had happened to Roger Goodlet—the man on the missing person poster that "Smart" had seemed so interested in.
However, he received no answer. Instead, Baumeister just smiled and stared at him in a daze. By that stage, it had become clear that he had taken some kind of drug. Not long before, "Smart" had suddenly become "looser" and more confident following a quick trip to the bathroom.
When "Smart's" speech slurred and he began to nod off, Harris seized on the opportunity to search the house for any signs of his real identity, as he was now thoroughly convinced that the drugged-up man in front of him was responsible for Goodlet's disappearance.
Unfortunately, Baumeister began to wake up before he could find anything of note.
Later that night, Baumeister agreed to drive Harris back into the city. During their journey towards downtown Indianapolis, he called Harris a "good sport" and complimented him on his ability to "play games."
Before they parted ways, Harris set up another meeting with "Smart". He then went to the police station and told them what had happened.
The following week, Harris stood outside the bar that they had agreed to meet at. Meanwhile, an undercover detective watched from across the street.
That night, he stood outside until closing hours, waiting for his "date" to show. However, he never did.
Although Harris continued to frequent gay bars in the hope of finding "Brian Smart", the weeks soon turned into months and then years.
As time wore on, he eventually admitted defeat.
Then, on a random Tuesday night in August of 1995, Harris was sitting in the Varsity Lounge when a familiar face strolled by. The sudden, unexpected sight of this man shocked him so much that he nearly leapt out of his seat.
It was him.
Closest Locations
Other locations that are relatively close to this address: Roughly 10 miles away.
Place of Interest in Indianapolis, Indiana, United States Roughly 21 miles away.
Crime Location in Indianapolis, Indiana, United States Roughly 123 miles away.
Crime Location in Enos, Indiana, United States Roughly 154 miles away.
Place of Interest in Louisville, Kentucky, United States