The motel where Selena was murdered
Crime Scene Location in Corpus Christi, Texas, United States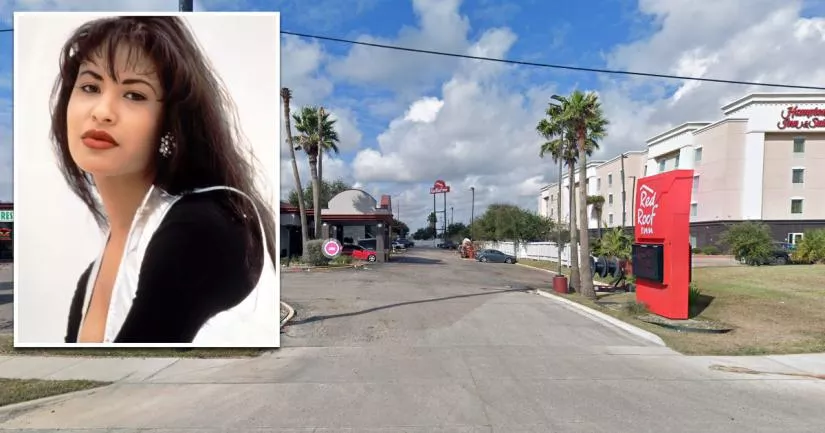 This is the motel where the "Queen of Tejano music," Selena Quintanilla Pérez, was shot dead.
It is situated at 901 Navigation Boulevard, which is just south of Interstate 37 in Corpus Christi.
At the time of the shooting, it was called the Days Inn. However, these days, it is the Red Roof Inn.
Selena was a Mexican-American singer whose career skyrocketed in the late 1980s and early 1990s.
During this period, she gained millions of adoring fans, one of whom was a San Antonio native named Yolanda Saldívar.
Yolanda Saldívar
Saldívar became such a huge fan that she decided to contact the singer's father, Abraham Quintanilla, and ask him for permission to set up an official fan club.
Although he initially ignored her phone calls, he eventually agreed after she continued to pester him.
As time went on, the fan club grew, and Yolanda became good friends with Selena.
By 1994, her influence had grown so much within the family that they selected her to run Selena's boutiques and beauty salons.
Although staff members at the businesses complained that she was unstable and that she treated everyone horribly, these complaints were largely ignored by the singer. In her mind, Yolanda was her friend, and she would never do anything to hurt her.
Financial irregularities
In 1995, it began to emerge that there were certain financial irregularities with both the fan club and the boutiques.
Saldívar had been abusing the company's credit card for her own personal gain and taking money from the fan club's bank account.
At that stage, the family decided to terminate her employment.
Initially, Selena was hesitant to remove Saldívar from her life, as she still considered her to be a friend. It also seems as though she had some doubts about whether she was truly guilty or not.
However, as time wore on, she noticed more and more inconsistencies in her "friend's" story. As a result, their relationship soured, and Selena finally lost all trust in her.
After being removed from her position as the head of the fan club, Saldívar purchased a .38-caliber revolver at a local gun shop. She then concocted a story about how she had been raped.
On the morning of March 31st, 1995, Selina agreed to pick her up from her motel room and drive her to the hospital. During the examination, the singer became somewhat angry when Saldívar started to contradict her previous story about how she had been bleeding heavily.
By that stage, it is likely that she was growing frustrated with her lies.
The murder of Selena Quintanilla Pérez
When the pair arrived back at the motel room on Navigation Boulevard, they started arguing, and Selena told her former friend that she could no longer be trusted. She also demanded that she return all of the financial documents in her possession.
At that point, Saldívar grabbed her revolver and pointed it at Selena.
When the singer turned around and attempted to flee, Saldívar opened fire and hit her in the lower shoulder, puncturing an artery.
Shocked and fatally wounded, Selena continued to run towards the lobby while Saldívar followed her from behind.
Once she reached the lobby, she went inside and begged the staff to keep the doors closed, as she believed that her assailant was trying to shoot her again and finish the job.
While all this was unfolding, the singer continued to lose blood until she eventually lost consciousness. However, before she passed out, she mentioned Yolanda Saldívar's name and the motel room number that she was staying in.
Death
Although the paramedics were extremely quick to arrive at the scene, they faced an uphill battle to keep her alive, as she had already lost a large amount of blood. Furthermore, one of the main arteries to her heart had been completely severed by the bullet.
When she reached Corpus Christi Memorial Hospital, the medical team spent one hour trying to save her life. However, their efforts were futile, as the damage was irreparable.
At around 1:05 p.m. on March 31st, 1995, Selena Quintanilla Pérez was pronounced dead at the age of 23.
Seven months later, in October of 1995, Yolanda Saldívar was found guilty of first-degree murder and sentenced to life in prison with the possibility of parole in thirty years.
Her first parole hearing will be in 2025.

Further information is available in the "Photos" section below.
Where did Selena Quintanilla die?
Below, you will find the address and the GPS coordinates for this location.
GPS coordinates
The latitude and longitude coordinates for the motel are:
27.802211, -97.453515
Map
To view directions on how to get there, you can use the Google Maps shortcut below:
Address
The full address for this location is:
901 Navigation Boulevard
Corpus Christi
Texas
TX 78408
United States
Directions
The motel sits on the southern side of Interstate 37 in the Central City neighborhood of Corpus Christi. It is relatively close to the Gulf Coast Racing Track. The original room number was 158. However, it has since been renumbered to 150.
Details about the general area
Corpus Christi is a moderately sized city on the southern coast of Texas. It is about 120 miles south of San Antonio.
Private Property Warning
This is a private property. It is not a public place. Therefore, you should be respectful and not step foot on the property without permission.
This is a private business. Please do not go inside the motel lobby unless you are planning on becoming a paying guest.
Photos
Photos of the motel and other related images.
---
901 Navigation Boulevard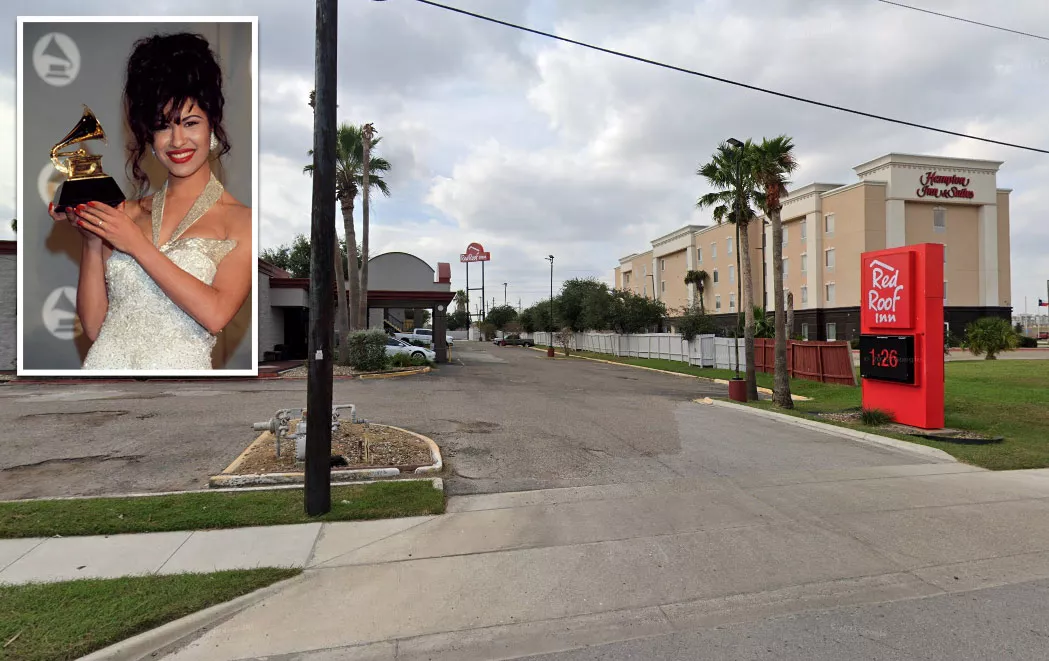 This Google Street View image of 901 Navigation Boulevard was taken in December of 2021.
At the time of Selena's murder, the motel was called the Days Inn.
At some point after 2011, it became the Knights Inn. Then, in 2021, it was renamed as the Red Roof Inn.
Route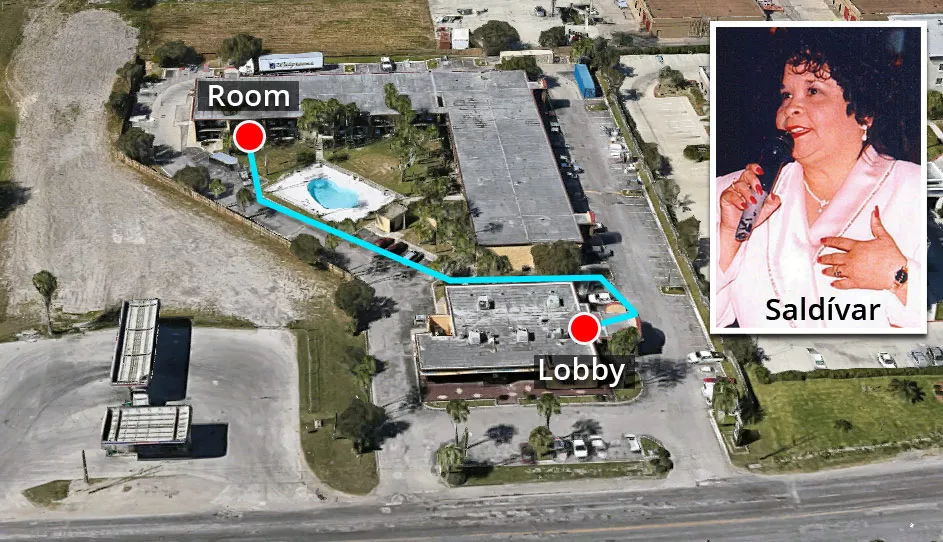 This aerial image shows the route that Selena ran along after she was shot in the back. It was 350 feet (110 meters) between the motel room and the lobby.
As the singer ran through the parking lot, clutching her chest, Saldívar pursued her with the gun and shouted obscenities at her. However, Saldívar reportedly turned around and retreated after the singer managed to make it into the lobby.
Motel room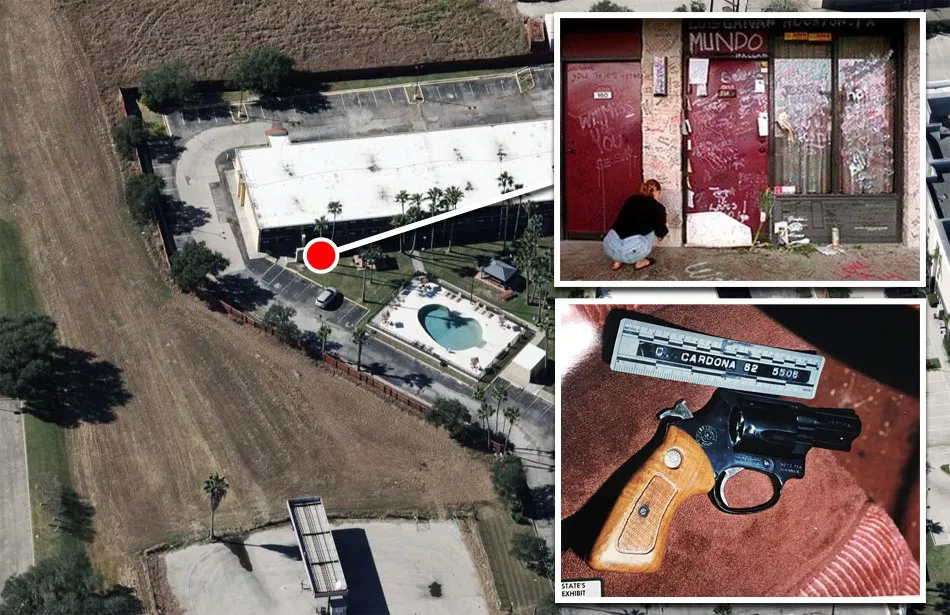 Back in 1995, the room was number 158. However, these days, it is room 150.
This may or may not have been deliberate, as hotels will sometimes renumber their rooms if they undergo significant renovations that add, merge, or remove units.
Following the shooting, fans turned the front of room 158 into a mural for the singer.
In the bottom right, you can see a photograph of the Taurus Model 85 snub-nosed .38-caliber revolver that Saldívar purchased in the days leading up to the murder.
Yolanda Saldívar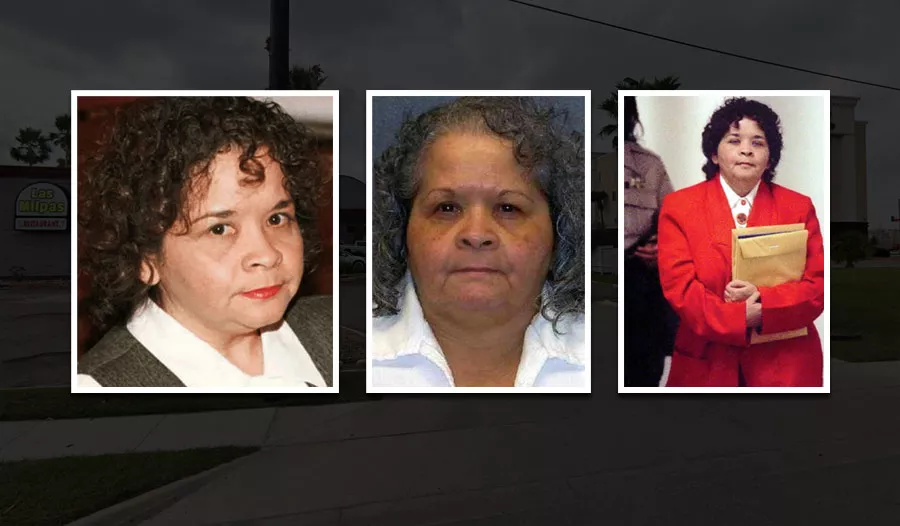 Yolanda Saldívar was arrested following a nine-hour standoff with the police, during which she sat in her truck and threatened to kill herself.
At her trial, she claimed that the shooting was accidental and that she had intended to commit suicide. However, the jury did not buy this defense.
On October 23rd, 1995, she was found guilty of one count of first-degree murder.
Shortly afterwards, she was sentenced to life imprisonment with no eligibility for parole until March of 2025.
She is currently serving out her sentence at the Mountain View Unit in Gatesville, Texas.
Lobby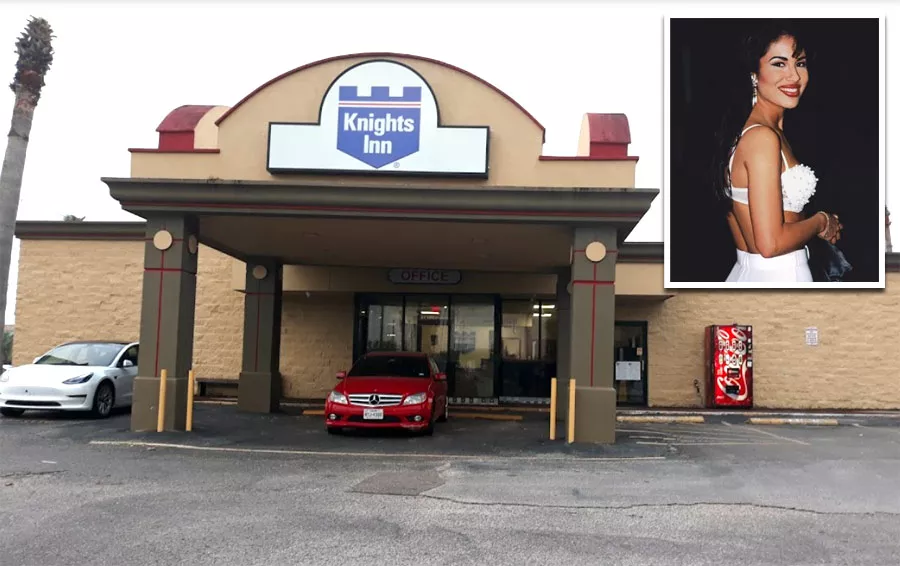 After being shot, Selena ran into this hotel lobby and begged staff members to keep the doors closed. At that point, she gradually lost consciousness and passed out.
Although the ambulance arrived in less than two minutes, it was already too late. By the time the paramedics started working on her, her blood pressure was so low that her veins had collapsed.
Locations in the United States.
Other locations that are in the United States. Place of Interest in West Hollywood, California, United States Crime Location in Athens, Alabama, United States Crime Location in Skidmore, Missouri, United States Crime Location in Kansas City, Missouri, United States