The cemetery from Stranger Things
Filming Location in Stone Mountain, Georgia, United States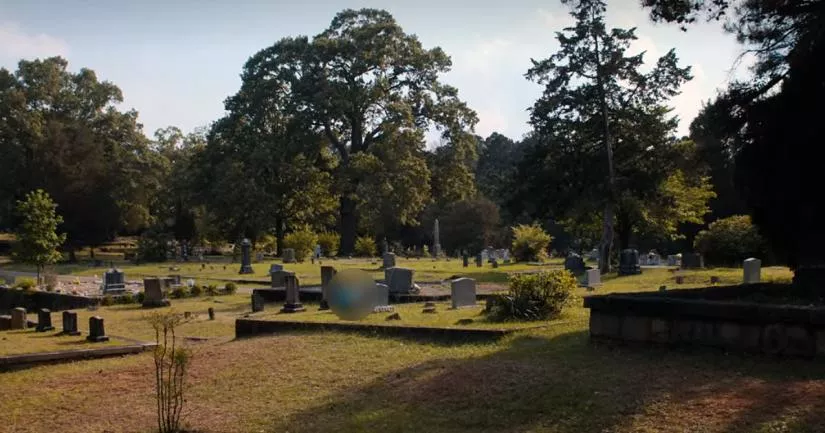 This is the filming location of the cemetery from Netflix's sci-fi horror series "Stranger Things".
This location features prominently in Season 4.
In the show, it is called the Roane Hill Cemetery. However, in real life, all of the scenes were filmed at the Stone Mountain Cemetery outside of Atlanta, Georgia.
This is the place where the famous "Kate Bush song scene" took place.
We won't go into further detail until most people have had the chance to catch up on the series.
The GPS coordinates below pinpoint the exact location where a certain person's grave was situated in the show. However, it obviously doesn't exist in real life (the headstone was most likely a prop that the producers removed after filming).
Please remember to treat this place with respect, as it is a real cemetery where people have buried their loved ones. Do not step on graves, touch anything, or cause a nuisance.
Where is the cemetery?
Below, you will find the address and the GPS coordinates for this location.
GPS coordinates
The latitude and longitude coordinates for the cemetery are:
33.814054, -84.170840
Map
To view directions on how to get there, you can use the Google Maps shortcut below:
Address
The full address for this location is:
1025 Silver Hill Road
Stone Mountain
Georgia
GA 30087
United States
Directions
It is close to the intersection between East Ponce de Leon Avenue, Silver Hill Road and James B Rivers Memorial Drive.
Closest Locations
Other locations that are relatively close to this address: Less than a mile away.
Filming Location in Stone Mountain, Georgia, United States Roughly 13 miles away.
Filming Location in Atlanta, Georgia, United States Roughly 13 miles away.
Filming Location in Duluth, Georgia, United States Roughly 15 miles away.
Place of Interest in Atlanta, Georgia, United States Roughly 18 miles away.
Filming Location in Atlanta, Georgia, United States