The location where Brooke Wilberger was murdered.
Crime Scene Location in Benton County, Oregon, United States.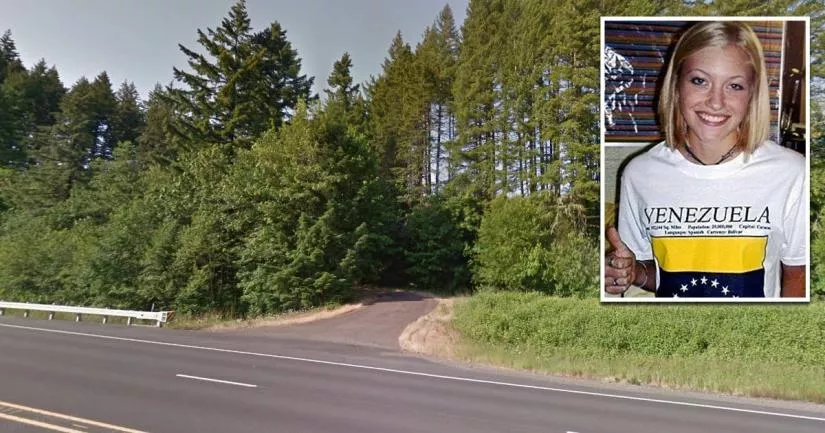 This is the location where Brooke Wilberger was murdered.
On September 22nd, 2009, the authorities discovered Wilberger's body on this abandoned logging road between the towns of Blodgett and Wren in Oregon.
At the time, the 19-year-old had been missing for more than five years.
On May 25th, 2004, Wilberger was cleaning lights at the Oak Park Apartments in Corvallis when a man named Joel Patrick Courtney approached her.
Courtney walked over to the young student with a FedEx envelope and pretended to be a delivery driver who needed directions. However, once he was close enough, he produced a knife and ordered her to get into his van.
Although two tenants in the complex heard a woman screaming, it seems as though no one went outside to investigate what was happening.
After dragging Wilberger into his van, Courtney restrained her with duct tape. He then drove west for 12 miles before pulling onto this disused logging road outside of Wren.
Although he raped the 19-year-old, he did not kill her immediately. Instead, he kept her alive at this location for 24 hours before he finally decided to bludgeon her to death.
The teenager's disappearance remained a mystery until 2007, when Joel Patrick Courtney was convicted of the rape of another woman.
After honing in on him as a possible suspect, investigators learned that he had been in Corvallis on the day that she went missing. Furthermore, several witnesses remembered seeing his green van on the day in question.
A subsequent forensic examination of the van uncovered Wilberger's DNA and hair.
Courtney eventually confessed to the crime after the authorities charged him with murder and stated that they would seek the death penalty.
During his confession, he revealed details about the crime and pinpointed the exact location where he hid his victim's body.
A search of the area led to the discovery of Wilberger's skeletal remains. According to District Attorney John Haroldson, they were "well hidden" in a spot that was roughly 500 yards up the road.
Where was Brooke Wilberger found?
Below, you will find the address and the GPS coordinates for this location.
GPS coordinates.
The latitude and longitude coordinates for the site are:
44.607990, -123.461131
Map.
To view directions on how to get there, you can use the Google Maps shortcut below:
Address.
The full address for this location is:
Wren
Benton County
Oregon
OR 97326
United States
Directions.
This site is roughly 2 miles north of Wren in Benton County, Oregon. It is 3 miles east of a small community called Blodgett.
Photos.
Photos of the site and other related images.
---
Crime scene.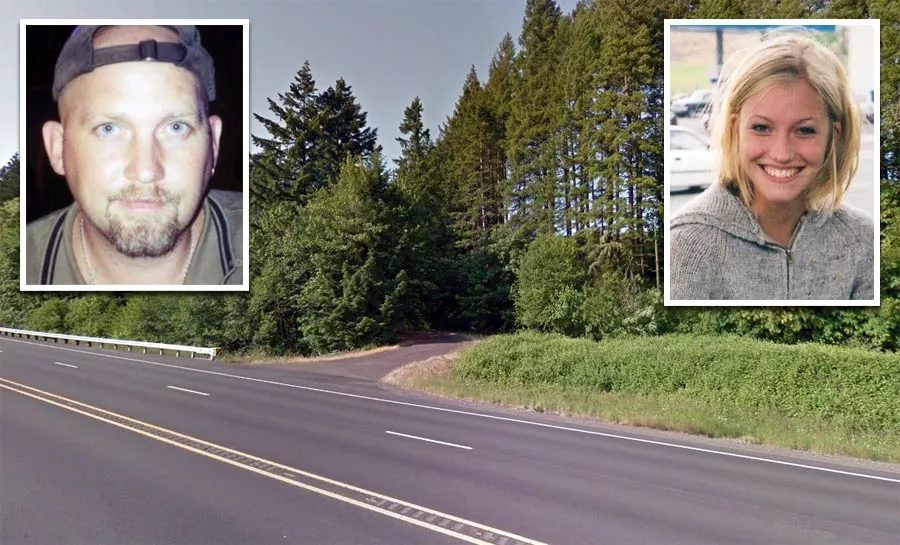 This is a Google Street View image of the isolated logging road where Joel Patrick Courtney murdered Brooke Wilberger.
The image was taken in June of 2018, roughly eight years after the police uncovered the 19-year-old's remains.
Map.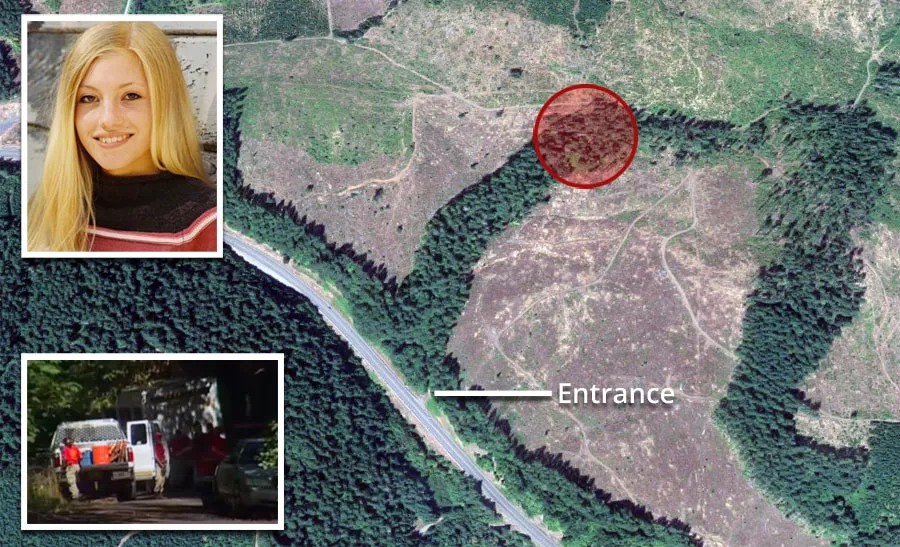 This aerial map shows the general area where the police discovered her remains.
According to the District Attorney, she was hidden in a spot that was 500 yards up the road (red circle).
Oak Park Apartments.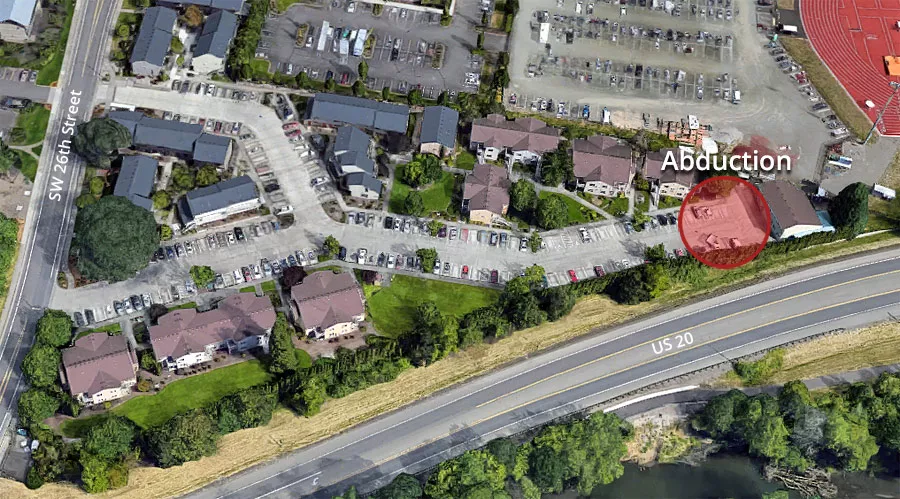 Courtney approached Wilberger at the Oak Park Apartments in Corvallis.
At the time, she was at the very end of the parking lot. As a result, she was trapped in a dead-end with no way out.
That day, Courtney attempted to abduct two other women in Corvallis. However, both of his intended targets managed to escape.
Coordinates: 44.556720, -123.276984
Courtney drove 12 miles west.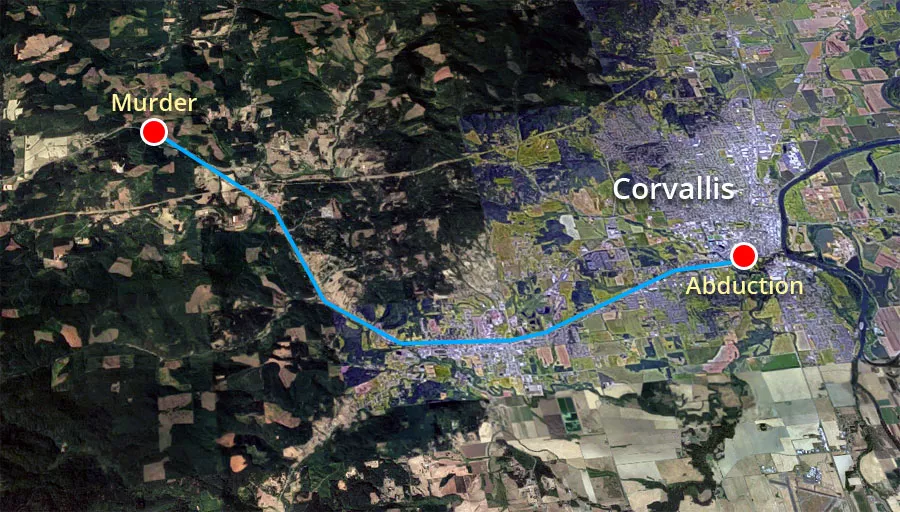 After abducting the teenager, Courtney drove 12 miles west before pulling into an abandoned road on his right. During this journey, he would have traveled through the towns of Philomath and Wren.
Logging road.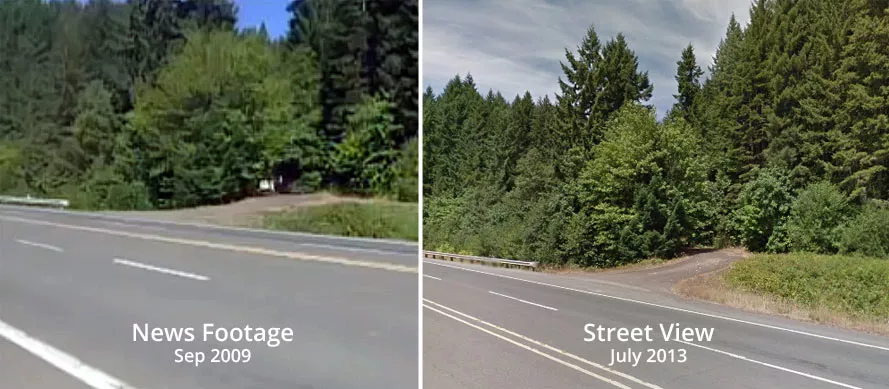 The (blurry) news footage on the left was recorded while police were searching the area in September of 2009. The Street View image on the right is from 2013.
2022.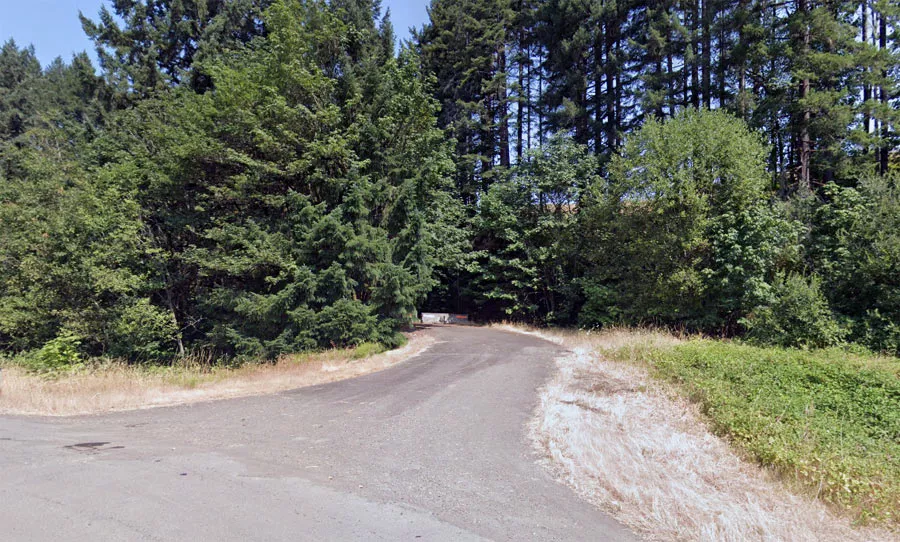 The Google Street View image above was captured in August of 2022. These days, a concrete barrier blocks the entrance to the logging road.
This location belongs to the following categories:
Crime Scenes
Closest locations.
Other locations that are relatively close to this place. Roughly 11 miles away.
Crime Location in Corvallis, Oregon, United States Roughly 12 miles away.
Crime Location in Corvallis, Oregon, United States Roughly 41 miles away.
Serial Killer House in Salem, Oregon, United States