John Wayne Gacy's house.
Serial Killer House in Chicago, Illinois, United States.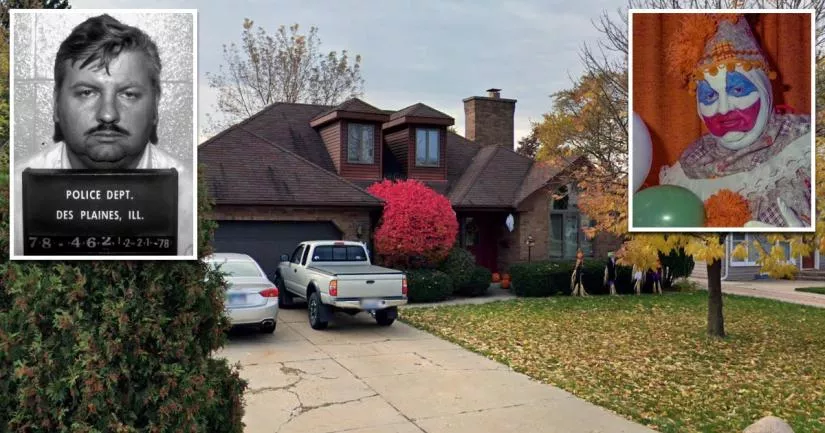 This is the location where John Wayne Gacy's house once stood.
It is situated at 8215 West Summerdale Avenue in Chicago, Illinois.
The original house was demolished by a wrecking crew on April 11th, 1979. The decision to level Gacy's home came after police excavations at the property made it structurally unsound.
Although the building itself no longer exists, it is still eerie to think that 29 men were brutally murdered and then buried on this lot.
Between 1972 and 1978, Gacy killed at least 33 victims. Many of them were teenagers and young men.
His youngest confirmed victims were Samuel Dodd Stapleton and Michael Marino—both of whom were only 14 years old.
John Wayne Gacy's M.O. involved luring victims back to his home and then plying them with alcohol. Once they were at ease, he would trick them into putting on a pair of handcuffs.
As soon as the handcuffs were secured, Gacy would begin to carry out sadistic acts of rape and torture. He also liked to taunt his victims and partially drown them.
Once he had satisfied his sadistic needs, he would then strangle his victim to death using a rope before burying their body in the crawlspace beneath his house.
In 1980, John Wayne Gacy was found guilty of 33 charges of murder and sentenced to death. After spending fourteen years on death row, he was executed by lethal injection on May 10th, 1994.
Where is the location of Gacy's house?
Below, you will find the address and the GPS coordinates for this location.
GPS coordinates.
The latitude and longitude coordinates for the house are:
41.976188, -87.832445
Map.
To view directions on how to get there, you can use the Google Maps shortcut below:
Address.
The full address for this location is:
8215 W Summerdale Ave
Chicago
Illinois
IL 60656
United States
Directions.
The house sits to the east of Hilton Chicago O'Hare Airport. It is three houses away from the intersection between Summerdale Ave and North Pioneer Ave.
Private property warning.
This is a private property. It is not a public place. Therefore, you should be respectful and not step foot on the property without permission.
Trivia.
Gacy would sometimes perform as "Pogo the clown" at parties, charity events and business openings.
He owned a construction company called PDM Contractors.
He was a local precinct captain for the Democratic Party.
Gacy was photographed with First Lady Rosalynn Carter in May of 1978. His meeting with Rosalynn occurred because he was the director of the "Polish Constitution Day Parade" in Chicago. Seven months after the photograph was taken, investigators were recovering victims from Gacy's crawlspace.
Photos.
Photos of the house and other related images.
---
Why was John Wayne Gacy's house demolished?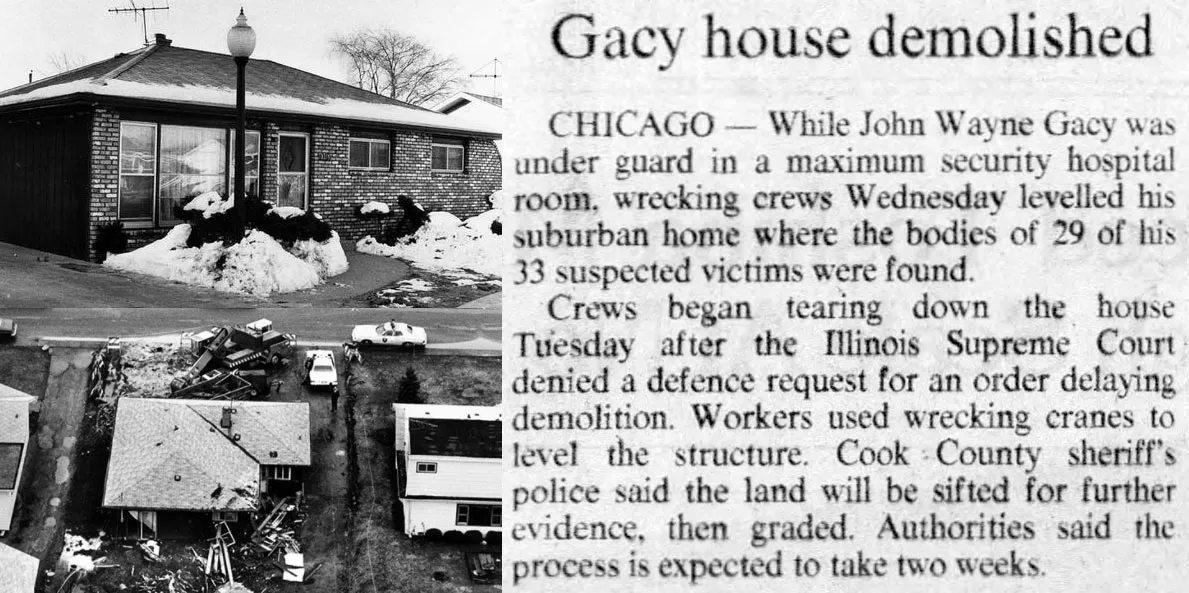 The house was not demolished for moral reasons.
The property was deemed to be unsafe after police excavations weakened the structure. At that point, investigators were unable to continue their work unless the building was torn down.
In other words, the police suspected that there might be more victims. However, there were fears that the house might collapse on top of them if they continued digging.
Consequently, representatives from Cook County petitioned the Circuit Court and asked for permission to level the site.
After the structure was demolished, the lot remained empty for a number of years. The current house was built seven years later, in 1986.
Aerial photograph.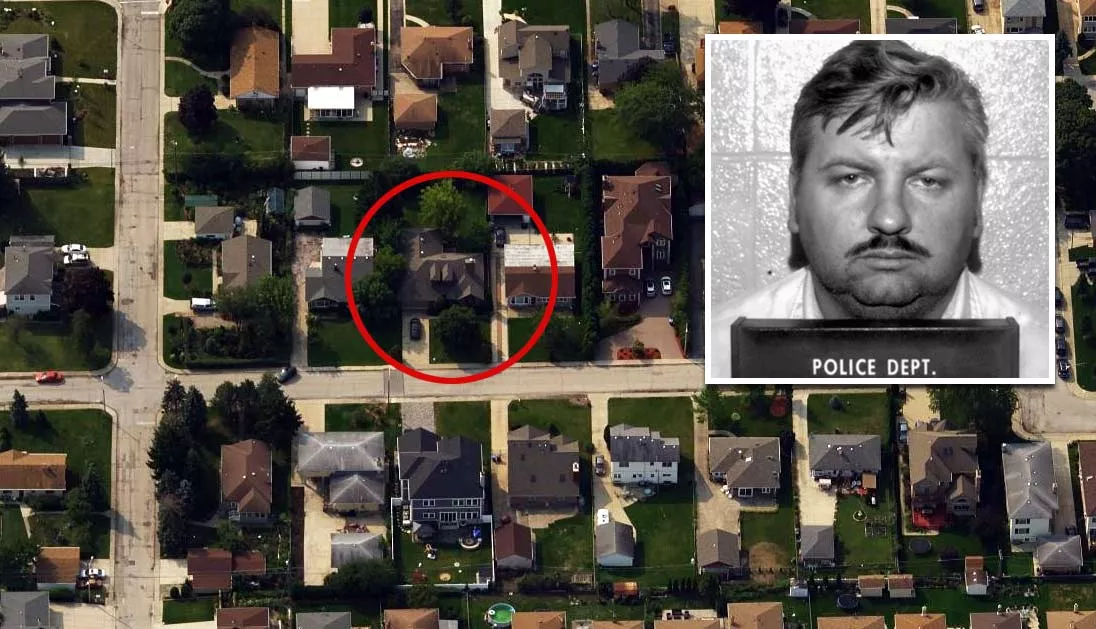 An aerial photograph of the current property.
Nisson Pharmacy.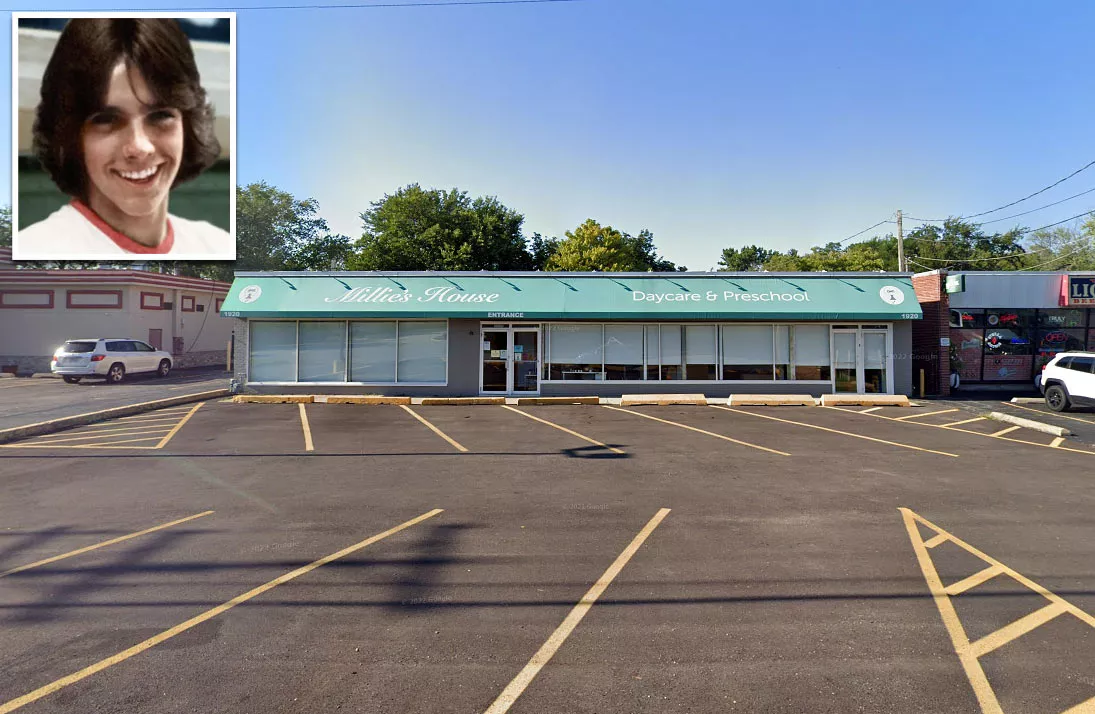 Gacy approached his final victim at the Nissan Pharmacy in Des Plaines. Nowadays, the building is home to a daycare center called Millie's House.
At the time, Robert Piest (15) was working part-time at the pharmacy.
On December 11, 1978, Gacy visited the pharmacy to discuss a remodeling job with the owner. After he spotted Robert, he mentioned that his construction firm paid teenage boys $5 per hour.
Back in 1978, $5 per hour was very substantial for a teenage boy.
Later that day, Robert's mother arrived to pick him up. However, he told her to wait a little while because he needed to talk to a contractor about a potential job.
However, Robert never returned that evening. Within an hour of leaving the pharmacy, Robert was murdered at Gacy's house on Summerdale Avenue.
It was the disappearance of Robert Piest that ultimately led to Gacy's arrest.
Coordinates: 42.010205, -87.877112
Crawlspace.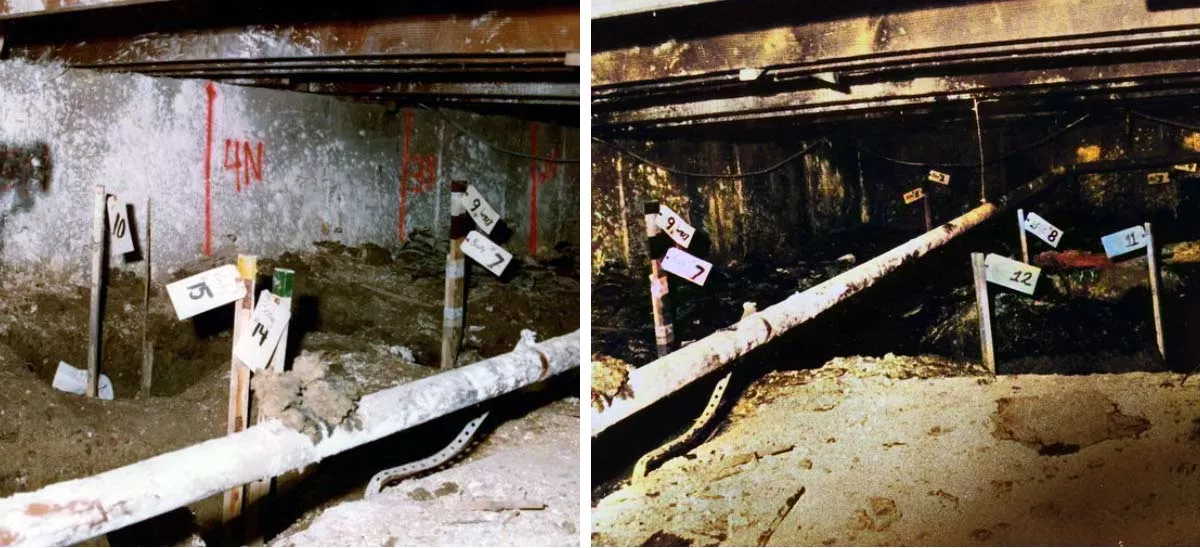 Police photographs of the crawlspace beneath Gacy's house. This is where investigators unearthed the remains of 26 young men.
Five of his victims remain unidentified.
Gacy's victims.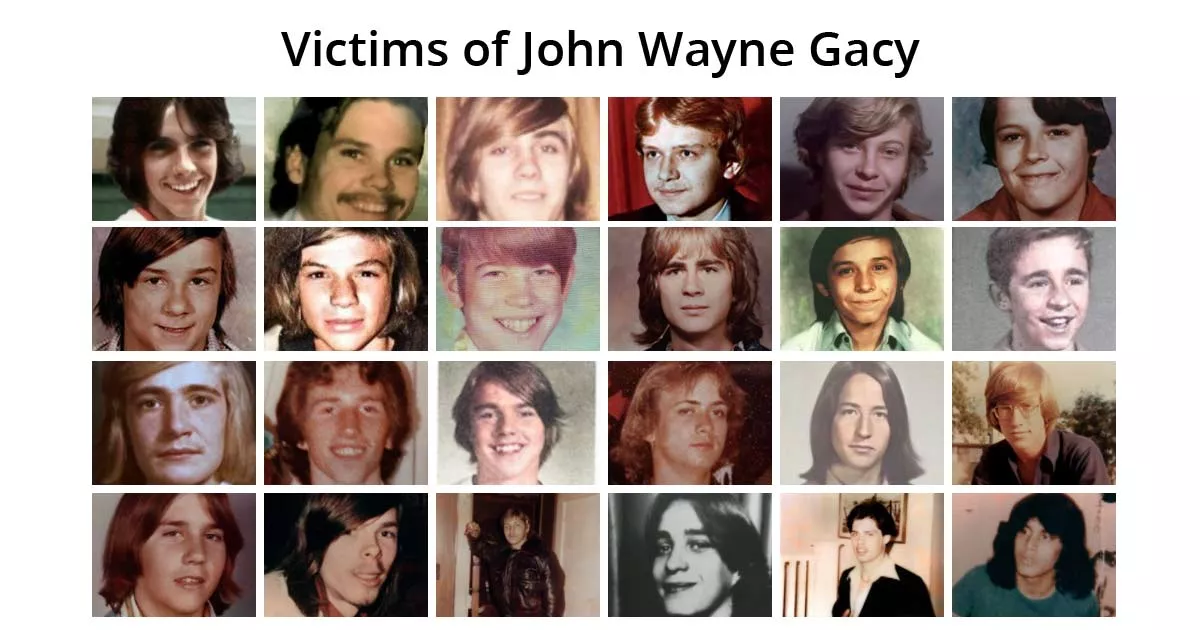 Photographs of some of Gacy's victims.
Gacy murdered at least 33 teenagers and young men between 1972 and 1978. Their ages ranged between 14 and 21.
Although he committed his first murder in 1972, it wasn't until April of 1976 that his killings became a regular occurrence. That was roughly one month after his divorce from his second wife Carole Hoff was finalized.
Photographs of the inside.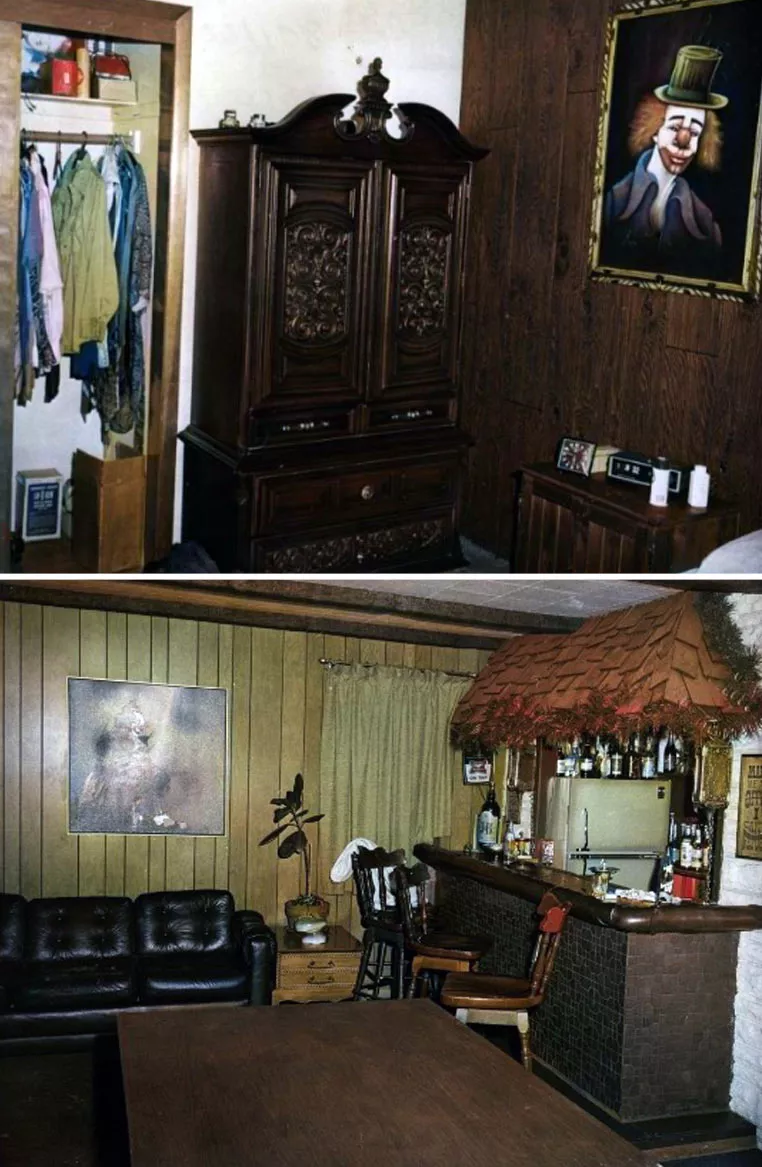 Colorized police photographs of his bedroom and recreation room.
On the left, you can see a painting of a clown.
Closest locations.
Other locations that are relatively close to this place. Roughly 28 miles away.
Crime Location in Chicago, Illinois, United States Roughly 86 miles away.
Crime Location in Enos, Indiana, United States Roughly 89 miles away.
Serial Killer House in West Allis, Wisconsin, United States Roughly 90 miles away.
Crime Location in Milwaukee, Wisconsin, United States Roughly 91 miles away.
Crime Location in Milwaukee, Wisconsin, United States