The house where Richard Speck murdered eight student nurses
Crime Scene Location in Chicago, Illinois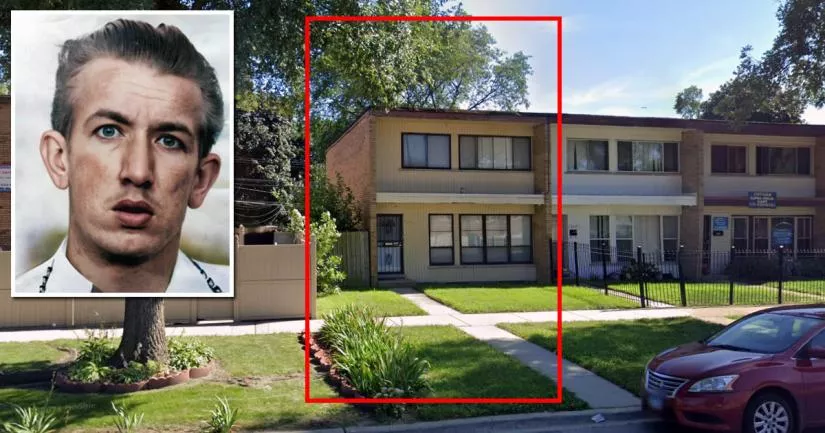 This is the house where Richard Speck murdered eight student nurses.
It is located at 2319 East 100th Street in Chicago, Illinois.
At the time of the killings, it was being used as a dormitory.
On July 13th, 1966, Speck attended the National Maritime Union hiring hall at 2335 East 100th Street, which is just 200 feet east of this house.
That day, the union gave him a job on an oil tanker. However, when he arrived for his assignment, he discovered that a more senior seaman had taken his spot.
By the time Speck returned to the hiring hall, it had already closed. Furious about the situation, he proceeded to spend the rest of his day getting drunk at local bars.
Later that evening, he forced a 53-year-old bar patron named Ella Mae Hooper back to his room at the Shipyard Inn, where he held her at knifepoint and then raped her. He also stole a small .22 caliber pistol that she had in her possession.
Following the crime, he began roaming around the neighborhood, armed with both his knife and Hooper's gun.
At around 11 p.m., Speck knocked on the front door of this house on East 100th Street. When one of the nurses answered, he produced the pistol and claimed that he "needed some money" to get to New Orleans. He also promised that he wasn't going to harm anyone.
Initially, three of the nurses ran into a closet. However, they eventually came out of hiding after one of their roommates assured them that Speck wasn't going to hurt anyone.
Sadly, this turned out to be false.
After shepherding them into a room and tying them up with strips of cut-up bedsheets, he began to lead them out, one by one.
All of the women were either stabbed or strangled to death. Every 20–30 minutes, Speck would return to the room to take another nurse.
He continued this "process" until he murdered his final victim, 22-year-old Gloria Davy.
Miraculously, a Filipino nurse named Corazon Amurao managed to survive the attack by crawling under a bed that had a blanket hanging over the side. It is believed that Speck may have miscounted how many women were in the room. That, or he didn't see Amurao while he was taking Davy.
Although Speck returned to the room, he didn't seem to look around for anyone else. Instead, he just emptied some coins out of his victims' purses and then left.
Amurao was so terrified that she remained hidden for another hour or two. After wiggling free from her restraints and cautiously exiting the room, she saw her roommates' bodies. At that point, she ran to a nearby window and screamed for help.
During questioning, Amurao was able to describe Speck's appearance. She also told them that the killer had a tattoo on his arm that read "Born to Raise Hell".
Soon after, the police publicly released a sketch of the mass murderer and details about his tattoo.
In the early hours of July 17th, 1966, Speck was rushed to the hospital after he attempted to commit suicide at the Starr Hotel on West Madison Street. Shortly afterwards, a doctor noticed the tattoo on his arm and immediately alerted the police.
Speck's fingerprints proved to be a match with the fingerprints found at the crime scene. Amurao also positively identified him as the killer.
In 1967, Speck was convicted of murdering the eight nurses and sentenced to death. However, his death sentence was overturned by the Supreme Court in 1971 after it emerged that people had been wrongly excluded from the jury on the basis that they were against capital punishment.
Speck never really showed any remorse for his crimes. During an interview in 1988, he explained that he felt "nothing" and then joked that "it wasn't their night."
On December 5th, 1991, he died from a heart attack in prison.

Further information is available in the "Photos" section below.
Richard Speck murder house address
Below, you will find the address and the GPS coordinates for this location.
Address
2319 East 100th Street, Chicago, Illinois, IL 60617, USA
Map
To view directions on how to get there, you can use the Google Maps shortcut below:
GPS coordinates
The latitude and longitude coordinates for the house are:
41.713264, -87.567431
Directions
The house where Speck murdered eight nurses is about 450 yards east of the intersection between South Van Vlissingen Road and East 100th Street. It is situated in a neighborhood called Jeffery Manor, which is on the "Southeast Side" of Chicago.
Private Property Warning
This is a private property. It is not a public place. Therefore, you should be respectful and not step foot on the property without permission.
Photos
Photos of the house and other related images.
---
2319 E 100th Street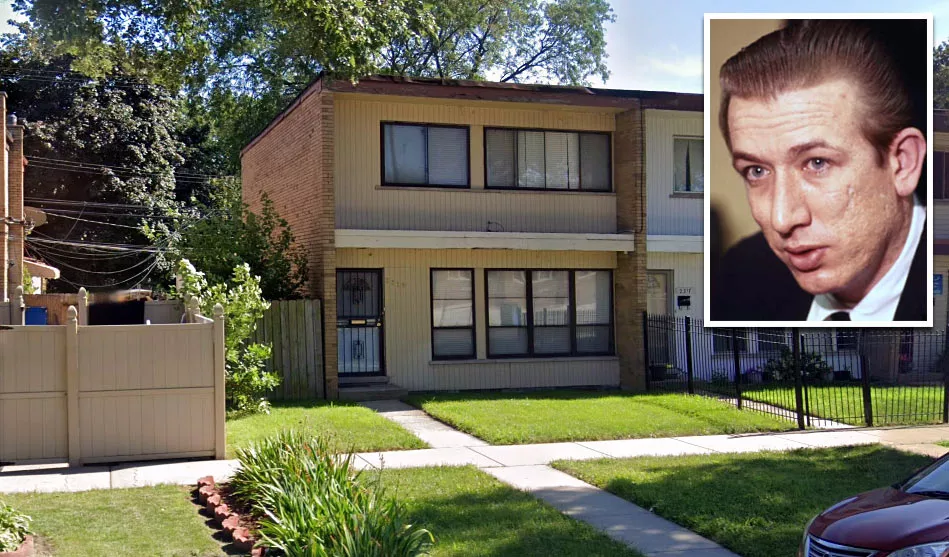 Image source: Google Maps
This Google Street View image of 2319 East 100th Street was taken in July 2019.
It was last sold for $31,000 in June 2015.
The house was built in 1963—three years before the murders took place. At the time, it was being used as a dormitory for student nurses at the South Chicago Community Hospital.
Victims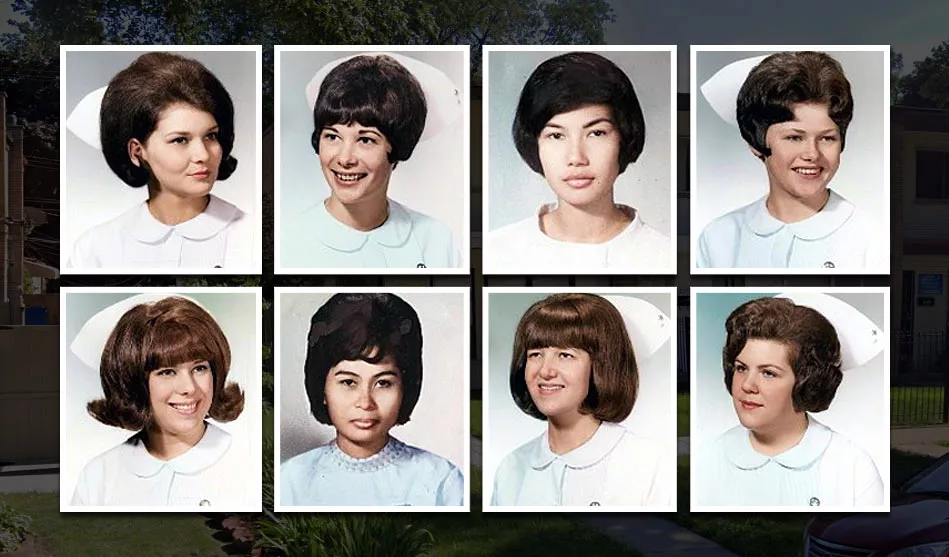 Speck murdered eight student nurses that night.
The victims were Gloria Davy (22), Suzanne Farris (21), Merlita Gargullo (23), Mary Ann Jordan (20), Patricia Matusek (20), Valentina Pasion (24), Nina Jo Schmale (24), and Pamela Wilkening (20).
The National Maritime Union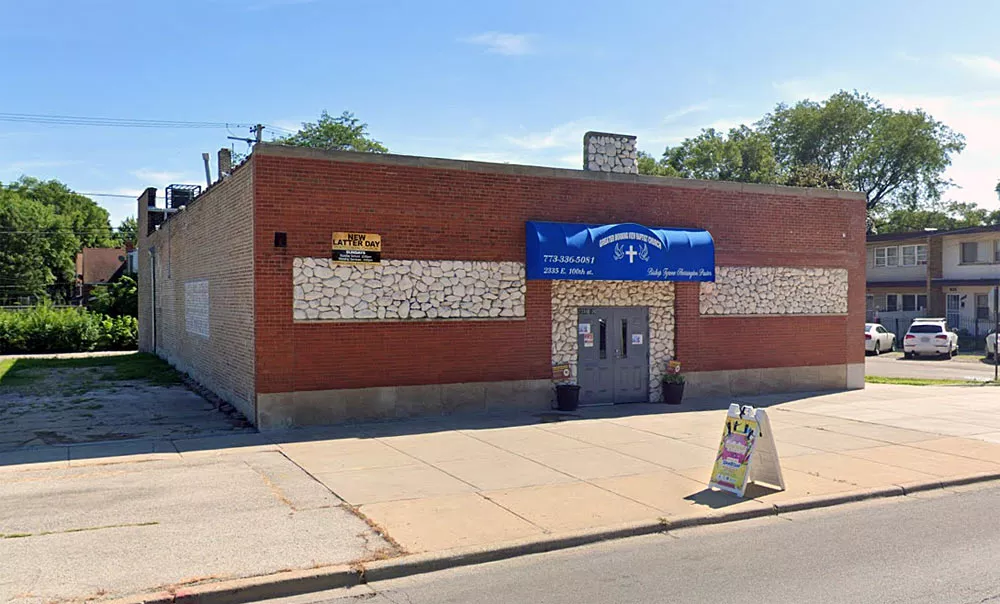 The National Maritime Union hiring hall was situated at 2335 East 100th Street, which is just a short walk away from the house. Nowadays, the building is home to the Greater Morning View Church.
On the day of the murders, Speck walked into the hiring hall looking for a job.
Union officials gave him a spot on the SS Sinclair Great Lakes oil tanker in East Chicago. However, when he arrived, he was told that his position had already been filled.
Coordinates: 41.713344, -87.566823
Distance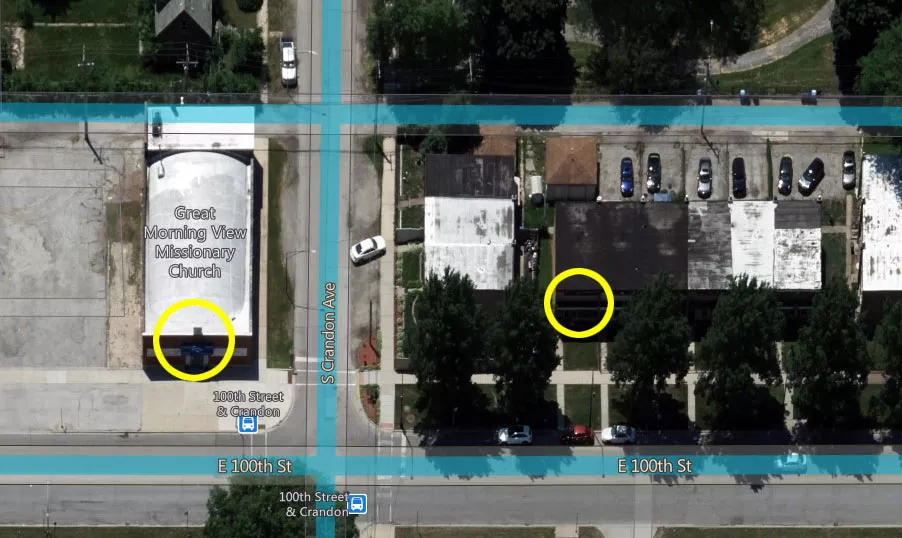 Image source: Bing Maps
This aerial photograph from Bing Maps highlights the distance involved. The hiring hall was just 150 feet (47 meters) away from the dormitory.
Shipyard Inn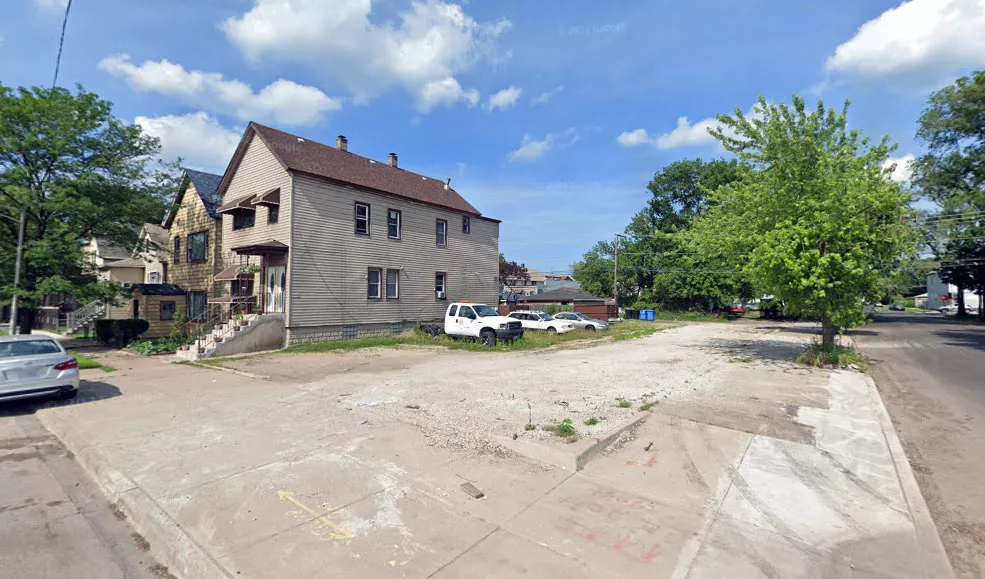 The Shipyard Inn was a 10-unit rooming house and bar that was situated at 10063 South Avenue North in East Chicago.
Speck rented a room here on the day of the murders.
This is the location where he raped Ella Mae Hooper at knifepoint and stole her pistol.
After murdering the nurses, Speck walked three miles back to his room.
The Shipyard Inn closed in October 1969 after its liquor license was revoked by Mayor Richard Daley. The decision came after officials learned that the real owner of the establishment wasn't listed on the license.
Later, it became a restaurant called the Golden Shell.
These days, the address is an empty lot. Judging by old aerial photographs, the building was torn down in the early 2000s.
Coordinates: 41.712046, -87.538745
Map Viewer
There is more than one location associated with this entry. To view all of these places on the same map, you can use the following feature:
Closest Locations
Other locations that are relatively close to this address: Roughly 34 miles away.
Crime Location in Bensenville, Illinois Roughly 60 miles away.
Grave Site in Enos, Indiana Roughly 83 miles away.
Last Seen Location in Benton Harbor, Michigan Roughly 114 miles away.
Serial Killer House in West Allis, Wisconsin