The Friends apartment
Filming Location in Manhattan, New York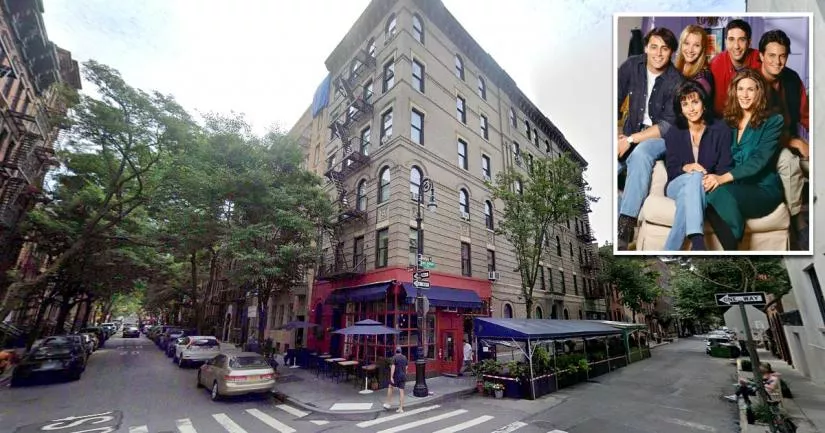 This is the apartment building from Friends.
It is located at 90 Bedford Street in Manhattan, New York.
Throughout the show, Monica Geller lives in this building with her roommate, Rachel Green, a formerly spoiled daddy's girl who is now trying to make her own way in life.
Their apartment is situated just across the hallway from their immature friends, Joey Tribbiani and Chandler Bing.
Notably, only the exterior of this building appeared in the sitcom, as all of the interior scenes were filmed on an artificial set at Warner Bros. Studios in Burbank, California.
Anyone who attempts to sneak inside to take a look at Monica's apartment will be sorely disappointed to find out that it doesn't really exist.
Nor does the hallway.
Although this might come as a shock to some fans, it would explain why a single person on a chef's salary was able to afford such a large place in the middle of New York City.
After looking at average rental prices for similarly-sized apartments in Greenwich Village, we estimated that Monica would have been paying roughly $4,500 per month in rent back in 1994 (that's a whopping $9,000 in today's money when you adjust for inflation).
The outside is featured in the show's establishing shots, which appear at the beginning of most scenes. In film making, this kind of shot is used to specify the location where the scene is taking place.
It is likely that these establishing shots were taken from stock footage that had been captured at various points. For example, a camera operator may have visited the building once a year.
Unfortunately, this means that the Friends' cast didn't need to visit this location (although Courtney Cox did for a social media skit in 2021).

Further information is available in the "Photos" section below.
Friends apartment address
Below, you will find the address and the GPS coordinates for this location.
Address
90 Bedford Street, Manhattan, New York, NY 10014, USA
Map
To view directions on how to get there, you can use the Google Maps shortcut below:
GPS coordinates
The latitude and longitude coordinates for the apartment are:
40.732403, -74.005350
Directions
The Friends apartment building is about 230 yards (210 meters) west of the intersection between 7th Avenue South and Grove Street. It sits on the southeast corner of Bedford Street and Grove Street. The closest subway station is Christopher Street Station, which is on the IRT Broadway-Seventh Avenue Line.
Details about the general area
It is situated in Greenwich Village, which is a neighborhood on the west side of Lower Manhattan.
Private Property Warning
This is a private property. It is not a public place. Therefore, you should be respectful and not step foot on the property without permission.
Trespassing would be pointless, as the interior scenes were all filmed at the Warner Bros. Studios in Burbank, California.
Photos
Photos of the apartment and other related images.
---
90 Bedford Street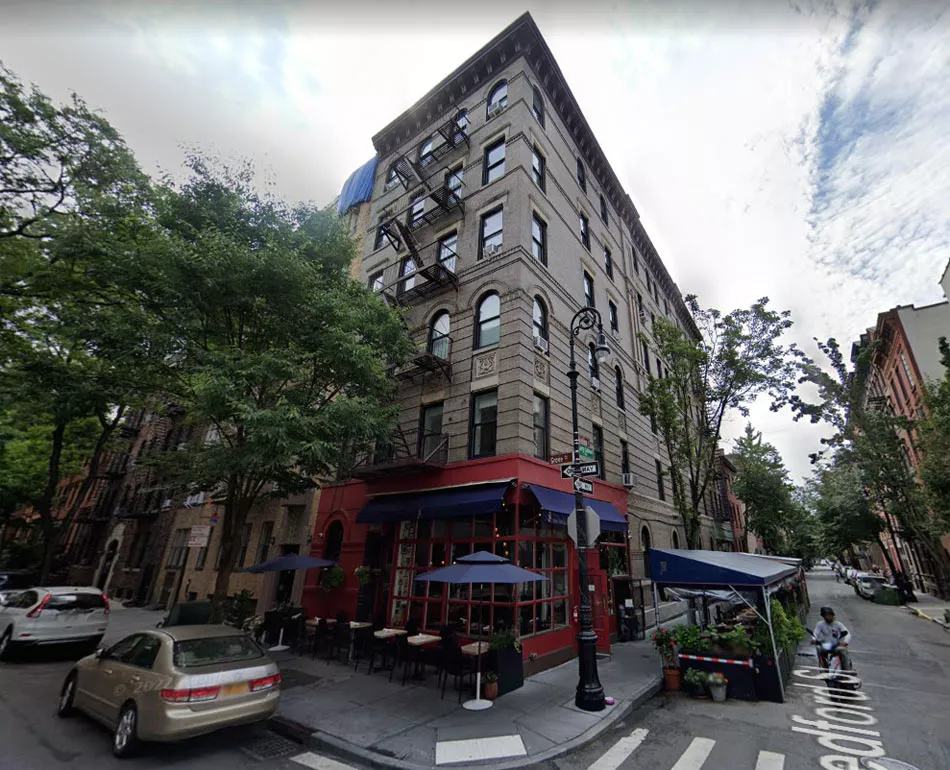 Image source: Google Maps
This image of 90 Bedford Street was captured in July 2022.
The building was constructed in 1900.
Judging by the various Google Street View images of people aimlessly hanging around the corner with their phones out, this seems to be a popular destination for NYC sightseers.
Although it doesn't appear to be crowded, there are always at least one or two groups of tourists taking photographs.
Friends apartment
Episode 4, Season 2 - The One with George Stephanopoulos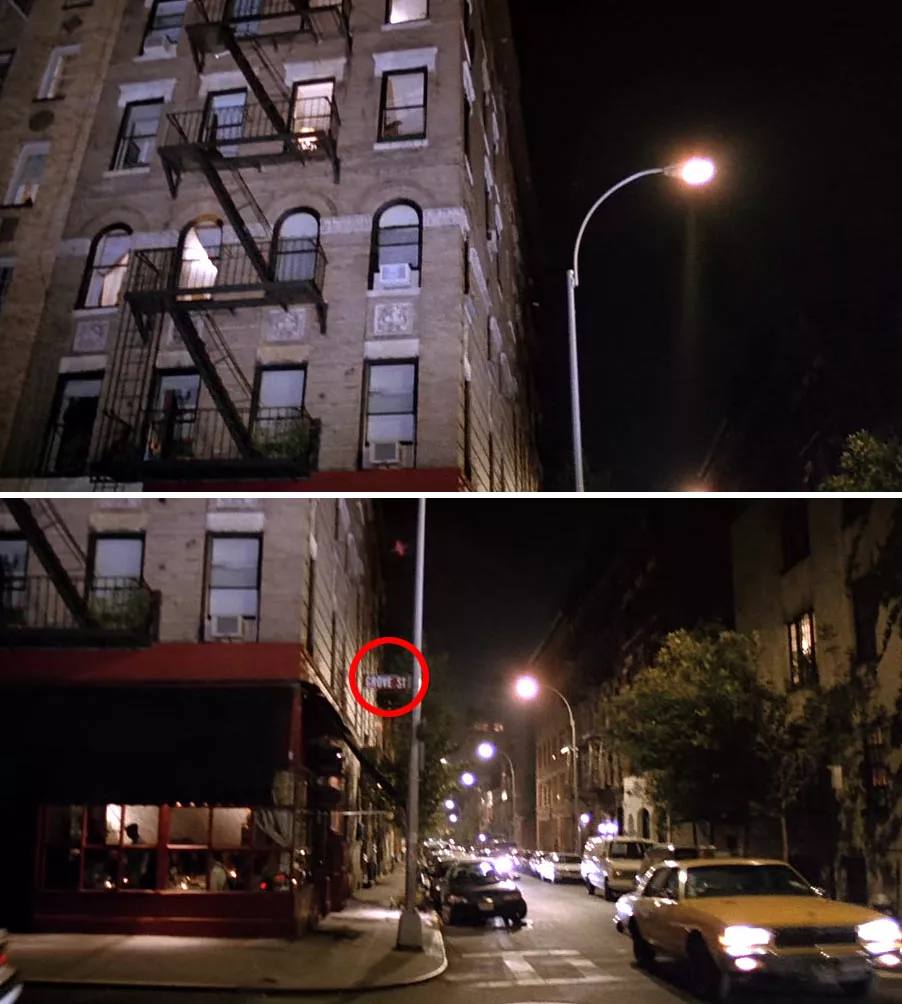 This establishing shot of the building appeared in Episode 4 of Season 2, which aired on October 13th, 1994.
A street sign for Grove Street is visible in the bottom image.
Coffee shop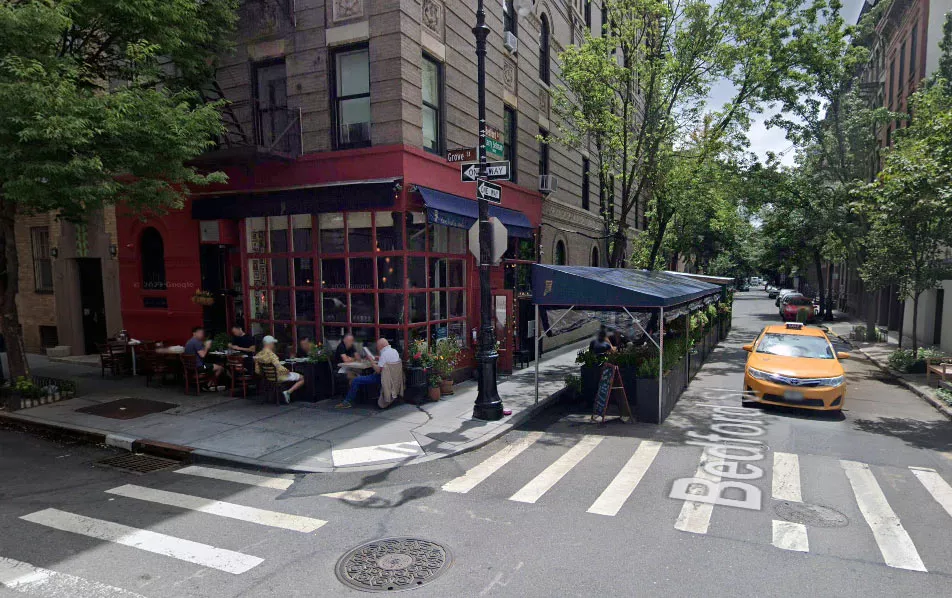 The Google Street View image above was taken in August 2019.
Although there is a "New American" restaurant called the Little Owl on the bottom floor, this is not the iconic Central Perk coffee shop from Friends.
Both the exterior and interior scenes of Central Perk were filmed at a studio in Los Angeles.
Then and now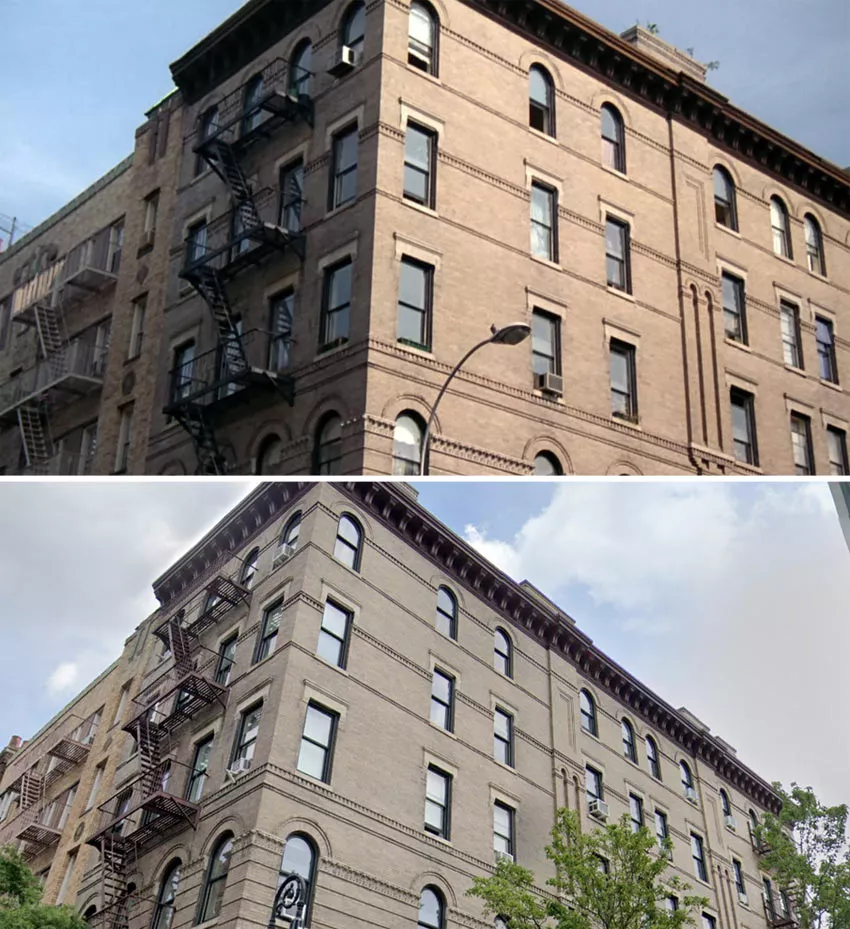 The image at the top is from Episode 1 of Season 3, which aired on September 19th, 1996. The Google Street View image at the bottom was captured in June 2019.
Closest Locations
Other locations that are relatively close to this address: Less than a mile away.
Death Location in Manhattan, New York Less than a mile away.
Crime Location in Manhattan, New York