The restaurant where Shanann Watts had her last meal
Place of Interest in Scottsdale, Arizona, United States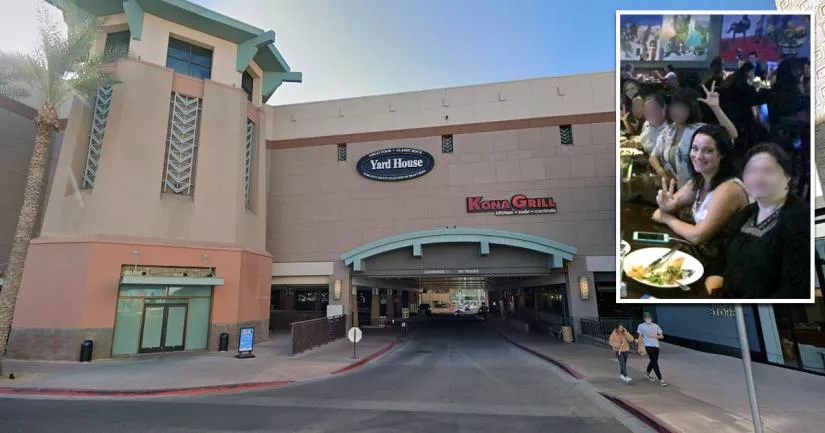 This is the location where Shanann Watts had her last meal.
It is situated at 7014 East Camelback Road in Scottsdale, Arizona.
On the night of August 11th, 2018, Shanann and her colleagues from the direct sales network "Le-vel" dined out at a sports bar called the Yard House.
The pregnant mother-of-two had traveled to Scottsdale for a work training event two days earlier.
During the trip, she stayed at the "Embassy Suites by Hilton" hotel resort.
Shanann seemed to be in good spirits when she left her home in Frederick, Colorado. At the time, she was feeling somewhat positive about the fact that she and her husband, Chris, had finally sat down and discussed their relationship problems.
For months, he had been cold, distant, and uninterested in their marriage—both emotionally and physically. He also seemed less-than-excited about the upcoming birth of their son, whom they planned on naming Niko.
Consequently, she was somewhat relieved when they managed to sit down and have their "best talk yet."
Unfortunately, Shanann had no idea that her husband was having an affair with a woman named Nichol Kessinger, whom he had met at work. Furthermore, he had been trying to cause her to suffer a miscarriage by secretly giving her a painkiller called oxycontin.
On the same night that Shanann attended the Yard House with her colleagues, Chris went on a date with Nichol at the Lazy Dog Sports Bar and Grill in Erie, Colorado.
Despite feeling positive about their latest talk, Shanann was well aware that her marriage problems were far from fixed. During her trip to Scottsdale, she drafted a conversation that she planned on having with her husband once she arrived home.
In the draft message, she wrote, "I need you to help me help you. I need you to give just a little bit of what I did or didn't do, so I'm not going crazy in my head trying to figure it out."
At 1:48 a.m on August 13th, 2018, Shanann's friend, Nickole Atkinson, dropped her off at her home on Saratoga Trail.
Sadly, that was the last time anyone saw her alive.

Further information is available in the "Photos" section below.
Where is the restaurant?
Below, you will find the address and the GPS coordinates for this location.
GPS coordinates
The latitude and longitude coordinates for the restaurant are:
33.503247, -111.928908
Map
To view directions on how to get there, you can use the Google Maps shortcut below:
Address
The full address for this location is:
Yard House
7014 East Camelback Road
Scottsdale
Arizona
AZ 85251
United States
Directions
The restaurant is beside the Fashion Square mall in the Old Town district. It is close to the intersection between Camelback Road and North Scottsdale Road.
Details about the general area
Scottsdale is a city that lies to the northeast of Phoenix, Arizona.
Private Property Warning
This is a private property. It is not a public place. Therefore, you should be respectful and not step foot on the property without permission.
This is a private establishment. Please do not enter the bar unless you plan on becoming a customer.
Photos
Photos of the restaurant and other related images.
---
Entrance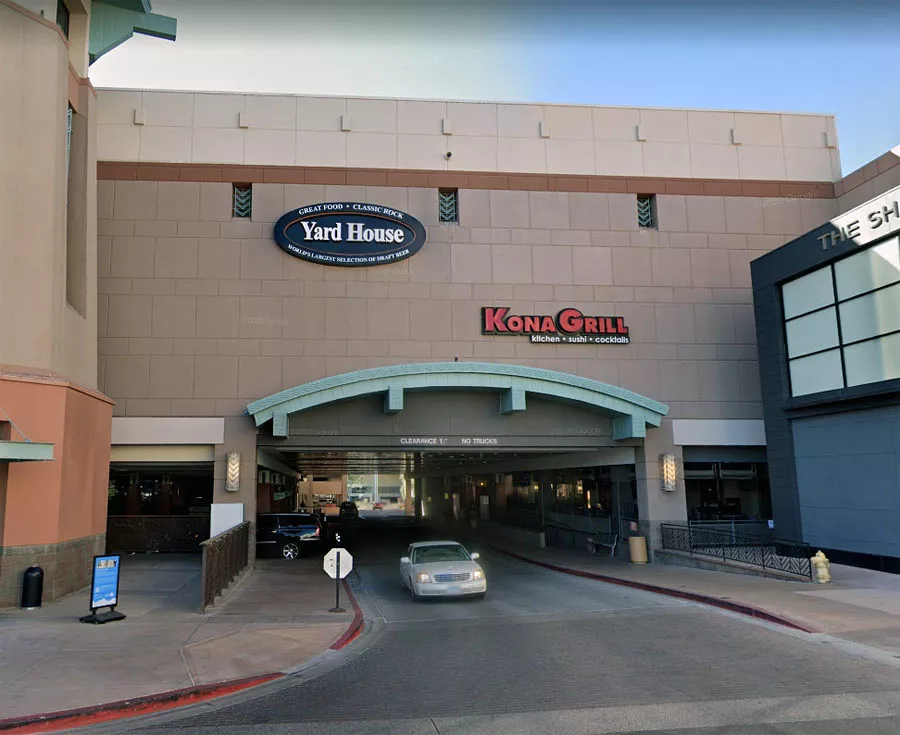 This Google Street View image shows the entrance to the Yard House sports bar.
It is accessible via North Marshall Way, which is on the eastern side of the Scottsdale Fashion Square mall.
The Yard House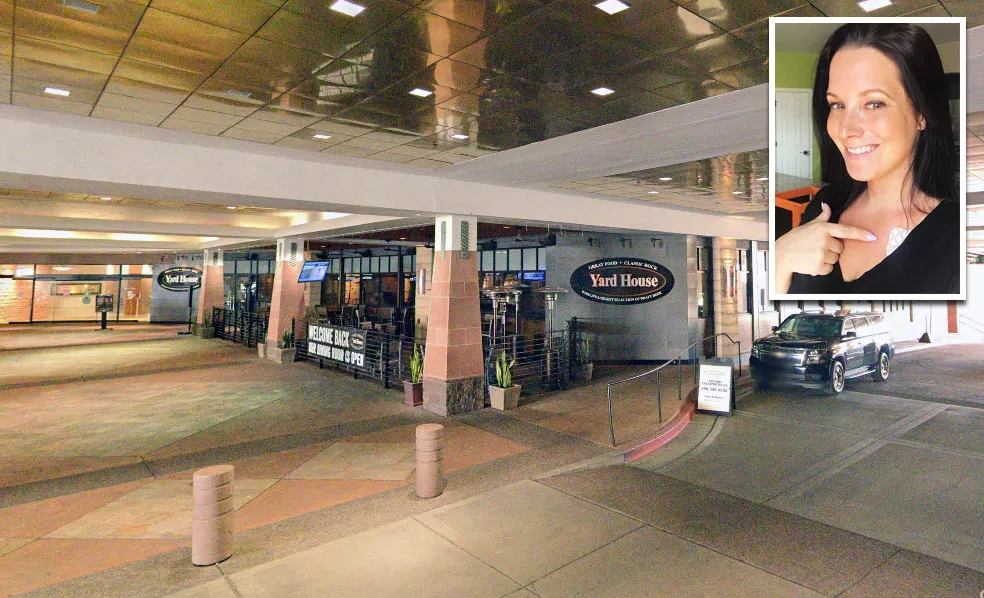 Image source: Google Maps
The Yard House is a "high-end sports bar" in Scottsdale.
Shanann Watts and her colleagues dined here on the night of August 11th, 2018—less than 48 hours before she was murdered by her husband.
Hotel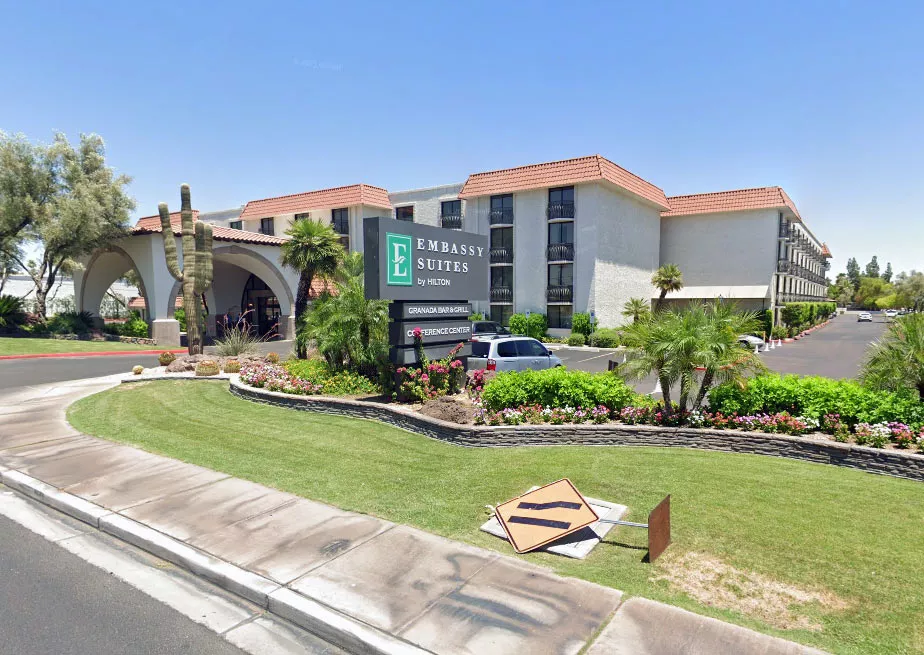 Image source: Google Maps
During her business trip to Scottsdale, Shanann stayed at the "Embassy Suites by Hilton" hotel resort.
Coordinates: 33.509837, -111.925404
Dinner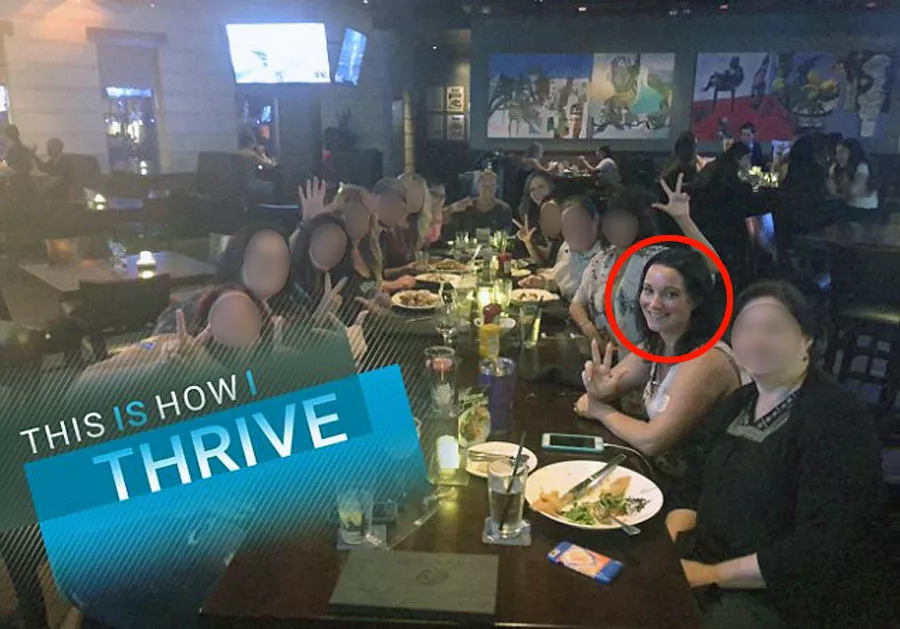 The photograph above was uploaded to Facebook by one of Shanann's colleagues.
Visualize
There is more than one location associated with this entry. To view all of these places on the same map, you can use the following feature:
Closest Locations
Other locations that are relatively close to this address: Roughly 28 miles away.
Crime Location in Mesa, Arizona, United States Roughly 105 miles away.
Crash Site Location in Salome, Arizona, United States Roughly 131 miles away.
Place of Interest in Tucson, Arizona, United States