Betty Gore's house
Crime Scene Location in Wylie, Texas, United States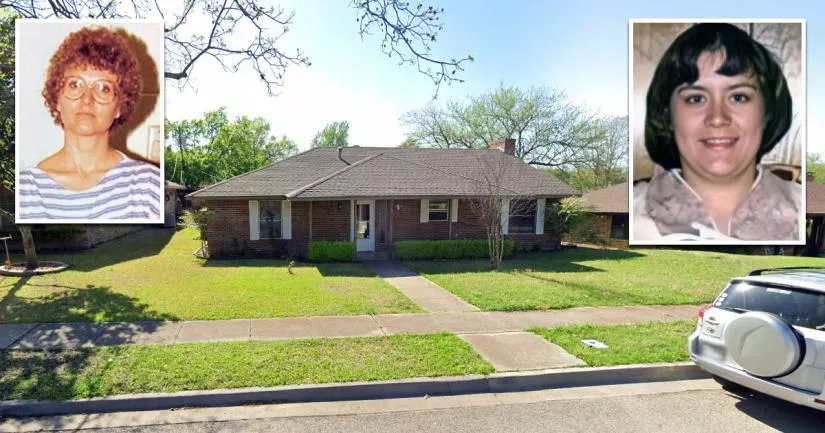 This is Betty Gore's former house.
It is situated at 410 Dogwood Drive in Wylie, Texas.
In June of 1980, the fifth grade teacher (pictured right) was brutally killed at this address after her husband's ex-lover (pictured left) struck her more than 40 times with an ax.
Betty became friends with Candy Montgomery
Betty and Allan Gore lived on Dogwood Drive with their two young daughters, Alisa and Bethany.
In 1977, Betty met a woman named Candace "Candy" Montgomery, who had recently moved to Collin County with her family.
Candy and Betty were both members of the choir at the First United Methodist Church in Lucas. Furthermore, their daughters were of similar ages and attended the same church camp together. Consequently, the two mothers became friends.
Unfortunately, it didn't take long for this new friendship to go awry.
Affair
In December of 1978, Candy Montgomery began an affair with Betty's husband, Allan Gore.
The pair had started talking and spending time together during volleyball games at their local church. As time went on, Candy, who was reportedly bored with her marriage, became more and more attracted to Allan.
This eventually culminated in her bluntly asking him to have an extramarital affair.
Although Allan initially declined her advances, he changed his mind a few weeks later. At the time, Betty was pregnant with their second child, and he was starting to feel as though their marriage had become "loveless" and "mechanical".
For the next couple of months, Candy and Allan secretly met up at a motel called the Continental Inn, which was situated beside an expressway in the nearby city of Richardson.
Allan decided to end his affair with Candy
The following year, Allan decided to end things with Candy. By that point, his wife had given birth to their second daughter. Furthermore, he and Betty had managed to revitalize their relationship by attending a counseling program that organized weekend trips for Christian couples.
Although Allan put an end to his affair and rekindled his marriage, Betty was no fool. By the time Allan finally called it quits, she had already begun to suspect that something was "off" about him. His libido had declined, he always seemed like he wanted to be at work, and he had declined her sexual advances.
Despite all of this, the couple patched things up and headed into the summer of 1980 with newfound optimism about their marriage.
The killing of Betty Gore
On June 10th, 1980, Candy Montgomery called over to Betty Gore's house. That weekend, their daughters were supposed to be attending church camp together. However, Betty's daughter, Alisa, didn't have a swimming suit.
According to Candy, the conversation turned sour when Betty suddenly asked her if she had slept with her husband.
When Candy finally admitted that she did, Betty allegedly grabbed an ax from the garage and tried to hit her with it.
During her court testimony, Candy claimed that she managed to wrestle the ax out of Betty's hands and use it in self-defense.
Betty was struck 41 times and died from her injuries. Her body was not found until later that night, when her husband became concerned about the fact that all of his phone calls were going unanswered.
Candy was arrested and charged with murder after the police found her bloody fingerprint inside the house. By that stage, she was already their prime suspect, as they had learned about her affair with the victim's husband.
During the trial, the prosecution argued that striking someone 41 times with an ax was far too excessive to be deemed self-defense. However, the jury felt otherwise.
On October 30th, 1980, Candy Montgomery was found not guilty of the murder of Betty Gore.
The controversial verdict was met with derision and anger from members of the local community, many of whom shouted "Murderer!"
Aftermath
Three months after the case ended, Allan Gore married another woman named Elaine Clift. The newlyweds moved to the nearby city of Sachse with his daughters, Alisa and Bethany. However, the two children were taken away from the couple after the authorities received reports that they had been subjected to inhumane treatment.
According to the girls, they were regularly deprived of food and forced to take cold showers as punishment. At one point, their grandfather also noticed that Bethany had clumps of hair missing from her head.
Consequently, Betty's parents were awarded full custody of the children.
Candy Montgomery and her husband moved to Georgia after she was acquitted of murder. However, they divorced four years later.
Nowadays, she reportedly works as a therapist.

Further information is available in the "Photos" section below.
Where did Betty Gore live?
Below, you will find the address and the GPS coordinates for this location.
GPS coordinates
The latitude and longitude coordinates for the house are:
33.008502, -96.531982
Map
To view directions on how to get there, you can use the Google Maps shortcut below:
Address
The full address for this location is:
410 Dogwood Drive
Wylie
Texas
TX 75098
United States
Directions
Dogwood Drive is accessible via Stone Road. The entrance to the neighborhood is just north of Wylie Community Park.
Details about the general area
Wylie is a small city in the northeastern suburbs of Dallas, Texas.
Private Property Warning
This is a private property. It is not a public place. Therefore, you should be respectful and not step foot on the property without permission.
Photos
Photos of the house and other related images.
---
410 Dogwood Drive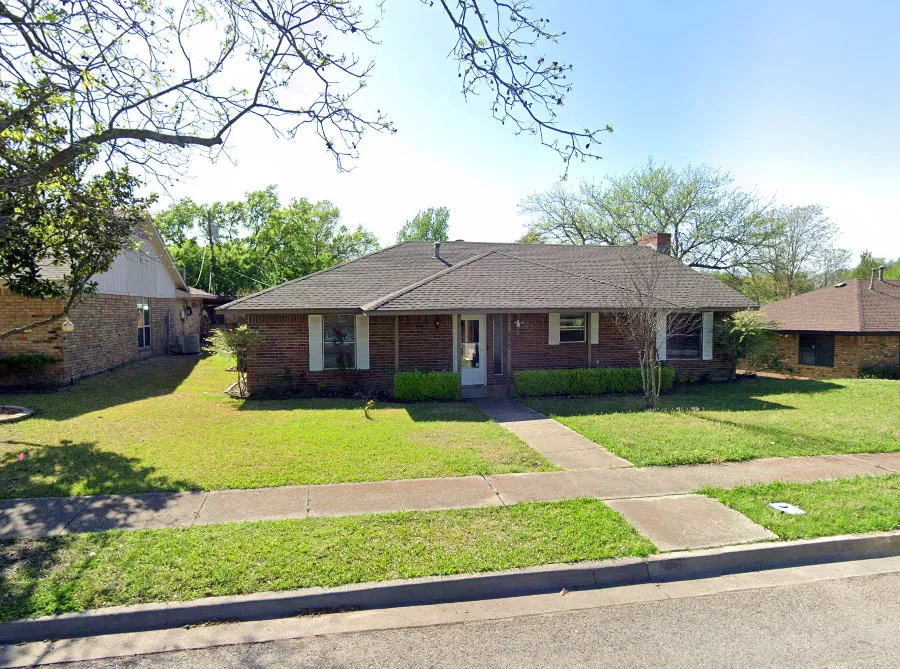 This Google Street View image of 410 Dogwood Drive was taken in April of 2022—more than 40 years after Betty Gore was brutally killed with an ax.
The house was built in 1974. It is roughly 1,700 square feet in size and has three bedrooms.
It was last sold in March of 2022 for an undisclosed price.
On June 10th, 1980, Allan Gore instructed neighbors to check on his wife after she failed to answer his phone calls. After knocking three times and getting no response, they eventually decided to force their way into the property.
At that point, they discovered Betty's body in the utility room near the garage. Her youngest child, Bethany, was found crying in her crib.
Candy Montgomery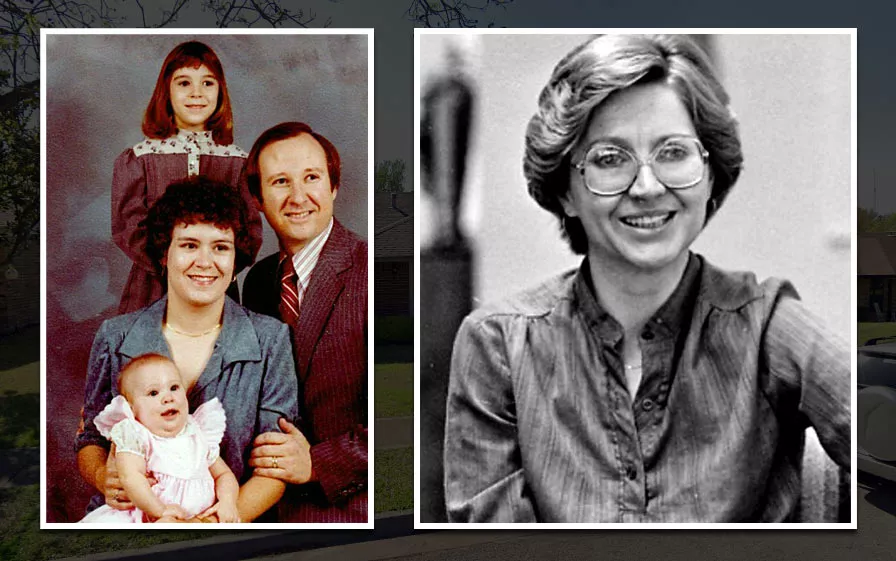 This photograph of the Gore family was taken shortly after Betty gave birth to Bethany.
Candy Montgomery is pictured on the right.
Montgomery was married and had two children. However, she reportedly felt bored with her marriage and regularly discussed the possibility of having an affair with friends.
During the trial, it emerged that she started seeing another married man shortly after her relationship ended with Allan.
After killing Betty with an ax, she cleaned herself up and left the infant in the crib.
At the time, Allan was away on a business trip. As the day wore on and his phone calls went unanswered, he started to grow anxious. Consequently, he contacted a neighbor and asked them to check the house.
The neighbor in question reportedly visited the house three times before they eventually decided to force their way in.
This location belongs to the following categories:
Crime Scenes
Closest Locations
Other locations that are relatively close to this address: Roughly 27 miles away.
Place of Interest in Dallas, Texas, United States Roughly 46 miles away.
Crime Location in Arlington, Texas, United States Roughly 56 miles away.
Crime Location in Midlothian, Texas, United States