Father Ted's house
Filming Location in Killinaboy, Clare, Ireland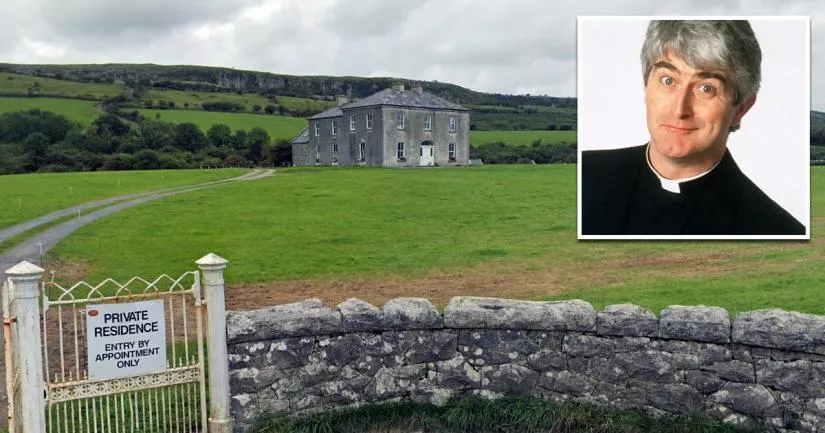 This is Father Ted's house.
It is located in Killinaboy, County Clare. The Eircode for the property is V95 RP0E.
In the TV series, the priests' parochial house sits on a fictional island called Craggy Island in the west of Ireland.
However, in real life, it is situated at this rural address in Killinaboy, County Clare.
Although all of the exterior shots were captured at this location, the interior scenes were actually filmed at a studio in London.
The house, which is currently owned by Cheryl and Patrick McCormack, was built in the 1800s by a Scottish family called the Russells. It sits on a large 90-hectare property near Burren National Park.
Since the 1990s, it has become somewhat of a mecca for fans of the show. As a result, the road outside can be pretty busy at times.
If you do plan on stopping to take a photograph, please make sure that you do not block the road or the driveway.
Although the owners previously allowed visitors to enter the house if they booked an appointment, these visits were permanently suspended due to the COVID-19 pandemic. Furthermore, the official website was taken down in 2020.

Further information is available in the "Photos" section below.
Where is Father Ted's house?
Below, you will find the address and the GPS coordinates for this location.
Address
Glanquin Farmhouse, Killinaboy, Clare, V95 RP0E, Ireland
The Eircode is V95 RP0E
Map
To view directions on how to get there, you can use the Google Maps shortcut below:
GPS coordinates
The latitude and longitude coordinates for the house are:
53.010490, -9.030438
Details about the general area
The house is situated in a rural part of County Clare, in the west of Ireland. It is relatively close to places such as Burren National Park and the Giant's Playground. It is a 45-minute drive from the Cliffs of Moher.
Private Property Warning
This is a private property. It is not a public place. Therefore, you should be respectful and not step foot on the property without permission.
The sign at the front gate clearly states that entry is by appointment only. Please respect the owner's wishes if you are stopping to take a photograph. There is no point in trespassing to take a closer look, as the interior was not used during filming.
Photos
Photos of the house and other related images.
---
Father Ted's house
Episode 1, Season 1 - Good Luck, Father Ted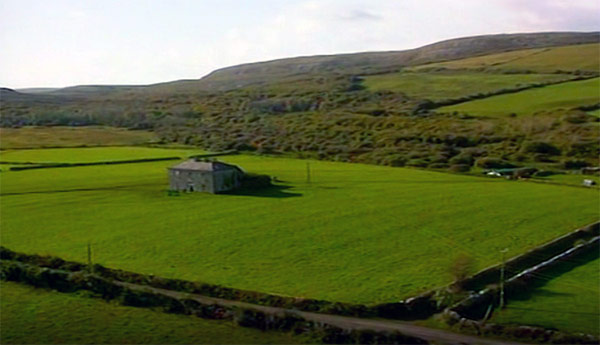 The house and its surrounding land appear in the intro for Father Ted.
Father Dougal and Father Stone
Episode 2, Season 1 - Entertaining Father Stone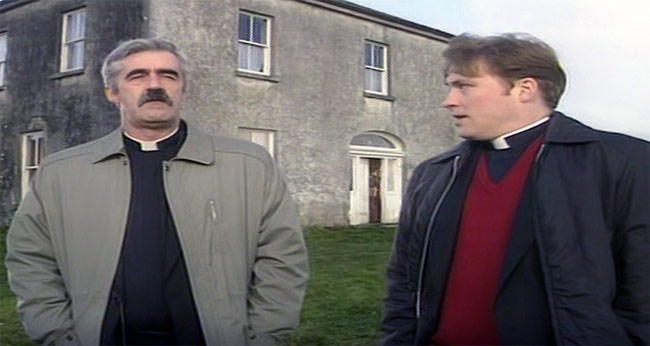 Dougal stands outside with Father Stone, who is terrible at making conversation and will only respond to questions with one-word answers.
Stone is so painfully boring to be around that Father Ted eventually tells him that he needs to leave the house because it is on fire.
Glanquin Farmhouse in 1995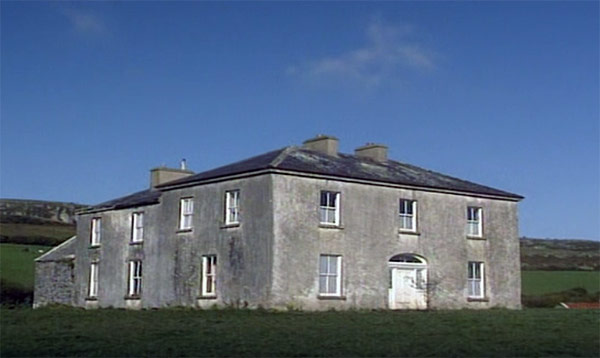 This image shows what Glanquin Farmhouse looked like back in 1995.
Ted, Dougal, and Jack go on holidays
Episode 1, Season 2 - Hell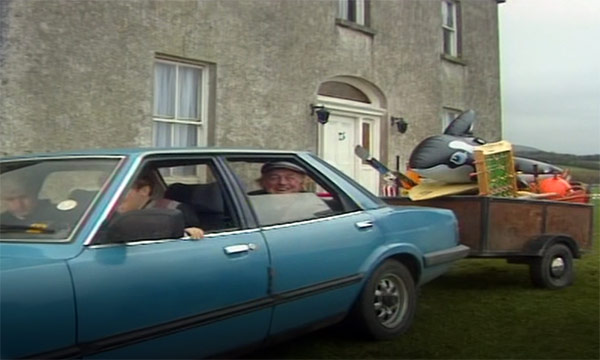 In this scene, the three priests pack up their trailer and head off to Kilkelly Caravan Park for their annual holidays. Unfortunately, the trip fails to go to plan. Not only is the weather terrible, but the caravan they're staying in is tiny.
Father Ted "fixes" a dent in a car
Episode 2, Season 2 - Think Fast, Father Ted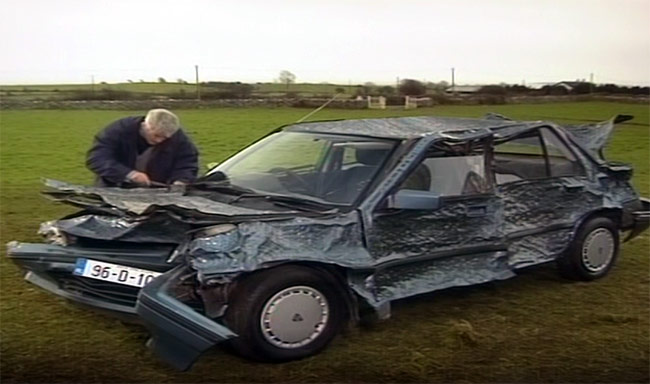 To raise money to fix their leaky roof, the priests decide to raffle off a brand new car.
Unfortunately, Dougal spots a small dent on the bonnet. To make matters even worse, Father Ted's plan to fix the dent with a hammer doesn't exactly work out too well.
"If God has existed forever, what did he do in his spare time before he created the earth and everything?"
Episode 3, Season 2 - Tentacles of Doom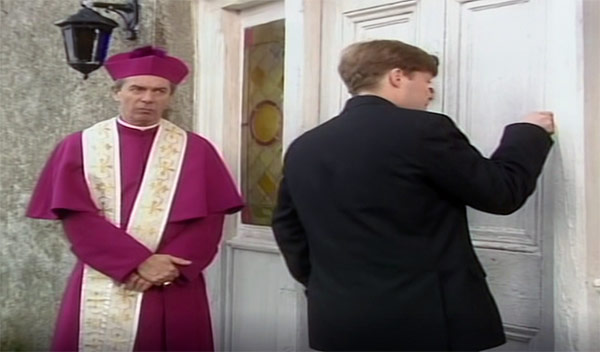 Dougal's thought-provoking questions about religion prove to be rather troubling for a visiting bishop. So much so, in fact, that his faith wavers and he decides to become an atheist.
Dougal signs over the house
Episode 7, Season 2 - Rock a Hula Ted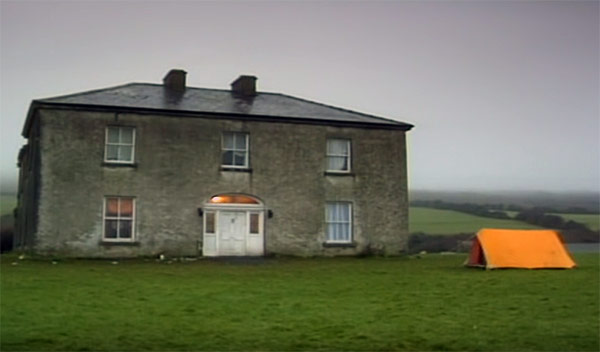 The priests are forced to live outside in a tent after Father Dougal signs over the house to a feminist singer called Niamh Connolly.
Sister Assumpta
Episode 8, Season 2 - Cigarettes and Alcohol and Rollerblading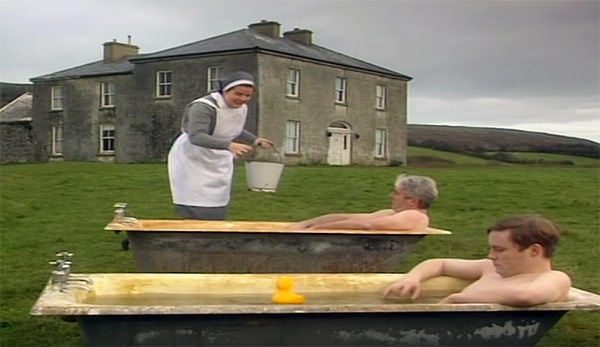 Sister Assumpta helps Ted and Dougal quit their vices by putting them through "Matty Hislop's ten-step program to rid yourself of your pride."
The priests soon learn that sitting in ice-cold bath water isn't even the first step. Instead, it's "just a cleanser."
Dougal becomes a milkman
Episode 3, Season 3 - Speed 3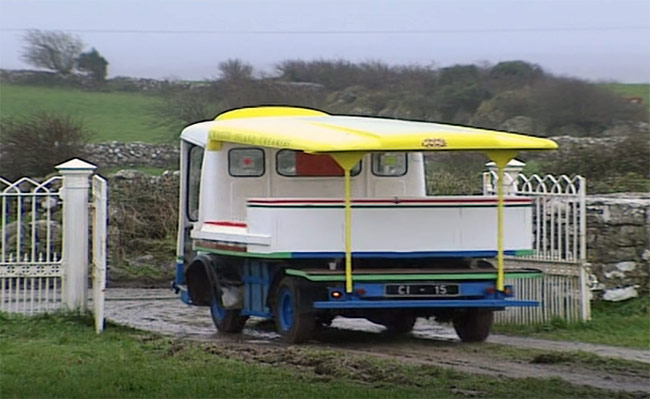 Dougal drives his new milk van out of the front gate of the house. Unfortunately, he doesn't realize that former milkman Pat Mustard has planted a bomb on board. If the vehicle's speed drops below 4 miles per hour, the bomb will detonate.
Kicking Bishop Brennan up the arse
Episode 6, Season 3 - Kicking Bishop Brennan Up the Arse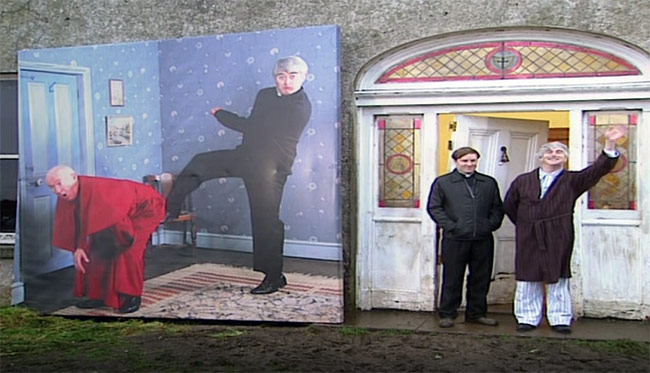 When Father Ted is caught cheating during an OAP football match, Father Dick Byrne dares him to kick Bishop Brennan "up the arse."
Ted eventually carries out the dare, and Dougal takes a photograph as evidence.
Afterwards, he manages to convince a shocked Bishop Brennan that it never happened. However, as Brennan turns around to wave goodbye, he sees a massive 10x10 version of the photograph that Ted had drunkenly asked Dougal to print.
Eoin McLove visits Father Ted's house
Episode 7, Season 3 - Night of the Nearly Dead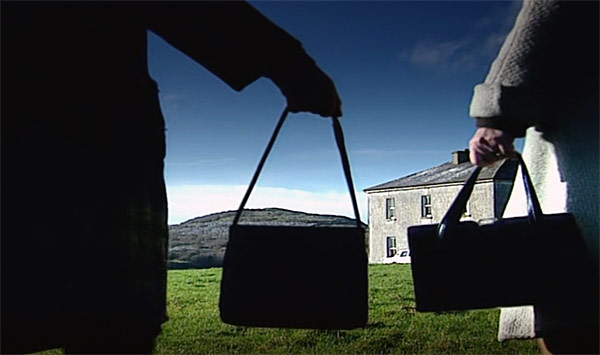 The elderly women of Craggy Island descend upon Father Ted's house after they discover that pop superstar Eoin McLove is visiting.
"Night, Dougal."
Episode 8, Season 3 - Going to America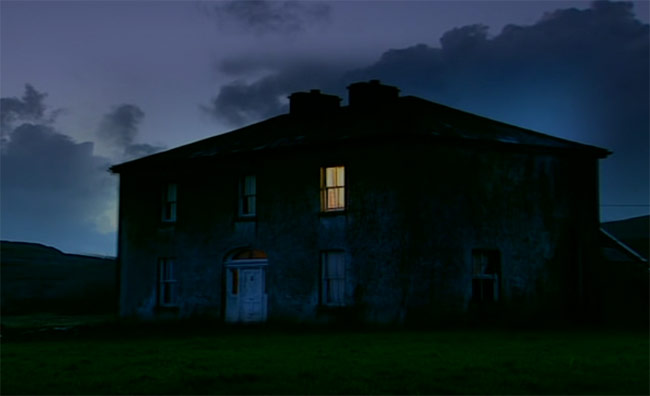 This shot of the house is from the very last scene of the show. Dermot Morgan, who portrayed Ted, died one day after filming was completed.
Parking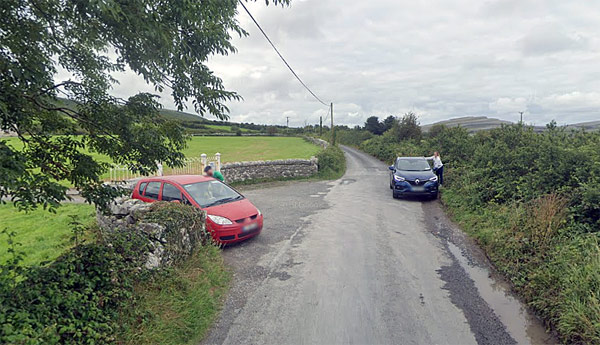 Image source: Google Maps
Be aware that the road outside the house is very narrow and that there isn't much room to park.
Cheryl McCormack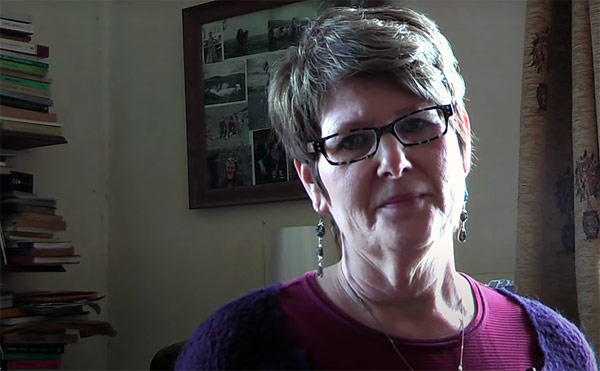 The house is owned by Cheryl and Patrick McCormack. Clare was originally born in New York. In 2011, she started to take groups of people into the house by appointment. Unfortunately, these appointments were permanently suspended due to the pandemic.
2013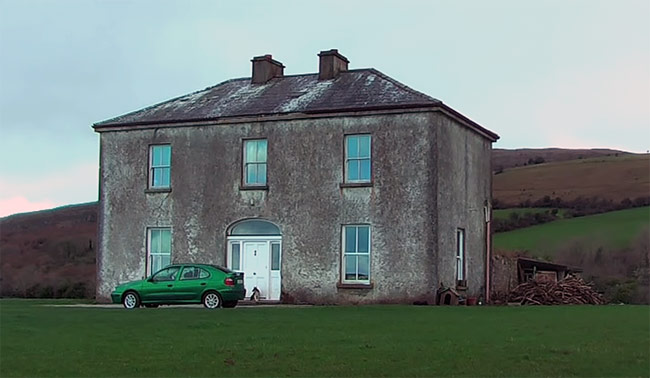 This image of the house is from 2013.
Google Street View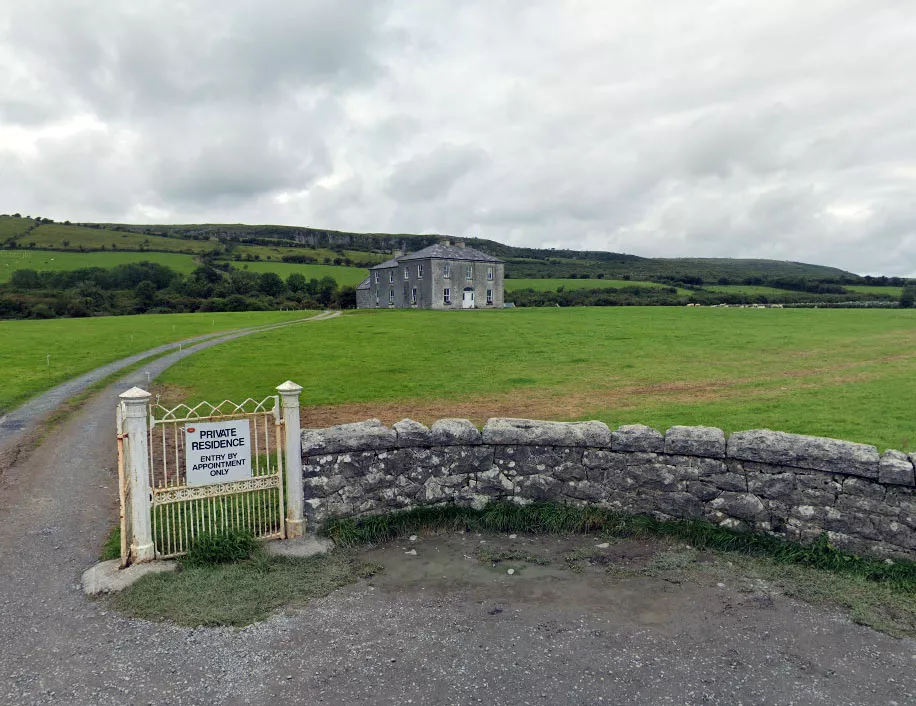 Image source: Google Maps
The Google Street View image above was captured in August 2019.
Closest Locations
Other locations that are relatively close to this address: Roughly 125KM away.
Place of Interest in Mallow, Cork, Ireland Roughly 130KM away.
Filming Location in Swinford, Mayo, Ireland