The location where David Berkowitz shot Virginia Voskerichian.
Crime Scene Location in Queens, New York, United States.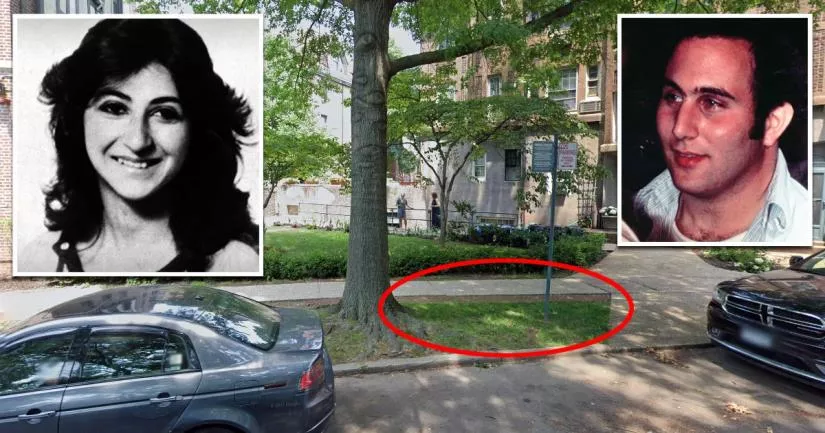 This is the location where the "Son of Sam", David Berkowitz, shot Virginia Voskerichian.
The site is situated outside of an apartment complex on Dartmouth Street in Forest Hills, Queens.
The murder of Virginia Voskerichian.
On the evening of March 8th, 1977, Virginia Voskerichian was travelling home from Barnard College in Manhattan.
After leaving the Forest Hills–71st Avenue subway station, the 20-year-old proceeded to walk south along Continental Avenue. Her intended destination was Exeter Street, which was just a short five-minute walk away.
By the time she reached Dartmouth Street, it was roughly 7.30 p.m.
Back in 1977, the street had poor lighting, and one of the bulbs was broken. As a result, the area was very dark.
Shortly after she turned right onto Dartmouth Street, Berkowitz approached her and shot her at close range. Although she attempted to block the shot with her textbooks, the bullet penetrated them and struck her in the face.
According to the autopsy report, the bullet smashed through her teeth and lodged in the back of her skull, killing her almost immediately.
When the attack took place, an elderly man who was in the area heard a "pop" that sounded like a firecracker. He then saw a "pudgy youth" with a stocking cap fleeing the scene of the crime.
Not long after, a young man discovered Voskerichian's body near the sidewalk. Although he attempted to revive her, he ran off to call the police after he noticed that there was blood coming out of her mouth.
Berkowitz changed his M.O.
Following his arrest, David Berkowitz claimed that he killed Voskerichian in an attempt to switch up his M.O. and confuse the police.
Up until that point, he had been mostly targeting couples. By shooting a single female, he was trying to make himself less predictable.
Six weeks earlier, Berkowitz had shot Christine Freund and John Diel while they sat in their car at a nearby location.
Initially, the police publicly claimed that there was no evidence to suggest that the two shootings were related. However, it wasn't long before the media learned that similar large-caliber bullets had been used in both of the killings.
Where was Virginia Voskerichian murdered?
Below, you will find the address and the GPS coordinates for this location.
GPS coordinates.
The latitude and longitude coordinates for the site are:
40.719169, -73.845811
Map.
To view directions on how to get there, you can use the Google Maps shortcut below:
Address.
The full address for this location is:
4 Dartmouth Street
Queens
New York
NY 11375
United States
Directions.
It is close to the intersection between Dartmouth Street and Continental Avenue in the Forest Hills neighborhood of Queens.
Photos.
Photos of the site and other related images.
---
Dartmouth Street.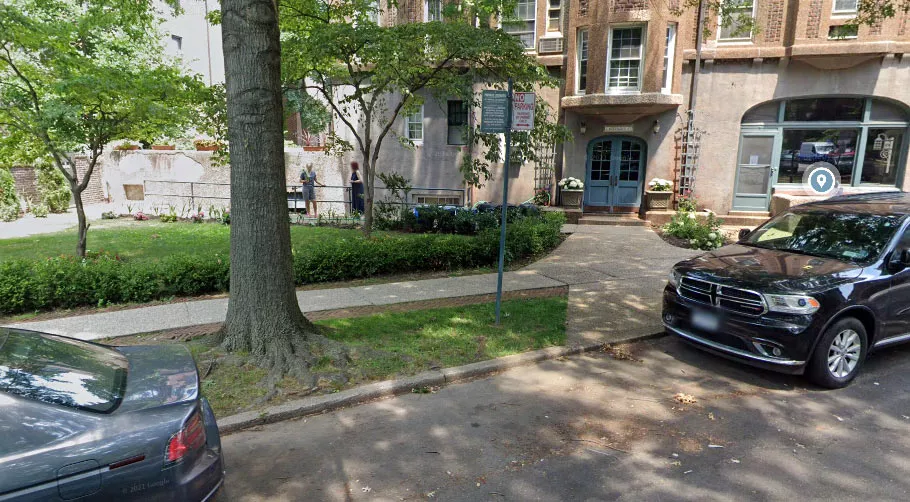 This Google Street View image of the eastern side of Dartmouth Street was taken in July of 2021.
This is the exact spot where Berkowitz shot Virginia Voskerichian in the face with a .44 Bulldog revolver.
Crime scene.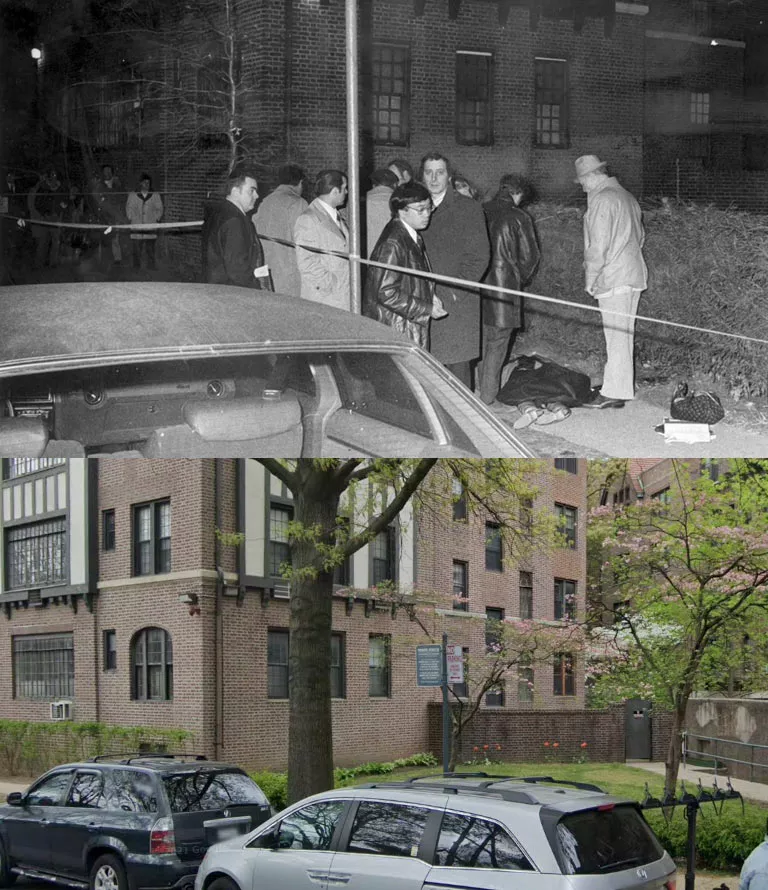 In the comparison image above, you can see a photograph of the crime scene and a Google Street View image from April of 2021.
The eastern side of the apartment complex is visible in the background of both images.
Map.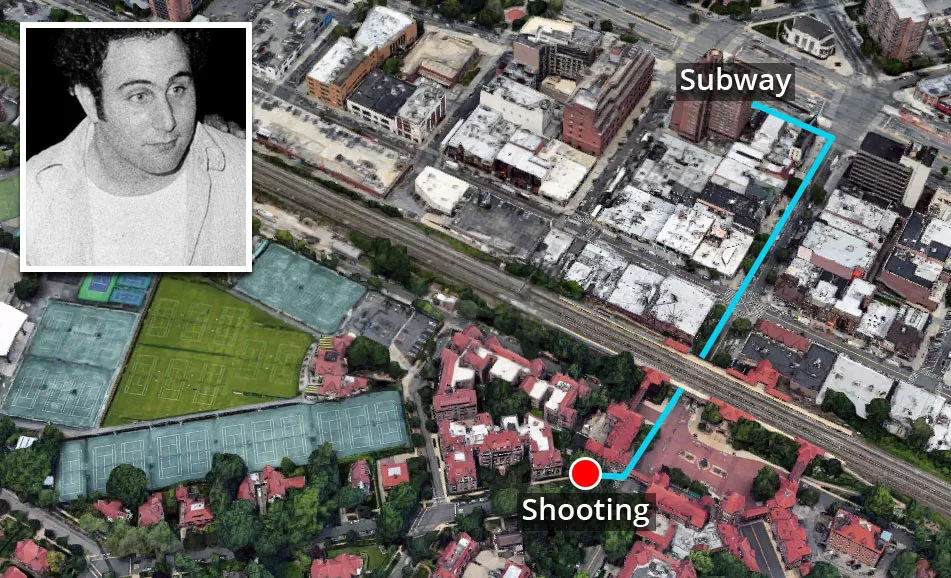 This aerial map shows the route that Voskerichian took that evening.
After leaving the subway station, she walked south on Continental Avenue before turning right onto Dartmouth Street.
According to Berkowitz, he was walking around the area for about an hour before he spotted a suitable victim. When he first saw the young student, they were on the same side of the road, walking towards each other.
Once he was close enough, he pulled out his gun and fired one bullet at her head. Following the shooting, he turned around and ran back towards his car.
69-11 Exeter Street.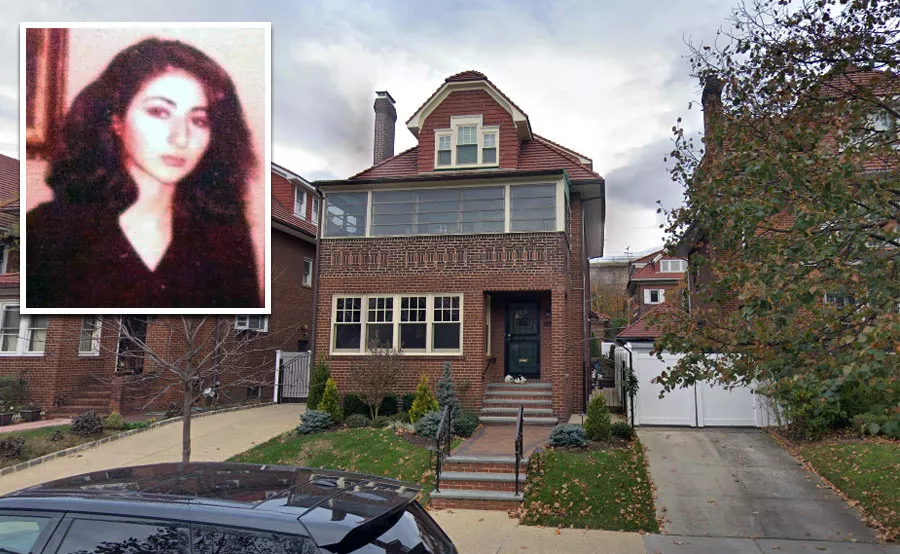 At the time of her death, Virginia was living at 69-11 Exeter Street, which is a short walk away from the crime scene.
Closest locations.
Other locations that are relatively close to this place. Roughly 3 miles away.
Place of Interest in Queens, New York, United States Roughly 5 miles away.
Crime Location in Brooklyn, New York, United States Roughly 6 miles away.
Crime Location in Queens, New York, United States Roughly 7 miles away.
Crime Location in Brooklyn, New York, United States Roughly 8 miles away.
Crime Location in East Harlem, New York, United States