Bryant's Grocery & Meat Market
Place of Interest in Money, Mississippi, United States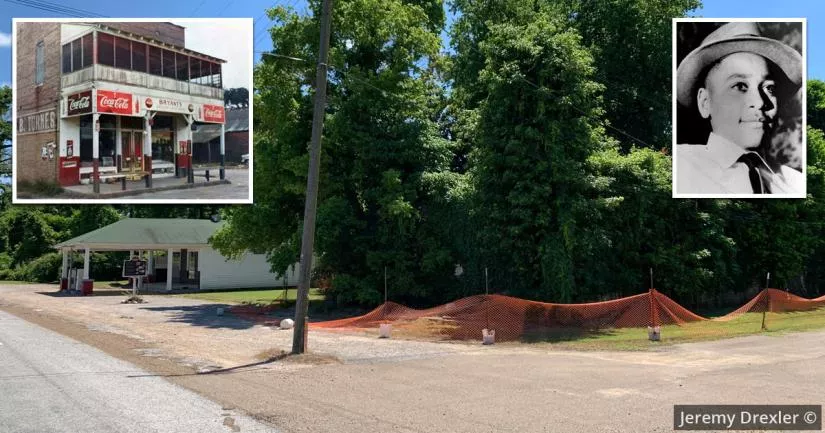 This is the location where Bryant's Grocery & Meat Market once stood.
It is situated on Money Road in Money, Mississippi. The exact location is listed in the "Address" section below.
The remnants of the store are considered an important civil rights landmark, as this was the place where an African American lynching victim named Emmett Till allegedly wolf-whistled at a white woman.
These days, the building lies in ruins. The roof collapsed in 2005, leaving behind crumbling walls that are covered by thick vegetation.
In August of 1955, Till visited his great-uncle's home in Money, Mississippi. The 14-year-old, who was from Chicago, was not accustomed to the racial climate of rural Mississippi. From his perspective, the Deep South, with its archaic Jim Crow laws, was an entirely different world.
On the evening of August 24th, 1955, Till accompanied his cousins and some local boys to Bryant's Grocery & Meat Market to purchase some candy. The store was owned by a white couple named Roy and Carolyn Bryant.
At the time, Carolyn was by herself at the front of the market. Her sister-in-law was out back looking after the children, and her husband was away in Texas on a business trip.
The exact details of the incident remain a topic of debate. Some witnesses claimed that Till wolf-whistled at Carolyn, while others have argued that the teenager sometimes whistled to alleviate his stutter.
Regardless of which story is true, one thing remains crystal clear: Nothing he did could ever justify what happened next.
Three days later, Carolyn's husband, Roy, returned from his Texas trip and learned about the incident. Incensed, he immediately began questioning people about the identity of the African American teenager who had reportedly whistled at his wife.
During the early hours of August 28th, 1955, Roy and his half-brother, J. W. Milam, arrived at Till's great-uncle's house and abducted him at gunpoint. After putting the boy in their truck and tying him up, they drove to a barn in Drew, Mississippi, where they mercilessly beat him and then shot him to death.
Following the brutal murder, they tied a large gin fan around his neck and dumped his body in the Tallahatchie River.
On August 31st, two boys discovered Till's bloated and decomposing body while they were fishing in the river. Although he was completely unrecognizable, his great-uncle was able to identify him by a monogrammed ring on his finger.
Till's mother, Mamie, bravely insisted on having an open casket at his funeral, as she wanted the entire world to see the barbaric violence that had been inflicted on her teenage son.
Roy Bryant and J. W. Milam both went on trial for the murder. However, they were found not guilty by an all-white jury on September 23rd, 1955. One year later, the brothers granted an exclusive interview to Look magazine, during which they brazenly admitted their involvement in Till's death.
Till's brutal murder and the subsequent acquittal of his killers sparked national outrage. It also shone a light on the racial injustice that was prevalent in the Deep South.
His death, along with the Montgomery bus boycott, proved to be the catalyst that ignited the civil rights movement.

Further information is available in the "Photos" section below.
Bryant's Grocery & Meat Market address
Below, you will find the address and the GPS coordinates for this location.
GPS coordinates
The latitude and longitude coordinates for the store are:
33.652452, -90.208794
Map
To view directions on how to get there, you can use the Google Maps shortcut below:
Address
The full address for this location is:
Money Road
Money
Mississippi
MS 38930
United States
Directions
The ruins of the store are situated about 170 yards (155 meters) north of the intersection between Money Road and Sunny Side Road.
Details about the general area
Money is a rural community near Greenwood in Leflore County, Mississippi. It is about halfway between Memphis and Jackson.
Photos
Photos of the store and other related images.
---
Bryant's Grocery and Meat Market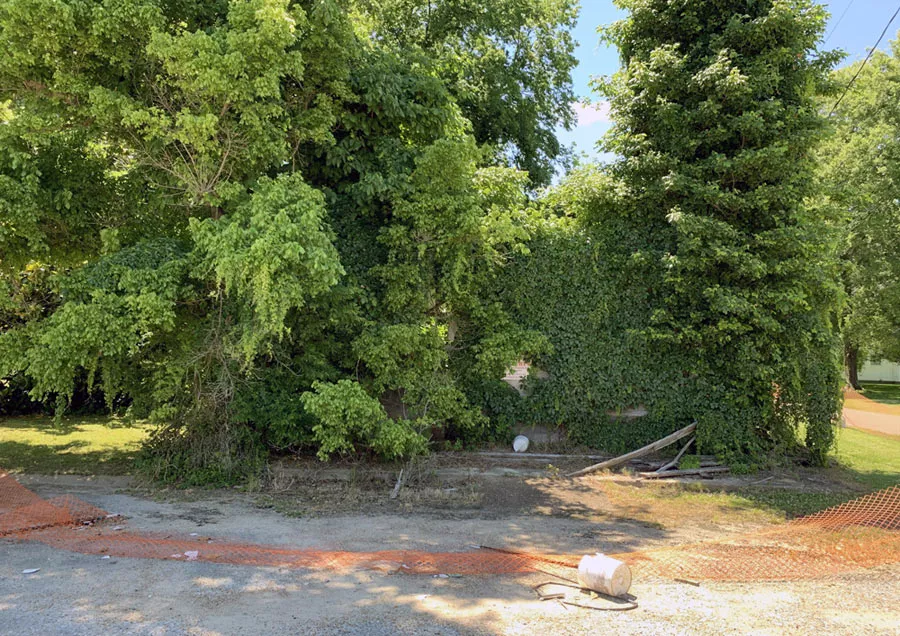 This photograph of the former Bryant Grocery and Meat Market was taken by Jeremy Drexler.
At the time, the walls were covered by thick vines.
The Bryants were forced to sell their grocery store after the Black community stopped doing business with them. Later, it became "Wolfe's Grocery and Market" and then "Young's Grocery and Market".
The Tribble family purchased the site in the mid-1980s. Notably, the owners' father, Ray Tribble, was one of the jurors who acquitted Emmett Till's killers.
It seems as though the family has done very little to keep the site intact. The front porch collapsed in the 1990s, and Hurricane Katrina destroyed the roof in 2005.
The Tribble family also owns Ben Roy's service station, which sits beside the ruins of Bryant's Grocery.
In 2011, the Tribble family used $200,000 from a Mississipi Civil Rights Historical Sites grant to restore Ben Roy's. Besides its proximity to Bryant's, the station has no connection to Till's murder. However, the Tribble family got around this by arguing that the events at Bryant's were "likely" discussed at Ben Roy's. They also said that visitors could use the newly renovated service station to shield themselves from the elements and discuss the case.
The restoration, which was completed in 2014, made no mention of Till's murder or the civil rights movement in general.
A number of parties have offered to purchase the Bryant's Grocery site. However, the Tribbles are reportedly unwilling to sell the dilapidated property for anything less than $4 million.
Historical marker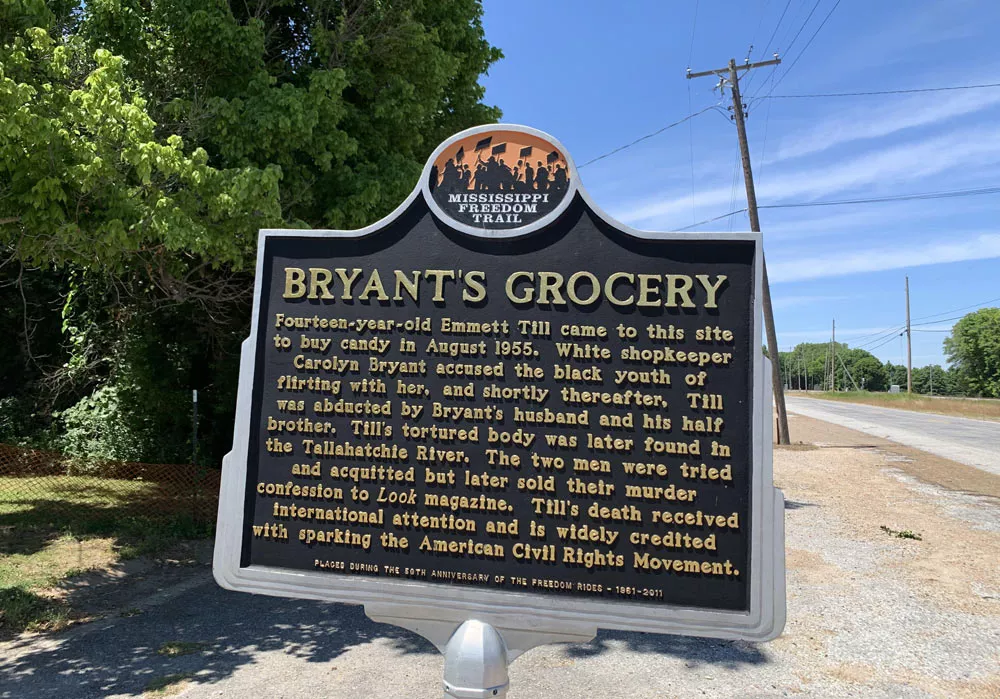 Image source: Jeremy Drexler
A historical marker is currently present at the site.
It reads as follows:
"Fourteen-year-old Emmett Till came to this site to buy candy in August 1955. White shopkeeper Carolyn Bryant accused the black youth of flirting with her, and shortly thereafter, Till was abducted by Bryant's husband and his half brother. Till's tortured body was later found in the Tallahatchie River. The two men were tried and acquitted, but later sold their murder confession to Look magazine. Till's death received international attention and is widely credited with sparking the American Civil Rights Movement."
Notably, there have been a number of attempts to vandalize Till's marker. On one occasion, it was found riddled with bullet holes.
2004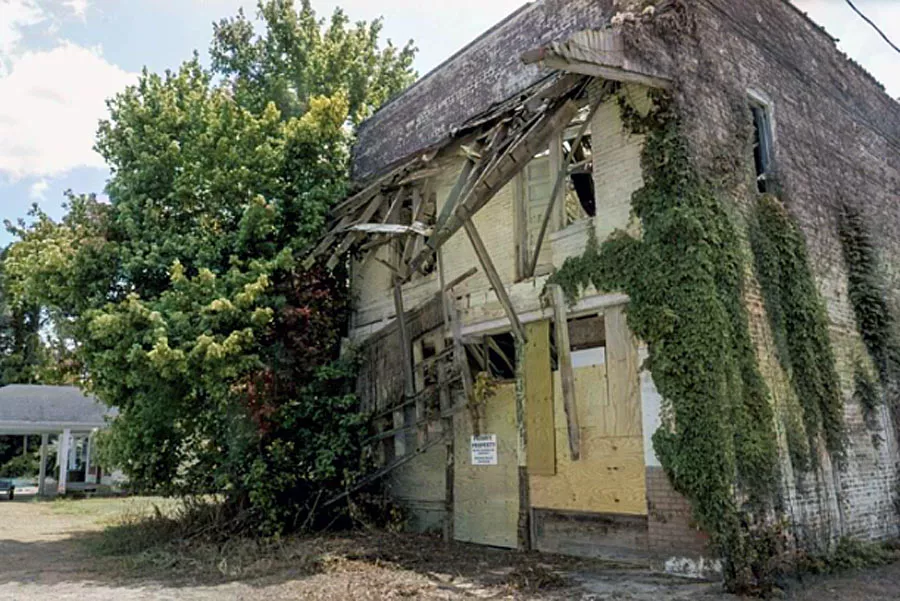 This photograph of the former Bryant's Grocery store was taken in 2004—one year before Hurricane Katrina destroyed the roof. By this stage, the front porch and floors were already gone.
2023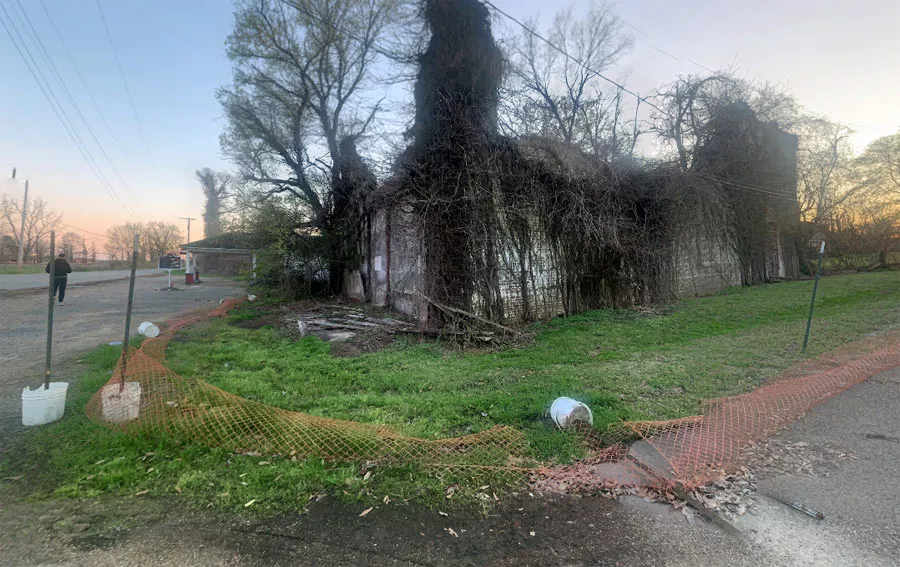 Image source: Rob Shoemaker
This Google Street View image was captured in March of 2023.
Aerial image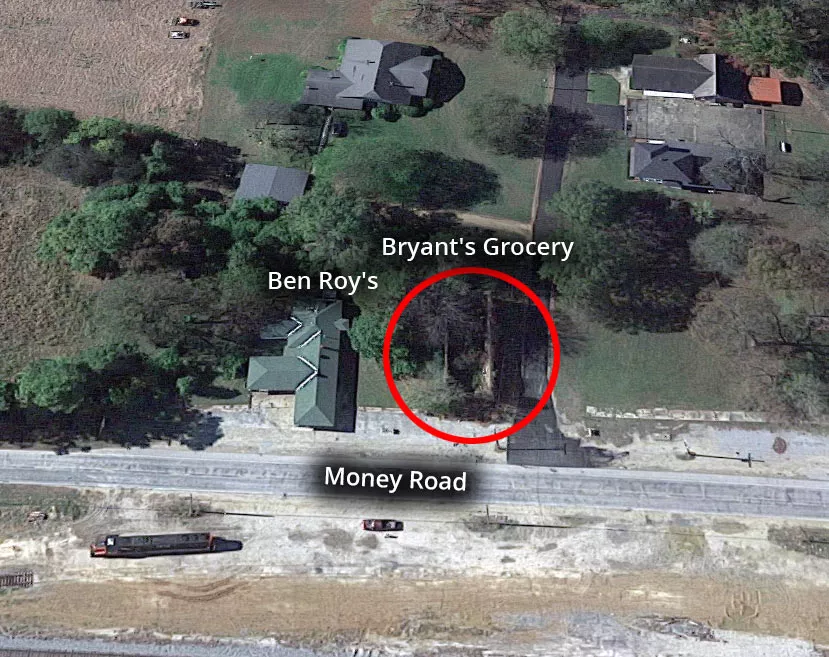 Image source: Google Maps
Bryant's Grocery and Ben Roy's are situated beside each other. However, Ben Roy's service station has no connection to the Till case.
Roy and Carolyn Bryant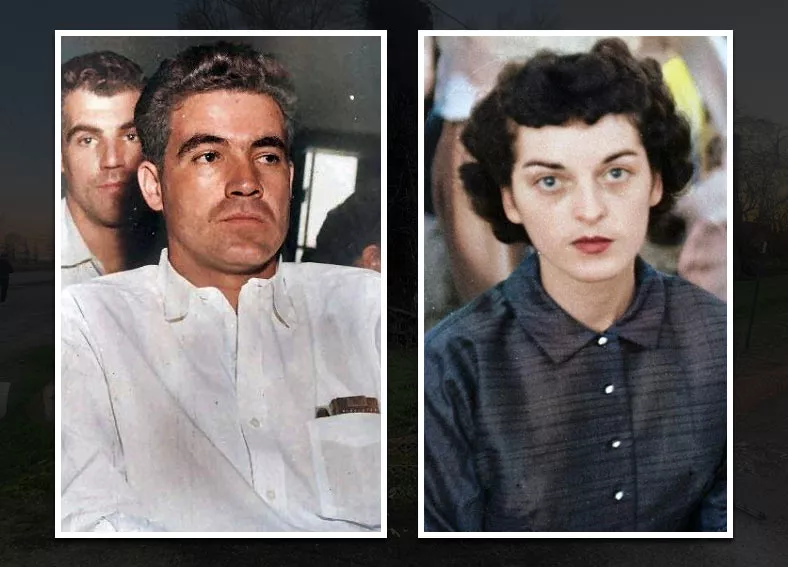 The store was owned by Roy (24) and Carolyn Bryant (21).
Roy Bryant died of cancer on September 1st, 1994.
Carolyn initially claimed that Emmett Till had grabbed her by the waist and made lewd comments. However, later in life, she reportedly admitted to a historian that she had fabricated these details.
She passed away on April 25th, 2023, at the age of 88.
Colorized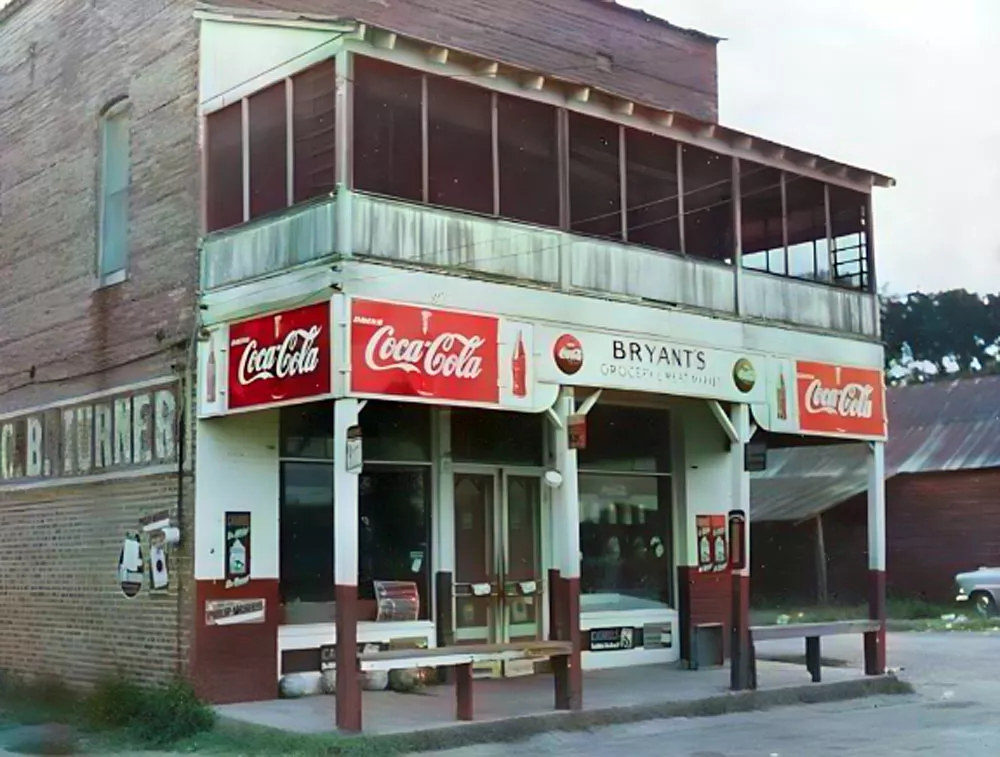 We enhanced and colorized this photograph of the store using various AI tools.
Visualize
There is more than one location associated with this entry. To view all of these places on the same map, you can use the following feature:
Closest Locations
Other locations that are relatively close to this address: Roughly 16 miles away.
Crime Location in Glendora, Mississippi, United States Roughly 124 miles away.
Crime Location in Memphis, Tennessee, United States Roughly 128 miles away.
Crime Location in Memphis, Tennessee, United States Roughly 129 miles away.
Place of Interest in Memphis, Tennessee, United States