Robert Hansen's bakery
Place of Interest in Anchorage, Alaska, United States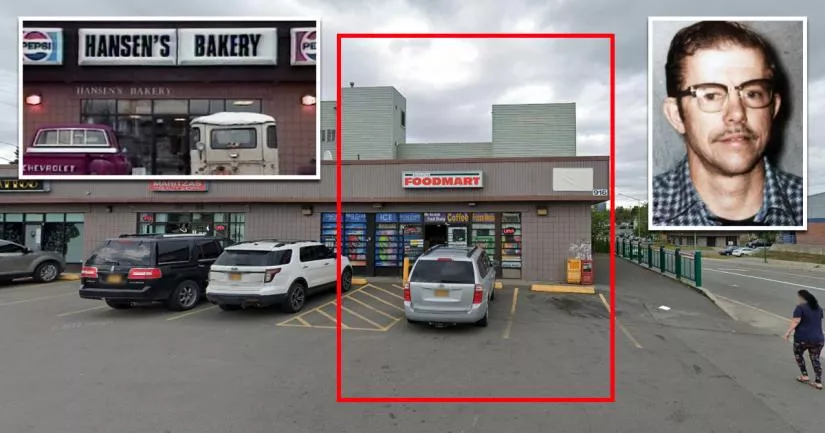 This is the former location of Robert Hansen's bakery.
It is situated at 828 East 9th Avenue in Anchorage, Alaska.
These days, the unit is home to a Food Mart convenience store.
Hansen was a serial killer who murdered at least seventeen women between 1971 and 1983.
The media nicknamed him "the Butcher Baker" due to his occupation.
Hansen was arrested at this location on the morning of October 27th, 1983.
While he was exiting his vehicle, a team of state troopers and Anchorage police officers approached him and asked him to accompany them to the station for questioning. Hansen, who was still putting on a "nice guy" act, agreed to go with them.
Meanwhile, officers executed a search warrant on the bakery and told the employees to leave.
Later that day, investigators discovered some of Hansen's victims' jewelry in the basement of his house on Old Harbor Avenue. They also found newspaper clippings about some of the murders.
Sub-entry
This location has been marked as a sub-entry. As a result, it might lack certain details. For more information about this subject, please check out the following location:
Where is the store?
Below, you will find the address and the GPS coordinates for this location.
GPS coordinates
The latitude and longitude coordinates for the store are:
61.213459, -149.867647
Map
To view directions on how to get there, you can use the Google Maps shortcut below:
Address
The full address for this location is:
828 East 9th Avenue
Anchorage
Alaska
AK 99501
United States
Visualize
There is more than one location associated with this entry. To view all of these places on the same map, you can use the following feature:
Closest Locations
Other locations that are relatively close to this address: Roughly 5 miles away.
Serial Killer House in Anchorage, Alaska, United States