The location where Pat Garrett was murdered
Crime Scene Location in Las Cruces, New Mexico, United States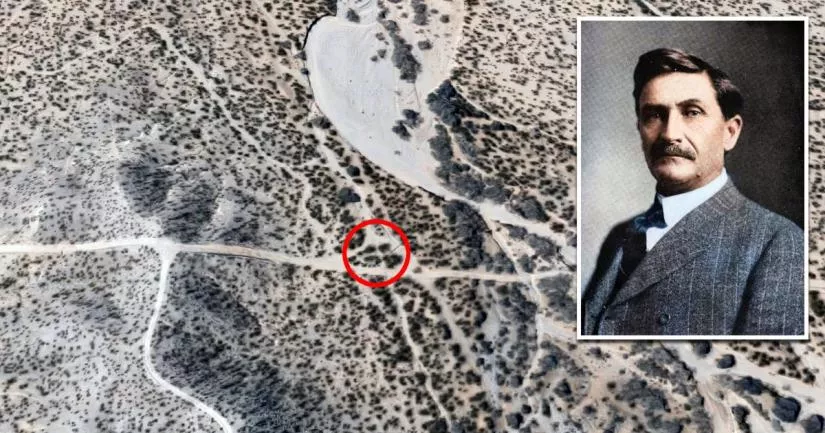 This is the location where Pat Garrett was shot dead.
It is situated in a desert area on the northeastern outskirts of Las Cruces, New Mexico.
Although a historical marker for Garrett's murder exists at the corner of Bataan Memorial East and Jornada Road (Route 70), that is not the site where he was killed. The exact spot is actually 1.2 miles southeast of the marker.
Garrett was an "Old West" sheriff who shot and killed the infamous outlaw "Billy the Kid" in 1881.
He served as the "collector of customs" in El Paso, Texas, between 1902 and 1906. However, he was dismissed by President Theodore Roosevelt following a series of controversies—one of which involved him getting into a fist fight with an employee.
After losing his job, Garrett returned to New Mexico, where he had previously worked as a sheriff.
On February 29th, 1908, the former lawman was shot dead over a land dispute. Although a local ranch hand named Jesse Wayne Brazel confessed to pulling the trigger, he was found not guilty after claiming that he had acted in self-defense.
According to one witness, the pair were having a heated argument when Garrett reached for the shotgun that he kept underneath his seat. At that point, Brazel pulled out his revolver and quickly shot him twice.
Over the years, there have been multiple theories about the circumstances surrounding Garrett's death.
At least five different men have been put forward as suspects. Authors have also speculated that Garrett may have been the victim of a conspiracy theory.
Unfortunately, given the passage of time, it is extremely unlikely that we will ever find out what really happened that day.
Pat Garrett murder site
Below, you will find the address and the GPS coordinates for this location.
GPS coordinates
The latitude and longitude coordinates for the site are:
32.366149, -106.717132
Map
To view directions on how to get there, you can use the Google Maps shortcut below:
Address
The full address for this location is:
Las Cruces
New Mexico
NM 88011
United States
Details about the general area
Las Cruces is a city in Doña Ana County, which is in the south of New Mexico.
Photos
Photos of the site and other related images.
---
Historical marker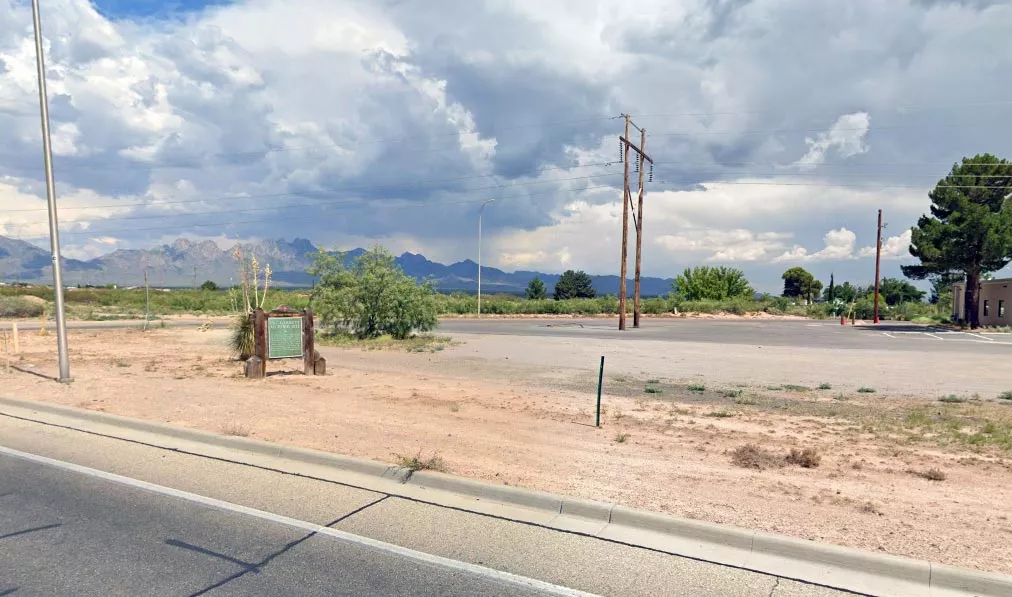 The official historical marker is situated on Route 77, near the intersection with Jornada Road.
However, this is not the exact site where Garrett was killed.
Coordinates: 32.379569, -106.729747
Aerial map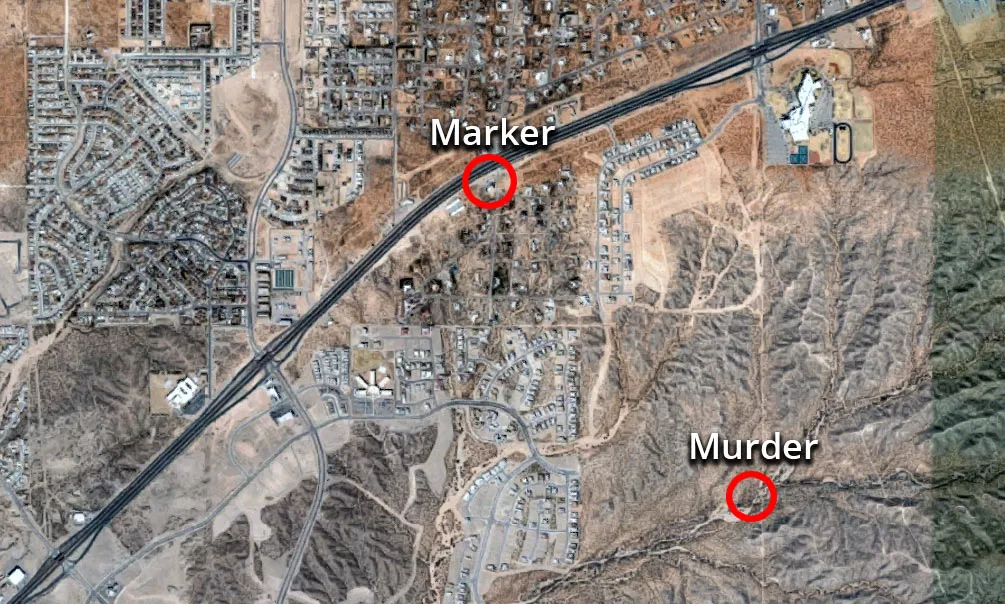 This aerial map highlights the distance between the historical marker and the exact location where Garrett was killed. Judging by Google Maps, it is a two-mile walk between the two sites.
Death site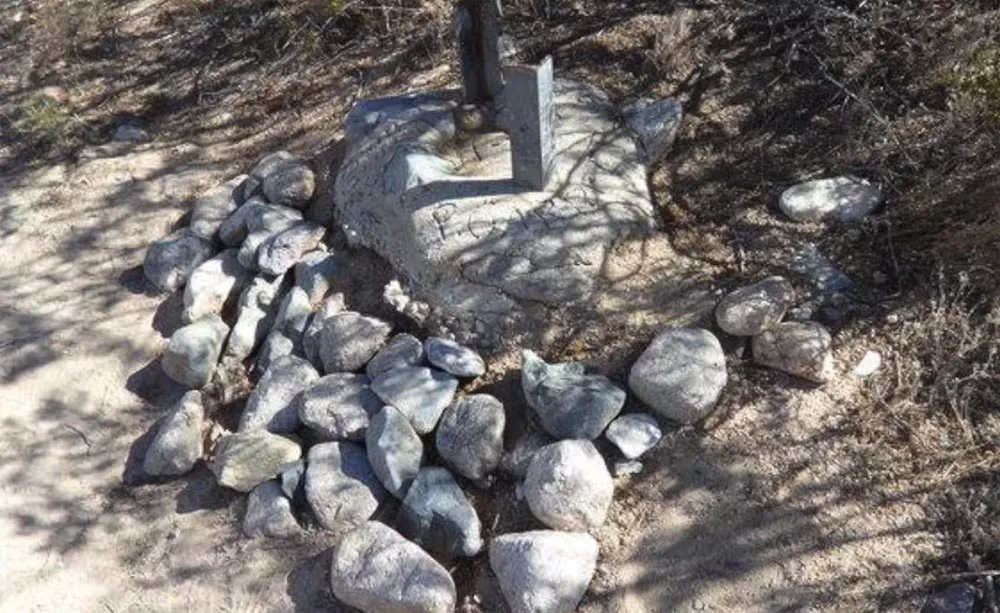 Image source: Corey Recko
In 1908, two men named William and Emmitt Isaacks placed a stone carved with a cross at the site.
Then, in 1965, Hudson Murrell and John Griggs added cement to the marker. They also inscribed the words "P. Garrett" and "Feb 1908".
More recently, a history advocacy organization called the "Friends of Pat Garrett" installed a plaque at the location.
The plaque reads as follows:
"On this site, famed New Mexico lawman Patrick Floyd Garrett met his death on February 29, 1908, while traveling to Las Cruces from his home just east of San Augustin Pass. Garrett is known worldwide for killing Billy the Kid. Garrett was formerly Sheriff of Dona Ana County and Lincoln County.

William and Emmitt Isaacks marked this site in 1908 with a stone carved with a cross. The cement was added to the marker on November 6, 1965, by Hudson Murrell and John Griggs."
This location belongs to the following categories:
Crime Scenes
Closest Locations
Other locations that are relatively close to this place. Roughly 81 miles away.
Serial Killer House in Elephant Butte, New Mexico, United States