The location where the "Disaster Girl" meme photo was taken
Place of Interest in Mebane, North Carolina, United States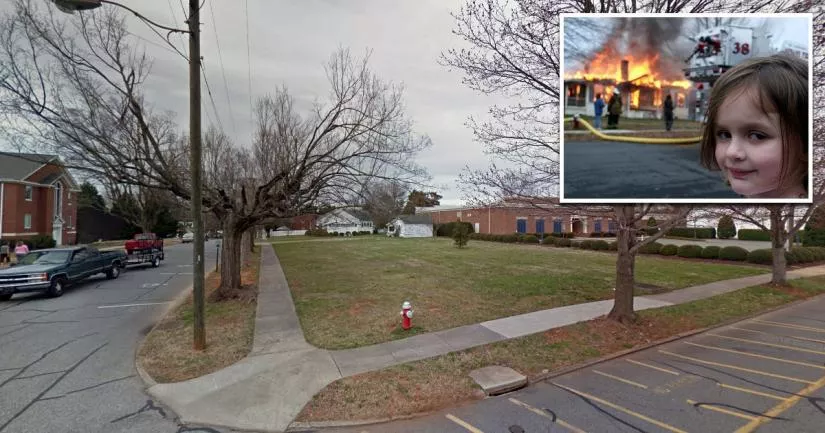 This is the location where the "Disaster Girl" meme photograph was taken.
It is situated at 112 West Holt Street in Mebane, North Carolina.
The image was taken by Dave Roth during a controlled house fire in January of 2005. The vacant house had been set alight by the Mebane Fire Department as part of a training exercise.
That day, the Roth family was at home watching TV when they suddenly heard fire sirens. After looking outside and seeing smoke billowing up into the sky, they decided to walk over to the location and see what was happening. However, before they left, Dave decided to grab his new camera.
The girl in the photo is Dave's daughter, Zoe, whom he had asked to smile. At the time, she was just five years old.
The image went viral three years later after it was shared on websites such as BuzzFeed, Digg, eBaum's World, and Reddit.
Zoe's "evil smile" caught the attention of photoshoppers, who started to superimpose her face onto images of disasters such as shipwrecks, plane crashes, and even the atomic bomb.
Later, people began to add captions to the image, such as:
"My parents wouldn't take me to McDonalds. So I decided to have a barbeque."
The meme remained popular until mid-2011, when interest in it gradually started to decline.

Further information is available in the "Photos" section below.
Where was the "Disaster Girl" photo taken?
Below, you will find the address and the GPS coordinates for this location.
GPS coordinates
The latitude and longitude coordinates for the lot are:
36.094915, -79.268729
Map
To view directions on how to get there, you can use the Google Maps shortcut below:
Address
The full address for this location is:
112 West Holt Street
Mebane
North Carolina
NC 27302
United States
Directions
The empty lot sits on the corner of West Holt Street and South 4th Street. It is roughly 180 yards south of the intersection between East Center Street and South 4th Street.
Details about the general area
Mebane is situated in Alamance County, North Carolina. It lies between the cities of Greensboro and Durham.
Photos
Photos of the lot and other related images.
---
Then and now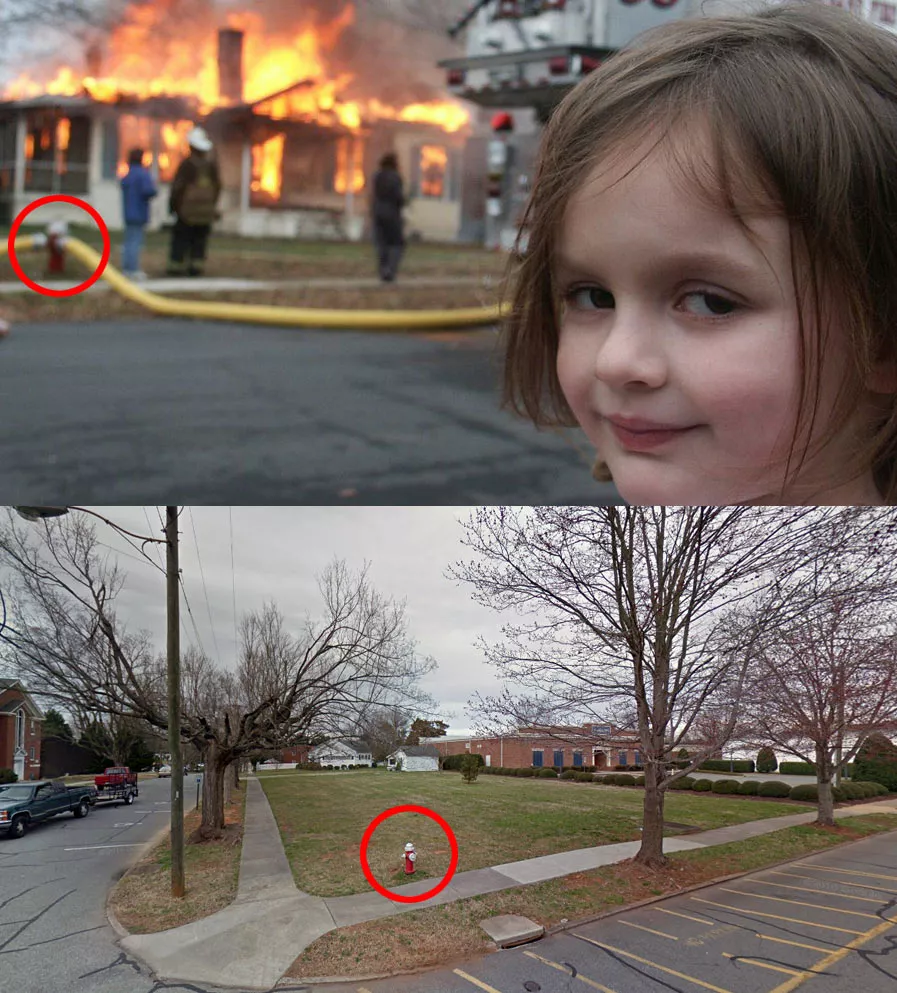 The Google Street View image at the bottom was taken in March of 2016—more than 11 years after Dave Roth snapped the original photo.
The red fire hydrant is visible in both pictures.
Notably, it wasn't a "real" fire, as the owner had donated their vacant house to the Mebane Fire Department.
This is a common practice in many places, as it is a win-win for both parties. The owner gets their vacant property demolished, while the fire department gets to train their personnel in a real-world burning exercise.
Closest Locations
Other locations that are relatively close to this address: Roughly 22 miles away.
Crime Location in Chapel Hill, North Carolina, United States Roughly 129 miles away.
Crime Location in Lumberton, North Carolina, United States