Deborah Sue Williamson's house
Crime Scene Location in Lubbock, Texas, United States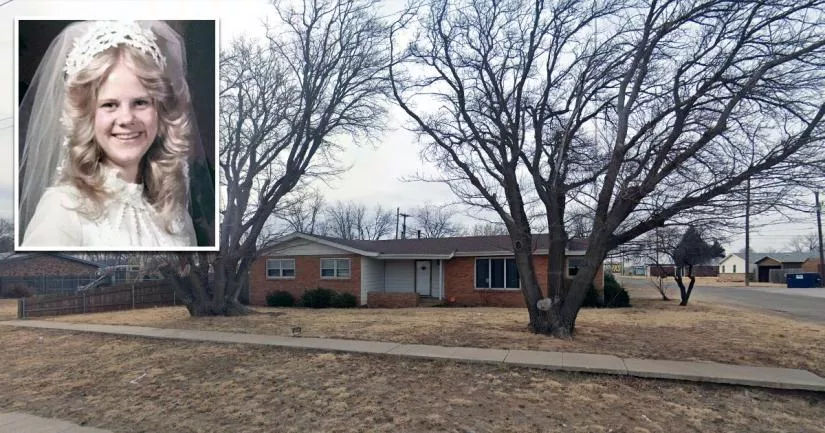 This is the house where Deborah Sue Agnew Williamson was murdered.
It is situated at 1115 82nd Street in Lubbock, Texas.
Williamson's body was discovered outside by her husband, Doug, in the early hours of August 24th, 1975. At the time, he had just returned home from his job at a local pizza restaurant.
That evening, the 18-year-old was supposed to meet her husband at his workplace. However, she never showed up. After stepping out into the carport, she was stabbed 17 times by an unknown assailant.
When Doug called his wife at 10 p.m. to see what the delay was, he received no answer.
Deborah was a newlywed who had married Doug roughly two months beforehand.
During the investigation, Doug's alibi checked out. He also passed a polygraph test.
Once her husband was cleared as a suspect, the police struggled to find any leads. As a result, the case went cold for nine years.
Then, in 1984, a serial killer named Henry Lee Lucas told investigators that he had murdered Williamson.
Although the authorities believed that they had finally caught their man, Williamson's parents were extremely skeptical about his confession.
At the time, Lucas was eagerly taking credit for every cold case that was being put in front of him. By that point, he had already confessed to dozens of murders across multiple states.
Sensing that something wasn't quite right about Lucas' story, Williamson's mother and stepfather decided to launch their own investigation.
Not long after, they discovered documents that proved he wasn't in Texas at the time of their daughter's murder.
Consequently, the case against Lucas was dropped. Later, he admitted that he had lied about his involvement.
Sadly, the murder of Deborah Sue Williamson remains unsolved to this day.
It is still an active case.

Further information is available in the "Photos" section below.
Where did Deborah Sue Williamson live?
Below, you will find the address and the GPS coordinates for this location.
GPS coordinates
The latitude and longitude coordinates for the house are:
33.519545, -101.848581
Map
To view directions on how to get there, you can use the Google Maps shortcut below:
Address
The full address for this location is:
1115 82nd Street
Lubbock
Texas
TX 79423
United States
Directions
The house is situated on the corner of 82nd Street and Avenue L in the south of Lubbock.
Details about the general area
Lubbock is a city in the northwest of Texas.
Private Property Warning
This is a private property. It is not a public place. Therefore, you should be respectful and not step foot on the property without permission.
Photos
Photos of the house and other related images.
---
Carport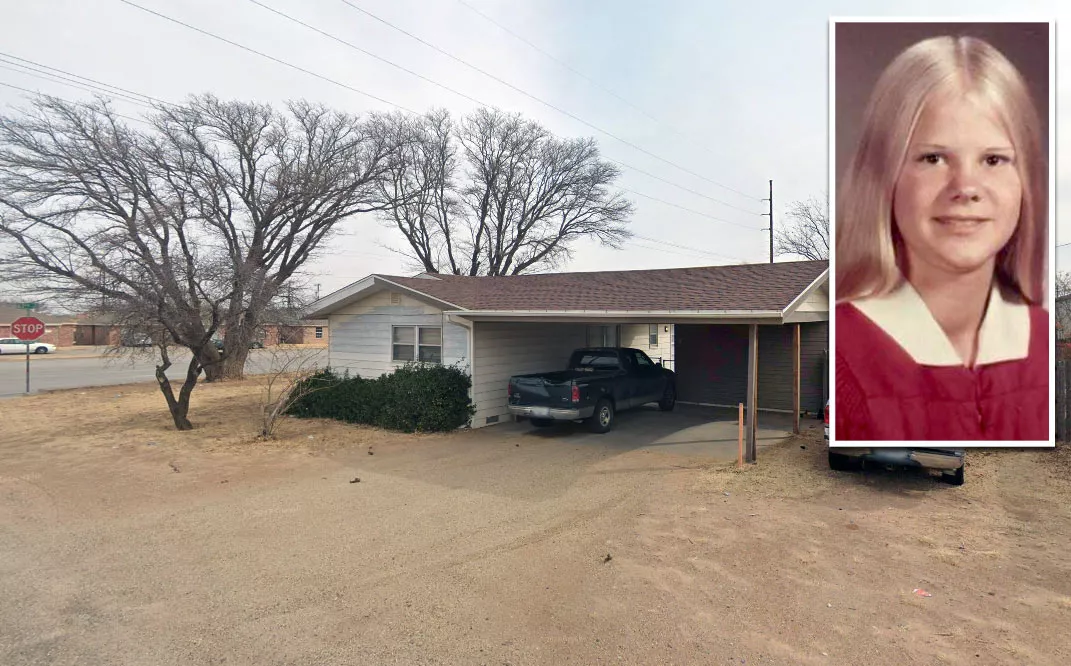 Williamson's body was found on the patio area by the carport, which is on the western side of the house (facing Avenue L).
Her husband, Doug, made the discovery shortly after 1 a.m. on August 24th, 1975.
It is believed that the attack took place a couple of hours earlier, at around 9 p.m.
At the time, Doug was the manager of a local "Pizza Inn" franchise. He was ruled out as a suspect after a waitress who worked with him told the police that he had been there the entire night.
Doug believes that his wife was killed by someone she knew.
This theory is backed up by statistics, as murders involving multiple stab wounds are often carried out by assailants who are experiencing intense emotions such as anger and jealousy.
Her killer used a 4-5-inch double-edged knife, which was never found. Although her purse was missing, we can't rule out the possibility that this was done in order to stage the crime scene and make it look like a robbery that had gone wrong.
Notably, there were no indications that she had been sexually assaulted.
Funeral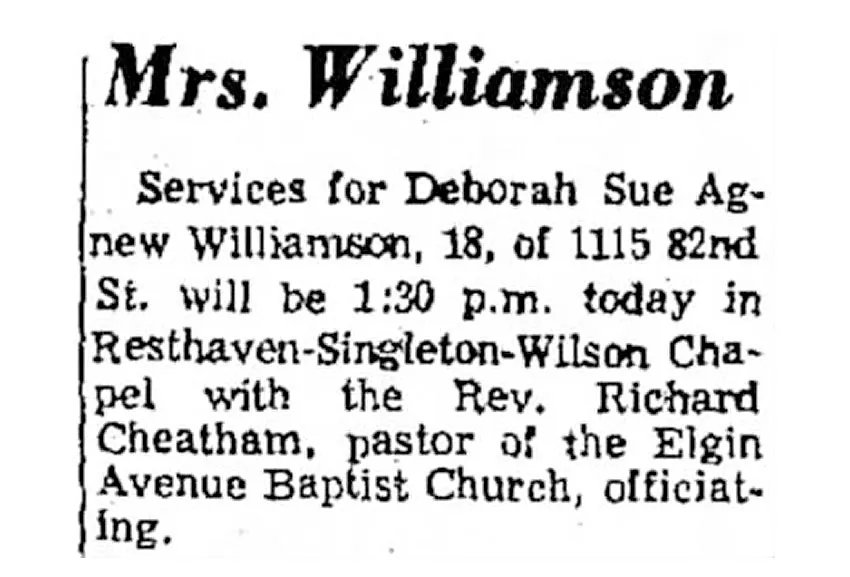 Deborah Sue Williamson's funeral was held on August 27th, 1975.
1115 82nd Street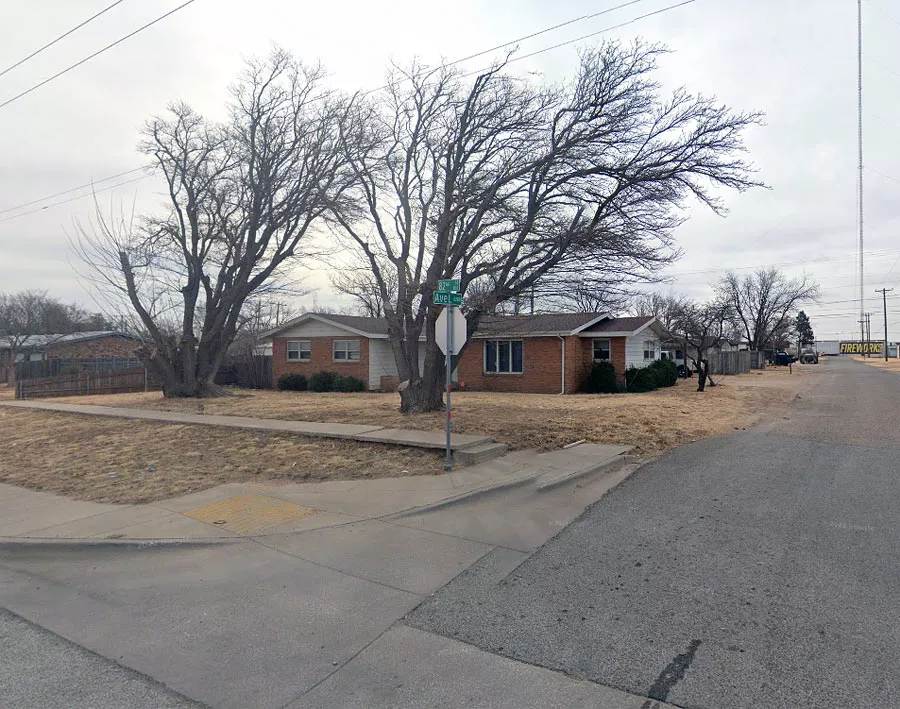 This is a wider view of the house at 1115 82nd Street.
It sits on the southeastern corner of 82nd Street and Avenue L.
The 18-year-old was stabbed to death in the carport, which is on the right side of the house.
Closest Locations
Other locations that are relatively close to this address: Roughly 151 miles away.
Crime Location in Odessa, Texas, United States Roughly 177 miles away.
Crime Location in Abilene, Texas, United States