Gypsy Rose's house.
Crime Scene Location in Springfield, Missouri, United States.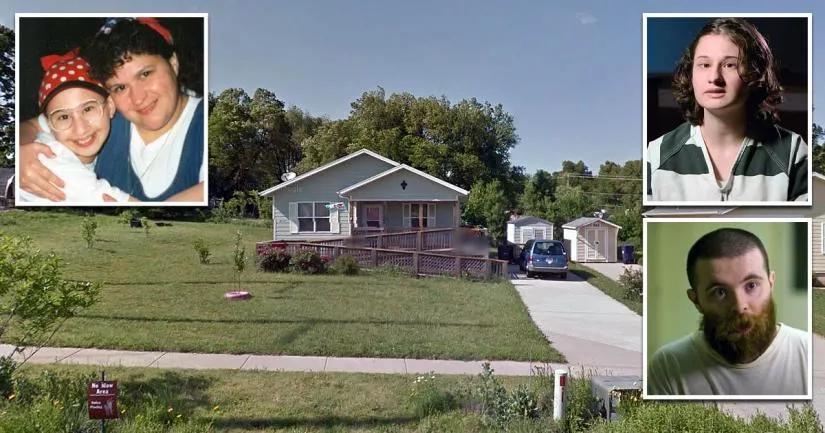 This is the former home of Dee Dee Blanchard.
It is situated at 2103 West Volunteer Way in Springfield, Missouri.
In 2015, this was the location of one of Missouri's most infamous murders.
Dee Dee lived in this house with her wheelchair-bound daughter, Gypsy Rose. The 23-year-old reportedly had muscular dystrophy, leukemia, and the mental capacity of a young child.
On June 14th, 2015, the words "That B*tch is dead!" were posted on Gypsy's Facebook profile.
The status, which seemed extremely out-of-character, worried friends and neighbors so much that they immediately contacted the authorities.
Dee Dee Blanchard's body is discovered.
When police officers entered the property to carry out a welfare check, they discovered the remains of Dee Dee Blanchard.
The 48-year-old was lying face-down in a pool of blood on her bed. A postmortem examination revealed that she had been stabbed 17 times in the back.
Although Dee Dee's disabled daughter, Gypsy, was missing, all of her wheelchairs were still in the house. This led to fears that the young woman had been kidnapped by her mother's assailant.
On June 15th, the authorities announced that they had found Gypsy safe and well at an address in Big Bend, Wisconsin.
Originally, friends and neighbors felt relieved. However, shortly afterwards, the shocking truth began to emerge.
Gypsy Rose was not sick.
In reality, Gypsy did not need a wheelchair. Nor was she suffering from any of the conditions that Dee Dee claimed she was.
Dee Dee had a mental disorder called "Munchausen syndrome by proxy," which caused her to fake all of her daughter's illnesses for the sake of attention. Furthermore, she had isolated and abused her daughter in an effort to keep her under control and stop the truth from getting out.
In 2012, Gypsy started a secretive online relationship with a man called Nicholas Godejohn. At some point in 2015, the pair decided to murder Dee Dee.
That night, Gypsy let her boyfriend into the house while her mother was sleeping. She then handed him a knife and hid while the attack took place.
Following the crime, the couple stayed at a nearby motel for a couple of days before eventually traveling to Godejohn's home in Wisconsin. However, the police were able to locate them by tracing the IP address that created the Facebook status.
One month after Gypsy's arrest, the 23-year-old accepted a plea bargain and pleaded guilty to second-degree murder. As a result, she was sentenced to 10 years in prison.
Two years later, her boyfriend, Nicholas Godejohn, was found guilty of first-degree murder and sentenced to life in prison.
Where is Gypsy Rose's house?
Below, you will find the address and the GPS coordinates for this location.
GPS coordinates.
The latitude and longitude coordinates for the house are:
37.266663, -93.318228
Map.
To view directions on how to get there, you can use the Google Maps shortcut below:
Address.
The full address for this location is:
2103 West Volunteer Way
Springfield
Missouri
MO 65803
United States
Directions.
Gypsy Rose's house is situated in the northern outskirts of Springfield in Missouri. It sits close to the entrance of a cul-de-sac called West Volunteer Way, which is accessible via North Farm Road 143. It is 1.5 miles north of Dickerson Park Zoo.
Private property warning.
This is a private property. It is not a public place. Therefore, you should be respectful and not step foot on the property without permission.
Additional information.
Please remain on the road.
Trivia and other information.
The true crime series "The Act" is based on Gypsy's story. However, the house that features in the show is not the real one. Instead, the producers built a replica of 2103 West Volunteer Way in Effington, Georgia.
The outside was painted pink at the time of the murder.
In June of 2022, Zillow estimated that the property was worth around $135,000.
A new owner was added to the deed in August of 2021.
Photos.
Photos of the house and other related images.
---
Gypsy Rose's Facebook post.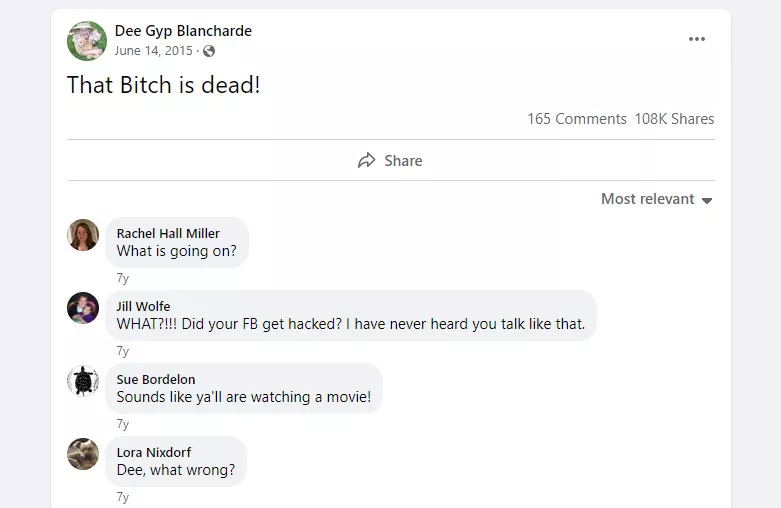 This is a screenshot of the Facebook status that was posted on Gypsy Rose's profile.
At exactly 8.32 p.m. on June 14th, 2015, she wrote the following:
"That B*tch is dead!"
When her friends and neighbors spotted the post, they immediately realized that something was wrong.
Note that "Dee Gyp" was a shared profile. In other words, it represented both Dee Dee and Gypsy.
Gypsy Rose and Dee Dee Blanchard's house.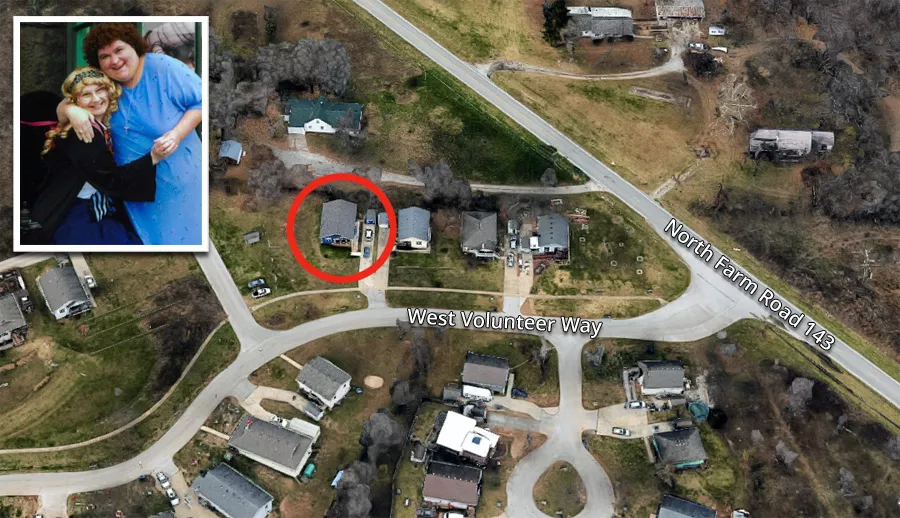 This is an aerial image of Gypsy Rose and Dee Dee Blanchard's house at 2103 West Volunteer Way.
The house was built in 2007. It has 3 bedrooms and is 1,080 sq ft in size.
It was specifically built for Dee Dee and Gypsy by the nonprofit organization, Habitat for Humanity.
Munchausen syndrome by proxy.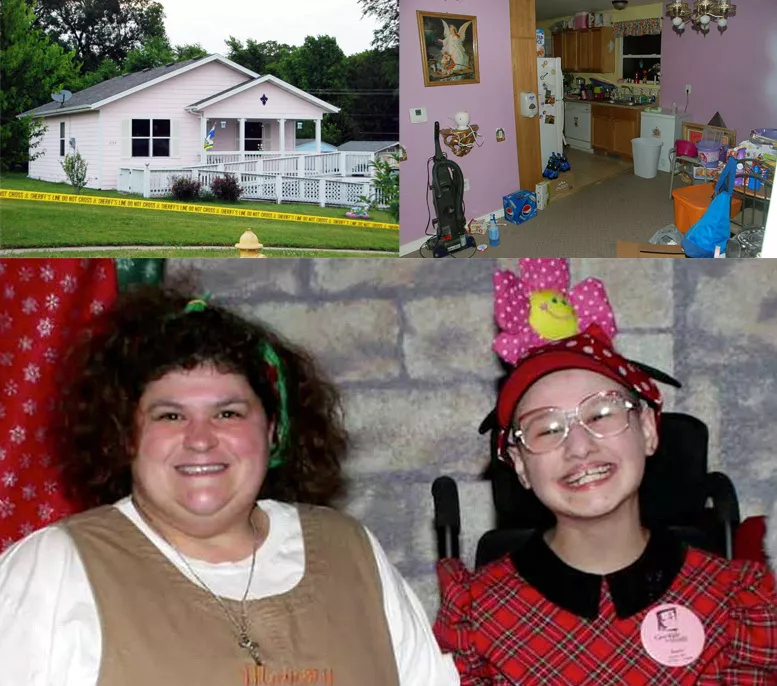 A parent with "Munchausen syndrome by proxy" will create the illusion that their child is suffering from an illness or injury.
For example, they might lie about their child's medical history and tamper with tests. In certain cases, they will even poison them or inflict certain injuries in order to keep the charade going.
All of this is done to garner sympathy, attention, donations, and free gifts.
In Gypsy's case, she was confined to a wheelchair that she didn't need.
Gypsy stated that her mother was physically abusive and that she would strike her if she contradicted any of her claims. She also said that her mother regularly shaved her hair off in order to give the appearance that she was undergoing chemotherapy.
To maintain the illusion that her daughter was extremely sick, Dee Dee homeschooled her and prevented her from having friends.
Relationship.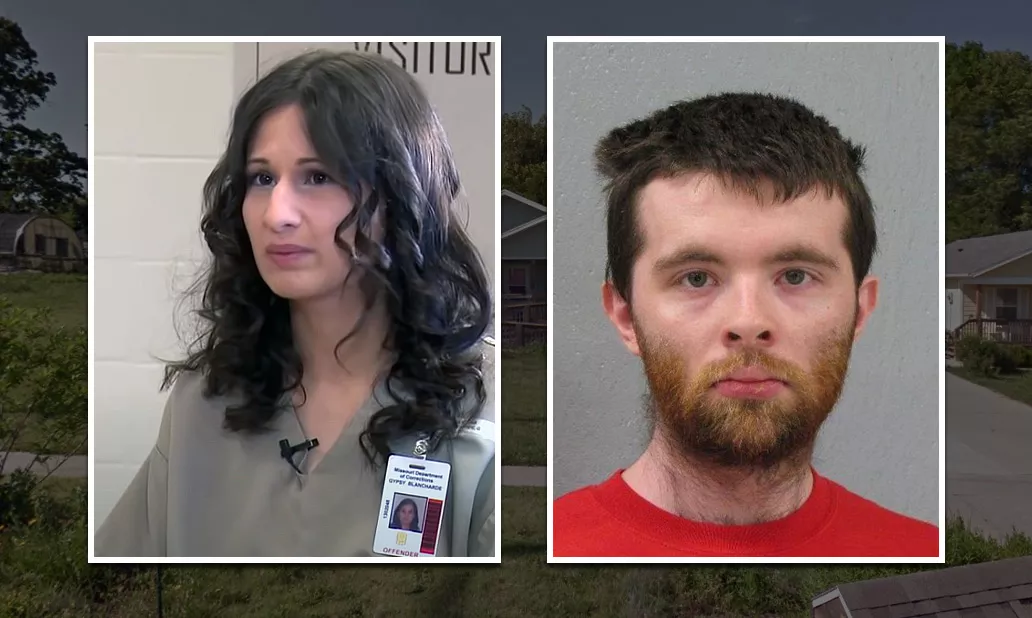 Gypsy Rose and Nicholas Godejohn started an online relationship in 2012. As the years passed by, they continued to communicate with each other over Facebook.
To prevent her mother from finding out about Nicholas, Gypsy used a number of fake Facebook profiles.
At some point, the couple decided that they needed to murder Dee Dee in order to be together.
Gypsy will be eligible for parole in 2024. She is currently engaged to another man named Ken, whom she plans on marrying when she is released.
Godejohn is serving a life sentence without the possibility of parole.
2103 W Volunteer Way.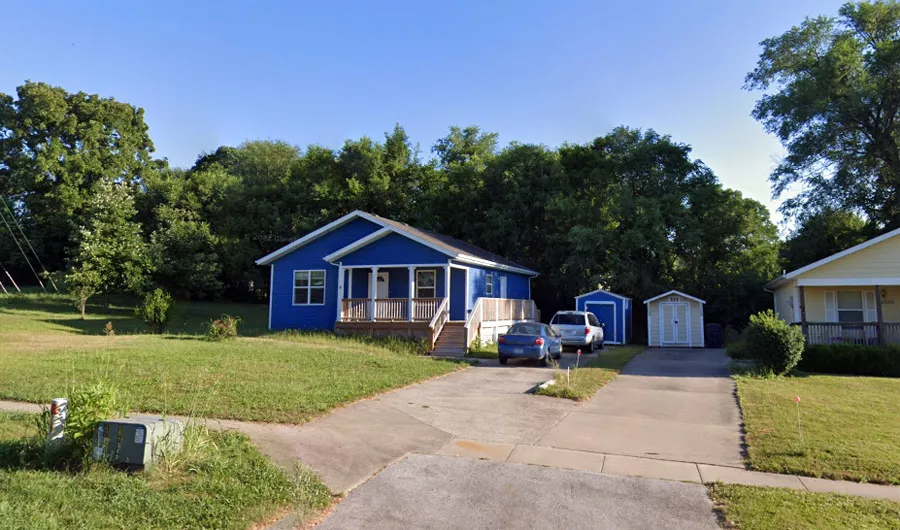 Judging by this recent Google Street View of 2103 W Volunteer Way, the exterior is now painted blue. Gypsy's wheelchair ramp is also gone.
The image above was taken in June of 2022.
This location belongs to the following categories:
Crime Scenes
Closest locations.
Other locations that are relatively close to this place. Roughly 170 miles away.
Serial Killer House in Kansas City, Missouri, United States Roughly 177 miles away.
Crime Location in Kansas City, Missouri, United States